Post by Samuel Bellamy on Nov 17, 2015 0:32:20 GMT -5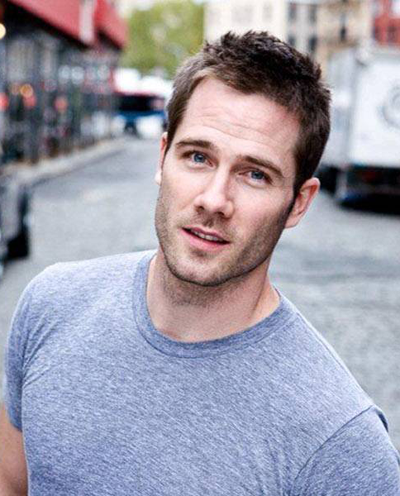 Full Name:
Samuel William Bellamy
Nickname/Alias:
Prince of Pirates, Black Sam, Black Bellamy, Robin Hood of the Sea
Age/Date Of Birth:
Three Hundred Twenty Six | 05 - 23 - 1689
Race:
Human
Occupation:
Ex-Pirate | Drifter
Species Group:
Chosen One
Play-By:
Luke McFarlane
Abilities
Immortality
: Samuel is immortal and doesn't appear to age. He's able to be killed however, like a normal human could be.
Supernatural Accuracy
: Samuel has incredible accuracy and is able to hit a target even when moving fast. He is able to react faster than normal members of the human race without the need of training.
Supernatural Combat
: Samuel is a very proficient fighter and is capable of using speed, strength, precision, technique, analysis, control, adaption, and all aspects of practical fighting effectively.
Supernatural Endurance
: Though he can be killed like any other human, it takes a bit more than normal to take him down completely.
Elemental Manipulation
: Samuel has the ability to manipulate the wind.
Gemini Ability
: Samuel is able to literally split his own body into two identical yet entirely independent duplicates of himself. The duplicate is made out of air, though it looks like a normal human, when injured it will just turn to smoke/mist, making it almost impossible to kill the clone.
Special Inventory
Special items that are bought from the store will go here.
Likes (At Least 3):
❤ Expensive Clothes
❤ Being Tidy
❤ New Things
Dislikes (At Least 3):
✗ Dirty Surroundings
✗ Sitting Around Doing Absolutely Nothing
✗ Spilling Food/Drinks
Fears (At Least 2):
☬ Drowning - Maybe it's things that happened to him in the past but now he's scared of drowning.
☬ Dying - So he's scared to die, he doesn't know what is awaiting him and he doesn't know if he's ready to find out even after a few hundred years.
Goals (At Least 1):
★ To Find His Purpose
Personality:
Samuel is a very kind, well mannered man. He can come off as a persuasive man with the way he talks, making you believe in his words. He's a very intelligent man, knowing a lot about a lot of things and is ready to relay that information onto another. In some aspects you could say that he is wise. He likes to stay clean, keeping himself kept up along with his living quarters. He's had no trouble adapting to the times, able to pick up new ways of life easily and accepting the change. He likes to experience all he can, so he's prone to going out and having fun and just being completely full of life.
On the downside, Samuel can be a pretty nervous man. When nervous he tends to tap his foot, fidget a lot, or bite his nails. He's mostly nervous with people when he is, and so that causes him to be quite nosy. He likes to ask a lot of questions and maybe pry a bit too much into someone's life, but it's only out of curiosity and nervousness of their intentions.
As captain, his leadership style was almost democratic. His crew was very fond of him, sometimes even referring to him as "Robin Hood of the Sea" and themselves as "Robin Hood's Men".Samuel was also a good strategist. Usually, he had two ships under his control. His flagship was powerful with many cannons and the second one was light but fast, which made a good balance. With coordinated attacks, they managed to capture ships easily without harming them.
Traits


Positives (At Least 3):
✧ Versatile
✧ Communicative
✧ Eloquent
✧ Lively

Negatives (At Least 3):
✦ Nervous
✦ Cunning
✦ Inquisitive


Parents:
Stephen Bellamy (Deceased/Father), Elizabeth Bellamy (Deceased/Mother)
Siblings:
Peter Bellamy (Deceased/Brother), Michael Bellamy (Deceased/Brother), Johnathan Bellamy (Deceased/Brother), Ruth Bellamy (Deceased/Sister), Mary Bellamy (Deceased/Sister)
Other Family:
Paul Bellamy (Deceased/Uncle)
Important Others:
N/A
History:
Samuel was use to being the youngest for a while, go figure right? He was the last child born of Stephen and Elizabeth Bellamy. His birth wasn't celebrated for long, as his mother died soon after and left their father to raise the children on his own. Stephen became a very detached and estranged man. It was the eldest two siblings; Peter and Ruth who took on the heavy burdens of taking care of the family. Peter took on work wherever he could get it and Ruth stayed at home doing the cleaning and cooking duties that was expected of women back in this time. Ruth taught Mary what to do, and the two girls took on the house duties. Not much was expected of Samuel, as he was the youngest and was babied by most of the family. It was his brother Michael who became jealous of how Samuel was treated and would occasionally pick on him. It was when Samuel was only six years old that he twisted Michael's arm behind his back and successfully pinned his older and bigger brother against a wall. It terrified Michael so much that he wouldn't mess with his youngest brother anymore, and he wouldn't dare speak word of what happened in fear of being ridiculed.
Hittisleigh, in Devon England wasn't a place that Samuel hated persay, but he always wanted to venture the world and get out of his small village. After speaking with his father, he learned of his family who lived in Cape Cod. The way his father spoke of the place interested him so much and he decided that he would go off to find his family who resigned there. His father asked of him to deliver a message to his uncle, that Elizabeth had died as it had been over sixteen years since he had last spoke with his brother. Samuel promised his father that he would find his uncle and deliver the message, and wished his family farewell as he went on his journey to Cape Cod.
The young teenage man, aged only sixteen, found his uncle upon arriving to Cape Cod and delivered the message that was asked of him. His Uncle was a lot different compared to his father, which surprised him. Not only in how they acted and spoke, but how they looked as well. Samuel was shocked to meet a man with dark blonde shaggy hair and blue eyes, when his father had dark hair. As did all of his siblings. While his stay with his Uncle, Samuel met a beautiful young lady known as Goody Hallett — the "Witch of Wellfleet". Samuel fell in love with the beautiful witch and wanted to wed her, however her parents had already arranged a marriage for her and another man. Upon speaking with her parents, to persuade them into letting him marry their daughter, they laughed and took a liking to him but didn't think a poor self-confident sailor was husband material.
And just like that, Goody was marrying a different man. He decided to leave Cape Cod with a group of men to seek the vast treasures on the Florida coast from the Spanish wreck of the 1715 Treasure Fleet; in hopes of gaining wealth and then returning and taking his love away.
After Samuel left, Goody was found to be pregnant with his baby. She had to hide, finding herself in someone's barn while she tried to take care of the baby in secrecy; her family and husband angered. One day when Goody went to forge for food, she left the baby in the barn for warmth and when she returned it had choked on straw. Her husband had found her and sneaked into the barn where he killed the baby and then left quickly to inform the authorities. As Goody came across the baby, she was found and arrested for it's murder. Her sentence was relatively short, but she was exiled from the town. After leaving the town, it's unknown whatever happened to her but it was believed she died as no trace of her was ever found again.
When Samuel gained word of all that happened, he broke down in grief. He had not only lost the woman he loved but he also lost his infant child. With the treasure hunting not turning up with anything and all of the grief Samuel was in he joined piracy; becoming one of the crew of pirates captain Benjamin Hornigold commanded, alongside his first mate who would be better known today as Blackbeard. In the summer of 1716, the crew became irritated by Hornigold's unwillingness to attack ships of England, his home country. By a majority vote of the crew, Hornigold was deposed as captain of the Mary Anne and left the vessel with his loyal followers, including Blackbeard. The remaining 90-man crew then elected Bellamy as captain.
Upon capturing a second ship, the Sultana, it was made into a galley, and with approval of the crew, Samuel assigned his friend Palsgrave Williams as its commander. However, his greatest capture was to come in the spring of 1717, when he spotted the Whydah Gally sailing through the Windward Passage between Hispaniola and Cuba. Built in England in 1715 as a state-of-the-art, 300-ton, 102-foot-long (31 m) English slave ship with 18 guns (cannons), and with speeds of up to 13 knots, the Whydah was on its maiden voyage in 1716 and had just finished the second (Africa to Caribbean) leg of the Atlantic slave trade, loaded with a fortune in gold, indigo, Jesuit's bark, ivory and other precious trade goods from the sale of 312 slaves. Bellamy chased the Whydah for three days before getting close enough to fire. After a single shot, Captain Lawrence Prince surrendered the Whydah by lowering its flag. True to his reputation for generosity, Samuel rewarded Prince's lack of resistance by trading the Sultana for the Whydah. Removing the captain's quarters and upgrading the ship to 28 guns, he then turned his new flagship northwards along the eastern coast of the Carolinas and on to New England.
Just two months after acquiring the Whydah, as she and the Marianne approached Cape Cod, Williams told Samuel that he wished to visit his family in Rhode Island, and the two agreed to meet up again near Maine. However they never did meet up again as the Whydah was swept up in a violent storm off Cape Cod at midnight, and was driven onto the sand bar shoals from the coast of what is now Wellfleet, Massachusetts.
One hundred and three bodies were known to have washed ashore and were buried by the town coroner, leaving 41 bodies unaccounted for. The Mary Anne was also wrecked that night several miles south of the Whydah, leaving seven more survivors. All nine survivors from the two ships were captured and prosecuted for piracy in Boston, and six were hanged in October 1717 (King George's pardon of all pirates, issued the previous month in September, having arrived in Boston three weeks too late). Two were set free, the court believing their testimony that they had been forced into piracy. The last, a Native American from the Miskito tribe in Central America, John Julian, is believed to have been sold into slavery to John Quincy, the grandfather of U.S. President John Quincy Adams.
However, Samuel happened to survive somehow and washed up onto land... And that's when he met Jack. The man told him that he had tracked him down to who he was, and Samuel believed he met his reputation as a pirate but it turned out that wasn't the case. The man told him that he was special like him, that he was able to create large storms that could destroy villages and wreck ships. Jack told him that he was the one responsible for the storm that destroyed his ship and killed his men and that he knew Samuel also had special abilities. Angered, Samuel lashed out and attacked the man. Jack laughed as Samuel began to beat on him, and that's when it began to rain. Jack rose to his feet, staring into Black Sam's eyes and told him that they were something special, and that they were suppose to do something amazing but he didn't know what.
Samuel thought the man was mad and pulled out his pistol, shooting Jack and killing him then and there. After killing him, Samuel wasn't sure what to go on with doing. His ships were gone, his men were gone, his wealth... It was all gone. Samuel decided to lay low and travel. He saw many things and experienced everything he believed life had to offer. He had relations with both men and women, he ate every kind of food there was, he was just a drifter. Moving from life to life, looking for his purpose. Even after hundreds of years, he's still just that; a drifter.
Alias:
Hell Hound
How did you find us?:
I Created The Site
Experience:
Lotz
Other Characters:
Amitiel
,
Chris Anderson
,
Jeff Atherton
,
Rayne Baily
,
Malachi Baker
,
Seth Baldwin
,
Nova Bennette
,
Lily Bishop
,
Joel Bradford
,
Emily Clark
,
Darren Covington
, @jaxon,
Eric Gilbertson
,
Sawyer Grant
,
Tyson Grant
,
Austin Jacobs
,
Matthew Jacobs
,
Scotty Jacobs
,
Stephanie Khang
,
Zane Lancaster
,
Isaiah MacIntyre
,
Mammon
,
Lorilee McKinley
,
Aspen Meadows
,
Heaven Michaels
,
Tristan Michaels
,
Ryker Nixon
,
Hunter Roselli
,
Lizzie Shields
,
Ethan Sullivan
,
Jake Sullivan
,
Luke Sullivan
,
Declan Walker
,
Tommy Walker
,
Dean Winchester
,
Dean Winchester Jr
,
Cody Wolfe
,
Caspian York
.
Samson Zimmerman
,
Mason Parker
,
Izzy Anderson
,
Hope Anderson
,
Dante Carter
,
Axel Meadows
,
Beezlebub
,
Wyatt Clark
,
Hudson Cooper
,
Evan Arkwright
,
Zadkiel
,
Piper Wright
,
Shawn Miller
,
Aiden Watson
,
Suriel
,
Drake Crawford
,
Eligos
,
Lucien
,
Riley Thompson
,
Jacob Lawson
,
Spencer Black
,
Dylan Grant
,
Carson Grant
,
Blair Brookes
,
Caleb Winchester
,
Myra Norwood
,
Forrest Montgomery
,
Leon Chait
,
Felix Chait
,
Maxwell Grant
,
Nicole Thresher
RP Sample:
Dean watched as the young blonde suddenly stood up and held out her hand. She was leaving? Dean couldn't help but feel a bit of disappointment. Little did he know the blonde thought Dean was trying to get rid of her even though that was not his intentions. He also stood and took her hand shaking it lightly but firmly, the electrical shock he felt earlier not as strong as the first time. When she leaned over and kissed his cheek it took him a little off guard. Her warm yet moist lips sent a feeling much stronger then the electrical shocks he felt earlier every time they made slight contact. What was it about this girl?.... It was something very different, he felt an almost... pull to her like she was a magnet and he was just a fine piece of metal. Again, his mind blamed it on the fact that he was in Purgatory for a year and this was really the first time he had been with a girl alone in quite sometime.


Dean took her phone and put the number in, all the while realizing that she would probably never call. He knew better then anyone that you don't give the person your number you get theirs. He handed her the phone and their fingers brushed against each other. She put the phone back in her bag.


"Thank you again,"


As she looked at him, their eyes met once again, gazing into one another's for a split moment before a small sigh escaped her lips. Before Dean could ask what was wrong a knock and a small voice came from outside the door.


"Housekeeping!"


Dean immediately furrowed his eyebrows. What the hell was housekeeping coming around at this time? It wasn't right, and Dean knew it. He had been living in motels forever, it wasn't time for this. Not only that, but Dean had specifically asked to keep housekeeping away until after he was done with the room, just something he started doing just in case he planned on staying a while. Dean went to grab Bethany's arm as she turned to open the door but wasn't quick enough.


"Wait, don't- - "


Beth opened the door and there stood a rather small middle aged woman with with black hair pulled into a pony-tail and a light blue cleaning uniform. Dean's eyebrows stayed furrowed as he looked at the woman but her words sent a shier down his spine and blood pumping his heart even faster.


"Hello, Bethany,"


The woman's eyes turned coal black and her cold, devilish half-smile sent another shiver down Dean's spine when suddenly Beth was sent flying into the wall. The demon sped in, the door slamming behind her. It was if she didn't notice Dean, that she didn't even care that he was standing there as her glare stayed hooked on Bethany who was now being pinned to the wall with telekinesis. As she was being held there a coat hook stabbed through the poor girl's left shoulder.


Dean's index finger on his right hand twitched as he stood there for a second. Before long the Winchester was moving and pulling out a canteen of holy water from under his pillow. Thankfully back when he got the credit cards Dean also got the basics, salt, holy water, borax, the works. He quickly spun around a toss a bit at the demon, making her grab at her face and scream as she steamed. Thanks to the sudden pain, the demon's hold on Bethany was gone and she fell to the floor. Dean quickly sprinkled more on the demon and moved in front of the door.


The woman stood there, her hands covering her face as she was bent over and looking down. She slowly lifted her head and pulled her hands away. Her eyes going wide and the pitch black being even more visible.


"Dean Winchester?!"


The demon shrieked and as she went to quickly leave the body Dean kicked with full force and she was pushed back, falling on a rug set up at the foot of the bed. She looked up quickly at the ceiling seeing nothing and frowned, trying to leave again but when she couldn't her eyes shot to Dean. Dean walked over slowly and smirked, lifting up the corner of the rug revealing a devils trap. He spoke in a low and cocky tone.


"Got you, bitch."


The demon squinted her eyes and tilted her head as Dean got up and rushed over to Beth.


"You..... I heard you were gone, everyone did. How are you here?"


Dean ignored the demon and squatted to Bethany's side, his eyes full of concern. He looked at her and upon seeing her injury he quickly wrapped his arm around her and helped her up.


"Don't worry... You'll be okay... I'll fix you up."


Dean walked her over to the bed and sat her down, ways away from the demon. After looking at her wound again, he looked into her eyes.


"Hang in there..."


Dean turned around and walked up to the demon, standing right outside of the devil's trap.


"What the hell are you doing here?" He nodded back at Beth. "What do you want from her?"


"Not going to make me talk, Winchester." The demon shook her head and smirked.


"Yeah?" Dean raised his eyebrows as he splashed more water in her face causing her to hiss. "Sure about that?"


The demon decided not to respond and Dean's anger and disgust took over.


"Fine. " Dean looked down at her, his glare latched onto her and not going anywhere. "Exorcizamus te, omnis immundus spiritus, omnis satanica potestas, omnis incursio infernalis adversarii, omnis legio, omnis congregatio et secta diabolica."


They'll love to know you are back!" The demon growled at Dean, causing him to pause a moment. "Yeah, well tell them I sent you." Dean paused again with a slight smirk and then he finished the exorcism. "Ergo, draco maledicte. Excclesiam tuam securi tibi facias libertate servire, te rogamus, audi nos."


A cloud of black smoke came spewing violently from the woman's mouth and when down through the floor. Dean took a breath and quickly turned around to see Beth. He swallowed and walked quickly back over to Beth, sitting on the bed next to her.


"I..... should patch you up now."


The body of the woman laid there, not moving as she was gone. Dean reached over to the nightstand, bending over Beth slightly and pulling open the drawer revealing some medical equipment.
I (Samuel Bellamy) have read the site rules and understand them. The code word for the rules is: (Batman)
Application Created By Hell Hound