Post by Deleted on Feb 13, 2016 2:32:53 GMT -5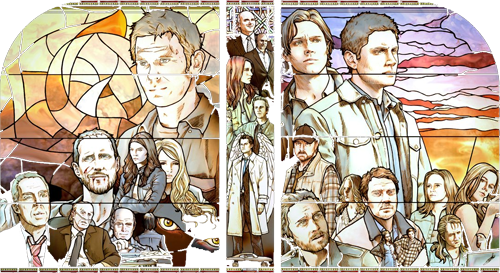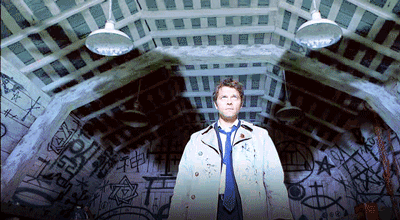 Full Name:
Castiel
Nickname/Alias:
Cas, Unicorn, Clarence, Emanuel
Age/Date Of Birth:
Before Humanity
Race:
Angel
Occupation:
Guardian angel
Species Group:
Angel
Play-By:
Misha Collins
Abilities
Angelic Possession - Similar to demons, angels require a vessel while on Earth. However, they must have the vessel's permission before they can take control.
Astral Projection - Angels can project their wings onto surfaces at will. If one is killed by an Angel Blade, its wings are burned onto the surface on which they died.
Chronokinesis - Angels can travel through time, in either direction. They can also take others with them, and just send others without going themselves. However, this is a very difficult ability to master with or without Heaven's assistance. More powerful angels such as Seraphs or Archangels are able to manipulate time easier, even when cut off from Heaven.
Dream Walking - Angels can appear in people's dreams, they usually use this to communicate, when they can't find the person they're looking for, or want to talk privately.
Eidetic Memory - Angels have the faces of every prophet who has existed or will exist etched into their memories. This ability also makes them aware of reality warping and timeline changes.
Electronic Manipulation - Angels can manipulate electrical appliances.
Immortality - Angels don't age and cannot be killed by diseases or Earthly weapons.
Invulnerability - To date, the only things capable of killing angels are Angel Blades, Holy Fire, a stronger angel, Death, God, and Leviathans
Regeneration - If an angel's vessel is damaged, it will repair itself nearly instantly unless the wound was caused by angelic weaponry.
Sedation - Angels are able to render humans unconscious with a touch.
Super Stamina - Angels never tire, and they do not require food, water, oxygen, or sleep to sustain themselves.
Super Strength - Physically, regular angels are more than a match for humans, lower-level and mid-level demons, and most monsters.
Supernatural Perception - Angels are able to see all supernatural activity around them. They can even see Reapers, which remain invisible except to those they are seeking. They can also sense any location, being, or object not protected by Enochian Symbols. This perception also extends to electromagnetic waves, and can decipher radio modulation signals, as angels are "multidimensional waves" in their true form and can thus perceive such energies.
Telekinesis - Angels are able to telekinetically move beings and objects with their mind.
Telepathy - Angels can read the minds of other angels with ease.
Teleportation - Angels are able to travel from one place to another, instantly, without occupying the space in between. They can also summon or send other beings.
Voice Mimicry - Angels can perfectly mimic the voice of mortals.
Protective Charm - An angel can protect an individual (commonly their future vessels) from most forms of physical damage. This degree of protection is linked to an angel's power.
Flight - All angels are able to fly, though it's only been shown when not in a vessel. It may be linked to their teleportation due to the sound wings flapping when they teleport.
Pyrokinesis - The ability to manipulate or create fire.
Invisibility - Some angels can become invisible to humans.
Enhanced Chronokinesis - The ability to bend time is easier if the angel is connected to Heaven.
Healing - Angels can cause the wounds, diseases, and toxins of another being to heal instantaneously.
Killing Touch - Angels are able to destroy lower-level demons with a simple touch, however the demon has to be in a host body, as this doesn't work on their smoke form. However, they can grip a demon's smoke form and force it back into a host body to smite the demon. They can also use it to kill monsters and humans.
Resurrection - Angels can bring the dead back to life. However, they must know where all the pieces of the original body are, and they must have the soul of the subject.
Special Inventory
Special items that are bought from the store will go here.
Likes (At Least 3):
❤The Pizza Man
❤Fulfilling his duties
❤Helping/Healing people
❤The Winchesters, preferably Dean
Dislikes (At Least 3):
✗Hurting people, other Angels as well, even though it seems to be necessary pretty often
✗Purgatory
✗Leviathans, those things are terrible
Fears (At Least 2):
☬Not knowing what his purpose is or not having a specific plan of action
☬Failing to perform or meet expectations and let God or the Winchesters down
Goals (At Least 1):
★To figure out why he was saved from Purgatory and what God has in store for him now
Personality:
At first, Castiel was very emotionless towards humans and had little room for disobedience or feelings. As he spends more time with Dean, he develops empathy and affection for him, and eventually for those close to him, and humans in general. He is often confused by the finer details of human interaction and is blind to social norms. He often finds himself not understanding the "joke" or being "too serious."
After his second resurrection by God, with enhanced abilities, he sees his decisions and support of freewill to have been affirmed. He begins to show pride, while remaining somewhat naive with regard to consequences. Castiel becomes dedicated to his own decisions, and tends to pass over other opinions, even Dean's, in the absence of another clear course.
After taking in the souls of Purgatory, his personality changes completely. He insists on worship from his former friends. He intends to be an involved god, a better and loving god who will not abandon the world. He renounces his dedication to free will, saying that angels need a firm hand. He is quick to smite those he feels to be hypocritical and unjust, and rewards those who have faith. However, Castiel is being influenced by entities inside him - including leviathans - and his actions become erratic and violent. He soon realizes he is not strong enough to contain the souls inside of him and he goes to the brothers for help.
He successfully got the leviathans out of him, but it cost him his life. Thankfully, he was resurrected but had no memories of anything before then. Eventually he then is apologetic and humbled and he wants to find a way to redeem himself before the brothers. He eventually takes Sam's madness on himself, freeing Sam. But he wakes from this, he is "different." His personality is off from what it used to be, and Castiel attempts to joke with the brothers, and seems unbalanced. Which he eventually works his way out of and gets back to somewhat of his former self, with a little more understanding of human things and feelings.
Traits
[/b][/font]
✧Compassionate
✧Faithful
✧Relaxed - not quick to get worked up over nothing
✧Always willing to help
Negatives (At Least 3):
✦Naive at times
✦Has a hard time understanding certain things
✦Sometimes follows orders a little too well
[/ul]

Parents:
God
Siblings:
Other Angels
Other Family:
N/A
Important Others:
The Winchesters, whom he considers family.
History:
Somewhere near the beginning of time, before humanity was created, Castiel was made by the Lord to be an Angel. He has existed for millions, if not, billions of years. He watched as the first fish emerged from the ocean Many, many years pass before Castiel gets orders from "God" to pull a man named Dean Winchester from hell, ultimately to stop the breaking of the the 66 Seals which will release Lucifer and start the Apocalypse. He manifests on Earth in a vessel that is a man named Jimmy Novak. Many angels laid siege to Hell to rescue Dean, but it was Castiel who ultimately pulled Dean out, he did so, "Because God commanded it." However, Castiel's hand print is burned into Dean's shoulder from pulling him out of hell. After the group visits a psychic friend of Bobby's they discover Castiel's name. And they discover how powerful he is, because a single glimpse of him burnt out Pamela's eyes. Castiel is summoned into a warehouse by Dean, and after rock salt and Ruby's knife are ineffective, Dean asks him who he is. He replies, "I am the one who gripped you tight and raised you from perdition." Dean questions this, but Castiel shows him the shadow of his wings, and convinces him that he is an Angel and God has sent him on a mission because he has work for Dean to do.
He then works with them to stop Lilith in breaking the seals, he explains that the angels are fighting to keep the other seals unbroken, because when the last one is broken, Lucifer will be freed. To help Dean along this journey he sends him back in time, to 1973 to meet his parents when they were young, so that Dean knows everything that heaven knows. He then explains to him that the Angels have no idea what Azazel's goal is, but that he must be stopped. He also tells him that Sam is headed down a dark path and if Dean doesn't stop him when the time comes, that the Angels will.
Later on, Castiel and Uriel are talking and Uriel expresses his hatred towards human and he tells Cas that they should just destroy the town anyway, trying to persuade him to do so. Castiel tells him that they saved Dean for a reason, and that they must follow their "true orders." Castiel reveals to Dean that their true orders are to follow Dean's decision, as a test under battlefield conditions. Castiel begins to show affection towards Dean, and he begins questioning his orders. He tells Dean that he respects and loves humans as God's creations. And he also admits to him that he has doubts about his mission that he is on, telling him that he isn't sure what is right and what is wrong anymore.
Later down the road they captured someone with the name of Alastair, and Castiel tells Dean that he wants him to torture him in order to get answers and secrets out of him. Dean tells him that he really doesn't want to, and Castiel admits that he doesn't either. Secretly, Angel used telekinesis to loosen a pipe with water inside it, and it broke the Enochian trap that had Alastair captured. A fight ensues, and Dean gets very beaten up. Castiel enters the room and fights him, but Alastair manages to trap him. Alastair then begins to chant a demonic spell to send Castiel back to Heaven, but Sam interrupts him using his demonic powers, saving Castiel and killing Alastair.
After all of this, Castiel finds out that he was betrayed by Uriel, and that he was the cause of Alastair getting free.He finds this out by traveling back to the warehouse where Alastair was killed, he demands answers from Uriel because he knows there was no way the trap could have been broken. Uriel admits that he was responsible for the deaths of the 7 angels, and that he wishes Lucifer to rise and humanity to be destroyed. He has been converting other members of the garrison to this viewpoint, and killing those that disagreed. Uriel attempts to recruit Castiel, but fails, and Castiel attacks him. Uriel fights back, bringing Castiel to his knees. Anna arrives and stabs Uriel from behind, saving Castiel. After this Castiel visits Dean and tells him that his actions in hell is what broke the first seal. When Dean asks why he didn't just leave him in hell, Castiel tells him "the righteous man who begins it is the only one who can end it."
After this he comes to the realization that maybe his orders aren't what is for the best and he disobeys, helping the Winchesters, mostly Dean, who he is growing extremely attached to.
Eventually, Sam and Dean find a way that they can try and trap Lucifer back in his cage. Sam and Dean go to confront Lucifer, and Sam says "Yes." Lucifer enters him and takes hold, and Sam cannot force him into the Cage. Dean gets the destination that the fight is supposed to take place at, and he interrupts the two Angels before they fight, Lucifer in Sam's vessel and Michael in their lost brother's vessel. Dean insists on having a conversation with Sam, which makes Michael angry. Castiel yells at him and gets his attention, throwing a flaming bottle of holy oil at him. He burns up and then disappears. This angers Lucifer, and he snaps his fingers, obliterating Castiel. Dean and Sam eventually are able to overpower and win the fight, and they get Lucifer and Michael, along with Sam, trapped in the cage. Castiel then returns, and Dean asks him if he is God. He says no, but he believes that he brought him back. He heals Dean and brings Bobby back to life.
Now with the Apocalypse over, there is an uprising in Heaven. Castiel fights hard alongside fellow angels in against an angel named Raphael and his followers. It isn't an easy task however, and he must spend a lot of time away from the brothers. When things begin to go array, Castiel is forced to resort to working with Crowley in order to defeat Raphael. They plan to open the door to purgatory and Castiel plans to absorb the souls to defeat Raphael, but Crowley is supposed to get some souls out of it as well.
Castiel and Crowley find the last thing they need to open the door to purgatory eventually. Castiel and Crowley torture Dr. Visyak, Bobby's friend, until they get what they need to open Purgatory. She escapes and contacts Bobby and the Winchesters, telling her story before dying in an alley. Castiel comes to the three hunters, who are outraged. Dean tries to argue with him again, but Cas cuts him off, saying he no longer cares about Dean's opinion. He then touches Sam's head, breaking the mental wall, and promising to repair him as long as Dean stops the opposition.
Castiel and Crowley meet and this time, Castiel wants to renegotiate their deal. Crowley will get no souls, and tells him that he can either go away, or die. Crowley leaves, and Castiel now has the blood for the ritual to open the door. Just before the ritual is supposed to start, a cloud of demons surround the building and Crowley appears. Castiel attempts to kill him and he cannot, because he has Raphael with him now. They demand the blood from him and unknown to them, he throws them a decoy jar and disappears, going to do his own ritual with the correct blood. Crowley tries to do the ritual and fails, realizing what Castiel did. He appears, showing them that he has obtained the souls and Crowley disappears. Raphael begins to beg for mercy, but Cas snaps his fingers and completely destroys him. Dean tells him to return the souls now, but he says that he has Raphael's followers to deal with and will not be doing so. He tries to remind him that he has a family, and Cas tells him he has no family. Sam stabs him from behind with an angel blade, but nothing happens. Castiel greets him, then says the sword will not work because he is not an angel anymore. He then tells him that he is their new God, and that they must bow down/worship him, or be destroyed.
After a while, Castiel realizes that his vessel cannot hold all of these souls. He realizes his wrongs and sees himself getting more and more destroyed as time goes on and he returns the souls. However, the souls of a certain creature, called leviathans hang on inside of Cas and eventually take him over. But still, Jimmy Novak's body still cannot hold them all, and they retreat. They take him to a nearby reservoir. Castiel's vessel wades into the reservoir and disappears beneath the surface. A vortex then erupts outwards and spreads a black ooze throughout the water which vanishes moments later.
However, months later, Castiel is magically restored once again. He wakes up by a river with no recollection of who he is. He goes by the name of Emmanuel when Dean eventually finds him, and he is healing people. Dean tells him about demons, that they walk the earth, and he can't deny that he can see the true face of them. He and Dean go to see if they can help Sam. It is there where Emmanuel agrees to killing the demons outside of the hospital and this is what causes him to regain his memories. He then realizes everything that happened and all that he did, and he goes in to save Sam. He takes his mental illness on as his own, curing Sam, but giving it to himself. Cause hallucinations and all kinds of terrible things.
Castiel eventually regains his sanity, and aids the Winchesters and Meg in defeating Dick Roman. He approves of the weapon that they have found to kill him. Castiel and Dean search for Dick, and find him in the lab. There, they confront Dick, who taunts Castiel about letting the leviathans onto Earth. When Dick tries to bluff that he isn't the real Dick, Dean points out that Castiel can tell and Castiel attacks Dick, only to be thrown into the wall behind him. After Dean uses a decoy bone to stab Dick, Cas aids him in allowing him to stick the real one through his neck, killing him. However, when Dick's soul gets dragged to Purgatory, Castiel and Dean are pulled along with him.
Castiel wakes Dean in purgatory, telling them they are more likely to die than get out and then he disappears. He is luckily saved from purgatory by angels. Now, he is left to figure out why he was saved, and to figure out his role in God's current plan.

Alias:
Matt
How did you find us?:
I have my ways.
Experience:
More than you think.
Other Characters:
@ethanlockhart
Chloe Jacobs
Brody
Kieran Ward
@addilyn @samantha
RP Sample:
*She jangles her keys in her door to her apartment, fidgeting with it for a little bit. She finally gets the lock to turn and opens the door and walks in, throwing her bag down on the counter. She just got in from a night out with her friends and was exhausted. She immediately walks into her bedroom and pulls off her dress and changes into her comfortable clothes. She falls down onto her neatly made bed and pulls out her laptop from her bedside table and gets on to YouTube to make sure her video for that day uploaded. She scrolls through the comment section and can't help but smile, ignoring all the hate comments and focusing on the positive ones. After scrolling through for a bit, she closes her laptop and proceeds to pull out her camera, she switches it on and presses the record button; She talks charmingly and crisply* Hey, everyone! It's me, Addilyn......
I Castiel have read the site rules and understand them. The code word for the rules is: Batman
[/div][/div]
Application Created By Hell Hound
[/div]