Post by Tina Dukes on Jul 22, 2016 1:18:03 GMT -5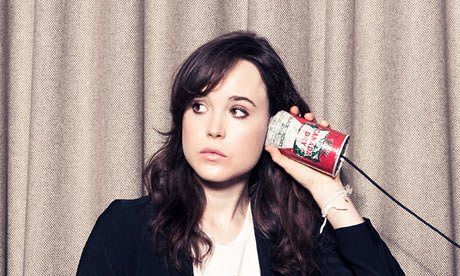 Full Name:
Tina Dukes.
Nickname/Alias:
N/A
Age/Date Of Birth:
16, 13th July
Race:
Human
Occupation:
Daisy's Assistant (Magic and trouble making)
Species Group:
Civilian.
Play-By:
Ellen Page
Abilities
Put all known abilities here. If your character does not have any abilities please remove this part from the application.
Special Inventory
Special items that are bought from the store will go here.
Likes (At Least 3):
❤Daisy
❤Video games
❤Art
Dislikes (At Least 3):
✗Anyone hurting Daisy and friends
✗Accidentally saving over a previously saved game
✗Going back to her father
Fears (At Least 2):
☬Losing/being separated from Daisy
☬Father being released from prison and finding
Goals (At Least 1):
★To enjoy the freedom of the road, never get into foster care again
Personality:
Tina is a little trouble maker when she is left alone with her sister Daisy. Normally she is happy playing games or creating art in her room, but she highly enjoys causing mischief as long as no one gets killed. When something does not go her way or not go right first time, she gets frustrated more willing to kick it, punch it or snap at those that piss her off. She would prefer to stand up to someone from a distance than up front, she doesn't have the guts to get into physical fights preferring to run away to safety or tricking them into hurting themselves or lose them in the woods.
Traits
[/b][/font]
✧Artistic
✧Loyal to a fault
✧ Pickpocket
Negatives (At Least 3):
✦Easily frightened and frustrated
✦Clueless to some danger
✦Easily influenced by sister
[/ul]
Parents:
Jaana (Deceased) and Marcus Dukes (Arrested)
Siblings:
Daisy Duke (sister)
Other Family:
Eugene (Friend), Mira (Friend)
Important Others:
N/A
History:
Tina had a happy home with just her parents and friends but something was missing. Daisy was adopted into their home and in short time the girls had became friends, and after a year, into sisters. At first it took some adjusting to be an only child but now she couldn't imagine life without her. At first she was timid of Daisy's magic but soon came to love it and became an assistant in the talent shows. She was super impressed with her sisters magic tricks. She never suspected it was real magic.
Home was happy for a while. It changed when her father lost his job at work and turned to the bottle. She didn't understand why he had changed, bearing the bunt of his rage until one day he turned to Jaana. Motherless and fatherless she and Daisy turned to their friends to adopt them since they were legally able to so not to be separated from each other. On the night of Daisy's next birthday, they took off in Eugene's van and hit the road, never looking back. They survived by magic tricks in the street, busking for money.
Alias:
Tamara
How did you find us?:
Hellhound
Experience:
Not much
Other Characters:
Tamara
RP Sample:
"Do I have to wear this ridiculous outfit?" Daisy wanted nothing more than to change out of the assistant outfit with all its glitter and frills. She felt like bullying herself for such an outfit she wouldn't be caught dead in. She just wanted to be back at the arcade, kicking Eugene's butt on Killer Instinct, or finish drawing a dragon in pastel she spent the last three months on. "Okay fine. But I better get a decent feed out of this." she muttered, stepping on stage to assist with the show.
Afterwards, in normal clothing, she was looking on the net for a new game for the DS. Anything but pokemon, that was overrated. "So did we get a good haul this time? We didn't have near enough last time for a ps4." Tina knew she didn't need it, but she wanted it. Sometimes she just wanted to be back with Eugene's place, working with him on his game. Road life was a real killer on concept time. She kicked back on the bed, knees drawn up with a sketch pad, drawing whatever comes to mind.
"So where's the next show?" she asked, drawing a picture of a clown being shot out of a cannon, with a brick wall to stop it from flying too far. She gave a smirk at that, shutting the book. She never expected that Daisy had real magic. She thought it was just good illusions, or that she was a super hero of some kind.
I (Tina Dukes) have read the site rules and understand them. The code word for the rules is: (Do you wanna kill the Batman?)
[/div][/div]
Application Created By Hell Hound
[/div]