Post by Deleted on Nov 9, 2013 23:55:00 GMT -5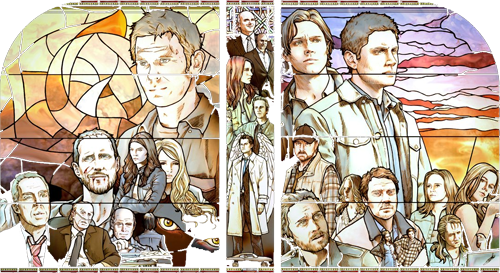 Full Name:
Lucen Evaline Grey
Nickname/Alias:
Lucy, Luce, Lu, Lulu,
Age/Date Of Birth:
30 / March 17, 1983
Race:
Revenant Ghost
Occupation:
Author
Species Group:
Spirit
Play-By:
Carly Smithson
Abilities
Revenant Ghost Facts
I'm dead?
- Probably the most important and key element that makes a ghost a revenant is that they do not know or believe they are dead. They have either forgotten or suppressed the memories of their deaths, or believe they truly have risen from the grave.
Continuous Manifestation
- Unlike "normal" ghosts, which often appear violently in short bursts, once revenants manifest themselves, they maintain their presences. Their embodiments do not flicker or jerk with motion.
Corporeal
- Unlike all other ghosts, which are naturally incorporeal, and require calmess or anger to become corporeal, revenants are naturally solid. They cannot pass through walls and are able to interact with their environments as easily and constantly as the living, possessing the same metaphysical constraints as they did when they were alive (i.e. weight, strength; they have shadows, etc.). This also means they can be wounded and bleed like humans, and they also feel pain.
Full Awareness
- Unlike many ghosts, a revenant's consciousness is fully intact. Their thoughts are not erratic or governed completely by emotion (fear, anger, pain, etc.), allowing them to have complete thoughts and progressive, linear thinking. They can carry on full conversations and be reasoned with, and do not always see things strictly as "black and white"
Remains
- Revenants do not need remains to be bound to this realm. A simple motive (vengeance, unfinished business, fear of the beyond, guilt) will suffice.
Lack of Ghostly Powers
- Revenants do not demonstrate common ghost abilities. They cannot appear or disappear, teleport, move objects/people remotely or pass through walls.
Its implied though, that like normal ghosts, if enough time passes they will eventually go wild, in which case hunters have to stop them, as they don't require remains, they can't be salted and burned, so the only thing they can do is lock them up.
Special Inventory
Special items that are bought from the store will go here.
Likes (At Least 3):
❤ Writing Poetry & Fictional Books
❤ Cheesy Jokes
❤ Spending time with Revan
Dislikes (At Least 3):
✗ Fighting or Arguing
✗ Homophobia
✗ Celebrity Gossip
Fears (At Least 2):
☬ Loosing Her Closest Friends
☬ Dying Young and Unhappy
Goals (At Least 1):
★ To be Recognized Through Her Writing
Personality:
Lucy is a strong, outgoing, and independent women. She is warm, enthusiastic, and bright and is known for her literary potential. She lives in a world of possibilities, and this world keeps Lucy running to success. On the outside these qualities and so much more shine bright. It is what surrounds her with friends and keeps her almost drama free.

On the inside Lucy strives to be accepted, having been rejected from her own family she tends to feel alone a lot. There are times where she has depression spills and keeps herself locked away in her apartment. During these times she lays in bed and ponders on how to try and gain her families acceptance but it usually ends with Lucy overlooking the city with a large bottle of vodka in one hand and a cigarette in the other. Of course these spills don't usually last longer then several days, especially once her second book got published.

When she isn't writing or meeting up with editors and publishers Lucy can be found doodling in the coffee shops or watching the ducks swim in the pond at the park. It's what relaxes her but the one thing that really seems to calm her nerves is Revan. This chick always makes Lucy laugh and see life in more broader perspective. Sometimes when Lucy gets sad she'll take Revan out and that instantly makes her feel better. Which is a good thing too considering that the life of an Author isn't always peachy.

Traits
[/b][/font]
✧ Incredibly Patient
✧ Kind Hearted
✧ Vitality in front of her Peers
Negatives (At Least 3):
✦
Alcoholic
✦ Bottling Emotions
✦ Easily Influenced
[/ul]

Parents:
Carrie Grey (Adoptive Mother) Dick Grey (Adoptive Father)

Missy Tisdale (Biological Mother) Curt Greer (Biological Father)

Siblings:
Karen Grey (Adoptive Sister) Penny Grey (Adoptive Sister)
Other Family:
None of Importance
Important Others:
Talia Jones & Revan
History:

Lucy had been adopted before she was born. Her biological mother, Karen, had been 15 when she got pregnant and because Lucy's father Curt had been 18 and dated Karen without permission, he fled from the police. Karen had no hesitation on giving the child away and once Lucy had been born she turned away and never looked back. Carrie and Dick became the proud parents to little Lucen Evaline and were happy to bring her into their growing family. From there on out Lucy lived a happy and carefree life. Her whole world seemed to be painted with vivid colors and filled with joyous music until she hit 17.

Carrie and Dick never told Lucy that she had been adopted. They planned on keeping it hush hush until she would be old enough to understand the situation. As the years went on they felt more obliged to keep it a secret until finally they decided that that information wasn't necessary. It wasn't until Lucy proclaimed that she had been more interested in females than males did all hell break loose. Her family didn't take her seriously at first but after Lucy confessed that she had been dating a girl from her school her family started to change. The usual chatter of conversation dimmed to nothing in meal times, they would not include Lucy in fun activities, and after awhile it seemed that everyone avoided her. Angry by their behavior Lucy asked everyone to join together in a family talk. The talk that seemed to rip her away from the family. For good.

At first things had been civil. Lucy had gotten straight to the point and asked if anyone had a problem with her sexual orientation. At first her family didn't admit to it but Lucy reminded them of their behavior and that's when thing went down. The whole family admitted that they didn't agree with her decision saying that it is "Probably just a phase" and "That sort of thing is not right." She fought back explaining that it wasn't something she chose to do just to do it and that it is something that shouldn't cause them to treat her badly. The father, who was livid at the topic in general, had started to raise his voice at her and eventually the two had a screaming match. During this he had admitted that she is adopted and that he was "glad that it wasn't his own flesh and blood that came to such filthy conclusions." Traumatized by the words Lucy didn't say anything else and stood in shock. The father proceeded to say that she could no longer live with them and that she needed to find her own way of housing.

Several weeks later Lucy found herself with a backpack full of clothes and nowhere to go. She ended up taking residence in a giant dried out water pipe under the bridge. She spent a lot of her time there and would, from time to time, migrate to other places to sleep. She eventually fond a job at a local book store and from there she became friends with one of her co workers named Talia Jones. Talia had opened her small apartment up for Lucy and treated her like family, especially when Lucy explained why she had been homeless. Thanks to Talia Lucy was able to go back to school and get her diploma. Graduating should have been a day of excitement and possibilities but the night ended in horror. Karen and Penny (along with a few other friends) took Lucy off from the crowds, telling her that they wanted to apologies but instead their apologies changed to hateful words and fist fighting. The police werent involved but Lucy had to cover her face with ice packets for awhile because of the damage.

Time passed and Lucy never talked to her adoptive family again. She had gotten in a relationship with Talia for about a year before she caught Talia cheating on her. It didn't take long for Lucy to find a new affordable apartment and started to write. It was the one thing that really seemed to go right for her and she decided to take her writing a step farther and seeked a publisher. In a years time she had had her first book published called The Bad One. A fictional book about a girl who went through a series of unfortunate events and even despite her horrid life searched for the light in it all. The unique thing about the book is that it not only was a fictional novel but poetry as well. It wasn't extremely popular but it got many reads all around the US and supported Lucy greatly. She quit her job and returned to writing. Despite having such good events happen she started to hate herself and feel as if she wasn't good enough. She would drink her nights away and spend hours staring out her apartment windows, watching the world move and change without her. These days lasted to weeks and eventually lasted into a month, until one day she met someone new.

She had been walking from one of the coffee shops she so often visited and to her surprised to see a girl with pink hair in the alley next to her house laying on the floor surrounded by men and groaning. Curiosity and worry consumed Lucy and she went to go check on the women. When she had been 5 feet away the men they took off and went out of sight. Lucy helped the women to her apartment, where she learned that the women's name is Revan. She didn't seem to remember much and didn't have a home to stay in. Lucy wouldn't let Revan go and instead opened up her house to Revan as Talia did to her. Time passed and they soon became friends. Revan became a big part of Lucy's life. Even though she had a crowd of friends and acquaintances she always preferred Revan's company over theirs. In no time at all they had been officially going out. It was all natural to Lucy and one of the greatest periods of her life. She also wrote her second book To Be Risen.

One day Revan had sat Lucy down and tried to explain that she is an angel. Lucy, being the skeptical person she is, took it as a joke. Revan continued to be persistent in her words and after awhile Lucy started to get annoyed. All her friends and all Revan's friends started to think that she was crazy but this didn't stop Lucy from loving Revan. She dismissed what her girlfriend was saying and would calmly ask her to quit the jokes. It was too bad that she didn't listen to Revan's stories and pleas because a few weeks later Lucy would be seeing the color red. The girls had been rushing to get to one of Lucy's book signing and due to a night of movies and laughter they had slept in. It didn't help that she got an rare phone call from her parents, who scolded Lucy for her book. Even though Lucy had been torn she sucked the tears up and went out of the house. On the way to the book signing Lucy had gotten another call but this time from Talia. Lucy had already had too much for the day and had told her ex that she would call her later. During this action she felt a push on her back and stumbled into the middle of the road. The sounds of horns and screeching filled the city streets as Lucy got hit by a city bus moving at 30 mph. She died instantly underneath the bus. Her belongings scattered everywhere along with the blood that once flowed through her body.

Revan had been the one to pull Lucy from underneath the bus and held her tightly against her chest, getting blood all over her. The funeral took place a few days later and all of Lucy's family, friends, and cowokers mourned over her death. It was also the day that the book Lucy made for Revan called The Angel in My Apartment had been approved for publishing. Unfortunately, they needed a few things changed and Lucy to sign a few papers but because of her death the book never made it's way to the world.

Lucy currently is bound to Revan's necklace and had been in a strange sleeping limbo for 3 years.

She is now just awakening to a completely different world with no memory of dying.




Alias:
Ezra
How did you find us?:
Previous Board
Experience:
Several Years
Other Characters:
Ezra Griffith, Lucas Rhodes, Cassidy Berkeley, Hermes, and Aphrodite
RP Sample:

Every night had provided the same horrible reminder of something still forgotten. Like a discrete note highlighted in a neon yellow paper reading "Remember to do the thing," and no matter how much you comb your mind...you can't seem to remember what "the thing" is in the first place. Every night painted vivid pictures in reds and oranges with an echo of pain ringing through his ears. He could still see the woman become consumed by fire with the smell of burning flesh singeing against the flames.

No matter how many times Ezra had this dream he woke up, screaming and covered in a cold sweat. Emotions driven by an overwhelming sense of anger, and soon bridged to hate, lasted past his waking point and lingered until his heart rate slowed. Though his eyes remain open he could still see every fragment of this woman--as if she had escaped his dream and crossed into reality. Tears betray Ezra as fire starts to consume her. She turns to face him and reaches a hand out in his direction as she screams her pleas "EZRA NO!"

Softly, he sobs in his bed and lets the moisture cloud his vision from her. Every morning he questions why she haunts him and every morning he never gets a response. Ezra felt that he had done something wrong and hateful to this woman in a past long forgotten. "If only," he whispers to himself "-If only I knew what she wanted and what I did wrong."

I (Lucen Evaline Grey) have read the site rules and understand them. The code word for the rules is: (Batman)
[/div][/div]
Application Created By Hell Hound
[/div]