Post by Deleted on Nov 30, 2013 23:27:26 GMT -5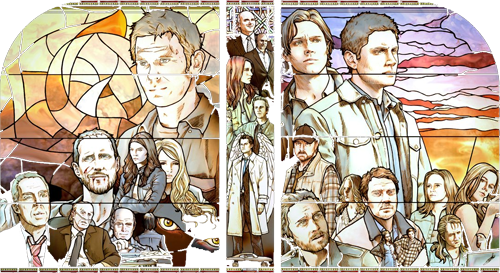 Full Name:
Hamaliel
Nickname/Alias:
N/A
Age/Date Of Birth:
Ageless
Race:
Angel of Logic
Occupation:
Heaven's Chief of the Choir of Virtues
Species Group:
Commanding Archangel
Play-By:
Shawn & Aaron Ashmore
Abilities
Low-tier Powers
Dream Walking, Eidetic Memory, Electronic Manipulation
Invulnerability, Regeneration, Smiting, Super Stamina, Super Strength,
Super Senses, Supernatural Perception, Telekinesis, Telepathy, Teleportation,
Temporal Awareness, Voice Mimicry, Flight, Pyrokinesis
Mid-tier Powers
Biokinesis, Advanced Vessel Locking, Memory Manipulation, Advanced Pyrokinesis, Soul Reading, Reality Warping, Power Removal,
Holy White Light, Invisibility
High-tier Powers
Cosmic Awareness
Cryokinesis Electrokinesis, Advanced Smiting, Shapeshifting, Weather Manipulation, Terrakinesis, Nigh-Omnipotence
Heavenly Accessed Powers
Enhanced Chronokinesis, Healing, Smiting, Resurrection
Special Inventory
Special items that are bought from the store will go here.
Likes (At Least 3):
❤ His Position & Purpose in Heaven
❤ Successfully Helping Others In Need
❤ His Heavenly Father, His Holy Land, and All His Creation
Dislikes (At Least 3):
✗ Hypocrisy and Deceit
✗ Disorder or Lack of
✗ Careless, Uncouth, and Lazy Behavior
Fears (At Least 2):
☬ Irremediable Chaos in Heaven or Earth
☬ Creating Wrongful Decisions That Lead to Chaos
Goals (At Least 1):
★ Restore Order Within Heaven and Bestow Guidance and Knowledge Upon The Heavenly Land in Means to Reinstall Balance Between Heaven and Earth
Personality:
As a Commanding Archangel of Logic Hamaliel would be believed to have very few characteristics to color his personality, however, many would be incoherently mistaken. There are several sides to Hamaliel and all of them, in unison, govern his day-to-day behavior and his prominent skill for logic, knowledge, and strategy.
Hamaliel's external self is not one of deceit and is indeed a solid foundation of his core personality. For those who have never met him he would be perceived as daunting due to his silently powerful presence. He speaks when he is spoken too and he speaks very little--only going straight to the details and making little note to show sympathy to any given situation. It is not that he, himself, is unsympathetic but because he finds it illogical to taint facts to better a situation--unless of course it is the logical approach to stimulate a chaotic situation. Hamaliel is also considerably assertive and can often times border the line of demanding when he is dealing with Angels below his position. He has a knack for wanting tasks to be done efficiently and does not take lightly to those who are slothful or rebellious under his order.
Angels who have worked with Hamaliel will realize that though he may seem shrewd and governs those around him in an incredibly utilitarian fashion he is this way for a specific purpose; getting things done. It is his actions that show his passion for not only Heaven but for Earth and all it's inhabitants. His clean cut personality is specifically designed to keep the angels balanced in knowing play from work and when to intertwine them both. It is true that Hamaliel is actually known to be incredibly humorous--at least in Heaven and when all work has been rightfully accomplished. For humans his jokes are technically considered Deadpan and Gallows Humor.
Traits
[/b][/font]
✧ Analytical & Observant
✧ Reliable, Faithful, Loyal
✧ Strong Humanitarian
Negatives (At Least 3):
✦ Critically Harsh
✦ Conservative
✦ Fastidious
[/ul]

Parents:
Jehovah or The Christian God
Siblings:
All Categories in the Hierarchy of Angels
Other Family:
None
Important Others:
Other Angels, Main Hunters, Demons, Civilians, ect ect
History:
The Story of Peter Apostle
The origins of Peter's story starts many centuries before Peter's exact birth. Deep in the Realms of Heaven The Angel of Logic, Hamaliel, request that God create it a perfect vessel in means to enter Earth in the official start of the Aquarius Age. According to the charts, Hamaliel found that this Era would affect mankind by influencing the rise and fall of civilisations or cultural tendencies. The angel feared that Lucifer would take advantage or feel influenced by the astrological change in Earth's aura and thus prepared earlier for the possibilities.

The angel's request had been granted on a beautifully sunny day in late September of 1990 when an infant by the name of Peter Haim Apostle had been brought into the world. Peter's name holds incredible significance to his fate being, ironically enough, the same bloodline as Saint Peter who was one of the 12 Apostles of Jesus Christ. He was also given the middle name "Haim" which means life. Blessed with a strong name Peter had been cursed with unwavering providence.

This child had been the human representation to The Angel of Logic which gave great satisfaction to Hamaliel. Peter had grown to be the "rock" of his family and often times placed the needs of others well before himself. He had sacrificed his childhood in the means of financially supporting his low-incomed family and though, to some, this may have been a burden it was more a blessing.






Alias:
Who are you known as OOC? (This name is what you will be listed under in threads like Who Plays Who, etc.)
How did you find us?:
Proboards Support, Google, an ad, maybe someone invited you?
Experience:
How much RP experience do you have? Please state if you do not have Proboards experience.
Other Characters:
Do you play any other characters here on EOTR? If so please list them.
RP Sample:
Please post a sample of your RP here.
I (Characters name) have read the site rules and understand them. The code word for the rules is: (Code word here)
[/div][/div]
Application Created By Hell Hound
[/div]