Post by Deleted on Sept 2, 2017 15:30:42 GMT -5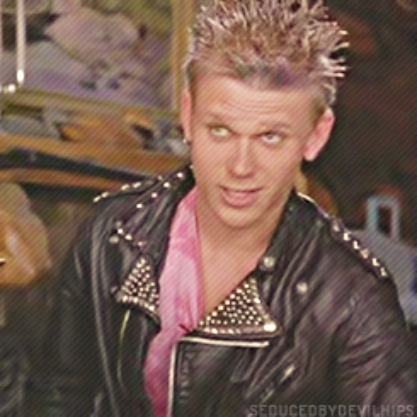 Full Name:
Reginald 'Reggie' Hadley
Nickname/Alias:
Sometimes goes by Gee.
Age/Date Of Birth:
He was born in 1848. His current vessel was born in 1965 and was possessed in 1992 (he was 27 year-old).
Race:
Demon
Occupation:
He's an anarchist activist. He avoids being employed as much as possible (though he failed several times and worked for some demons about every 5 or 10 years before running away).
Species Group:
Black Eyed Demon
Play-By:
Mark Pellegrino (because he's hot, and making him play one of his political ennemies seemed fun)
Abilities
Reggie can possess human bodies, dead or alive.
Being just a soul (a tortured, twisted soul but a soul nonetheless) he doesn't age, and can't be injured or killed by 'normal' weapons.
Yeeaaaah, that's about it.
...He can play guitar... if that counts.
Special Inventory
Special items that are bought from the store will go here.
Likes:
❤ Freedom
❤ Weed and alcohol
❤ Music (He can enjoy most of types, but is particularly fond of punk rock, grunge and ska)
❤ Lying
❤ Animals
❤ Knives and using them on someone he's angry with (which is a lot of people, including - and in majority - other demons)
Dislikes:
✗ The power people have over him and others
✗ Hell's monarchy
✗ Torturer demons (like Alistair)
✗ Hypocrisy
✗ Denial
✗ Being interrupted
Fears:
☬ Being caught as a runaway by other demons and having to work for Hell again
☬ Never succeeding in anything
Goals:
★ Bringing Hell's crown down for good
Personality:
Reggie is very analytical. Learning a lot from them (well, some of them) he likes spending time with humans and other creatures. However, his old self, when he was human, was way more compassionate, he was an anarchist as much as a leftist. Now, he wants no ruler, but forgot a little about how Anarchy is also about helping each other. He still doesn't want complete chaos Walking Dead style though ; he wants freedom, sex and music. He's a curious man, looking for new stuff to learn from in different fields and arts. He's also very temperamental.
Traits
[/b][/font]
✧ Pretty tolerant
✧ Very determined
✧ Overall relaxed and cool
✧ Patient
Negatives:
✦ Can have bursts of anger
✦ Not always very clever
✦ Sometimes rude
✦ Proud
[/ul]

Parents:
His father worked in a coal mine, and his mother at a brewing factory ; they both died in the 1870s.
Siblings:
A little sister, dead as well.
Other Family:
None that mattered much.
Important Others:
Nowadays, no one. Except for Lilo, his dealer, a pretty cool demon he met while attempting to tag Hell's throne mansion ; he'd heard of Crowley's addiction and thought he had some chance to convince him that weed was a good remedy against human blood.
History:
Born during the night of the 22nd of February 1848, the first thing that Reginald Haldey did was to prevent his father to be a part of the Revolution that he had been waiting for years since he and his family had settled in France. Luckily for Reggie, his father didn't care
that much
. Unluckily for his father, Reggie did. And as he grew up, the only thing the boy had in mind was to start another revolution which both him and his father could participate in.
This has been the major failure of his life - and up to this point at least, of his death as well.
But Reggie never stopped fighting ; he joined, right from its creation, the International Workingmen's Association (IWA) in 1864, whom he quit to join the Anarchist St Imier International ; he was also a part of Paris Commune in March 1971... and was lucky to escape alive.
This kind of luck didn't last long. Indeed, years later, after having spent the last thirty four years going from factory to factory, from French bridges to English bridges, and from alcohol to opium, Reggie met someone who introduced him to a new association : the Anarchist Black Cross (ABC). Due to personal and private reasons he never told anyone (he had found himself in prison several times) he was very moved by this association who was trying to free his locked up comrades (people he actually didn't know but whom he still somehow cared about).
Things turned bad, however, when, in the attempt to break a wall of the prison of Reading with fellow anarchists, he was caught and thrown into it the next day. For a whole week, he made in his cell so much noise, yelling for his freedom and for the right to take a shit at 1am, that he attracted the attention of a Crossroad Demon who was offering deals throughout the prison (the perfect spot, really). The demon offered him a deal, which Reggie, preferring ten years free over God knew how many years he could rot in here, accepted.
Free at last, Reggie had just the time, as he went out, to see his fellow men from the ABC finally succeeding at getting everyone free from Reading's Prison.
As he felt the irony of his fate, he briefly wondered if the demon had known, when Reggie accepted to
sell his soul
for something he could have gotten had he simply waited another day...
Nine years later, he died, and went to hell where his soul got dark and twisted until he turned into a demon himself.
What followed was a succession of failures, as he worked for demons, ran away, worked for them again, ran away, got tortured, ran away, and so on for a whole century, with the intermittences of some events.
Up to this day, his sole intention is still to destroy the government. We can give the guy that,
he's very determined
.
Alias:
Suzi
How did you find us?:
Googling 'Supernatural RP forum'
Experience:
I've been on a Hetalia RP forum for two years, and before that I used to RP by email (mainly Sherlock canon characters). I have no experience with Proboard.
Other Characters:
Not yet.
RP Sample:
« Reggie put the step back up, tied it with the first thread he found, and went right back into the camper van. Lilo's laugh resonated as Reggie turned to him, half crouched.
'Problem ?'
'You're really gonna go there ?'
Reggie nodded, his chin up and his teeth biting his lower lip. 'I always go there.'
Lilo snorted, amused.
'Yeah but "going there" this time means not just going where trouble is, but going where our kind is.'
Reggie waved that away and turned around to start cleaning up the place - that is, putting everything that poked out into the already full cupboards. When most of it ended up on the floor, he dropped it and went straight to the front the the vehicle, soon joined by the other who sat next to him. They both got rid of the insulating curtains which Reggie folded and put between his seat and door.
'I'll miss you, man,' he said.
'Hell no you won't !'
'Oh I will. I doubt Metallica City or whatever has a weed guy like you !'
'Well to be fair I doubt it has a weed guy at all.'
'Good thing I stocked up then.'
When Reggie put in gear, Lilo didn't need to be told to get out ; he hugged the demon, knowing he would be hugged back, then went out by the passenger door.
'Hope you enjoy Hell when you go back there !'
'Ahah. Funny. But I won't let these son of bitches take me back again.'
Lilo nodded, unconvinced.
Reggie drove into the road, cursing when branches hit the roof, then honked twice. He looked at his friend from the side mirror, unsure of what his feelings were about all this. But he was damn sure of his decision to go. No true activist sat up in his van waiting for the revolution, he had to go where stuff was happening. He had been waiting to find more intel about the location of that city for months now, ever since he heard witches talking about it.
Hoping Lilo's information was legit, he turned the radio on and, to the sound of Chumbawamba, drove to his new adventure. »
____________
I, Reggie Hadley, have read the site rules and understand them. The code word for the rules is: batman

[/div][/div]
Application Created By Hell Hound
[/div]