Post by Deleted on Sept 22, 2017 17:10:35 GMT -5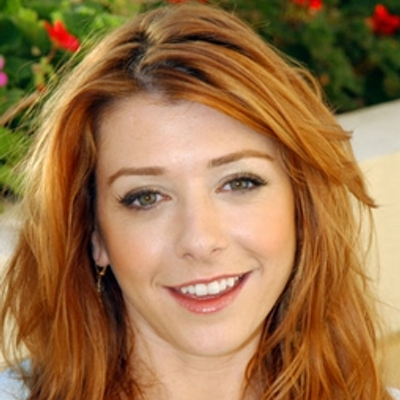 Full Name:
Olivia Evelyn Mays
Nickname/Alias:
Oli, Liv, Livy
Age/Date Of Birth:
31; December 22, 1986
Race:
Skinwalker
Occupation:
Hunter/Researcher
Species Group:
Hunter
Play-By:
Alyson Hannigan
Abilities
Enhanced Strength
: Her strength is greater than the average human when in canine form.
Super Speed
: She can run and move much faster than humans in her animal form.
Accelerated Healing
: Can heal a lot faster than a human. Example: A skinwalker was hit by a minivan, but when he returned back to his human form he appeared to have no physical harm. The same skinwalker was shot with a bullet later, but the wound healed extremely quickly.
Invulnerability
: Skinwalkers can only be killed by things made of silver, such as bullets or knives, to the heart or head. They can also be injured.
Super Senses
: Her sense of smell is far better than a human, in either form, and her hearing is comparable to that of a dog.

Infectious Bite
: Her bite is poisonous and can turn a human into a Skinwalker.
Shape-Shifting
: She can transform into a canine. The transformation is complete and can be done between human and canine forms anytime regardless of a full moon unlike Werewolves. She takes the form of a
Red Siberian Husky.
Special Inventory
Special items that are bought from the store will go here.
Likes (At Least 3):
❤ Flowers/Gardening
❤ Being on the road
❤ Research
❤ Solitude...or hanging out with Titus
❤ Sweet tea
Dislikes (At Least 3):
✗ Large groups of people/beings/whatever
✗ Hot beverages
✗ Close mindedness
✗ Horror Movies
✗ The word 'moist'
Fears (At Least 2):
☬ Losing control of herself
☬ Other hunters
Goals (At Least 1):
★ Help people out the best she can, while drawing the least amount of attention to herself as possible.
★ Protect Titus, even from herself...no matter what.
Personality:
Olivia is a rather quiet and reserved individual, at least from what most people see. She isn't very good in social situations and suffers from social anxiety. Although the medication she takes helps her not panic or feel like she doesn't have control, she will still be quiet and listen to a conversation unless she is directly spoken to. In all honesty she prefers being by herself immersed in research than in a large crowd, or in the company of her best friend. If the number of humans around her gets to be too great, she will find a reason to excuse herself and leave as quickly as she can.
She possesses a single-minded loyalty and will devote herself to a task and see it through to the end. Very little can stop her from doing what she believes is the right thing to do. Olivia secretly thinks of herself as a monster, and no amount of good she's tried to do has convinced her otherwise. This low self-worth has rooted itself inside of her since she learned what she had become. She can come off as cold and a bit distant, a defense mechanism to keep people at a safe distance. There are very few people in her life that she trusts, and her trust is something that is incredibly difficult to gain. Once someone manages to get past her defenses, she is a loyal, sweet and somewhat awkward woman who will protect those she cares about no matter what.
Traits
[/b][/font]
✧ Dedicated
✧ Knowledgeable
✧ Strong Willed
Negatives (At Least 3):
✦ Anxious
✦ Low Self-worth
✦ Distrustful
[/ul]
Parents:
Gena Mays (adoptive mother); Anthony Mays (adoptive father); Lucinda Jefferson (biological mother) (biological father unknown)
Siblings:
Eva Mays (adoptive younger sister)
Other Family:
She knows nothing about her biological family, and has not had contact with her other family since she was turned
Important Others:
Titus Cooper (Best friend/hunting partner/secretly in love with)
History:
Lucinda Jefferson was young and not ready for the responsibility of motherhood when she found out a night of foolishness ended with her becoming pregnant. She knew she couldn't be a good enough mother to the baby, and she would have no help from the father because he refused to accept what was happening, so she decided to carry the baby to term and put it up for adoption. She chose a married couple named Gena and Anthony Mays, who were unable to have children of their own. In no time the big day arrived and the proud parents greeted Olivia Evelyn Mays into the world.
Olivia had a typical childhood and gained a love of books and knowledge from her mother, who was a school teacher. Her father was a lawyer and the young redhead was always interested in his work as well, at least the parts that he could discuss. When Olivia was six, the Mays adopted a three year old girl named Eva and she was so very happy to have a younger sister. The two of them were best friends throughout their childhood. Olivia was quite socially awkward and considered a 'nerd' because of her hobbies and how much she had her nose stuck in a book, otherwise she had a few friends and was content.
When she reached high school, Olivia started showing a stronger interest in what her father did and wanted to pursue a similar path. With his help she was able to get into some summer courses that would count toward college credits and she would also help out at her fathers firm with some light office work. It became apparent to her after awhile that while she had a strong interest in law, she couldn't see herself as a lawyer in front of so many people hanging on her every word. Instead she decided to become a paralegal, this way she could help from behind the scenes and immerse herself in organization and research.
She was very happy with her choice as it gave her the flexibility to move up if she wanted to in the future, but she ran into some problems when she started college. What started out as a social awkwardness was now more of a social anxiety and she struggled with this silently for a few years. Olivia finally sought help when the panic attacks got worse and some days she didn't even want to leave her dorm room. She was prescribed anti anxiety medication and it helped her greatly once her body adjusted to it. Slowly gaining back her confidence, she decided that her ultimate goal would be becoming a lawyer some day, but that day never came.
At twenty-two, Olivia earned a Bachelor's degree in Paralegal Studies and started working at her fathers law firm under another lawyer there. She worked hard, made a few friends, went out, went on dates and was very happy with her stance on life. Her family was her greatest support system and she remained very close to them. In the summer before her twenty-fourth birthday, there was a few reports of people being attacked by a stray dog a town over. The attacks were so severe that the victims died, however the papers never mentioned that it was due to the heart being taken out, only that 'strange circumstances' had been involved.
One night, Olivia was making the short walk from work back to her apartment when she got the distinct feeling that she was being watched. Looking around, her gaze fell to the large husky next to a tree in the park she was walking by. Something was...different about this dog and it made her nervous as it seemed to stare back at her, so she resumed walking at a much quicker pace. Suddenly the dog started running for her so she sprinted down the sidewalk but it was no use; the skinwalker was much faster than she was and it jumped her from behind. She tried to fight against it and felt its teeth sink deeply into her forearm, causing her to scream in pain but she continued to fight against it, refusing to give up. The beast then let go and stared at her for a short moment, head tilted to the side as Olivia tried to get away from it…then it took off running. Confused, she barely managed to get her cell phone from her purse and give 911 her location before passing out on the concrete.
She awoke some time later in the hospital, her arm bandaged...however, other cuts and bruises were barely even visible. Thinking she had been out for some time, Olivia asked the nurse and she told her it had only been a few hours. After her family and a few friends visited, a man claiming to be FBI appeared in her room and asked her some questions. In truth he was a young, rookie hunter. She felt uneasy as the man stared at her intently, and she wondered why the FBI would be interested in a dog attack...unless of course, it had to do with the attacks a town over. It still seemed strange. The man left and Olivia didn't give him much more thought.
All tests came back good and after a couple days, Olivia was released from the hospital feeling different, and quite baffled. The bite healed much faster than it should have and it was hard to explain, but it was as if something inside of her was fundamentally changed now. She stepped out of her car and started for the front door of her apartment building when she found herself sniffing the air. It was like she could…smell everyone. And hear things happening in the structure in front of her. As she got closer to her door, she smelled it...him. The FBI agent, the area around her apartment reeked of him. Feeling frightened and confused, she rushed into her home and started packing a bag although she wasn't sure where she would go.
Then the man was suddenly in her doorway, pointing a gun. He had called the hospital to check on Olivia when they told him she had been released and sent home. She pleaded with the man, asked why he was doing this and what was happening to her. He only seemed slightly apologetical as he told her she was bitten by a skinwalker and had become one herself. When she pleaded with him to help his response was: 'There's no help for you, other than a silver bullet. You're a monster now.' Something boiled up inside of her at hearing this, an anger she had never felt and she threw a lamp with great force at him before running out onto the fire escape.
Olivia kept running and didn't look back until she was out of town, somewhere along the line she had shifted into her canine form and ran some more. A few days later, she woke up naked and deep in the woods a few states over. Olivia remained here for over a week, learning the hard way what her new nourishment was and about the form she could now take. She emerged from that place forever changed, in more ways than one. In the next few years that followed, she immersed herself in research in everything supernatural...not just about herself, but about the other things out there. She made no friends, never stayed in one place for long and trusted absolutely no one. That hunters words would stay with her indefinitely...she could try and do good, but she would always be a monster.
When she was twenty-seven, a case in the east caught her attention as it sounded like another skinwalker causing problems so she decided to investigate. She used her canine form to try and track the skinwalker more easily, but when she emerged from her starting place in human form, a gun was trained on her. Another hunter, something she feared and hated more than anything. She defensively raised her hands and tried to explain the situation to him, expecting a silver bullet to the head any moment and surprisingly he listened to her. The hunter, Titus Cooper, was different than what she had set in her mind about hunters. Once she proved to him that it was another skinwalker, she was ready to leave him before he changed his mind about letting her live. However she stayed and helped put an end to the evil skinwalker. Titus was just willing to let her go...she was absolutely dumbfounded, but he stated that she didn't have 'the look' of someone who had taken an innocent life.
Afterwards, they kept in touch a little bit and helped each other out with cases...then they spent more time together. An unlikely friendship eventually grew from this, Olivia being very reserved and unsure at first, then she started 'lowering her walls' and letting him in. He was compassionate, kind...
good
. Sometimes it was hard to believe he was a hunter, but he always made the right decision even if it was difficult. She started being her old self around him; a sweet, nerdy woman who loved books and genuinely cared about him. She told him things about herself that no one else knew. Titus became her best friend, but other feelings started to surface after a couple years. No matter how much she wanted it, she was convinced there was no way she could be with him (and there was no way he wanted to be with her), not when she was a monster.
Now, she hunts mostly with Titus while trying to keep a low profile, and is continuously researching the supernatural, not sure where the road will take her next...
Alias:
Alessa
How did you find us?:
Old board and then returned to this board.
Experience:
Like a decade-ish, off and on.
Other Characters:
@alessa
RP Sample:
It was a dangerous thing to do, not very smart at all and could likely end in someone's death...the possibility of it being her own very high. For most sane humans, these would be good enough reasons to turn back, retreat and hope that the problem would somehow magically fix itself. However, Olivia never claimed to be all that intelligent nor was she even human, so the normal rules didn't apply, right? She could have ignored the newspaper that caught her attention while she was buying that bottle of sweet tea at the gas station; the dejavu inducing headline that seemed to physically reach out and slap her in the face. Strange animal attacks, someone already dead, puzzling circumstances. A similar event took place more than six years ago...one that ended with Olivia becoming the creature she now was. In a movement that was nothing more than a blur, she slammed too much money on the counter and quickly left. It was a miracle that the paper didn't disintegrate into tiny pieces with how tightly she clutched it in her hand.
Now here she was a few hours later, in a wooded area near where the attack had taken place, looking for some kind of clue or hoping to catch a scent that could help her on this case. Olivia had decided to trade her small, human frame with fiery red hair and piercing emerald eyes for her other form; a red Siberian Husky. She didn't like to admit it, but sometimes she felt more...comfortable in her canine form. She was both faster and stronger by a considerable margin, and although it could be risky, she had a better chance of escaping if the situation turned ugly. The determination that had risen inside of her when she first saw that newspaper kept her moving forward through the dense foliage, even though it was now accompanied by caution and, she would be very stupid indeed if she didn't admit fear, as well. Regardless, Olivia had to press on and help if she could. The last thing she wanted was for someone to suffer the same fate she had, especially if there was something that she could do about it.
She moved silently which would seem impossible for a canine of her size, the dead leaves under her paws made no difference and hardly moved. Her nose was to the ground when she caught it; it was old, but it wasn't human or animal. It was a familiar scent, causing her to bare her teeth as a low growl escaped from her throat. Her suspicions had been accurate, another Skinwalker was the cause of the attack that had taken an innocent life. Following it a bit further, she reached the area where the Skinwalker probably first laid eyes on its victim. Olivia looked out across the trail that was clearly used for hiking, jogging or just walking along to enjoy the beautiful scenery. The smell of humans was overwhelming, and she could still pick up hints of the blood that had been shed. Although the area wasn't sectioned off anymore, it was still empty...except for one person.
Her piercing gaze fell onto the man who was about ten feet away from her, immediately taking in his appearance. He was tall, easily past the 6 foot mark by a few inches, with dark brown hair and eyes of the same color. Dressed in a suit and tie, he seemed to have a particular interest in this area and an all too familiar feeling of dread rose inside of her; he had to be a hunter. It seemed like this situation had already caught his attention and she was late to the 'party'. Just as the instinct to run was about to kick in, the man's gaze passed over the tree line she was hiding in and their eyes met. It was only a few seconds but it felt more like hours as she stared at him. Her human face would show the apprehension and fear she felt now, but all she could do was look into his eyes. She watched his hand move toward his lower back and the spell was broken, a slight whine was heard before her body turned and she started to run.
Olivia ran as fast as she could, and although she was faster than the hunter, she was still waiting for a silver bullet to the back at any second. She planned on running out of the woods and beyond, like she had to do what seemed like a lifetime ago when she left her old life in the dust. The man chasing her could solve this damn case himself surely, and she could move on to the next town. Suddenly, however, Olivia had an idea...a rather stupid one, but she had to give it a shot otherwise guilt would eat her alive if she abandoned this. Quickly running back to the large oak tree where she stashed her clothes, she phased back into her human form and threw her clothing on before leaning her back against the rough bark. She could hear him slowing down but he was still looking, gun at the ready more than likely.
Closing her eyes, Olivia took in a deep breath through her nose and slowly let it out through her mouth.
Fuck, this is such a stupid idea Oli...
"I-I'm here, I'm over here!"
, she yelled out, voice shaking slightly. Anxiety washed over her like cold water and she vaguely wondered if she had remembered her medication today, her breathing rapid and not due to the physical exertion of running. She listened closely to his footsteps as they started to move toward her position, then cleared her throat.
"I know how this looks, but...just hear me out at least for the moment."
She waited for some kind of response, keeping her back to the tree and staring at the ground.
"Yes, I'm a skinwalker..."
Yeah, that's obvious dummy...
"But I'm not responsible for what happened here...I swear. I don't hurt innocents...I f-feed on animals when I have to..."
Her voice breaks a bit, the topic of discussion a difficult one but she presses on after a few seconds.
"Another Skinwalker is responsible for the death of that woman...I'm also trying to find them. Give me a day...hell, half a day to prove it to you. If I can't or you aren't satisfied with the answer..."
Taking in another deep breath, she finally peeks around the massive tree and looks around until her jade eyes lock onto his deep brown ones for the first time in her human form, the only thing visible to him being her fair face.
"Then you can use that gun on me. Sound fair?"
She watched him carefully, honestly waiting for him to raise the gun and shoot her right between the eyes.
Tag:
Titus Maximillian Cooper
Words: 1156 (Holy crap xD)
Notes: So much muse for her, I wasn't planning on making such a large post! I can't wait for these two <3
I (Olivia Mays) have read the site rules and understand them. The code word for the rules is: (BATMAN)
[/div][/div]
Application Created By Hell Hound
[/div]