Post by Deleted on Jan 24, 2018 0:11:05 GMT -5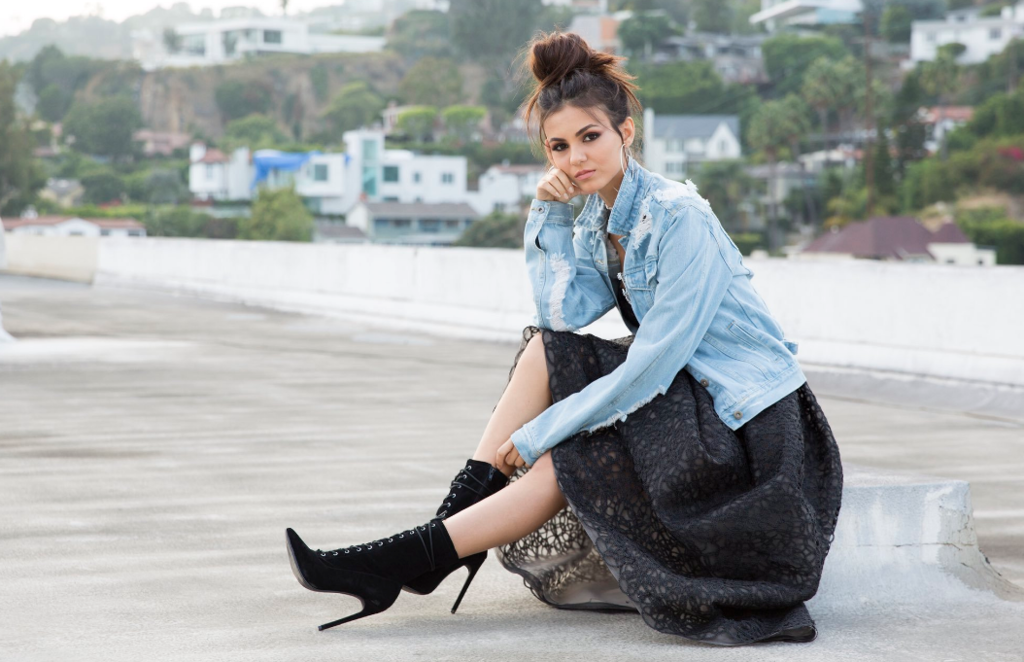 Full Name:
Gabriella Elise Vera
Nickname/Alias:
Gabby, Gabs
Age/Date Of Birth:
24, September 12, 1993
Race:
Human
Occupation:
Barista
Species Group:
Civilian
Play-By:
Victoria Justice
Likes:
❤Technology
❤ Social Media
❤ Caffeine of any kind (Soda, Tea, Coffee, etc.)
❤ Swimming, Running, and Soccer
❤ Acting (Theater)
❤ Movies and popcorn!
Dislikes:
✗ People who think they're better than everyone else
✗ Cucumbers/ pickles
✗ Negative People
✗ Bugs, especially bees
Fears:
☬ The Dark
☬ Being alone
Goals:
★ Be on television and movies as a well known actress.
Personality:
Gabriella is a fair combination of both being an introvert and extrovert girl. She can make and keep friends without any problem, because people tend to gravitate towards her easy-going, laid back lifestyle. She's always trying to find someone to help, she's just like that. She tries her hardest to make everyone happy, even if that means she isn't. She loves sports, especially soccer and swimming!
She's the friend you would call at midnight just because you're feeling sad, and she would show up with tubs of ice cream and a giant bowl of macaroni and cheese with her arms full of your favorite movies to watch. She forgives people, even when they don't deserve it, but she also holds grudges against anyone who does her or her loved ones wrong. She never forgets the pain people have caused, even if she seems like she has. You could simply call Gabriella a free-spirit. She's usually very calm and and easy-going, rarely stressed and uptight. She goes wherever the wind takes her, and she's okay with just about anything.
Traits
[/b][/font]✧ She's very easy going.
✧ She's typically a really happy and optimistic person to be around.
✧ She's playful and loves to joke around.
✧ She goes out of her way to make others feel happy and loved.
✧ She's one of the most loyal friends you could ever have.
Negatives:
✦ She can be moody.
✦ She has a problem with making decisions, she's indecisive.
✦ She has a hard time focusing and sitting still for too long.
✦ She's usually really naive and tends to try to focus on the good, even if someone's bad traits are right there in front of her.
[/ul]
Parents:
Antonio and Juliet Vera
Siblings:
Morgan Vera (Older sister)
Other Family:
Angelo and Nora Borelli (Maternal Grandparents) Marco and Martina Vera (Paternal Grandparents), Joe Vera (Uncle), Rowan Vera (Cousin)
Important Others:
Her best friend Samantha Daley
History:
Gabriella Elise Vera was born the youngest of her family of 4 in Phoenix,Arizona on September 12,1993. Growing up, she was a very hyper and easy excitable child who could hardly sit still. In fact, she was so hyper that her parents, especially her mother who was a pediatrician, grew concerned. They did many tests and it came back that she was ADD/ADHD. Despite her high energy, she wasn't a bad kid and loved making friends and never had a rough time with doing so. She was loved and adored by everyone who met her, especially her older sister Morgan. Gabriella loved and looked up to her.
One night when she and her sister were younger, Gabriella discovered that Morgan had a bag of gummy bears, so like any child would do, she helped herself to them. Morgan found out that she took the candy and before Gabriella knew it, her bed was floating in the air because her sister was lifting her in the air with her telekinesis! She learned at the age of 5 that her family was a family of witches,and her grandmother and mother were very powerful ones at that.She also learned that although her family had powers,didn't exactly mean she would.Although she tried repeatedly,she still failed at doing magic. She did not have any of the abilities,even though her sister did.
When she was in high school, Gabriella was the type of girl everyone wanted to be friends with. She was on the soccer AND swim team, and did theater. However, she slacked in her classes because she hated having to sit down and do the work. It wasn't that she couldn't do it, because she understood it just fine, she just wouldn't sit down and do her homework. When she was around seventeen, she grew a crush on this guy named Cody who played on their school's basketball team. She ended up gathering the courage up to talk to him, and before she knew it, she was talking to him all the time. They went on quite a few dates and she fell for him hard. She just knew it was love. Sadly, this relationship did not last because Cody had a bunch of other girls he was seeing besides Gabriella. She was crushed.
Gabriella ended up graduating high school, she and her sister moved out into their own apartment, and she started community college whilst working at their local Starbucks as a shift manager. Even though it wasn't much, she really did love her job and enjoyed making coffee.
Alias:
Hannah
How did you find us?:
I used to RP here
Experience:
A lot
Other Characters:
N/A
RP Sample:
*Ben walks in to the wood shop beside his house and begins to sand down his newly built table and then his phone rings. he answers his phone when he sees it's his uncle Grant* Hey, what's up? *he asks holding the phone up against his ear with his shoulder, continuing to sand the table*
Uncle Grant- Drop what you're doing and get over here right now. *his voice sounds sounds stern and slightly frantic*
*he puts down the sandpaper and grabs the keys to his truck* What's going on? *he asks as he turns the lights off in his shop and shuts the door, walking to his truck*
Uncle Grant- Freddie ran off. We were hunting a demon and he ran after him, and now I can't find him. *he has an annoyed tone to his voice, and is slightly out of breath*
*Ben groans annoyed* He knows better than to go after a demon by himself! *he climbs in his pickup truck and slams the door shut and starts it up* I'm on my way, where are you?
Uncle Grant- I'm in the woods near the Watson's old farm. Near that one giant tree with nothing around it.
*Ben nods to himself* Ok, yeah, I remember. I'm on my way, stay there and call me if anything else happens. *he pulls out of the driveway, flinging gravel as he flies onto the road* Damn it, Freddie. *he says to himself, while he speeds all the way to the woods where his uncle told him he was* *he pulls off on the side of the road and turns off his truck,grabs his gun and starts running through the woods and to the giant tree where he sees his Uncle Grant standing there, gun in hand*
Uncle Grant- It's about time you got here, I was about to just keep on looking for him myself. *he starts trotting off in, motioning for Ben to follow*
*He follows Grant and they go through the woods, as they have done several times before* Where do you think he could've went?
Uncle Grant- Well, boy, if I would've known, I wouldn't have called you, now would I?
*Ben stays quiet and keeps looking, whenever he sees a shadow, he stops and grabs his gun*
Uncle Grant- *he stops whenever Ben stops, looking over at him and then to where the shadow is* There's that stupid bastard. *he says annoyed then walks towards him* What the hell were you thinking? *he yells at Freddie*
*Ben stays quiet, but follows Grant over to where Freddie is*
Uncle Freddie- *he looks over to see Ben and Grant walking towards him* I almost had him. *he wipes the sweat off of his face and sighs, the look of disappointment on his face*
I, Hannah, have read the site rules and understand them. The code word for the rules is: Batman
[/div][/div]
Application Created By Hell Hound
[/div]