Post by Deleted on Apr 26, 2018 2:33:40 GMT -5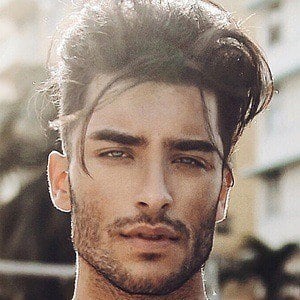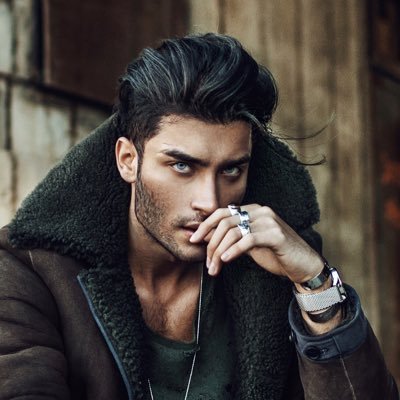 Full Name:
Renard Velentis
Nickname/Alias:
Ren, Revellion
Age/Date Of Birth:
25 Years Old - Born June 21st, 1993
Race:
Witch - Natural
Occupation:
Occult History Teacher / Occult Antiquities Collector
Species Group:
Witch
Play-By:
Toni Mahfud
Abilities
*Spellcasting / Witchcraft- Renard was born into the arts of witchcraft, his body and mind innately harnessing the powers of the gods and earth. As such, he is able to cast spells a tad easier than some other witches, though he struggles more to keep his powers under control.
*Potion Brewing- Like many witches, Renard possesses a talent for mixing potions, able to concoct poisons, antidotes, healing balms, and more.
*Telekinesis- Renard possesses a variety of powers related to his witch ancestry, one of these being the ability to manipulate things with his mind. With a nod of his head, a flick of his wrist, he's able to fling objects and/or people away from him or towards another.
*Pyokinesis- Being as powerful as he is, Renard also has the ability to command fire, summoning it at will. This allows him to conjure balls of fire, set things ablaze with a glance, and heat objects through concentration.
*Longevity- Renard possesses a form of longevity, which allows him to live forever without aging or fear of disease. However, mortal injury can still hurt him, and he will not heal any faster than an ordinary human.
*Shimmering- An advanced form of teleportation that Renard learned to use at an early age. With concentration and a location in mind, he is able to teleport himself short distances, the effect of which appears like shimmering water.


Special Inventory
Special items that are bought from the store will go here.
Likes (At Least 3):
❤Magic- Some witches love what they do, while others hate using magic unless absolutely necessary- Renard is the former. He was raised with his powers, and learned to harness and utilize them for both good and bad. Though it sometimes brings him bad luck and pain, he loves his magical abilities, and would never want to go without them.
❤Art- Renard is an artistic individual, one who pours his heart and soul into his work. If asked about it, he will likely tell whoever asked that he is an abstract artist, who details the psyche and its emotional traumas in his art. Currently four of his paintings reside in an art gallery.
❤Honesty- Over the years, Renard has found that honesty is a rare trait among humans, and especially among supernaturals. This revelation aches in his heart endlessly, making him distrustful of others. Those few who are honest, and prove their truth to him, are amongst his closest friends.
❤Men/Women/Whatever- Renard cares not for gender, nor species, possessing only two requirements- they must be willing to try love with him, and they must be at least humanoid in appearance.
❤Unique Foods- Renard has a taste for cultural foods, things that come from other countries that he has not tasted. Anything new, intriguing, or strange is right up his alley cuise-wise.
❤Pagan Gods- As a devout Pagan witch, Renard worships the great Old Gods, such as Odin, the Morrigan, Isis, Tyr, Baldur, Hecate, and others. He has met one of his gods, who he accidentally summoned in his teen years- Eostre, the Germanic goddess of Spring.
Dislikes (At Least 3):
✗Demons- Like so many other natural witches, Renard despises Demons with a passion. He tolerates a select few, while the rest are merely enemies. While he can't exactly kill them, he has been known to make their jobs rather difficult.
✗Murder- To say the least, murder is something that Renard can't help but hate. He realizes that sometimes, it is necessary...but most times it is not.
✗Ignorant Individuals- People that go out of their way to hate on others, throw Bibles in another's face, and fight just because they can, are an instant "no" for Renard. He avoids them at all cost, and though he attempts to be kind and simply brush them off, there are a few who left his sight with their genitals inside out.
Fears (At Least 2):
☬Hell- Despite being a pagan worshiper, Renard also believes in the Christian god(s), though he really doesn't have much option in that. After all, he's seen the angels, and the demons. He knows that Hell exists, and fears going there when he dies, whenever, or if ever, that day comes.
☬Gods- Renard fears, and yet loves, his gods. He respects their power, and trembles under it, knowing that he does not possess the strength to destroy them on his own.
☬Loss Of Loved Ones- Renard has few people he loves, but those that he does, he values above all others. Should he lose them, he would lose his mind, and subsequently, go mad. This is his greatest fear, for he knows that immortality means nothing without love.
Goals (At Least 1):
★Power- Renard seeks to gain great power, to become one of the greatest witches of all time. He believes he can do this by acquiring a fast collection of knowledge and artifacts, with which he can boost his powers. However, he knows that with power comes corruption, so he seeks also to temper his gifts with a mortal weakness- immortality, with the ability to die.
Personality:
"They call me vain, but last I checked, I was simply aware of my own beauty."-Renard, 2018. Renard is considered to be a rather wonderful person, among the most considerate in his friend group. He goes out of his way to help others, regardless of their background, and always gives his all to a job. However, he has a tendency to use his powers too often while helping others, and relies on them heavily enough weaken himself, or harm another. When this occurs, he has sincere remorse for the harmed party, and does anything he can to correct his wrong...unless said person deserved it.
Traits
[/b][/font]
✧Creativity- Amongst his friends, he is the most creative, constantly coming up with ideas for art or poetry, which he uses to convey his emotions.
✧Sincerity- Renard always means what he says, and never goes out of his way to harm others with his words, at least not intentionally. The truth is most important to him.
✧Generosity- Renard constantly helps others, simply because he cares for the heart of humanity. He adores the love given after a good deed, and loves the feeling of helping others.
Negatives (At Least 3):
✦Distrust- Despite his love for humanity, Renard trusts very few people. He is often wary of actions made by others, and can rarely tell the difference between a benevolent act, and a malevolent one.
✦Power Abuse- Renard has a consistent knack for abusing his magic, using it at every possible opportunity, regardless of the benefit of it.
✦Explosive Anger- Though he has great control over his anger, Renard can be pushed over the edge by certain things. When his rage takes control, he becomes relentless, striking out aggressively both verbally and physically.
[/ul]
Parents:
Angelique Velentis (Mother - Natural Witch), Dallen Velentis (Father - Academic Witch)
Siblings:
N/A
Other Family:
N/A
Important Others:
N/A
History:
Renard Velentis, son of Angelique and Dallen Velentis, was born June 21st, 1993- the day of the Summer Solstice. His parents were witches, one born with her talents, the other having learned them over the course of two decades. As such, he was raised with his powers, learning at an early age to control them. He spent much of his youth in the family library, where he read through the rather large collection of ancient grimoires and journals, most of which were written by his ancestors, while others were found by his father. Throughout the years, he grew in strength and power, eventually surpassing his parents in mystical prowess. By the time he was sixteen, he was the most powerful witch in the house. Of course, this passed on an even greater responsibility- to help others, rather than use it for his benefit. Thus, he became the aid to anyone who needed it, imparting blessings and gifts to those in need.
At the age of 18, he moved out of his house, and began schooling at the University of Oxford. Here he studied not only psychology, but also the occult. After his year there, he became his Occult Studies professor's assistant, helping prepare class notes and set up assignment. Much to his surprise, his teacher was another witch, one far older than him, by at least two centuries. This revelation made him realize that other witches of even greater power must exist, leading him down a road of curiosity. Thus, he finished out his years at Oxford, and got his PhD by the age of twenty-three, thanks to the help of some spells and some extra hard work. After that, he took up a position at the college alongside his former teacher, and stayed there until he turned twenty-five. When this time came, he departed the place in search of occult items, which he had begun to collect from dealers he got in contact with.
Unsurprisingly, this search lead him to a small town called Zeppelin, which had recently undergone some rather terrible events. Soon enough, he discovered that he was unable to leave the town, no matter how much effort he put in. It has been about four months since then, and nothing has changed.
Alias:
Andreas
How did you find us?:
Google
Experience:
I have over 4 years of roleplay experience, from Facebook, to Google+, to sites like Mythic Reign, but not a lot of Proboard experience, if any.
Other Characters:
Andreas Ambrose (Vampire) (Kostas Martakis)
RP Sample:
Rain...that was the first thing that Renard felt as he stepped out into the night. He could feel the dampening effect it had on his apparel and skin, and heard the pitter patter of it on the ground around him. His nostrils flared as its scent was taken in- fresh, pure water, drenching the buildings of Zeppelin, and the dirt at his feet. A smile took over his face, and he began to walk, moving with simple, elegant strides that took him into a steady pace. There was no true destination, yet he seemed to be going in a straight line towards the center of town.
In his brief time here, he had learned one thing- this place was unleavable. Not a single person could exit the perimeter of the town, and those who came in, were trapped. No one really had an explanation for him for it, but he sensed that it had something to do with magic, or the angels that desired the Apocalypse, Ragnarok as he saw it. If that was the case, why were they not told? And why was he stuck here? There wasn't an answer to these questions yet, but in time, he was sure he would get them...
I Renard Velentis have read the site rules and understand them. The code word for the rules is: Batman
[/div][/div]
Application Created By Hell Hound
[/div]