Post by Roman Jelen on May 17, 2018 19:14:55 GMT -5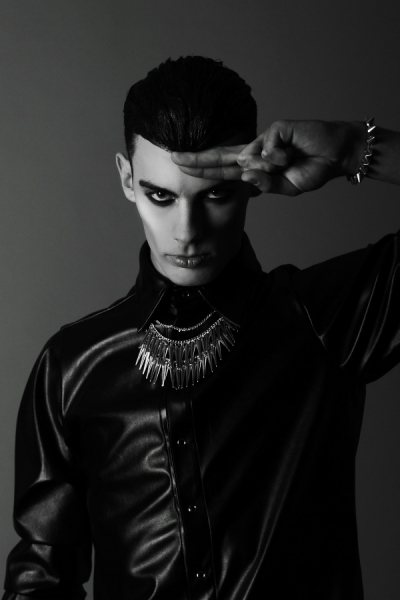 Full Name:
Roman Serafin Jelen
Nickname/Alias:
Crow boy, runt (family name for him), mutt
Age/Date Of Birth:
23, born October 26th, 1995
Race:
Human
Occupation:
witch, artist
Species Group:
Witch
Play-By:
Arkadius Rekiewicz
Abilities
Electrokinesis - Able to generate electricity through a spell. He manifests it best when his negative emotions, such as anger or fear, are running high in the heat of the moment.
Potion Brewing - creating elixirs that have supernatural properties. He is still learning the advanced ones, but can do fairly well if given clean instructions.
Spell Casting - Using charms, hexes, rituals, etc to change or control the environment/events. He shows strong fortitude towards hexes, but still needs to work on charms and his confidence during rituals.
Astral Projection - Projecting one's awareness and that of others out of their bodies. He has been fairly adept since a child, and has had to learn to control it lest he be permanently separated from his body.
He has much to learn and study, and is by no means a powerful witch yet.
Special Inventory
Special items that are bought from the store will go here.
Likes (At Least 3):
❤ corvids of all forms, but especially magpies.
❤ Dark ambient music
❤ Drawing, and designing odd creatures based on things he has seen in lucid dreams or during his astral projection.
❤ Solitude
❤ The woods. He loves exploring them and quietly slipping about enjoying being lost in his own world.
❤ Eindriđi. His first friend upon arriving in town and the only one he feels he can truly be open with.
Dislikes (At Least 3):
✗ His family
✗ Demons
✗ People who are overly cheerful, especially in the morning.
✗ Crowds. It gives him anxiety and sometimes panic attacks.
✗ People with no respect for personal space.
✗ Being watched while he works. It stresses him out and sometimes causes him to make mistakes.
Fears (At Least 2):
☬ His great-grandmother
☬ Losing himself to dark magic and becoming a mindless monster.
Goals (At Least 1):
★ To become as strong a witch as he can, at his own pace and not that of others.
★ To kill his great-grandmother and save his mom.
Personality:
Roman is a relatively introverted, shy loner who would much rather be out in the woods somewhere with the birds than be trapped in a room with other people. He can be hard to draw out of his shell, and while he will rarely initiate a conversation, he will politely respond when spoken to. Once you have earned his friendship, you will find that he slowly becomes more talkative and open.
He has a weird sense of humor, and is easily embarrassed by it if he reveals it by accident around strangers. He sees the beauty in dead things, and collects any bones of small animals he finds while on his walks. He has a large collection carefully stored in his room, with the skulls on display with feathers and claws carefully arranged with stones. It looks like an alter one might make for an old world god, but it's just his slightly demented aesthetic.
He loves corvids, and is able to mimic the call of crows, jays, and magpies due to long years of practice. One of his pastimes is to "talk" with the crows in the woods. Some people think he can actually speak their language, but he really just knows their behaviors well enough that it seems like that.
Roman is terrified of his grandmother, and constantly fears that she will find him, even in the odd town of Zeppelin City. He is not open about the reason of his fears, and is not likely to tell anyone unless she threatens the town he has come to love. His fears of failure are a result of her emotional abuse over the years.
Roman may look pissed off when people start talking to him, but internally he's freaking out and has no idea what to say, and it results in the angry look.
Traits




Positives (At Least 3):

✧ Intelligent

✧ Keenly observant

✧ Gifted witch



Negatives (At Least 3):

✦ Has panic attacks when his anxiety over crowded places hits a high mark.

✦ Introverted, almost cripplingly so.

✦ His fears of failure hamper his abilities oftentimes.




Parents:
Waldemar Koziol (father, deceased), Edyta Jelen (mother, alive)
Siblings:
None.
Other Family:
Matylda (maternal grandmother, alive), Anka maternal aunt, alive), Brygida (maternal great-grandmother, alive)
Important Others:
The harpy, Eindriđi.
History:
The Jelen family is a very old line of witches entrenched in Poland, and is ruled by the matriarchs. In every generation, only the female child was allowed to survive. Male children would be terminated at birth, as it was the deeply entrenched belief that only women had the capacity to hold great power as a witch. And so it would have continued, if a young witch named Edyta hadn't chosen to defy her grandmother.
Brygida is a very powerful witch, who is incredibly manipulative and vindictive. She rules the Jelen family with an iron fist, and none escape her fury when riled. She views men as weak animals, needed only for the act of propagation. Once they have done so, she disposes of them. And so it was with the handsome young man that Edyta found herself infatuated with. He made her see things in a new light, and she feared for him. Her attempts to stop Brygida failed, and once the crone knew her to be with child, Waldemar was disposed of in a swift manner. Edyta grew ever more fearful as her child grew within, for she knew it to be male. In a spark of mad disobedience, Edyta fled to America. There she bore her son, Roman.
She kept them on the move for 5 years, managing to elude her grandmother's clawed reach through the help of various witches she had befriended. However, Roman's strong affinity for astral projection caused everything to fail. While searching for her granddaughter, she instead found her great-grandson. Intrigued, she traced his location. Edyta was mortified to found that Brygida had moved both her mother and sister to where they currently resided in New Orleans. Roman didn't know her, but feared her for the cold cruelty he saw in her eyes when she looked at him. Deciding to torment her disobedient granddaughter. Brygida allowed Roman to live, tormenting Edyta by keeping her in constant fear over when Roman would die. The old crone still refused to see men as anything but pathetic useless slime, but she observed Roman's growth like he was a lab rat. She constantly verbally abused him, and frequently would physically abuse him as well. She held Edyta and Roman tight in her hands, leaving him to grow up fearful and desperate to escape.
Then, one day...Roman was out in the back yard, preparing a ritual for his aunt, but when he turned around he found himself in an unfamiliar house. Shocked and confused, Roman had wandered around until he found someone else. As he learned more and more about Zeppelin City, he found himself finally able to breathe. Freed from his great-grandmother's abuse, and beyond her reach, Roman found himself able to approach his witch heritage with renewed zest, studying at his own pace without the harsh bark of Brygida snapping at his ear.
Roman encountered Eindriđi by accident near a creek, when the harpy was in his natural form. Having never heard about harpies, Roman leapt on the chance to learn more. However, it was hard for him to speak to Eindriđi due to his incredibly introverted nature. Luckily the harpy was willing to befriend him. They soon became fast friends, and Roman has been learning about witch spells that the harpy has learned over the years (though many only Roman was able to perform, which thrilled Eindriđi to finally see the result of the spells).
Roman tries to keep as low a profile as he can with the local hunters, though he still fears his great-grandmother far above them. He is sometimes called Crow Boy for the affinity he has gained with the crow flock that lives in town (mostly because he feeds them).
Alias:
Lotus V1RUS
How did you find us?:
Google

Experience:
About 10 years experience over various wikifoundry and proboard sites.
Other Characters:
Eindriđi Hallvarđrson
RP Sample:
Crouching low, Roman brushed his fingers through the leaf litter. He had spied a fox here weeks ago, and after burying it he had waited patiently for nature to take her course. Now, he dug for his reward. Brushing the dirt aside, he unearthed the cleaned skull of the dead fox. Pulling it out and brushing it off, the polish teen's lips drew back in a pleased smile. Yes, it was perfect.
"Maybe in the center...next to the three crows." he murmured, standing and pulling his bag around. Tucking the skull in securely, Roman shaded his dark eyes as he scanned the skies. The deepening shades of pink and purple hinted towards the fall of evening, and the young witch decided perhaps it was best to head home. Pulling his hood up around his head, he cupped his hands to his mouth and gave a low caw.
The sound echoed around the woods, and silence fell for a moment before a returning crawk shattered the air. Roman giggled, and gave an even louder call. The air was broken by a large flock of crows that suddenly winged into the air, black shadows sharply outlined against the dusk. Their cries filled the air as they settled in the branches around Roman. Grinning, the witch boy twirled happily, calling back to them. As he cooed, he reached into his bag and pulled out handfuls of birdseed, scattering it about. The crows eagerly flapped about in fervor as they collected the seeds. Roman watched, giddy. An old female landed on his shoulder, and allowed him to stroke her throat.
"Hey Rose. Here's some just for you." he whispered, holding up some seeds. The old crow gently took them from his hand, happily shuffling her feet as she ate. Once the seeds were gone, Roman cawed a goodbye, and carefully made his way out from the flock. Rose rode his shoulder until he reached the edge of the woods, where she took to wing. He waved goodbye to her, before returning to the town.
I (Roman) have read the site rules and understand them. The code word for the rules is: (Batman)
Application Created By Hell Hound