Post by Alexis on Feb 15, 2019 21:37:12 GMT -5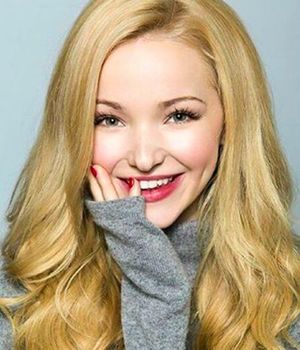 Full Name:
Alexis Marie Gruen
Nickname/Alias:
Lexi
Age/Date Of Birth:
18/ Jan. 28th, 2001
Race:
Human
Occupation:
recent Highschool graduate, witch
Species Group:
Civilian
Play-By:
Dove Cameron
Abilities
Spellcasting- She has some defensive and offensive spells memorized as well as 50 more spells her coven had her memorize before her 18th birthday.
Tracking
Potion brewing- She is not as good at it but still learning.She has only been able to make 5 excellent potions in her lifetime.
Telekinesis- She can move small to medium objects and even throw a person across the room if she needed to. In the instance of tossing a human, her nose will bleed due to the harder effort on her mind.
Cursing- hexbags, sigils
Special Inventory
Hallowed Event Perks
Equipped
| | | | |
| --- | --- | --- | --- |
| Perk Slot 1 | Perk Slot 2 | Perk Slot 3 | Perk Slot 4 |
Owned
Likes (At Least 3):
❤ Cats
❤ Her quarterback boyfriend
❤ Candles of all shapes and sizes.
Dislikes (At Least 3):
✗ hunters
✗ Authority (least some.)
✗ mice
Fears (At Least 2):
☬ Death
☬ Being trapped
☬ Not being adequate
Goals (At Least 1):
★ Her goal is to learn as much as she can, master what she knows so that she can help people.
Personality:
Alexis is a clever girl with ambition to go higher in knowledge and learning. This ambition is usually more on the cautious side, she is not willing to sacrifice everything for what she wants. Having been born into a family of witches with high expectation she likes to relax outdoors in the woods behind the house. They have a bench with a little incense altar type in the back that has scents for meditation. Candles and scents are her go to for scents and relaxation. It helps her with clarity in most cases. When she was younger she would hide in spots around the house, her little cubby holes where she thought no one would find her. This would either be if her parents got upset at her or if she did something she knew was wrong. Or.. if she did something wrong on purpose because she wanted to do it. She was a trouble little kid but she always loved to help others and animals when she wasn't trouble. Her teen years she's a bit more independent and not as trouble. There are times she might want to do something but she learns quick not to do it and is put in her place.
Even though her family can be harsh at times they are loving, she loves them and sometimes they just have their own ways of loving each other. Alexis likes to help out in the kitchen with her mom as well as take her 5 year old sister out to go swimming. Alexis is a pretty good swimmer but is kind of afraid to swim on the deeper side.
A bunch of things make Alexis feel happy and good about herself. She loves her cats as well as her boyfriend who she met in high school. In a way she is kind of stubborn.
Traits
[/b][/font]
✧ Wants to help people
✧ Cares for animals and nature
✧ Driven
Negatives (At Least 3):
✦ Seeks approval from others.
✦ Selfish
✦ tends to put off some things she thinks is not important.
[/ul]
Parents:
Taylor and Maria Gruen
Siblings:
Annabelle (5)
Other Family:
Both sets of grandparents are alive still, she has 2 uncles, 4 Aunts and 8 cousins.
Important Others:
Michael Griffin (Highschool sweetheart)
History:
Alexis Gruen was born in her home which was located on the Eastern Coast of Maine near Bar Harbor. One of her aunts was a midwife so she was actually born in the home and not in a hospital. Her family liked it that way, it was peaceful and people didn't ask alot of questions on history or other information like that.
Her family were mostly witches so they wanted the secrecy that a home birth could give. She stayed home her younger years for preschool and Kindergarten because when she was 5 years old, this was when her telekinesis showed. She would accidentally push things back off the table like cups or plates and let them hit the wall when she was angry and not get her own way. Her parents did not want the public to know anything so they worked their time trying to teach her how to control her power. Other than the basic school stuff she was also taught how to brew some basic harmless potions, and study on some spells that would be useful for her. She was also taught how to track which she normally just used to track her parents to see where they were in town so she could get into trouble at the house. She could easily hide if one of her other family members tried to punish her for things she did but after awhile all her hiding spots were found.
When she got into her middle school years they kept allowed her to go to regular public school. On top of those public school classes she also had to study potions as well as more spellwork when she got home. School and studying was almost torture for her because she didn't get lots of time out but she liked to learn which was the plus in it all. When she reached highschool she met her current boyfriend Michael. He was the quarterback for the highschool and also the Pastor's son of one of the local Church's. She dated him throughout high school secretly, she finally told her parents about him. They were wary and told her to break up with the boy because witches and the Church did not mix. The Church in town tended to rat out creatures and other things around to hunters and it made them nervous. She kept up with the secret relationship, lying to her parents till they figured out graduation night. They spoke to their coven about it, the head over the coven warned Alexis but the girl refused to break it up. Without the parents knowledge it was decided she needed to be silenced. That night, to protect the coven, three masked people grabbed her while she slept, tied her up and tossed her in one of the ponds. Thinking she would tell him about what she was. .
Alias:
Emily H.
How did you find us?:
Google
Experience:
Several years of rping on other sites.
Other Characters:
Keket, Miyu, Alyria and Celeste
RP Sample:
Celeste watched Alexander for a moment as she set him down for his nap. He hadn't been sleeping as well as she would have liked, he was too young for nightmares but she was suggested to get him checked out at the doctors sooner than later. She watched him as she leaned against the door post. She loved motherhood, the joys of having a little one following her around and always wanting and needing her made her feel very special. She closed her eyes gently before turning away from the nursery and headed downstairs towards the living room. Her parents were standing there with her grandparents planning on a raid with the sheriff. A vampire nest were causing trouble further downtown and would endanger the whole town if nothing was to be done. She looked towards her beckoning mother, "No... You know I hung up that coat two years ago when I had Alexander... I won't endanger myself and have Alexander without a mother. I just won't do it..." Her father looked disappointed but he knew his daughter had a point. Celeste turned away from them and sat down outside on the porch.
I Alexis Gruen have read the site rules and understand them. The code word for the rules is: Batman
[/div][/div]
Application Created By Hell Hound
[/div]