Post by Nomad Li on Jan 4, 2020 4:55:46 GMT -5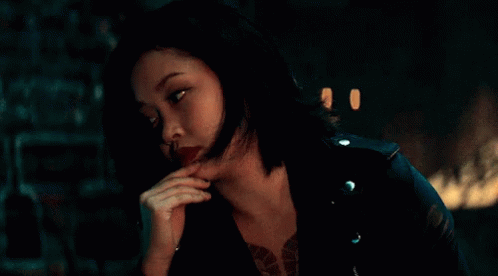 The hate in your head, she has more he said - the Godhunter Waits for You
Full Name:
Nomad Li
Nickname/Alias:
Age/Date Of Birth:
18 years old. 11/2
Race:
Human
Occupation:
Hunter
Species Group:
Human
Play-By:
Lana Condor
Abilities
Wielder of Joan of Arc's Sword
Nomad is in possession of the sword of Joan of Arc - this weapon was forged by Joan of Arc by using guidance from reading the Word of God. The sword is extremely powerful, but also cursed as a result of its capabilities and binding oneself to it must be done willingly. The sword is a classic long sword and shows no sign of decay despite repeated uses and shows no rust. Up the side of the sword are five crosses - these are key aspects of the methods to awaken the blades full potential. Each of the crosses represent a different kind of being - each possessing a marking inside that shows its purpose.
Man's Cross
- The key point to bind oneself with the blade is done by filling Man's Cross with their blood, it will congeal into the cross and cause it to solidify and glow. This binds the wielder to the blade and allows them to begin filling the other crosses.
God's Cross
- Activating God's Cross will allow the ability to kill lesser angels, and give the user the ability to hear the Angel Radio through the blade.
Hell's Cross
- Filling Hell's Cross gives the wielder the ability to kill lesser demons with the blade and allows the wielder to make temporary holy ground by stabbing it into the area they want to section off.
Eve's Cross
- Permits the wielder to kill creatures who were created by Eve and its blade will cause creatures to respond to it as if it is made of silver or other respective damaging metal.
Death's Cross
- Allows to user to damage and banish spirits using the blade - as if burning their remains when struck by it.
Filling each of these crosses unlocks the full potential of the blade - effectively a last ditch superweapon with the ability to kill an Archangel; at the cost of the users own life. Similarly - everyone bound to the blade effectively agrees to bind their soul to it as well with each of its many past wielders residing within it going all the way back to Joan of Arc. These voices of the past wielders often harass, speak to, or advise the current wielder as they go throughout their journey.
The sword, on some level, appears to be intelligent and it will always - seemingly just appearing - always return back to its wielder in some shape or form so long as it remains bound to their soul. Those wielding the sword are immune to being possessed by all but the highest tiers of demons, angels and spirits - and in the event that they are the blade will react violently and cause incredible pain to the one holding it until it is dropped so it cannot be used or taken for nefarious means, and it will not return to its wielder until they are no longer possessed. It also prevents the wielder from being turned into a creature of any kind such as a skinwalker.
Finally - with the sword as it is presently, it is unable to use most of its permitted abilities - let alone its full capability. The weapon in its odd intelligence will select beings of great power when it comes in contact with them - one of each of the categories - and "Mark them for Death" - the wielder has no control over what beings are marked, but they will feel compelled to slay them and the sword will allow them to do so, but only that specific being, until they are slayed. Upon doing so, the blood or essence of the slain enemy will fill the respective cross on the sword and unlock its capabilities that it permits.
Finally, the swords curse - alongside the souls being bound to the blade, each person who binds themselves to the sword is doomed to a horrible, young end. This is made clear to the wielder during the binding ritual - where they must slit their hands open and hold the blade in both of them for an hour. The voices within it will begin to speak to them, offer warnings and beg for release, and if the wielder pushes through it they will bind their own soul to the blade and fill Man's Cross with their own blood. Those who use the weapon and have themselves bound to it will find that, eventually, they will suffer a painful - and often young - death, where their soul will be bound to the sword with all the others.
Slaying the wielder will cause any of the filled crosses to fade, and become inert until Man's Cross is filled and the cycle begins again.
Special Inventory
Special items that are bought from the store will go here.
Likes (At Least 3):
❤ Music
❤ Drawing
❤ Exploring
Dislikes (At Least 3):
✗ Creatures
✗ Night Time
✗ Loud Noises
Fears (At Least 2):
☬ The Dark
☬ Failure
Goals (At Least 1):
★ Follow her father's path
Personality:
Nomad has spent her entire life, as long as she can remember, on the road and running across the world to avoid a variety of constantly encroaching parties trying to come after her and her father. This has led to her significantly lacking as far as any kind of healthy social relationships go, as well as make her rather ill adjusted to anything resembling a normal life. She only knows the hunting lifestyle, despite only being a teenager, and she's fairly violent because of it; often lashing out. The recent loss of her father has caused this to become even worse and given her a bit of a mean streak as now she realizes she is on her own as far as things go with the sword that she isn't even sure if she wants.
Her lacking emotional development shows in a hand full of ways - namely, she's mute, and always has been, secondly she isn't sure how to properly express her feelings or communicate them to people, nor how to make friends of any kind. It's a bit of a daily struggle for her and she's a bit of a wild child and anyone trying their hand at bringing them into their fold will likely have to be rather patient with her; there's a good person in there, it's just under years of bad development and a paranoid, violent lifestyle that her to have a bevy of emotional issues that would make a number of professionals visibly cringe to see in someone so young.
Possibly the best times to catch that good person are to put on music and watch as she will often break into an upbeat but unusual dance, or observe as she draws with her scavenged art kit as the creative outlet gives her something to do.
Traits
[/b][/font]
✧ Sacrificing
✧ Self-Sufficient
✧ Capable
Negatives (At Least 3):
✦ Ruthless
✦ Paranoid
✦ Lonely
[/ul]
Parents:
Garland Monnick, Shin Li
Siblings:
No
Other Family:
No
Important Others:
No
History:
Almost immediately after Wander was born, she was on the run. Her father was a Man of Letters from the UK who had managed to unearth the sword of Joan of Arc, and it was through his study that they identified the nature of the sword and what it was theoretically capable of doing. The Men of Letters there in questioned seemed to see it as something of a super weapon for their own uses to purge out the larger supernatural threats that the world had to offer - and he would have allowed it were it not for a brief glimpse into a potential future given to him by coming in contact with the sword showing him what would happen if he allowed the Men of Letters to keep the sword - that being, the end.
His belief was shaken immediately, and he became convinced, for reasons unknown, that he could not allow the organization to keep hold of the weapon, taking it, his newborn daughter, and his wife - he fled and they began criss-crossing the globe with the sword in hand and little to their name other than the clothes on their backs. Nomad cannot think of a place that they remained in longer than a few weeks at best before they moved in, and she grew up in a constant paranoid home; especially when her father bound himself to the blade. Her mother never quite understood and left them rather early on, leaving Nomad in the care of her father who seemed to be going down a very unhinged path as they lived in a rough hunting life style.
Her mother didn't last a week beyond leaving before she was grabbed up by the Men of Letters, interrogated, and then killed.
It was with that revelation during an encounter that she and her father narrowly escaped that she realized at a very young age just how dangerous the world, and their situation was. Her father, realizing that somehow they would need to keep the blade out of the hands of the organization, began to train and groom her for the inevitable case of his death - in which she would have to be the one to take on the responsibililty of the blade - because there were bigger things at stake than the two of them. Nomad - although young and struggling to grasp the odds in question - agreed. And it was quite possibly the best timing that she could have - because not more than a few months after her father gave her the instructions for the ritual, their long-term chasing enemies caught up to them while faking a hunter case to lure her and her father out - having done dozens of the cases before undercover, they didn't expect much, but the ambush had been put in place to capture them and the sword. Nomad's father had died and Nomad lost her eye - but she managed to grab the sword and flee into the night, just barely managing to escape the men chasing her by hiding in a storm drain until dawn - where she conducted the ritual herself to bind the blade to her, the gravity of the situation explained to her - and her agreeing to the price it demanded because there was no other option.
Nomad was on the road on her own for a time - hunting mostly on her own while being much less effective without supplies or her father to back her up, and fighting the Men of Letter's on her own when they came knocking causing her to rapidly have to learn to improvise and sharpen the skills that her father had taught her leading up to now.
Alias:
Revan
How did you find us?:
IDK
Experience:
Too Long
Other Characters:
Revan, Daphne, Cecil, Jane, Scott, Robert, Zera, Zee, Katie, Kenzie, Elias, Imogen, Shale, Quinn, Amyl, Max, Jodie, Maris, Daisy, Iblis, Roxanne, Nikki, Belphegor, Sylvia, Aura, Aethelind, Alex, Mila, Veronica, Reave, Roni, Dracula, Murdock, Aimee, Clancy, Ripley, Galahad, Lucen, Robin, Aella, Kaitlyn, Tres, Kinsley, Aradae
RP Sample:
Revan let everything Lucy was saying hit her at once, and it felt like the feeling the Angel got when she was still powerful, when someone shot her with a shotgun. She felt terrible, like someone had punched her in the gut, or hit her with a baseball bat. She turned around and her hand went over her mouth, feeling like she was going to throw up. It was better that Lucy was dead than deserving this... No one deserved to be a ghost, the sad, sad existence.
Her throat tightened and tears began to well up, trying a hard as she could to keep from breaking down here on the floor.
She turned to Lucy, seemingly three shades paler, her hair not nearly as vibrant as it seemed to be three years ago, her grey eyes dulled to a shade of black. "Lucy... its 2013..." Revan hadn't been keeping track but she had counted three New Years celebrations since Lucy's death. Her hands went to her face and then back to her sides, her nails digging in to her palms until blood leaked down her fingers. "Three years.. I've counted. Three years I've slept alone in the bed. Three years I've drowned my sorrows I alcohol... Three years with my heart ripped from my chest without you here, Heaven and Earth becoming a living hell to me, leaving me with what options?" Revan wasn't going to lie, she had tried her hand at writing stories like Lucy, but that was the best poetry she could do, even if it was free verse.
Tears were dripping down her cheeks again now, and with the flick of her wrist the TV blinked to life and flicked to the news, where the date would be shown. "Everything I told you... Everything you thought I was crazy over, everything you would joke about... About me being an Angel was not a lie." Revan looked up at her again and then to the floor. "I m-missed you so... s-so much." Revan's legs stopped supporting her then and the pink haired woman fell on the floor, her head tilted down and her face in her hands, sobbing. She knew she shouldn't, but she felt as she did on the day of Lucy's death and funeral. Like all the life had been sucked out of her seeing the person she loved at this fate. But there was a part of Revan that was revived with this, the part of her that she had thought was buried with Lucy... Selfish as it may be to her, Revan was so, so happy Lucy was back.
I (Nomad) have read the site rules and understand them. The code word for the rules is: (BATMAN)
[/div][/div]
Application Created By Hell Hound
[/div]