Post by Becca on Aug 9, 2020 6:16:46 GMT -5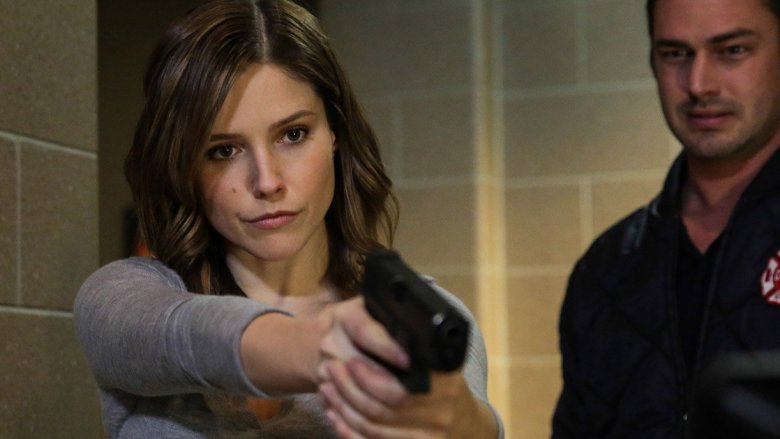 Full Name:
Rebecca N. Owens
Nickname/Alias:
Becca, Shorty, shrink, huntress, Becks
Age/Date Of Birth:
February 21th, 1993, 27
Race:
Human
Occupation:
Hunter of the supernatural, former high school psychologist
Species Group:
Hunter
Play-By:
Sophia Bush
Abilities
Excellent ability to read people; training on onexone combat and weapons, meaning she's an expert when it comes to her
SIG Sauer P226
pistol,
Ka-Bar Becker BK2
Campanion knife she carries with her plus her
silver
and
iron
blades and a
customized Colt 1911 9mm
. But she is well trained with weapons in general.
Special Inventory
Hallowed Event Perks
Equipped
| | | | |
| --- | --- | --- | --- |
| Perk Slot 1 | Perk Slot 2 | Perk Slot 3 | Perk Slot 4 |
Owned
Likes (At Least 3):
❤ Listening
❤ Coffee, very much so
❤ Music of all kinds (she also likes singing and playing guitar, but she's not really good at either)
❤ Booze
❤ Good conversations
❤ Researching
❤ Reading, writing, studying
Dislikes (At Least 3):
✗ Lies
✗ Manipulative and cunning people
✗ Arrogance
Fears (At Least 2):
☬ Death
☬ Not being enough
☬ Failure
Goals (At Least 1):
★ Save as many innocent people as she can
Personality:
Becca is a strong-willed woman that has learned to build tall walls around herself as a defense mechanism due to her past. She never gets close to the people she meets, always hunting by herself and keeping her distance the few times she works with other hunters.
She is bad at socializing because it scares her to bond with people, always believing they're going to leave or die, always thinking that that's the way hunting life is like. Unlike most women, she is simple and won't see too much into things, practical and sincere despite her distances, if someone manages to get past those walls Rebecca is as sweet and caring as they come.
Prone to use pranks and irony as a way of dealing with other people, she is very easy going and calm when need be. But you put her in a group of people and she'll get too nervous to even interact sometimes. There's a whole lot of sass in her words when she's comfortable enough, and she might let her big heart show, maybe even the way of how her nature makes her a very committed woman, dedicated to helping others in any way she can (some may say that's in part because she's evading her own issues).
She believes that not all monsters are bad, even if it's hard to keep that mindset, after all, she's been through, but Becca sees life as a grayscale, no blacks and whites, and will stand for anyone who does the right thing and lives while just letting others live in peace too, no matter what they are. Now, you kill or harm a human being? Then she won't hesitate to put a bullet between your eyes.
Traits




Positives (At Least 3):

✧Loyal

✧Humble

✧Honest

✧Caring

✧Strong



Negatives (At Least 3):

✦ Stubborn

✦ Insecure

✦ Self-destructive (at times)

✦ Impulsive (is learning to control it)




Parents:
Emma and Charles Owens (alive, somewhere)
Siblings:
None, she's an only child
Other Family:
She has a family, but she hasn't seen them in a very long time.
Important Others:
She used to have a dog, Thor. He died during a hunt.
History:
Rebecca N. Owens had a normal childhood and teenage years, growing up in New York city, New York. She discovered the supernatural by accident years after she became an adult, and got obsessed with it; before that, she used to be a high school psychologist.
And this is how it all happened: long story short, one afternoon she was about to head home from work and heard a girl screaming from one of the hallways at the school. She went to help and saw how a vampire killed one of the students right in front of her.
After that day, she became obsessed with the supernatural, to a point where her boyfriend at the time was desperate enough to even start believing her when she talked about the creatures of the night. Becca was desperate to prove that what she'd seen was real, even after nobody believed her.
As someone who dedicated her life to study the human mind, she thought she was spiraling, going crazy, and that's precisely why she simply HAD to keep looking, reading, until she found it.
Almost a year after the incident she got pregnant and her obsession started turning into an unbearable fear that her future child would be in danger because somewhere she'd read that vampires never forget someone's scent, therefore, the vampire she saw all that time ago? He would probably come for her one day and he would kill both her son and her boyfriend. And she wasn't wrong—one night in the middle of July, she heard a noise inside coming from inside of the apartment when she got home particularly late. Since she had been obsessing for such a long time with the supernatural, Rebecca also started taking self-deffense classes, which is what led her to believe she could take on the threat; little did she know, the vampire wanted to take care of the only witness of the crime he'd committed a year ago, and he tried to attack Becca, a situation she barely escaped with a scar on her right upper back.
By the time she finally got to the hospital it was already too late: she lost her baby and decided to fake her death too in order to keep everyone she loved safe. Knowing she would have to face that thing that had attacked her one day. That's how she started living as a hunter, only taking her military green Jeep Wrangler with her when she left, never looking back. Fast forward five years and here she is: saving people, hunting things.
Alias:
Thea/Maria
How did you find us?:
Disboard
Experience:
I have been rping for years, which means I've tried forum rp, chat-based rp, discord, you name it. I guess the most similar thing I've seen to what you guys have here is RPHaven, but it's been a while; for the past year I just stuck to Discord.
Other Characters:
None so far
RP Sample:
The night was cold, colder than it should have been in the middle of summer even for New Orleans and its dense fog. It was a thing, the weather acting weird whenever the witches were at it and Thea knew that all too well, remembering how things were back when she was a kid. Back then she didn't understand it, though, and the fact that her mother had decided not to take part of the coven made her even more of a stranger to the magic within her blood. But now? Now that her childhood was part of her past and after her parents got killed by the witches because of the very same reason that had made her a normal human being, unbeknown of her family's roots… now she was back to get rid of them all. And it was cold, so cold that the air chilled her bones and made her shake; or maybe the shaking was due to the anticipation and the fear of what the blonde was about to face. She wasn't an expert after all: only a twenty years old girl with a mission and the will to go through with it: kill the witches, kill them all.
So she walked down the street towards the Saint Louis Cemetery No. 1 where she knew the coven would be, the fog keeping her eyes from what was more than a couple steps ahead and the click-clacking of her boots the only sound as they hit the concrete of the road. No cars, no people, no animals. Black magic has that effect, you know? Keeping everything away when it's acting and killing anything that tries to stand on its way. But the huntress was prepared. She'd gotten a very old gun, said to be forged in Hell itself and supposedly, it would kill any witch or monster or demon without a chance of them ever coming back. The Godkiller. So while walking, the young woman thought about how she'd gotten where she was: the way her aunt Patrice had tried to convince Allison —Thea's little sister— to become a dark witch, a part of the New Orleans coven, how it had resulted in both sisters not talking to each other for over a year despite the elder Rogers' attempts to fix things, to keep her baby sister from turning into such a pitiful, disgusting thing until there was no choice left but to kill every single witch in the coven. Her own family, her blood. But she was a hunter of the supernatural and killing things like the ones she was about to face? It was her duty. If only she'd been doing it for more than a couple months now…
But now she walked, her attempts to keep her mind from veering into memory lane and anxiety from spiking into higher and higher levels failing miserably… it had been too long since the last time she'd been in the city and the huntress never thought she'd come back, even less to kill the witches that she so desperately wanted to ignore and forget. And as her brain wandered and her thoughts became more and more erratic, the white, thick walls of Saint Louis No. 1 became visible little by little, the black gates opened as if inviting her in and the fog coming out of them almost as if it was coming from inside of it. Maybe it was, she was about to find out. Stopping to check the M1911 that was tucked at the small of her back with the bullets created especially to kill witches and then wrapping her hand around the belt that carried the holster that kept the Godkiller safe, Thea's blue-green eyes finally glanced up to read the plaque with the cemetery's name on it. Just a moment, one moment to decide whether she could do this or not, whether she could take on a dozen unnaturally powerful witches all by herself only driven by the anger and resentment, the pain they'd caused. Questioning herself, she breathed in deeply, frowned and cleared her throat as if trying to get rid of the feeling of a lump in there and finally, she took a step forward...
I Rebecca Owens have read the site rules and understand them. The code word for the rules is: Batman
Application Created By Hell Hound