Post by Mammon on Jan 13, 2014 23:02:37 GMT -5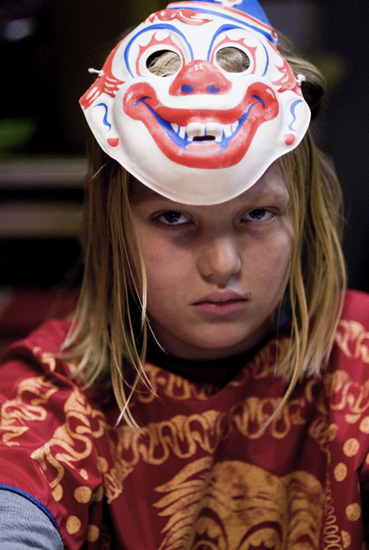 Full Name:
Ewan Henry Sheppard
Nickname/Alias:Age/Date Of Birth:
Eleven | September 16th 2002
Race:
Human
Occupation:
---
Species Group:
Civilian
Play-By:
Daeg Faerch
Abilities
Special Inventory
Special items that are bought from the store will go here.
Likes (At Least 3):
❤ Making Masks
❤ Coloring
❤ Watching Cartoons
Dislikes (At Least 3):
✗ Being Told What To Do
✗ Going To Bed Early
✗ Singing
Fears (At Least 2):
☬ Dying
☬ Getting Locked Back Up In Deva
Goals (At Least 1):
★ To make 100 different masks.
Personality:
Ewan seems like a normal kid most of the time but he is far from that. He is a little psycho who murdered his parents and was locked away in an asylum. He likes to make masks almost all the time, coloring them and shaping them different ways. He wears masks to hide his face when doing something bad, like hurting someone, as if maybe he is ashamed of what he is doing.
When he snaps he seems to be a different person, all signs of a personality being almost wiped away. He was sent into isolation many times for outbreaks in facility.
Traits
[/b][/font]
✧ Neat
✧ Planful
✧ Youthful
Negatives (At Least 3):
✦ Psychopathic
✦ Scheming
✦ Easily Manipulated
[/ul]
Parents:
Jessica Sheppard (Mother/Deceased) Charles Sheppard (Father/Deceased)
Siblings:
Angel Sheppard (Sister)
Other Family:
N/A
Important Others:
N/A
History:
Ewan was always a disturbed boy and one night when he was yelled at to clean his room he snapped. The boy stabbed his mother to death with a kitchen knife before pushing his father down the basement steps and cutting him into small pieces, all the while wearing a clown mask. He left his baby sister, Angel, alone and when the police showed they took the child into custody.
Ewan was sent to Deva Hills Mental Asylum where he was set to be confined there for life... However a demon by the name of Mammon found interest in the kid and took him under his wing. Deciding he would use him as a host, and maybe even use him for other purposes.
Alias:
Hell Hound
How did you find us?:
Head Admin
Experience:
Enough
Other Characters:
Dean Winchester, Chris Anderson, Lizzie Shields, Aspen Meadows, Luke Sullivan, Ryker Nixon, Heaven Micahels, Sawyer Grant, Tyson Grant, Austin Jacobs, Darren Covington, and Zane Lancaster
RP Sample:

Damn werewolves. Chris had just finished a hunt that invovled what he thought was two werewolves, but turned out to be three. Slight miscalculation that almost ended bad for the family nearby. Luckily Chris managed to shoot the thing as it tried to attack the little girl... He wouldn't be able to live with himself if it did. The small group was attacking houses on the same block, and it didn't take long to notice the pattern. Each attack was around one house. That house? Yeah, it was the home of some wolves, go figure. They lived in a very fancy rich place, kind of reminded Chris of Marilyn Monroe's home from back in the days he hung with the famous people.

This was why Chris needed a break, he needed...... One night out. He found himself in Portland, Oregon. The place wasn't that bad, he already had met some kind people who pointed him to a bar downtown which was having a karaoke night. Okay, Chris couldn't sing, sure but he did love to go and watch people make a fool of themselves.... Not in a mean kind of way but it would lighten Chris up a bit and he could sit back and have fun.

He walked through the crowd downtown, after parking his red corvette in a parking lot that wasn't too shady. The moon was bright tonight, bright enough that the town probably didn't even need the lights on to see. Chris smiled and took in the cool night air. What a wonderful night. Finally he stumbled across a bar with a huge sign saying "KARAOKE NIGHT". Chris let out a sigh of relief that he found the place easily and walked in.

The place was rather nice. Everything was in deep blue and silver which Chris didn't mind but he would of preferred red. A small group of people were huddled over at one of the pool tables, a couple middle aged couples sat by the stage which was being occupied by a couple dueting a Sunny and Cher song. Chris chuckled as he hadn't heard that song in quite some time. "I got you babe" was now stuck in Chris's mind as he found his way over to the bar. He glanced over to see a bunch of people hanging around the bathroom doors. They were laughing and giggling and as a couple came out of the male restroom they all bursted out in even more uncontrollable laughter. Chris shook his head slightly and sat next to a nice looking, young red-headed woman. As he sat down the bartender brought the young woman a coke and some rum, then turned to Chris with a polite smile.

"What can I get ya?"

The man was rather heavy set and had a long dark beard. His jeans lost almost all color and had rips in them here and there. Chris wasn't sure if that was the style or if the man just needed new clothes. The man's voice was deep and rough but he had a nice welcoming tone which was plesent to Chris' ears.

"A whiskey."

Chris told the bartender what he wanted and glanced over to the stage which was now changing from the couple to a young blonde who was singing "Tik Tok" by Kesha. As she began to sing Chris couldn't help but chuckle at how horrible she was, but she was having such a great time and Chris admired that. The bartender came back and looked at Chris raising an eyebrow.

"Can I get some ID?"

Chris sighed at the man's request seeing how it happened a lot. He pulled into his pocket, grabbed his wallet and handed over his ID.

"No problem."

Chris gave the man a smile. Sure he said it wasn't a problem but he was tired of dealing with this for so many years. The ID read 25 which the man didn't buy for a second but gave the ID back to Chris and slid his shot of whiskey to him. Chris gave the man a nod as he caught the glass then put his ID back in his wallet, glancing at the stack of money he had poking out a bit. It was good that Chris had a lot of money, it would mean he could pay for as many drinks as he wanted. He slid the wallet back into his pocket and took a sip of the alcohol as he turned to watch the girl some more.

After the blonde finished, Chris turned around and gave the red-head a smile. She was quite beatiful, and surprisingly enough she seemed to be alone.

"Hi, I'm Chris."

He slid his right hand under his left arm, that was holding his drink to shake her hand. It was already turning out to be a great night. Either way there was no werewolves, so Chris wasn't complaining.


I (Ewan Sheppard) have read the site rules and understand them. The code word for the rules is: (Batman)
[/div][/div]
Application Created By Hell Hound
[/div]