Post by Heather on Jan 11, 2021 3:19:16 GMT -5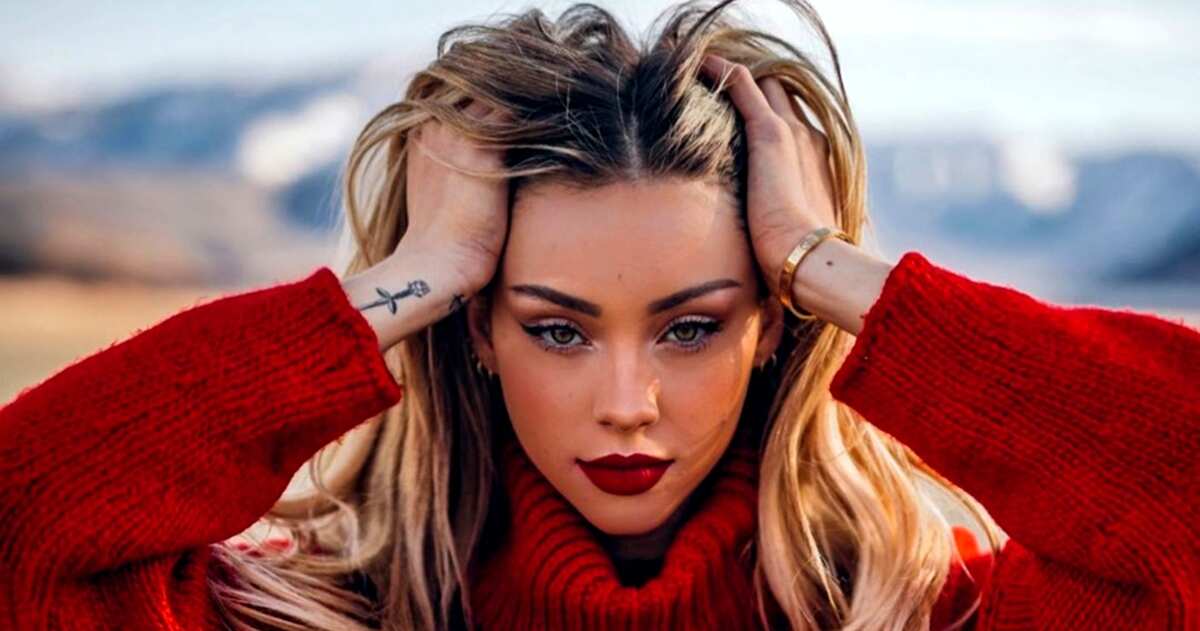 Full Name:
Heather Davies
Nickname/Alias:
Heide, Hedy, Hethe, Thea
Age/Date Of Birth:
February 26, 2003 (17)
Race:
2nd Gen Deva
Occupation:
High schooler
Species Group:
Devas
Play-By:
Charly Jordan
Abilities
-
Power negation
: The ability to nullify or weaken the powers of other devas, making them unable to utilize their powers as long as they are near her. Heather can currently stop all deva abilities within 10 feet around her. Right now she is not aware of this ability, nor can she control it, it just automatically happens, and if she ends up using her powers when there's a very powerful deva around, she will start feeling tired; overusing this ability could eventually knock her out, and the stronger the person is, the more energy it's going to take for her to block the powers.
Eventually, she can learn to control it, make it so it won't happen without her intentionally doing it.
-
Telepathy
: The power to receive and/or transmit information mentally or through other non-sensory means. Heather can read/sense another person's thoughts, and if she learns how to master the ability, she could eventually communicate with them mentally.
Special Inventory
Special items that are bought from the store will go here.
Likes (At Least 3):
❤ Outdoor sports
❤ Chocolate
❤ Singing
❤ Honesty
Dislikes (At Least 3):
✗ Drugs
✗ Lies
✗ Chipotle (smoke-dried jalapeno)
✗ Math
Fears (At Least 2):
☬ To be alone
☬ Spiders
Goals (At Least 1):
★ To make the people she loves proud
Personality:
Heather is extremely generous and known for putting others' needs before her own. It's important to her that the people she cares about are happy, so she'll go out of her way to do something kind or help with a problem, even if it sometimes comes at the expense of her own happiness. This also makes her a very observant person, intuitive and incredibly empathetic, and in tune with the emotions of others. Contrasting with this, Heather can also be a very closed-off person: Even though she will spend a lot of effort taking care of people, Heather often has a hard time accepting help from others, part of it because she feels her own burdens will affect the ones she cares about negatively and partly due to her trusting nature; she learned the hard way that her impressionable ways and how she constantly looks for the best in others could very well mean she would be misled into believing she could trust most people when in reality, that wasn't the case. This idealistic personality was also affected after what happened with her father, which made her warier of people in general, not wanting to open up as easily in fear that she will get hurt all over again. She has also been called naïve too many times, enough to make her insecure about her own intuitive nature and how she sees people, which also affects the way she makes decisions and how she sees the world—something her father would've called "growing up".
Traits
[/b][/font]
✧ Empathetic
✧ Kind
✧ Generous
✧ Outgoing
✧ Creative
Negatives (At Least 3):
✦ Closed-off
✦ Indecisive
✦ Insecure
✦ Evasive
✦ Can be secretive
[/ul]
Parents:
George and Winona Davies
Siblings:
Thomas, older brother she hasn't seen in years
Other Family:
none of importance
Important Others:
Heather now considers Lydia and Cole her family.
History:
Heather Davies had a very normal upbringing. Her family was a quite accommodated one, due to her father's "business", so the girl always had everything she needed and, quite frankly, more. She grew up in a house in California with her mother, father, and older brother (who is 6 years older than her). She was a very smart little girl, always doing good from the very first day at school, enjoying sports and social life so much that she could be considered a social butterfly. Everything seemed to be easy for her: charismatic, popular yet kind and empathetic, Heather didn't have many worries. That was until her father ended up in jail for scandalous and huge drug dealing.
The family had always been aware of the fact that George was involved in sketchy business related to drugs. Heather wasn't really aware of most of it, due to her young age, but she knew something was wrong with what his father was doing and by the time she turned 15 years old, the police got to their house and confiscated everything that belonged to George Davies. They went into their home and raided the place without much of an explanation to anyone that was there; it shocked the young woman and taught her of how life usually isn't as she likes to think. That day, when they were informed that her father had been taken to jail because (supposedly) unbeknown to them all, he had been a drug lord, Heather felt like her entire life fell apart—she had always been a daddy's girl and now? Realizing that he wasn't who she thought he was, the teenager fell deep down the rabbit hole. She started partying, drinking, and even stealing because if her father was a criminal then "it must mean that runs in her blood". She decided she wanted to be like her father, given how she'd always been his favorite, his "treasure", and despite of her mother, Winona's efforts to try to control and contain her, the teenager got worse and worse. And not too long after, Winona too was taken by the cops, which ended up with Heather being taken into foster care, her brother Tom being a no show sending her straight to the system.
And because of how she was behaving, she became a State problem. Because no one would take her; around this time, Heather finally decided to run away, ending up in New York City where she met Lydia. A woman who became her social worker. Heather was finding it very hard to open up about herself, but started growing fond of Lydia, trusting her little by little and wanting to once again believe that the world wasn't as bad as it had seemed. The girl had always been a dreamer, after all, a very caring and kind person; and that was exactly what she had been trying to hide: her kind nature and her own insecurities, her newfound trust issues, the fears. It made her evade her problems and the people who wanted to get close to them, to see them. Everyone but Lydia, who seemed to be more like an older sibling than Tom had ever been. Because of how Lydia believed in her, Heather finally let herself show her true colors again; she became part of Lydia's Big brother/Big sister program, and with that she got even closer to her. That was until one day she stopped responding, texting, existing—for all Heather knows.
And it wasn't up until right after Halloween of 2020 that Heather somehow ended up in Zeppelin city. She had fallen asleep and woke up at a strange house, one filled with people and things she couldn't understand: the place was so much bigger on the inside that it simply wasn't normal, and the blonde girl immediately realized that she wasn't in California anymore. It didn't take her too long to find Lydia there, and that's when she got the explanations of what Zeppelin city was, along with more information she learned day after day regarding this new "home" of sorts. Having to wait sometime before being able to get back into school, Heather ended up having too much time to herself, which made her struggle a lot between the two sides of her: the one that wanted to take it all out on the world and keep fucking up, and the one that actually wanted to make Lydia proud and simply be herself no matter how scary that sounds.
Alias:
Thea
How did you find us?:
Disboard
Experience:
A lotz
Other Characters:
Becca, Amber, Janet, JT, Odette, Castiel
RP Sample:
The night was cold, colder than it should have been in the middle of summer even for New Orleans and its dense fog. It was a thing, the weather acting weird whenever the witches were at it and Thea knew that all too well, remembering how things were back when she was a kid. Back then she didn't understand it, though, and the fact that her mother had decided not to take part of the coven made her even more of a stranger to the magic within her blood. But now? Now that her childhood was part of her past and after her parents got killed by the witches because of the very same reason that had made her a normal human being, unbeknown of her family's roots… now she was back to get rid of them all. And it was cold, so cold that the air chilled her bones and made her shake; or maybe the shaking was due to the anticipation and the fear of what the blonde was about to face. She wasn't an expert after all: only a twenty years old girl with a mission and the will to go through with it: kill the witches, kill them all.
So she walked down the street towards the Saint Louis Cemetery No. 1 where she knew the coven would be, the fog keeping her eyes from what was more than a couple steps ahead and the click-clacking of her boots the only sound as they hit the concrete of the road. No cars, no people, no animals. Black magic has that effect, you know? Keeping everything away when it's acting and killing anything that tries to stand on its way. But the huntress was prepared. She'd gotten a very old gun, said to be forged in Hell itself and supposedly, it would kill any witch or monster or demon without a chance of them ever coming back. The Godkiller. So while walking, the young woman thought about how she'd gotten where she was: the way her aunt Patrice had tried to convince Allison —Thea's little sister— to become a dark witch, a part of the New Orleans coven, how it had resulted in both sisters not talking to each other for over a year despite the elder Rogers' attempts to fix things, to keep her baby sister from turning into such a pitiful, disgusting thing until there was no choice left but to kill every single witch in the coven. Her own family, her blood. But she was a hunter of the supernatural and killing things like the ones she was about to face? It was her duty. If only she'd been doing it for more than a couple months now.
But now she walked, her attempts to keep her mind from veering into memory lane and anxiety from spiking into higher and higher levels failing miserably… it had been too long since the last time she'd been in the city and the huntress never thought she'd come back, even less to kill the witches that she so desperately wanted to ignore and forget. And as her brain wandered and her thoughts became more and more erratic, the white, thick walls of Saint Louis No. 1 became visible little by little, the black gates opened as if inviting her in and the fog coming out of them almost as if it was coming from inside of it. Maybe it was, she was about to find out. Stopping to check the M1911 that was tucked at the small of her back with the bullets created especially to kill witches and then wrapping her hand around the belt that carried the holster that kept the Godkiller safe, Thea's blue-green eyes finally glanced up to read the plaque with the cemetery's name on it. Just a moment, one moment to decide whether she could do this or not, whether she could take on a dozen unnaturally powerful witches all by herself only driven by the anger and resentment, the pain they'd caused. Questioning herself, she breathed in deeply, frowned and cleared her throat as if trying to get rid of the feeling of a lump in there and finally, she took a step forward...
I Heather Davies have read the site rules and understand them. The code word for the rules is: Batman
[/div][/div]
Application Created By Hell Hound
[/div]