Post by Aphrodite on Jan 3, 2023 21:22:58 GMT -5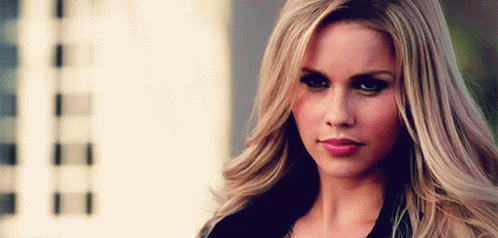 Full Name:
Aphrodite, but these days she calls herself Callista
Nickname/Alias:
Cal
Age/Date Of Birth:
As old as the Greek Pantheon
Race:
God
Occupation:
Sexologist
Species Group:
God
Play-By:
Claire Holt
Abilities
Desire Manipulation: Aphrodite can sense and manipulate the desires of themselves, people, animals, and other creatures, whether by increasing, decreasing, causing, or otherwise channeling desire, even manifesting the emotional energy to a physical level. These desires can include love, attraction, adoration, addictions, hopes, plans for the future, or even basic necessities. The effects of this power are temporary.
Heightened Strength: Being a goddess, Aphrodite possesses incredible strength.
Invulnerability: Killing a god is almost impossible, Aphrodite can sustain incredible damage without dying.
Eternal youth: As the goddess of beauty and desire, Aphrodite will stay young forever.
Immortality: She can't be killed by any traditional means.
Heightened speed and reflexes: She is faster and more agile than mortal beings.
Shapeshifting: Aphrodite can shapeshift into anyone's subject of desire.
Supernatural Awareness: She can sense and identify supernatural creatures. She will only be able to identify those she has encountered before.
Enhanced senses: Aphrodite has an enhanced sense of smell, sight, hearing, etc.
Special Inventory
Special items that are bought from the store will go here.
Likes (At Least 3):
❤ Sex
❤ Flirting
❤ Scented candles
❤ Being worshipped
❤ Anything raspberry flavored
❤ Fruity drinks
Dislikes (At Least 3):
✗ Ugliness
✗ Reading
✗ Whiskey and Tequila
✗ Spicy food
Fears (At Least 2):
☬ Losing her youth
☬ Death
Goals (At Least 1):
★ To be worshipped by as many people as possible
★ Being cherished by one person that she truly loves
Personality:
Aphrodite is extremely vain, witty, self-absorbed, cunning, jealous, and self-centered. She likes to be recognized as the 'most beautiful being in the entire world'. She is also very protective and nurturing, being the goddess of love, fertility, pleasure and desire, she sees the beauty in everything, even the darkness she can see in other beings. She has an extroverted temperament, charismatic and almost hypnotic; she will help others, grant favors, and even be protective of the ones she cares about, but her number one priority will always be herself.
Aphrodite is mastered in the art of seducing and influencing, valuing emotional experiences with others more than desiring more solitary goals. Although an independent figure in her own right, this independence does not preclude emotional involvement with others, meaning she is a very social being.
Aphrodite is not one you would expect to sit back and tolerate things, she likes to take action instead of letting things be.
Traits


Positives (At Least 3):
✧ Charismatic
✧ Driven
✧ Independent
✧ Strong-willed
✧ Joyful
✧ Passionate

Negatives (At Least 3):
✦ Vengeful
✦ Jealous
✦ Vain
✦ Cunning
✦ Self-absorved
✦ Stubborn


Parents:
Zeus and Dione
Siblings:
Since Aphrodite is one of Zeus' daughters, she has many half-siblings due to his multiple affairs. Hephaestus, Ares, Athena, Artemis, Apollo, Hermes, Dionysus, and Persephone are some of her half-siblings, but she doesn't have any direct siblings.
Other Family:
The entire Greek Pantheon, including Hades, Poseidon, Athena, and Hermes, amongst others.
Important Others:
Who is important to your character that is not related to them?
History:
In his Theogony, Hesiod relates that Aphrodite was born from the white foam produced by the severed genitals of Uranus (Heaven) after his son Cronus threw them into the sea. Aphrodite was, in fact, widely worshipped as a goddess of the sea and of seafaring back then; she was also honored as a goddess of war, especially at Sparta, Thebes, and Cyprus. However, she has always been known primarily as the goddess of beauty, love, sex, and fertility; and even occasionally presided over marriage.
There are many different myths of how Aphrodite, or Callista –the name she's adopted in these modern times– came to be, but the truth is usually much simpler than all those epic tales: the goddess was born as the daughter of Zeus and Dione, one of the many kids the god had from his affairs.
During the time of the Odyssey, Aphrodite was mismatched with Hephaestus, who she used to call the 'lame smith god', and she consequently spent her time philandering with the handsome god of war, Ares (by whom she became the mother of Harmonia, the warrior twins Phobos and Deimos, and Eros, the god of love). Much like her father, she's had many lovers and very few of them lasted too long: she is very aware of how mortals' existence is but a second long compared to hers, so she struggles to form emotional attachments, which has been the story of her life; many misinterpret her as never wanting long-lasting relationships, but the truth is Aphrodite never believed she could actually have one, because of her immortality and eternal youth. That being said, after her adventures with the gods –or even during some of them–, Aphrodite still spent time having relationships with mortal men such as the Trojan shepherd Anchises, by whom she became the mother of Aeneas, and the handsome Adonis.
Her life was simple while the Greek Pantheon ruled over Greece, being worshipped and loved by many. Worshipped by men, women, and city-state officials, Aphrodite also played a role in the commerce, warfare, and politics of ancient Greek cities which brings us to the Trojan war, for which she is partly responsible. At the wedding of Peleus and Thetis, Eris (goddess of strife) offered a golden apple as the prize for being considered the most beautiful goddess. Hera, Athena, and Aphrodite fought for that honor, and Zeus appointed the Trojan prince Paris as the judge. To influence his decision, Athena promised him strength and invincibility, Hera offered the regions of Asia and Europe, while Aphrodite offered the most beautiful woman in the world for him to love. Paris chose Aphrodite and so the victorious goddess gave him fair Helen of Sparta. However, as she was already the wife of Menelaos, Paris's abduction of Helen provoked the Spartan king to enlist the assistance of his brother Agamemnon and send an expedition to Troy to take back Helen, which ultimately started the war.
There are many, many tales and stories about her during the old times. But as the world changed and people stopped worshipping the old deities, Aphrodite decided to move on with her existence, to become something else; and what better way to do it than to hide amongst the mortals, enjoying them and all the pleasures and luxuries that the world could offer. She's been around ever since then, living many lives while her identity stayed hidden as a mortal as she calls herself Callista, the greek word for beauty. Throughout the years she has been married, cheated, had some more children, led cults of sex and desire, and more recently, she became a sexologist as she adapted to the times, wanting to help people live and enjoy their own sexuality and their emotional world the best possible way. Since humans are not worshipping the Gods anymore, she found a new way for them to respect her and look for her, other than the pleasures that come with mortals' desires. Having to go through school to become a sexologist, her journey began with a master's degree in counseling, followed by an internship, and then a license as a Marriage and Family Therapist, and Professional Counselor. All this was a bit of a bore to her, but she made the best of it and enjoyed it as much as she could, partying, studying and charming her way through the entire time she studied.
Alias:
Thea / Dean's Amulet
How did you find us?:
Disboard
Experience:
It's been 84 years…
Other Characters:
Amber Maes, Astrid Bingley, Bridget Bishop, Brooke Rosenberg, Castiel, Christina Grant, Emilia Derricks, Heather Davies, Janet Grant, Jason Riggs, Jo Harvelle, JT Marx, Madelyn Bartlett, Odette Stewart, Reagan Stark, Rebecca Owens, Thea Rogers, Caterina Howard, Eden Bancroft
RP Sample:
The night was cold, colder than it should have been in the middle of summer even for New Orleans and its dense fog. It was a thing, the weather acting weird whenever the witches were at it and Thea knew that all too well, remembering how things were back when she was a kid. Back then she didn't understand it, though, and the fact that her mother had decided not to take part in the coven made her even more of a stranger to the magic within her blood. But now? Now that her childhood was part of her past and after her parents got killed by the witches because of the very same reason that had made her a normal human being, unbeknown of her family's roots… now she was back to get rid of them all. And it was cold, so cold that the air chilled her bones and made her shake; or maybe the shaking was due to the anticipation and the fear of what the blonde was about to face. She wasn't an expert after all: only a twenty years old girl with a mission and the will to go through with it: kill the witches, kill them all.
So she walked down the street towards Saint Louis Cemetery No. 1 where she knew the coven would be, the fog keeping her eyes from what was more than a couple of steps ahead and the click-clacking of her boots the only sound as they hit the concrete of the road. No cars, no people, no animals. Black magic has that effect, you know? Keeping everything away when it's acting and killing anything that tries to stand in its way. But the huntress was prepared. She'd gotten a very old gun, said to be forged in Hell itself and supposedly, it would kill any witch or monster or demon without a chance of them ever coming back. The Godkiller. So while walking, the young woman thought about how she'd gotten where she was: the way her aunt Patrice had tried to convince Allison —Thea's little sister— to become a dark witch, a part of the New Orleans coven, how it had resulted in both sisters not talking to each other for over a year despite the elder Rogers' attempts to fix things, to keep her baby sister from turning into such a pitiful, disgusting thing until there was no choice left but to kill every single witch in the coven. Her own family, her blood. But she was a hunter of the supernatural and killing things like the ones she was about to face? It was her duty. If only she'd been doing it for more than a couple of months now.
But now she walked, her attempts to keep her mind from veering into memory lane and anxiety from spiking into higher and higher levels failing miserably… it had been too long since the last time she'd been in the city and the huntress never thought she'd come back, even less to kill the witches that she so desperately wanted to ignore and forget. And as her brain wandered and her thoughts became more and more erratic, the white, thick walls of Saint Louis No. 1 became visible little by little, the black gates opened as if inviting her in and the fog coming out of them almost as if it was coming from inside of it. Maybe it was, she was about to find out. Stopping to check the M1911 that was tucked at the small of her back with the bullets created especially to kill witches and then wrapping her hand around the belt that carried the holster that kept the Godkiller safe, Thea's blue-green eyes finally glanced up to read the plaque with the cemetery's name on it. Just a moment, one moment to decide if she could do this or not, whether she could take on a dozen unnaturally powerful witches all by herself only driven by the anger and resentment, the pain they'd caused. Questioning herself, she breathed in deeply, frowned, and cleared her throat as if trying to get rid of the feeling of a lump in there and finally, she took a step forward
I Aphrodite have read the site rules and understand them. The code word for the rules is: Batman
Application Created By Hell Hound