Post by Stephanie Khang on Mar 23, 2014 1:30:20 GMT -5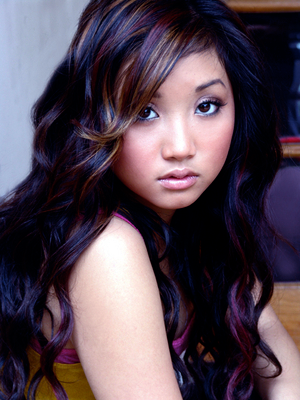 Full Name:
Stephanie May Khang
Nickname/Alias:
Steph, May
Age/Date Of Birth:
Seventeen | January 4th 1997
Race:
Human
Occupation:
Escort
Species Group:
Shaman (Witch)
Play-By:
Brenda Song
Abilities
Being a Shaman Stephanie has a few abilities, however Stephanie is just now learning shamanism and is not mastered in it.
Being a shaman gives Stephanie the ability to perform rituals and leave her body to go into the spirit world. There she has a spirit guide named Noog, which means bird in Hymong. As you can guess the spirit guide takes the form of a bird, a falcon to be exact. Noog often guides and directs Stephanie in her travels in the spirit world. The spirit guide is always present within Stephanie though others only encounter him when the shaman is in a trance. The spirit guide energizes Stephanie, enabling her to enter the spiritual dimension.
Stephanie can heal within the spiritual dimension by returning 'lost' parts of the human soul from wherever they have gone. She also cleanses excess negative energies which confuse or pollute the soul. Stephanie can act as a mediator, communicating with the spirits on behalf of the others, including the spirits of the deceased. Stephanie communicates with both living and dead to alleviate unrest, unsettled issues, and to deliver gifts to the spirits. Stephanie can assist in soul retrieval. In shamanism it is believed that part of the human soul is free to leave the body. The soul is the axis mundi, the center of the shamanic healing arts. So Stephanie can change her state of consciousness allowing her free soul to travel and retrieve ancient wisdom and lost power. Because a portion of the soul is free to leave the body it will do so when dreaming, or it will leave the body to protect itself from potentially damaging situations, be they emotional or physical. In situations of trauma the soul piece may not return to the body on its own, and a shaman must intervene and return the soul essence.
When in a ritual she can leave her body to go to other dimensions. Stephanie is capable of making certain things to on spirit quests for a person, allowing them to find their true selves or what they are seeking. More things that come naturally to the young girl is reading signs, events, or omens, or through alleged contact with a supernatural agency.
Special Inventory
Special items that are bought from the store will go here.
Likes (At Least 3):
❤ Good Spirits
❤ Nice Things
❤ Taco Bell
Dislikes (At Least 3):
✗ Evil Spirits
✗ Being The Victim
✗ Her Life
Fears (At Least 2):
☬ To Go Back To Hell
☬ To Not Be Able To Save Her Sister
Goals (At Least 1):
★ To find a way out for her sister through shamanism.
Personality:
Stephanie is a very sad and broken soul, but she does not show it. She tries to act tough, sassy, and elegant. Sadly enough the way the young girl makes money is by escorting, selling herself for whatever... Though she seems to make sure she is well protected. Stephanie enjoys the nicer things and dresses with style and makes sure she looks hella cute.
She doesn't whine to people but honestly she's not that secretive. She is willing to talk about her past even though it hurts, seeing her soul as a battle wound from what she has survived, even if she didn't want to survive.
Inside she is very hurt and destroyed, especially from spending some time in hell. The young girl use to hurt herself physically but when she returned from hell she stopped, maybe she had enough pain to last her.
The seventeen year old has dreams of being a huge star, having a passion for music. However now she doesn't believe in herself anymore, and doesn't sought the fame anymore. Stephanie cannot take a compliment after being bullied for so long she just thinks she is an ugly person inside and out.
Traits


Positives (At Least 3):
✧ Cultured
✧ Self-reliant
✧ Hardworking

Negatives (At Least 3):
✦ Desperate
✦ Brittle
✦ Luxurious


Parents:
Nai Khang (Mother), Li Jie Khang (Father)
Siblings:
Michelle Khang (Sister)
Other Family:
Nkauj Hli (Grandmother), Iab oo (Really Old Ancestor, believed to be her reincarnation)
Important Others:
@darius
History:
Stephanie was the second child born into a very wealthy family. Li Jie Khang was the founder of a big time business company that earned millions, making Stephanie have a very easy life. However growing up Stephanie and her sister didn't see their parents much and were left with a nanny all the time. Their father was working all the time and their mother was too busy in her own life to spend time with her children. They had no other family either, other than their father's side. Nai Kang, their mother, cut ties with her family and never spoke to them.
When Stephanie was thirteen and Michelle was fifteen the two found an old box of their mother's. It was hidden in their attic, behind all the packed away winter clothes. In the box the two found old pictures of their mother and her family, and they found the address of where their grandmother lived. They felt they deserved to know their grandmother, and wanted to know her so they went off on their own to do so. They were brought to a small cabin like shack, whoever owning it obviously not having hardly any money at all. Inside was their grandmother and they fell in love with her, even though she was very strange with her beliefs and stories. When cleaning their grandmother's house for her they came across a very old book and inside was crazy things like talk of magic, demons, and spirits. The girl's wanted to read more so they took the book, which they happened to forget to take back.
Life was pretty good for little Stephanie, she was the class president and a cheerleader. She ran shit and was a queen among her peers, being popular was an understatement. She was also told by her strange grandmother that she was the reincarnation of their ancient ancestor, Iab oo, who was a remarkable shaman with great power. She told Stephanie that she was destined for great things and that her power will help many in the future. Obviously she thought her grandmother was crazy.
When she was fifteen the young girl was sneaking into clubs, looking much older than she actually was no one questioned her fake IDs. Stephanie met a man there, he told her he owned a record deal and she couldn't believe it! She sang for the man and he said she was very talented and that he would sign her, but only if she slept with him... This is how the young girl lost her virginity. She slept with the much older man, because she deemed it was worth it... She was wrong. Not only did he not sign her but the creep taped them having sexual intercourse and put it on the web. It wasn't soon after the whole school was aware of the video and just like that her status from Queen went to nothing. She was bullied both physically and mentally by her peers. They told her to kill herself, how ugly she was, they would mimic the sounds from the video... They were all just evil, cruel, children.
Stephanie started to hate herself and in a matter of weeks she began cutting herself. She needed to feel something, anything, so it was the cutting that she turned to. Maybe it helped block out the mental pain with physical pain or maybe it was just so she could feel more... It didn't matter because the young teenage girl grew to hate herself. This all went on for a year and on the night of her sixteenth birthday, Stephanie Khang was pronounced dead. Cause of death; overdose.
Her family took it hard, or at least her sister and grandmother did. Honestly her father never shed a tear, and her mother just was over dramatic, crying and screaming and just seeking attention. Her sister despised them and took matters in her own hands. She found the old book they took from their grandmother's while cleaning out her sister's room. She sat down to read it and she came across something interesting... Crossroad demons. Michelle decided to try it, she gathered the needed items and put it in a box with her photo... Right in the center of an old crossroads by her home. At first she didn't think it worked... Well she was obviously mistaken. A man appeared, his name? Daris. The demon told her he could save her sister and he would give her ten long years with her and then he would come to collect. Michelle read the book, she wasn't stupid she knew what he wanted and so..... She took the deal, sealing it with a kiss.
Stephanie quickly came to in a casket, at a funeral home where she was being stored until she would be buried soon. Her sister ran to the funeral home, and it was a long way... When she got there she looked inside the coffin, surprised to actually see it empty. Michelle started to notice a faint crying and she looked over, behind the coffin... It was her sister. She was back! But she was crying... Michelle hurried over to her and as they talked Stephanie explained to her that she was in hell... That after she died she was sent there and that it felt she was there longer than she had actually been. Michelle just comforted her baby sister but Stephanie was pissed. How could she do this?! How could she bring her back to this world when she wanted to leave?! Why would she sell her own soul to save someone who took their own! She couldn't take it and ran out of the funeral after lashing out at Michelle. Stephanie quickly went to their home, stole thousands of dollars, and took off-- Never to return back home again.
She ran to her grandmother's and asked the old woman for help... And of course she did, she could not let this happen to her precious grand babies. Nkauj Hli summoned Darius and tried to break the deal but it ended well and he killed the old woman in front of Stephanie, enjoying the pain it would cause her. He didn't kill Stephanie however because he loved that she was suffering and he wanted to keep it that way.
Stephanie started to live on the move and she also began practicing her shamanism. She decided she would find a way to save her sister with it and so she practiced for a while and she met a guy named Bradley. Yeah he was older than her but she didn't care... However he started to force her to do drugs, to have sex with him, and even abused her. He was possessive and she was scared. One day she decided to pack her shit and leave while Bradley was passed out drunk, but it was only a month before he found her. He attacked her, trying to strangle her and was yelling that she was his and she was coming back to him. She fought back and as they fought she eventually decided she was not going to do this, she was going to stop him from hurting her and any girl's in the future and she shoved him off the balcony of the hotel she was staying at... It ended the fight, but more importantly his life. Stephanie had to take off and leave state, running from now not only her past but now from the fact that she killed a man.
Stephanie made one promise to herself;
"I will never be the victim again."
Alias:
Hell Hound
How did you find us?:
Site Admin
Experience:
Enough
Other Characters:
Dean Winchester
,
Sawyer Grant
,
Tyson Grant
,
Lizzie Shields
,
Aspen Meadows
,
Mammon
,
Darren Covington
,
Ryker Nixon
,
Heaven Michaels
,
Dean Winchester Jr
,
Jake Sullivan
,
Ethan Sullivan
,
Lily Bishop
,
Luke Sullivan
,
Scotty Jacobs
,
Matthew Jacobs
.
Austin Jacobs
RP Sample:

Dean watched as the young blonde suddenly stood up and held out her hand. She was leaving? Dean couldn't help but feel a bit of disappointment. Little did he know the blonde thought Dean was trying to get rid of her even though that was not his intentions. He also stood and took her hand shaking it lightly but firmly, the electrical shock he felt earlier not as strong as the first time. When she leaned over and kissed his cheek it took him a little off guard. Her warm yet moist lips sent a feeling much stronger then the electrical shocks he felt earlier every time they made slight contact. What was it about this girl?.... It was something very different, he felt an almost... pull to her like she was a magnet and he was just a fine piece of metal. Again, his mind blamed it on the fact that he was in Purgatory for a year and this was really the first time he had been with a girl alone in quite sometime.

Dean took her phone and put the number in, all the while realizing that she would probably never call. He knew better then anyone that you don't give the person your number you get theirs. He handed her the phone and their fingers brushed against each other. She put the phone back in her bag.

"Thank you again,"

As she looked at him, their eyes met once again, gazing into one another's for a split moment before a small sigh escaped her lips. Before Dean could ask what was wrong a knock and a small voice came from outside the door.

"Housekeeping!"

Dean immediately furrowed his eyebrows. What the hell was housekeeping coming around at this time? It wasn't right, and Dean knew it. He had been living in motels forever, it wasn't time for this. Not only that, but Dean had specifically asked to keep housekeeping away until after he was done with the room, just something he started doing just in case he planned on staying a while. Dean went to grab Bethany's arm as she turned to open the door but wasn't quick enough.

"Wait, don't- - "

Beth opened the door and there stood a rather small middle aged woman with with black hair pulled into a pony-tail and a light blue cleaning uniform. Dean's eyebrows stayed furrowed as he looked at the woman but her words sent a shier down his spine and blood pumping his heart even faster.

"Hello, Bethany,"

The woman's eyes turned coal black and her cold, devilish half-smile sent another shiver down Dean's spine when suddenly Beth was sent flying into the wall. The demon sped in, the door slamming behind her. It was if she didn't notice Dean, that she didn't even care that he was standing there as her glare stayed hooked on Bethany who was now being pinned to the wall with telekinesis. As she was being held there a coat hook stabbed through the poor girl's left shoulder.

Dean's index finger on his right hand twitched as he stood there for a second. Before long the Winchester was moving and pulling out a canteen of holy water from under his pillow. Thankfully back when he got the credit cards Dean also got the basics, salt, holy water, borax, the works. He quickly spun around a toss a bit at the demon, making her grab at her face and scream as she steamed. Thanks to the sudden pain, the demon's hold on Bethany was gone and she fell to the floor. Dean quickly sprinkled more on the demon and moved in front of the door.

The woman stood there, her hands covering her face as she was bent over and looking down. She slowly lifted her head and pulled her hands away. Her eyes going wide and the pitch black being even more visible.

"Dean Winchester?!"

The demon shrieked and as she went to quickly leave the body Dean kicked with full force and she was pushed back, falling on a rug set up at the foot of the bed. She looked up quickly at the ceiling seeing nothing and frowned, trying to leave again but when she couldn't her eyes shot to Dean. Dean walked over slowly and smirked, lifting up the corner of the rug revealing a devils trap. He spoke in a low and cocky tone.

"Got you, bitch."

The demon squinted her eyes and tilted her head as Dean got up and rushed over to Beth.

"You..... I heard you were gone, everyone did. How are you here?"

Dean ignored the demon and squatted to Bethany's side, his eyes full of concern. He looked at her and upon seeing her injury he quickly wrapped his arm around her and helped her up.

"Don't worry... You'll be okay... I'll fix you up."

Dean walked her over to the bed and sat her down, ways away from the demon. After looking at her wound again, he looked into her eyes.

"Hang in there..."

Dean turned around and walked up to the demon, standing right outside of the devil's trap.

"What the hell are you doing here?" He nodded back at Beth. "What do you want from her?"

"Not going to make me talk, Winchester." The demon shook her head and smirked.

"Yeah?" Dean raised his eyebrows as
he splashed more water in her face causing her to hiss. "Sure about that?"

The demon decided not to respond and Dean's anger and disgust took over.

"Fine. " Dean looked down at her, his glare latched onto her and not going anywhere. "Exorcizamus te, omnis immundus spiritus,
omnis satanica potestas, omnis incursio infernalis adversarii,
omnis legio, omnis congregatio et secta diabolica."

They'll love to know you are back!" The demon growled at Dean, causing him to pause a moment. "Yeah, well tell them I sent you." Dean paused again with a slight smirk and then he finished the exorcism. "Ergo, draco maledicte.
Ecclesiam tuam securi tibi facias libertate servire,
te rogamus, audi nos."

A cloud of black smoke came spewing violently from the woman's mouth and when down through the floor. Dean took a breath and quickly turned around to see Beth. He swallowed and walked quickly back over to Beth, sitting on the bed next to her.

"I..... should patch you up now."

The body of the woman laid there, not moving as she was gone. Dean reached over to the nightstand, bending over Beth slightly and pulling open the drawer revealing some medical equipment.

I (Stephanie Khang) have read the site rules and understand them. The code word for the rules is: (Batman)
Application Created By Hell Hound