Post by Deleted on May 18, 2014 18:12:55 GMT -5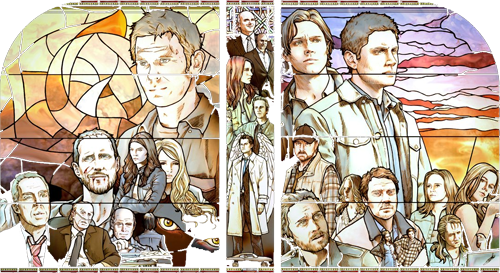 Full Name:
Sofiel
Nickname/Alias:
Sofi, Mother Nature
Age/Date Of Birth:
Beginning of Time
Race:
Angel
Occupation:
The Angel of Nature
Species Group:
Seraph
Play-By:
Jessica Alba
Abilities
Seraph abilities according to the SPN wiki:
Angelic Possession
Immortality
Superhuman Stamina
Teleportation
Super Strength
Biokinesis
Telepathy
Advanced Pyrokinesis
Advanced Healing
Resurrection
Invisibility
Advanced Smiting
Dream Walking
Regeneration
Advanced Chronokinesis
Reality Warping
Mental Manipulation
Soul Reading/Channeling
Power Removal
in addition to control over nature, including, for example, plants, animals, and the weather
Special Inventory
Special items that are bought from the store will go here.
Likes (At Least 3):
❤ nature, obviously
❤ humans, particularly those who take care of the environment
❤ sweets
Dislikes (At Least 3):
✗ litter and pollution
✗ war
✗ big cities
Fears (At Least 2):
☬ That the world will be completely destroyed by big cities, war and pollution and she will have failed her Father
☬ That she will be the cause of similar destruction herself because of her mood or temper
Goals (At Least 1):
★ To continue to beautify the Earth
Personality:
Sofiel puts the rebirth and growth of the planet above all else. It is her task that was given to her by God and it's something she works extremely hard at and something she takes a lot of pride and joy in. Sofi absolutely hates pollution, smog, litter, etc. Seeing someone mistreating God's green earth is one of many things that can put Sofiel's mood into a tailspin.
This is not always a good thing because most often the area around this angel is highly affected by her mood. If Sofi is happy then you're most likely going to see a clear, sunny sky and a fresh bloom of flowers. Loneliness can lead to gloomy skies and possibly rain or snow. And anger can lead to the most violent of thunderstorms. It's not that she does it on purpose... it's just the way she is. Luckily, she can usually be soothed.
Sofiel loves God and is completely loyal to Him. She will not stand by anyone claiming he is dead, or other angels claiming to be Him. She loves her brothers and sisters and will do what she can for them as long as it doesn't mean sacrificing the task she was given by God so long ago. Sofiel has a love/hate point of view about hunters. She understand that they too are doing what they can to help protect the Earth, but she finds them chaotic and destructive.
Traits
[/b][/font]
✧ loyal
✧ hard-working
✧ benevolent
Negatives (At Least 3):
✦ temperamental
✦ naive
✦ spoiled
[/ul]

Parents:
God Almighty
Siblings:
other angels
Other Family:
N/A
Important Others:
N/A
History:
Like many of her siblings, Sofiel was created by God at the beginning of time, long before the Earth was created. For eons she was happy with her purpose, to worship her Father and sing His praises. She was in awe of God and was particularly interested and impressed when he created the Earth. She found great beauty in His work. Still, she was one of trillions of angels and didn't really have a voice or a purpose that was her own.
That was until God decided to flood the world to rid it of the wickedness of humanity, saving only the humble Noah and his family. It was after the waters had settled and the land was starting to dry again that God asked Sofiel for her help. Having realized her passion for the Earth's beauty, he tasked her with its regrowth. God instilled upon Sofiel a special affinity for the power of nature and sent her down from Heaven to clean up.
Throughout the centuries, Sofiel has worked to beautify the land, trying to please her Father. There are times when He enlists her help for tasks that are just the opposite... natural disasters such as erupting volcanoes and hurricanes. Sofiel isn't sure why God asks her to be destructive to different parts of the planet, but she trusts that He has a reason and she always follows His orders without question.

Alias:
Cherry Pie
How did you find us?:
Am admin
Experience:
eleventy billion years
Other Characters:
Bethany Clark
, @charlie,
Sky Meadows
, @esock,
Eli McKinley
,
Jenna Bradford
, @jesse,
Zoey Monroe
,
Steven Winchester
,
Liam Stark
,
Makenna Jordan
,
Kennedy Stark
,
Sully Brennan
,
Holly McKinley
, @kara
RP Sample:
The motion of Ellen's wave caught the corner of Dean's eye and he made his way over to her, sliding into the booth across from her. A waitress came over and he quickly asked for black coffee and 'what she's having', not really bothering with the menu because he wasn't in the mood to dilly-dally around with breakfast foods when there were more important things on his mind. "Hey Ellen," he said after the petite, middle-aged woman walked away, managing a small half-smile for his old friend that didn't quite reach his weary eyes. "You look good."
Dean cast a glance over his shoulder, reaching into his inner jacket pocket to be sure for the third time that everything he would need was in reach. It was times like this that he wished he had some way of knowing who was a demon and who wasn't short of splashing everyone in the establishment with holy water. That was just something he couldn't do, no matter how much he might want to. These last couple of years had really made him paranoid.
After scanning the room again he finally turned back around to face Ellen, leaning forward a little and keeping his voice low as he grabbed the ketchup bottle and shook it a little, making sure it wasn't empty. "So what's the 411?"
I (Sofiel) have read the site rules and understand them. The code word for the rules is: (assbutt)
[/div][/div]
Application Created By Hell Hound
[/div]