Post by Tommy Walker on Aug 16, 2014 2:32:12 GMT -5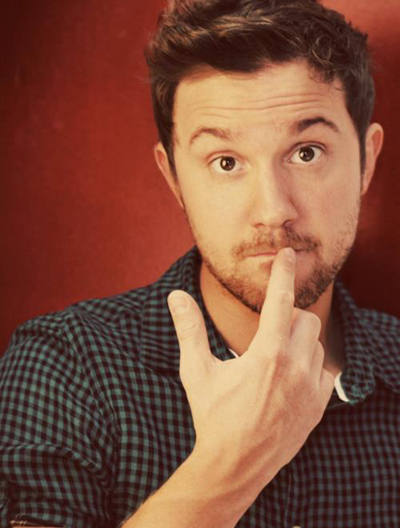 Full Name:
Thomas Benjamin Walker
Nickname/Alias:
Tommy, Butter Fingers
Age/Date Of Birth:
Twenty Three Years Old | April 17th 1991
Race:
Human
Occupation:
Student
Species Group:
Hunter
Play-By:
Sam Huntington
Abilities
Special Inventory
Special items that are bought from the store will go here.
Likes (At Least 3):
❤ Animals - Tommy has always had a connection with animals and because of it, it's one of the main reasons he wants to be a veterinarian.
❤ Reading/Studying - Being a college student Tommy has a good habit of studying a lot and reading.
❤ Cleaning - Thanks to his OCD Tommy tends to clean a lot and it helps him gain brief relief.
Dislikes (At Least 3):
✗ Having OCD - I mean who would like having it?
✗ Guns - They make him uncomfortable and a bit jumpy. He doesn't even like touching one because he is afraid it will just go off.
✗ Most Reality TV - It's crap, especially the shows about someone trying to find love.
Fears (At Least 2):
☬ The Supernatural - He's terrified of it and because of this he tends to obsses over it thanks to his OCD. He checks salt lines all the time, checks his arsenal and will even go as far as to make sure there is no demon around by saying
Christo
under his breath at random times or inciting the Latin exorcism. He also can be pretty forward with checking if someone is a supernatural being; He has a whole kit dedicated for these checks. Inside his kit he has a silver knife, holy water, a sharp sliver of iron, a sharp sliver of palo santo, and salt.
☬ Claustrophobia - Tommy is scared of having no escape and being in closed or small spaces/rooms. It can easily be brought on by elevators crowded to capacity, windowless rooms, and even tight-necked clothing. It is common for him to begin to have a panic attack; sweating, shaking, sensations of shortness of breath or being smothered are common for him when he experiences this.
Goals (At Least 1):
★ To become a licensed veterinarian/Earn his DVM
Personality:
Tommy is generally a kind and caring person but like everyone else he has his issues. He has been diagnosed with OCD (Obsessive Compulsive Disorder). Due to his disorder Tommy tends to be overly tidy, cleaning a lot of the time and wash his hands way more than needed. This is because he obsesses with being clean, keeping everything in order. Another obsession caused by his disorder is his obsession with being ready for a supernatural entity to attack. He is pretty scared of the supernatural so he has certain rituals he goes over to make sure he is ready if some monster decides to go after him.
(See Fears)
On the bright side Tommy is very smart, getting good grades in school and being among the top student in his classes. He reads and studies a lot, so this is what he usually is doing when not cleaning or checking up on things. He can find information pretty easily, even if the information is in just one small book, in one sentence on a random page, he will find it.
Though he loves people, Tommy loves animals just as much... Or maybe even more. He hates seeing any animal hurt or sick so in order to help them he has decided to become a vet. Tommy has his own dog with his fiance named Cujo, thought it would be ironic to name him after a scary evil dog from a movie when he is the sweetest thing.
Another thing Tommy is, is clumsy. He would be the last person you would want with you on a hunt. He tends to miss a lot, drop things, and fall which has earned him the nickname Butter Fingers in his family. Tommy loves his family and considers himself very family oriented. He would do anything to protect them. The only reason he lest was because his father made him and he figured they were all better off without him anyways. Sometimes he wishes he could see them all again, even his jerk father, but he has no way to get a hold of them or even find them.
Traits


Positives (At Least 3):
✧ Smart
✧ Family-Oriented
✧ Kind

Negatives (At Least 3):
✦ Clumsy
✦ OCD
✦ Overly Tidy


Parents:
Ben Walker (Father), Angela Walker (Mother/Deceased)
Siblings:
Declan Walker
(Brother),
Ellie Walker
(Sister)
Other Family:
Nathaniel McKinley
(Uncle), Sara McKinley (Aunt/Deceased),
Eli McKinley
(Cousin), Pete Walker (Uncle/Deceased), Frank Walker (Grandfather/Deceased), Miriam Walker (Grandmother/Deceased),Jack Walker (Great Grandfather/Deceased), Joseph Coleman (Grandfather/Deceased), Agnes Coleman (Grandmother/Deceased)
Important Others:
Aaliyah Hudson
(Fiancée)
History:
Walker
Tommy was born into a very old family known for their hunting skills. The Walkers history as hunters can be traced so far back that it is unknown when the family began hunting. The most recent Walkers started with Jack Walker, a very skilled man who was feared by many creatures and demons. Jack was born in 1920 and was taught about the supernatural from a very young age. The man had a knack for not only gun aiming but also magic, being able to preform higher level spells. In 1943 he had a son who took the name Frank Walker. Unlike his father, Frank wasn't a natural at hunting or magic which meant he had to try even harder to live up to his father's expectations. In 1949 Jack joined a group who called themselves The Men Of Letters. He didn't have a problem with the initiation and it didn't take long before he was considered a high ranking member, almost to the level of an elder. However Jack's reign ended when he was killed along with the rest of The Men Of Letters in 1958, leaving his fifteen year old son behind.
The young boy grew up into a man and kept hunting, fulfilling his father's wishes. He never knew about the group his father was apart of so he never could join or reboot The Men Of Letters. It was in 1971 that Frank had his own son with a woman named Miriam, who he named Pete, and only three years after that he had another son who he named Ben. He taught his sons all he knew about the hunting life and eventually they two went their own ways, saving lives and hunting the things that go bump in the night.
Coleman
On his mother's side Tommy was born into the Coleman legacy. Not anything too great, just some cool cooking skills and just normalcy. Angela Coleman was born in 1975.
Now
Tommy was born in 1991 and soon after his parents got married. He became an older brother when he was five and always liked being the oldest. He was taught about the world of the supernatural pretty early on but it was evident he wasn't a prodigy in the heat of a hunt so his mother focused on teaching him different things about the secret world hidden to normal civilians. Tommy was always being taught by his father and grandfather who wanted him to become physically strong and be able to hold his own in a fight, their efforts were pretty much in vain. In the year 2000, Tommy was 9, his grandfather died of cancer. Tommy couldn't believe all the hunters his grandfather knew that came to visit him before he passed. That was the first time he learned about a hunter's funeral, that you cremate them so they won't come back as a spirit.
When Tommy was about thirteen he met a guy named John Winchester. Apparently he was a friend of his grandfather's but Tommy wondered why he didn't come say goodbye like other hunters did, or even show up for the funeral. Tommy remembers John talk about his children and showing a photo of them. From Tommy's understatement they were much older than they were in the picture. He didn't know it but this wouldn't be the last time he would hear of the name Winchester.
When he was fifteen he and his family got a surprise; his parent's had a little girl who they named Ellie. They thought they weren't able to have anymore children but they did. The couple decided to name her after their friend Ellen. Ellen was a woman Tommy knew pretty well because he use to go to the Roadhouse with his uncle and little brother. However in 2007 the Roadhouse was destroyed and Tommy's uncle was in the building at the time.
Only two years after losing his uncle Tommy would also lose his mother on a hunt... It was his fault. He was suppose to shoot the werewolf running at his mother but he missed and it ended up with her being killed. It was pretty soon after that Tommy's father began to drink a lot. He and Tommy would argue a lot but they continued to hunt.
Sometime after the passing of his mother Tommy and his father heard about the apocalypse and how it was the Winchester's fault but somehow they stopped it. Tommy really didn't understand what all happened due to the fact that the information was received by mouth and hard telling how much the story changed each time someone told it.
It was in 2011 that Tommy accidentally dropped his gun and got both him and his father hurt on a hunt. This caused his father to lash out at him and they physically fought until it ended in him telling Tommy to leave and that he wasn't apart of the family anymore. Tommy didn't want to but he did leave, figuring that he caused more damage than good. Their father seemed alright with his siblings so he didn't think there would be a problem, he especially didn't think he would physically abuse them.
Tommy found himself at their maternal grandfather's home where he met his fiance to be, Aaliyah. She was one of the few neighbors in this rural area and she thought he was a burglar. Luckily enough the whole mess got sorted out and the two began talking, ending with her inviting him over for dinner. One thing led to another and the two ended up dating. Tommy began going to college, deciding he wanted to be a veterinarian.
When going through things in his grandfather's old home he came across stuff about an organization called The Men Of Letters. Upon further research he learned who they were and what they did, he even found a list of the members names and their files. Apparently the Walkers are all legacies including another familiar name.... The Winchesters.
Now Tommy is engaged to Aaliyah, going to college, and assists a veterinarian friend to gain experience along with volunteering at animal shelters.
Alias:
Hell Hound
How did you find us?:
Head Admin
Experience:
Liiiike lots?
Other Characters:
Dean Winchester
,
Sawyer Grant
,
Tyson Grant
,
Lizzie Shields
,
Aspen Meadows
,
Mammon
,
Darren Covington
,
Ryker Nixon
,
Heaven Michaels
,
Dean Winchester Jr
Jake Sullivan
,
Ethan Sullivan
,
Lily Bishop
,
Luke Sullivan
,
Scotty Jacobs
,
Matthew Jacobs
,
Austin Jacobs
,
Chris Anderson
,
Stephanie Khang
,
Seth Baldwin
,
Hunter Roselli
,
Logan Winchester
,
Rayne Baily
,
Tristan Michaels
,
Declan Walker
RP Sample:
Dean watched as the young blonde suddenly stood up and held out her hand. She was leaving? Dean couldn't help but feel a bit of disappointment. Little did he know the blonde thought Dean was trying to get rid of her even though that was not his intentions. He also stood and took her hand shaking it lightly but firmly, the electrical shock he felt earlier not as strong as the first time. When she leaned over and kissed his cheek it took him a little off guard. Her warm yet moist lips sent a feeling much stronger then the electrical shocks he felt earlier every time they made slight contact. What was it about this girl?.... It was something very different, he felt an almost... pull to her like she was a magnet and he was just a fine piece of metal. Again, his mind blamed it on the fact that he was in Purgatory for a year and this was really the first time he had been with a girl alone in quite sometime.

Dean took her phone and put the number in, all the while realizing that she would probably never call. He knew better then anyone that you don't give the person your number you get theirs. He handed her the phone and their fingers brushed against each other. She put the phone back in her bag.

"Thank you again,"

As she looked at him, their eyes met once again, gazing into one another's for a split moment before a small sigh escaped her lips. Before Dean could ask what was wrong a knock and a small voice came from outside the door.

"Housekeeping!"

Dean immediately furrowed his eyebrows. What the hell was housekeeping coming around at this time? It wasn't right, and Dean knew it. He had been living in motels forever, it wasn't time for this. Not only that, but Dean had specifically asked to keep housekeeping away until after he was done with the room, just something he started doing just in case he planned on staying a while. Dean went to grab Bethany's arm as she turned to open the door but wasn't quick enough.

"Wait, don't- - "

Beth opened the door and there stood a rather small middle aged woman with with black hair pulled into a pony-tail and a light blue cleaning uniform. Dean's eyebrows stayed furrowed as he looked at the woman but her words sent a shier down his spine and blood pumping his heart even faster.

"Hello, Bethany,"

The woman's eyes turned coal black and her cold, devilish half-smile sent another shiver down Dean's spine when suddenly Beth was sent flying into the wall. The demon sped in, the door slamming behind her. It was if she didn't notice Dean, that she didn't even care that he was standing there as her glare stayed hooked on Bethany who was now being pinned to the wall with telekinesis. As she was being held there a coat hook stabbed through the poor girl's left shoulder.

Dean's index finger on his right hand twitched as he stood there for a second. Before long the Winchester was moving and pulling out a canteen of holy water from under his pillow. Thankfully back when he got the credit cards Dean also got the basics, salt, holy water, borax, the works. He quickly spun around a toss a bit at the demon, making her grab at her face and scream as she steamed. Thanks to the sudden pain, the demon's hold on Bethany was gone and she fell to the floor. Dean quickly sprinkled more on the demon and moved in front of the door.

The woman stood there, her hands covering her face as she was bent over and looking down. She slowly lifted her head and pulled her hands away. Her eyes going wide and the pitch black being even more visible.

"Dean Winchester?!"

The demon shrieked and as she went to quickly leave the body Dean kicked with full force and she was pushed back, falling on a rug set up at the foot of the bed. She looked up quickly at the ceiling seeing nothing and frowned, trying to leave again but when she couldn't her eyes shot to Dean. Dean walked over slowly and smirked, lifting up the corner of the rug revealing a devils trap. He spoke in a low and cocky tone.

"Got you, bitch."

The demon squinted her eyes and tilted her head as Dean got up and rushed over to Beth.

"You..... I heard you were gone, everyone did. How are you here?"

Dean ignored the demon and squatted to Bethany's side, his eyes full of concern. He looked at her and upon seeing her injury he quickly wrapped his arm around her and helped her up.

"Don't worry... You'll be okay... I'll fix you up."

Dean walked her over to the bed and sat her down, ways away from the demon. After looking at her wound again, he looked into her eyes.

"Hang in there..."

Dean turned around and walked up to the demon, standing right outside of the devil's trap.

"What the hell are you doing here?" He nodded back at Beth. "What do you want from her?"

"Not going to make me talk, Winchester." The demon shook her head and smirked.

"Yeah?" Dean raised his eyebrows as
he splashed more water in her face causing her to hiss. "Sure about that?"

The demon decided not to respond and Dean's anger and disgust took over.

"Fine. " Dean looked down at her, his glare latched onto her and not going anywhere. "Exorcizamus te, omnis immundus spiritus,
omnis satanica potestas, omnis incursio infernalis adversarii,
omnis legio, omnis congregatio et secta diabolica."

They'll love to know you are back!" The demon growled at Dean, causing him to pause a moment. "Yeah, well tell them I sent you." Dean paused again with a slight smirk and then he finished the exorcism. "Ergo, draco maledicte.
Ecclesiam tuam securi tibi facias libertate servire,
te rogamus, audi nos."

A cloud of black smoke came spewing violently from the woman's mouth and when down through the floor. Dean took a breath and quickly turned around to see Beth. He swallowed and walked quickly back over to Beth, sitting on the bed next to her.

"I..... should patch you up now."

The body of the woman laid there, not moving as she was gone. Dean reached over to the nightstand, bending over Beth slightly and pulling open the drawer revealing some medical equipment.
I (Thomas Walker) have read the site rules and understand them. The code word for the rules is: (Batman)
Application Created By Hell Hound