Post by Hope Anderson on Feb 25, 2015 2:55:56 GMT -5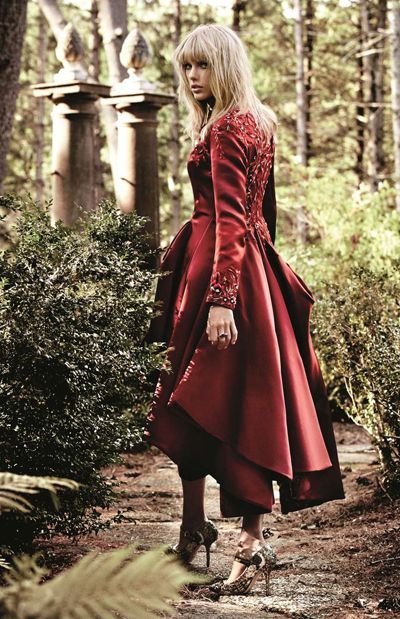 Full Name:
Hope Heavenly Anderson
Nickname/Alias:
N/A
Age/Date Of Birth:
Twenty Three Years Old | 01 - 17 - 2022
Race:
Creature
Occupation:
Hunter | IHA Council Member
Species Group:
Phoenix | Hunter | 4th Generation Deva
Play-By:
Taylor Swift
Abilities
Incineration By Touch
- A Phoenix can incinerate anyone/anything with a single touch, their ability is so strong, they can reduce a whole man to ashes in seconds. When not emotionally stable Hope's power sometimes acts up on it's own.
Immortality
- A Phoenix is immortal, meaning that it does not age at all. A Phoenix is immune to death by natural causes and aging. Based on Elias's comments, it seems before the Colt, there was no known way to kill a Phoenix, although the fact it was known that they combust upon death, implies there are other ways to kill them.
Invulnerability
- Phoenixes are nearly completely invulnerable, they can take repeated shots in the chest and not even react. Although significant force, such as being hanged can knock them out for a while.
Superhuman Strength
- Phoenixes are incredibly strong. One Phoenix was strong enough to break out of its coffin, after it had been nailed down and buried.
Regeneration
- Phoenixes can heal/regenerate from any and all non fatal injuries.
Shapeshifting
- The Phoenix can take human form to conceal its true form, which is bird-like.
Fire Manipulation
- Hope can create, shape and manipulate fire, the rapid oxidation of a material in the exothermic chemical process of combustion, releasing heat, light, and various reaction products, flame being the visible portion of the fire. Depending on the substances alight, and any impurities outside, the color of the flame and the fire's intensity will be different. On angel blood Hope's fire will be black and cannot be put out by any means, unless she herself puts it out.
Intuitive Aptitude
- Hope can instantly learn and understand the complexity and exactness of organisms, objects, and even powers without the need of long-term or special education. On angel blood she would literally be able to figure out how an ability works and learn how to use it.
Premonitions
- She has visions come to her in her sleep, which she writes down in a journal when she wakes up.
Special Inventory
Hallowed Event Perks
Equipped
| | | | |
| --- | --- | --- | --- |
| Perk Slot 1 | Perk Slot 2 | Perk Slot 3 | Perk Slot 4 |
Owned
Likes (At Least 3):
 
❤ Nature - Hope loves everything to do with nature, plants, animals, just wild life in general.
❤ Gardening - Hope loves to garden and loves flowers. She is very knowledgeable when it comes to kinds of flowers and even uses some for different uses.
❤ Driving - She finds peace by taking long drives and she usually prefers to have a drop top.
Dislikes (At Least 3):
✗ Meat - She doesn't eat any meat because she is a vegetarian.
✗ Violence - She doesn't like verbal or physical violence but if she is forced to she will resort to it.
✗ Her Dad's Music - The super old piano stuff he would always play, no thank you. She gets sooo bored with it.
Fears (At Least 2):
☬ Iron - Since it's one of the only things that like can hurt her, she is scared of it. She is super paranoid and watches out for iron wherever she is.
☬ Zeusophobia - She's actually pretty scared of God along with Greek Gods... They intimidate her even though she has never met one.
Goals (At Least 1):
★ To Patch The Temporal Time Rip
Personality:
Hope is a very outgoing and outdoorsy girl. She's fun and friendly and is constantly trying to hook her brother up with girls since he's so shy. She's nice like that, but honestly she can come off as a bit too much to him. She can be pretty blunt but she isn't rude about it, or tries not to be at least. She's very forward with someone when she has a problem or question, not beating around the bush.
Hope is a very sweet girl but she has a nasty temper. Her temper is so bad that she seems like a whole other person, and she's quite scary. It's usually a big shock to people when she suddenly turns from a sweet kind hearted girl and becomes so intimidating and powerful. She's also stubborn which doesn't help things at all, when she sets her mind to something she's going to do it and it takes a whole lot for her to change her mind or opinion on something.
The female phoenix is also very cautious about people and things. She is constantly keeping her eye out for iron and she watches people's body language carefully, wanting to always be prepared if they end up lashing out at her.
Traits


Positives (At Least 3):
✧ Outgoing
✧ Blunt
✧ Sweet

Negatives (At Least 3):
✦ Bad Temper
✦ Stubborn
✦ Cautious


Parents:
Chris Anderson
(Father),
Holly McKinley
(Mother)
Siblings:
Izzy Anderson
Other Family:
Eli McKinley
(Grandfather),
Heaven Michaels
(Grandmother), @zach (Great-Great Uncle),
Lorilee McKinley
(Great-Great Aunt),
Tristan Michaels
(Great Uncle),
Eve Sinclair
(Great Aunt)
Important Others:
Who is important to your character that is not related to them?
History:
Hope Heavenly Anderson was born alongside her twin brother, Izzy, to Chris and Holly Anderson. Growing up she looked up to her parents a lot and loved the outdoors and animals much like they did. As she grew up she learned what it meant to be a phoenix and she also had to learn to control her abilities as a deva. When it came time she began to hunt, learning the ropes from her father and then it was no time until she and her brother would take a seat on the council for the International Hunter Association.
She was usually very opinionated on the council, speaking for Izzy on most occasions. When the time rip began to broadcast all over the world, the council knew they had to do something... They found out they were to late to patch up the rip and Izzy suggested that they go back in time to do so. After a heated debate the group decided that it was the only way and a number of people were sent back to save the future... Now it's 30 years in the past and Hope is just hoping they can stop the rip from growing before it's too late.
[
Alias:
Hell Hound
How did you find us?:
I Created The Site
Experience:
Lotz
Other Characters:
Amitiel
,
Chris Anderson
,
Jeff Atherton
, @rayne, @malachi,
Seth Baldwin
,
Nova Bennette
,
Lily Bishop
,
Joel Crawford
,
Emily Clark
,
Darren Covington
, @jaxon,
Eric Gilbertson
,
Sawyer Grant
,
Tyson Grant
,
Austin Jacobs
,
Matthew Jacobs
,
Scotty Jacobs
,
Stephanie Khang
,
Zane Lancaster
,
Isaiah MacIntyre
,
Mammon
,
Lorilee McKinley
,
Aspen Meadows
,
Heaven Michaels
,
Tristan Michaels
,
Ryker Nixon
, @hunter,
Lizzie Shields
,
Ethan Sullivan
,
Jake Sullivan
,
Luke Sullivan
, @declan, @tommy,
Dean Winchester
,
Dean Winchester Jr
,
Cody Wolfe
, @caspian.
Samson Zimmerman
,
Mason Parker
,
Izzy Anderson
RP Sample:
Dean watched as the young blonde suddenly stood up and held out her hand. She was leaving? Dean couldn't help but feel a bit of disappointment. Little did he know the blonde thought Dean was trying to get rid of her even though that was not his intentions. He also stood and took her hand shaking it lightly but firmly, the electrical shock he felt earlier not as strong as the first time. When she leaned over and kissed his cheek it took him a little off guard. Her warm yet moist lips sent a feeling much stronger then the electrical shocks he felt earlier every time they made slight contact. What was it about this girl?.... It was something very different, he felt an almost... pull to her like she was a magnet and he was just a fine piece of metal. Again, his mind blamed it on the fact that he was in Purgatory for a year and this was really the first time he had been with a girl alone in quite sometime.



Dean took her phone and put the number in, all the while realizing that she would probably never call. He knew better then anyone that you don't give the person your number you get theirs. He handed her the phone and their fingers brushed against each other. She put the phone back in her bag.



"Thank you again,"



As she looked at him, their eyes met once again, gazing into one another's for a split moment before a small sigh escaped her lips. Before Dean could ask what was wrong a knock and a small voice came from outside the door.



"Housekeeping!"



Dean immediately furrowed his eyebrows. What the hell was housekeeping coming around at this time? It wasn't right, and Dean knew it. He had been living in motels forever, it wasn't time for this. Not only that, but Dean had specifically asked to keep housekeeping away until after he was done with the room, just something he started doing just in case he planned on staying a while. Dean went to grab Bethany's arm as she turned to open the door but wasn't quick enough.



"Wait, don't- - "



Beth opened the door and there stood a rather small middle aged woman with with black hair pulled into a pony-tail and a light blue cleaning uniform. Dean's eyebrows stayed furrowed as he looked at the woman but her words sent a shier down his spine and blood pumping his heart even faster.



"Hello, Bethany,"



The woman's eyes turned coal black and her cold, devilish half-smile sent another shiver down Dean's spine when suddenly Beth was sent flying into the wall. The demon sped in, the door slamming behind her. It was if she didn't notice Dean, that she didn't even care that he was standing there as her glare stayed hooked on Bethany who was now being pinned to the wall with telekinesis. As she was being held there a coat hook stabbed through the poor girl's left shoulder.



Dean's index finger on his right hand twitched as he stood there for a second. Before long the Winchester was moving and pulling out a canteen of holy water from under his pillow. Thankfully back when he got the credit cards Dean also got the basics, salt, holy water, borax, the works. He quickly spun around a toss a bit at the demon, making her grab at her face and scream as she steamed. Thanks to the sudden pain, the demon's hold on Bethany was gone and she fell to the floor. Dean quickly sprinkled more on the demon and moved in front of the door.



The woman stood there, her hands covering her face as she was bent over and looking down. She slowly lifted her head and pulled her hands away. Her eyes going wide and the pitch black being even more visible.



"Dean Winchester?!"



The demon shrieked and as she went to quickly leave the body Dean kicked with full force and she was pushed back, falling on a rug set up at the foot of the bed. She looked up quickly at the ceiling seeing nothing and frowned, trying to leave again but when she couldn't her eyes shot to Dean. Dean walked over slowly and smirked, lifting up the corner of the rug revealing a devils trap. He spoke in a low and cocky tone.



"Got you, bitch."



The demon squinted her eyes and tilted her head as Dean got up and rushed over to Beth.



"You..... I heard you were gone, everyone did. How are you here?"



Dean ignored the demon and squatted to Bethany's side, his eyes full of concern. He looked at her and upon seeing her injury he quickly wrapped his arm around her and helped her up.



"Don't worry... You'll be okay... I'll fix you up."



Dean walked her over to the bed and sat her down, ways away from the demon. After looking at her wound again, he looked into her eyes.



"Hang in there..."



Dean turned around and walked up to the demon, standing right outside of the devil's trap.



"What the hell are you doing here?" He nodded back at Beth. "What do you want from her?"



"Not going to make me talk, Winchester." The demon shook her head and smirked.



"Yeah?" Dean raised his eyebrows as

he splashed more water in her face causing her to hiss. "Sure about that?"



The demon decided not to respond and Dean's anger and disgust took over.



"Fine. " Dean looked down at her, his glare latched onto her and not going anywhere. "Exorcizamus te, omnis immundus spiritus,

omnis satanica potestas, omnis incursio infernalis adversarii,

omnis legio, omnis congregatio et secta diabolica."



They'll love to know you are back!" The demon growled at Dean, causing him to pause a moment. "Yeah, well tell them I sent you." Dean paused again with a slight smirk and then he finished the exorcism. "Ergo, draco maledicte.

Ecclesiam tuam securi tibi facias libertate servire,

te rogamus, audi nos."



A cloud of black smoke came spewing violently from the woman's mouth and when down through the floor. Dean took a breath and quickly turned around to see Beth. He swallowed and walked quickly back over to Beth, sitting on the bed next to her.



"I..... should patch you up now."



The body of the woman laid there, not moving as she was gone. Dean reached over to the nightstand, bending over Beth slightly and pulling open the drawer revealing some medical equipment.
I (Hope Anderson) have read the site rules and understand them. The code word for the rules is: (Batman)
Application Created By Hell Hound