Post by Deleted on Sept 13, 2013 16:43:47 GMT -5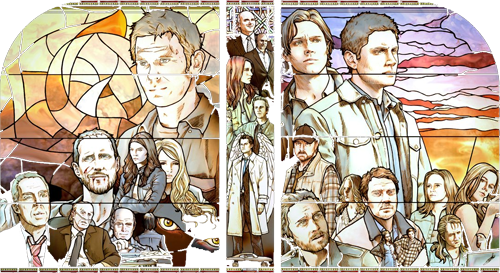 Full Name:
Fergus Rodric McLeod, Crowley
Nickname/Alias:
King of Hell, King, ect.... King of the Crossroads
Age/Date Of Birth:
300 years old, May 21st, 1661
Race:
Demon
Occupation:
King of Hell
Species Group:
Demon
Play-By:
Mark Sheppard
Abilities
Immortal - Crowley can't be killed easily, he is a very powerful demon.
Demonic strength - he has super strength and is stronger then even some demons.
Crowley needs a human host, and can chose anyone unlike an angel who needs to have consent.
Pyrokinesis - He is able to manipulate fire.
Invisibility - He can become invisible when its needed.
Special Inventory
Special items that are bought from the store will go here.
Likes (At Least 3):
Being King - Loves it actually and wants Hell to have a whole different perspective.
Hell Hounds - Loves them as companions and also as attack dogs.
Craig - Its his favorite drink
Torture - Its one of his specialties.
Mayhem - Why not, its fun?
Hell on Earth - Its his goal one day. He wants to rule it all.
Bobby Singer- He likes to tease Bobby and make him uncomfortable.
He likes to make people uncomfortable in general.
Dislikes (At Least 3):
Sam and Dean Winchester
Hunters - They just annoy the hell outa him. Especially the amateurs.
Angels - Nah, not a fan. He'd want to rules Heaven too if he could.
Demons who don't listen - he can't stand the demons that love Lucifer and want him back. He only tortures them more.
Meg because she's Lucifer's bitch
Fears (At Least 2):
Lucifer returning would completely destroy his status in Hell.
That hell would actually be shut down completely from Earth someday.
Goals (At Least 1):
Hell on Earth - He wants to rule it all.
Personality:
Crowley enjoys making people uncomfortable. He uses things such as sexual innuendo's which sometimes makes humans very uncomfortable, but it works. He is very sly and sincere in his work. He is a con man so to speak when it comes to making deals. He uses some loopholes to get around specific things in the deals that he makes, and then later lets his 'client' find out the hard way. Crowley also likes to use insults at times to make people feel uncomfortable.
Crowley is a business man and will dress the part. He loves looking and sounding professional during his deals. He especially loves taking the souls when time is up. He doesn't loose his temper easily. When he does its either because his life is threatened, or he's dealing with idiots.
Crowley is always professional with everything he does, including torture. While he's torturing, he wears a suit and then an apron over himself so that his suit doesn't get messy. He's very classy.
Traits
[/b][/font]
Persuasive
Charming
Debonair
Negatives (At Least 3):
Arrogant
Calculating
Temperamental
[/ul]

Parents:
Marty and Jolene McLeod
Siblings:
No
Other Family:
Gavin McLeod - his son who he hates
Important Others:
None
History:
Crowley was known as Fergus Roderick McLeod. He was born in 1661 in Scotland, and ended up selling his soul for an extra three inches below the waist. Crowley became a demon after he made the deal and went to Hell, he then eventually learned under Lilith and became her second in command. After that, Crowley became a Crossroads demon.
Sooner after he was a Crossroads demon, he was one of the best at his job, and was known as 'The King of the Crossroads" or "Crossroads King". Crowley loves the job, he lives for the job. He's good at the job. So good in fact, he was even able to get a deal out of Bobby Singer, someone who he never would have thought would make a deal with him. Bobby was crippled at the time, depressed, and Crowley managed to use that against him. They needed to know where Death was, Crowley offered it to Bobby for his soul. Bobby accepted thinking he was worthless in a wheelchair anyway, and thus a deal was made. Crowley, out of the goodness of his heart, gave Bobby his legs back in the midsts of the deal, but, a deal was a deal, and Crowley had Bobby Singers soul. That was a hugh one for him.
Later on though, Bobby managed to get the deal back when the Winchester boys managed to figure out that all it took was burning his bones to kill him. They found his buried bones in Scotland, took them, and was about to burn them before Crowley stopped them in time. Crowley was not pleased by this at all.
He first met the Winchesters when Castiel was looking for Crowley because they were trying to find the cult (John Winchesters gun). The winchesters find Crowley and he gives them the gun because he wants Lucifer gone. He told htem he thinks Lucifer would destroy the demons should he have his way. The truth of the matter was, Crowley wanted to be King of Hell. Which is exactly what happened after Lucifer was trapped in the PIT along with Sam when he sacrificed himself.
After Sam was rescued by Cas, the boys found out that he came back without a soul. This was before they even realized that Cas rescued Sam in the first place. Crowley told Dean that he pulled Sam out and that he had control over Sam, and that was why he needed them to work with him. Neither of the boys were happy with this.
When Castiel was wanting Raphael out of Heaven, Crowley approached him. He made a deal with Castiel, that all the souls from Purgatory would go to them, half and half. Cas would get some, he would get some. Cas would rule Heaven, and Crowley would rule Hell. In the end, Cas betrayed Crowely by taking all the souls to himself leaving Crowley powerless against him.
When Cas became "God" So to speak, the souls started eating Cas alive. Crowley on the other hand, was hiding from Cas because he knew Cas could kill him any second. Cas decided to leave him alive because of what he needed him for. To rule Hell. Crowley was grateful though he didn't show it. After the Leviathan's escaped, Crowley hid a bit more until he was able to talk to Dick Roman. He tried making a deal with him to be allies but Dick was not interested. In fact, he told Crowley where he could shove it. Crowley hates the Leviathans and wants them gone.
After the souls devoured Cas's vessel, Crowley assumed Cas was dead. Then he found out later that Cas was alive, and off his 'rocker', which made it amusing for Crowley in a way. After they defeated Dick Roman, and Crowley was left with Sam, he told Sam that he was 'truely alone'. Of course he knew, that Dean and Cas were in Purgatory, but he wasn't about to tell Sam that.
Now, people are returning from the Grave which stifles Crowley. Bobby Singer is back, and many other hunters who Crowley thought to be dead. He realized it was probably God doing the bringing back part, but it pissses him off because now he has to deal with these annoying people again.
Now, Crowley is still on a agenda of his own. He has heard the rumors about some demons rising out of Hell. Older demons, ones that will be a threat to him. Crowley is trying to find out if this is true or not.

Alias:
Jenn (This name is what you will be listed under in threads like Who Plays Who, etc.)
How did you find us?:
I'm on staff
Experience:
5 plus years.
Other Characters:
None yet, I may create one.
RP Sample:
Crowley had been busy in Hell. More then usual. First off, he was trying to get the idiots to listen to him. None of them would. That was the hard part. The second thing was, he was trying to rebuild Hell completely since Lucifer was gone. Since they lost Lucifer, Hell was all his and he could do what he dambed well pleased. He decided to make the torture waiting in lines. Some of the demons disagreed, but most knew better not to say anything if they actually did disagree. He couldn't help but wonder if they respected him as leader, still....they had no other choice really, not with Lucifer in the cage the way he was.
What Crowley couldn't figure out was the demons were so hung over Lucifer. It was always 'Lucifer did it this way, or Lucifer did it that way." Crowley would have to shout out to them that he wasn't freaken Lucifer. Did they ever listen? No. To make matters worse, the Crossroads demons weren't always doing their jobs. They were kinda pathetic actually. Most of them were and Crowley was getting fed up. There wasn't enough people making deals lately. He knew why, but still. He knew that people weren't really calling demons as much, which made Crowley frustrated. He used to have a ton of deals, and lately things have changed. He sighed. He watched as the demons worked on trying to get Hell to the way he wanted it. He wanted the lines to be never ending, that was the whole point, wasn't it?
Crowley whistled a bit as he went back to his thrown room. He had about enough of watching the demons mess up the way they have been. His thrown room was just like an office building. He loved it. He decorated it to be like he was the top business man in the country. Although his country was Hell. He had paintings on the wall...a recliner in the corner, a actual 'thrown' room that Lucifer had when he was still there. Yea, he made it his own. Things weren't to shabby in Hell other then him having to deal with idiot minions.
Crowley heard a knock on the door and after lounging in his chair a few minutes he sighed. "Can never get a minutes rest....' he muttered and looked at the bottle of Craig he had picked up. "Well, what are you waiting for? Come in already!" Crowley barked thinking it was one of his normal 'minions'. Still he wasn't sure and didn't care. He waited impatiently for whoever it was to come inside.
I (Crowley) have read the site rules and understand them. The code word for the rules is: (Batman)
[/div][/div]
Application Created By Hell Hound
[/div]