Post by Deleted on Sept 16, 2013 4:13:36 GMT -5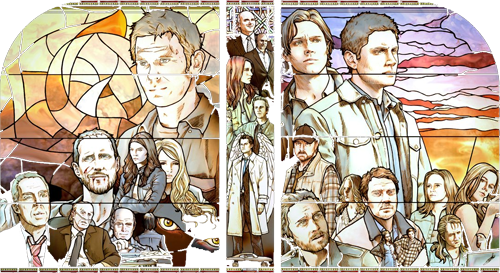 Full Name:
Zachary James Morgan
Nickname/Alias:
Zach or Jim (Alessandra calls him 'Z')
Age/Date Of Birth:
42; June 23rd 1971
Race:
Human
Occupation:
Hunter / Mentor
Species Group:
Hunter
Play-By:
Gerard Butler
Abilities
Weapons - Knows how to use a wide variety of weapons. Hand guns, assault rifles, knives, baseball bat, baton. He even has a thin iron chain he uses for demons. The crossbow and The Judge (large handgun that shoots shotgun shells) are a couple of his favorites.
Hand to hand combat - His dad taught him how to fight brawler style, and he can hold his own in a fight.
First aid - Can perform basic field first aid, and is pretty handy with a needle and thread from plenty of practice.
Preexisting injury - He injured his right knee badly when he was younger, and it's a vulnerable point for him.
Human - Can die easily compared to most things, you know the drill.
Special Inventory
Special items that are bought from the store will go here.
Likes (At Least 3):
❤ Smoking
❤ Hunting
❤ Playing pool
❤ Diet Pepsi
❤ Fried chicken
❤ Classical music
❤ Westerns
Dislikes (At Least 3):
✗ Alcohol
✗ Monsters
✗ Cold weather
✗ Immaturity
✗ Laziness
✗ Being called 'old'
Fears (At Least 2):
☬ Being unable to save a child
☬ Becoming a monster
Goals (At Least 1):
★ To hunt for as long as he's able, and help out Alessandra and other younger hunters as much as he can.
Personality:
Zach is a man of few words and seems rather distant. It can take a while for his guard to come down a little, but once it does he's an alright guy and can be a friend for life. He is always willing to share his knowledge with hunters or those that are just finding out about everything, wanting to help out as much as he can while he's able. Due to his fathers teaching, he has an incredible amount of self discipline when it comes to the job. He wishes he had that same discipline when it came to alcohol...that is something that he struggles with almost daily. When it comes to hunting on actual cases, Zach prefers to go at it alone unless it is absolutely necessary to work with someone. He is known in certain hunting circles as a 'lone wolf', rarely ever choosing to work alongside someone...one of the only exceptions to that rule is the De Lucas.
His stubbornness and temper have been known to get him into some trouble over the years, and he's had his share of fights, most of which took place in bars when he was drinking. He usually doesn't feel sorry afterwards, believing he was justified for his actions.
Traits
[/b][/font]
✧ Knowledgeable - When it comes to the supernatural, he's encountered quite a few things and therefore has extensive knowledge in the subject.
✧ Disciplined - He's trained his whole life and knows when it's time to focus on the case at hand.
✧ Caring - He comes off as weary and distant when you first meet him, but he really does care about people.
Negatives (At Least 3):
✦ Temper - It can be pretty bad. Mess with someone he cares about, hurting an innocent woman or child, or just annoying him really bad can set him off. He sees red and will more than likely act irrationally.
✦ Hard on himself - If things go wrong, he will blame himself and critically analyze everything to find out what he could have done differently.
✦ Stubborn - When he's right, there's no need for further discussion.
[/ul]

Parents:
Charles Morgan (deceased); Ailsa Morgan
Siblings:
Blair Morgan (younger sister)
Other Family:
Ryan (estranged son) along with a lot of family back in Scotland.
Important Others:
Alessandra De Luca ('Student'/Goddaughter). He has a long list of hunter contacts including Lyle York.
History:
Zach was born and spent about half his life in Scotland, primarily a town by the name of Larkhall. He pretty much grew up learning about all things supernatural, it was second nature to him and even the town they lived in was known as a 'hunting town'. Meaning, most everyone that lived there was either a hunter, retired, in training or helped out the hunters the best they could. The residents rarely had any trouble within their walls, what supernatural creature would willingly walk into a death trap? Zach's father was retired military, so he imparted a strong sense of discipline and loyalty onto his children. While the training was very rigid and intense, Charles and Ailsa also raised their children in a loving home, never wanting it to feel like just a boot camp. They also made it clear that it wasn't their desire for them to become hunters, but they did want them to be prepared. After helping his dad out with a few cases, it was clear to Zach that this is what he wanted to do.
When Zach was 19, a group of vampires were running rampant through a nearby town. Up to this point, he had gone on a few hunts with his dad and other hunters in the town, so he was more than happy to volunteer for this case. Accompanied by his dad and two other hunters, they tracked down the nest and began to kill every vampire that they crossed. Zach became separated from his dad and other hunters during the fighting, and when things calmed down around him he went in search of them. The scene he came across was like watching a nightmare: A vampire had managed to overpower his dad, and was forcing him to drink his blood. Overcome by rage, Zach rushed forward and engaged the vamp in combat, eventually decapitating it. He fell to his knees at his fathers side, trying in vain to clean the blood off him. "No, son...that won't do. You know what needs to be done..." Zach refused, on the verge of losing it completely. "I can't tell you how proud I am of you, my boy. We all know the risks with this life...I know you won't let me become a monster...Take care of mom and sis, tell them I love 'em." It took all of his discipline and training, but he was able to carry out the task as tears fell down his cheeks...
Only two hunters made it back to the town that day, Zach forever changed by the experience. His family and the town mourned the loss of their fallen comrades. About six months later, Ailsa and her children moved to the states and settled in New York. She wanted a fresh start for what remained of her family...but it was clear that Zach had no intention of settling down and living a normal life. For the next 8 years or so, he hunted....and hunted, very much against the wishes of his mother. He was like a man possessed, and while he would work with people if he absolutely had to fill his contact list, he was known as a 'lone wolf' in many hunting circles.
When he was 27, he was all the way in Washington State investigating a mysterious death. He kept hitting dead ends, not sure what he was dealing with at all. Frustrated, he decided to check out the library to see if he could find anything that could help him out. If he wasn't a hunter, he would have probably not noticed the pale, exhausted looking redheaded child seated at a computer, staring frantically at the screen. He noticed the disturbing things she was looking at as he walked by, and it made him stop in his tracks. He approached her, stating that he was with the FBI and asked if she was okay. Zach could tell she wasn't...when he asked her why she was researching such things, it all came out in a quiet rush of words. She told him everything....about her situation with her sister and mom, what she had learned about changelings, everything as he was the only person she could confide in. He then remembered how unusually clingy the vic's son had been to his mom when Zach interviewed her. He was amazed by this 12 year old girl...how strong she was during all this, and he revealed to her who he really was.
He instructed Alessandra to make up a story about staying at a friends house for a few days while he found the mother changeling and real children, giving her a prepaid phone so he could keep in contact with her. He didn't care what it took, he was going to save this girl and everyone else involved. It took a few days, but he was able to find the hideout of the mother changeling. He informed Alessandra and told her to stay put while he confronted the monster. It was an intense fight with a lot of close calls, but Zach was determined and eventually lit the SOB on fire effectively killing it and the 'children'. He worked on freeing the real kids from their cages, but soon realized a young girl with light brown hair was in bad shape. He quickly freed her, holding her in his arms and begging her to hold on, that he would get help. She mumbled something about her sister before slipping away...Zach, again, tried in vain to save someone who was already gone. Filled with immense sorrow, he asked the other children who she was...it was indeed Alessandra's sister, Gabriela.
Zach went through a terrible depression after this case. Although Marcelo and Alessa didn't blame him at all, he blamed himself enough for the both of them. He couldn't even bring himself to tell them that she was alive and he was unable to save her...still to this day, he hasn't told them the truth. He started drinking heavily, and his only mission in life was to teach Marcelo and Alessa everything he knew so they would be prepared, but it brought him little solace. He was a functioning alcoholic well into his mid thirties, only going to rehab after being urged to do so by Alessandra. It's something he still struggles with from time to time, and while he still has his demons to deal with, he vowed to himself that he would do whatever it took to help others not have to go through the same things he has.

Alias:
Lola
How did you find us?:
Old Site
Experience:
About 6 years
Other Characters:
Alessandra De Luca
RP Sample:
Alessandra stood next to where she had been sitting earlier, and watched as the last few witnesses left the bar looking relieved and ready to head to their homes. She went over the events of the last hour or so in her mind. The bartender had been rushed out earlier, and was going into shock by the time he was being loaded up into the ambulance due to blood loss. It sounded like he would regain most of the use of his shoulder, which Alessandra was thankful for. The gunman had regained consciousness shortly after the police had rushed in, still drunk off his ass. He was quickly assessed by a paramedic, and when it was determined that all he suffered from was a glass jaw, he was carted to the police station.
She had given her statement earlier; she told the young, impatient police officer that had interviewed her everything that had happened. When she got to the shooting, Alessandra claimed that she didn't see Chris get shot. He had hit the floor to avoid the bullet just as she had, and the gunman missed not surprisingly since he was intoxicated (the bartender had been unlucky, since he was right next to the gunman). Chris then managed to get up and knock the gunman out before he could get another shot off. When the officer mentioned how cool and calm she had been during everything, Alessandra had flashed a fake FBI badge she kept on her just in case. She almost didn't flash the badge, but it was the fastest way to show that this 'wasn't her first rodeo' if that's how the saying went. She thought back to the questions he had asked her just a little while ago.
"Well then, Agent Sampson, what do you make of the suspect and the bartender both claiming this mystery man was not only shot, but soon rose afterward seemingly unharmed? Some other witnesses also claim to have seen the same thing."
"Let's consider the sources, shall we? The suspect was incredibly intoxicated…what was his BAC, almost three times the legal amount? I'm still surprised he managed to hit the bartender, even if he was right next to him. The bartender was kneeling on the ground behind the suspect and couldn't have possibly seen anything other than the mystery guy falling to the ground, which would have looked like he was shot. Not to mention the bartender was in shock by the time he was taken out of here." Alessandra had placed her hands on her hips and looked stern, playing her part the best she could. "And due to the less than satisfactory response time of the police, the other witnesses had time to talk amongst themselves. I don't need to tell you what that does to witness statements."
The officer had turned red at this statement, wanting to say something about her comment but deciding against it. "Y-yes, ma'am. Well, thank you for your time and help with this interesting situation. And we'll call you if we have any other questions."
Alessandra came back to the present, giving a small wave to the last two officers on the scene as they left the bar. She looked thoughtful as she slipped on her coat and slung her purse over her shoulder. She wasn't sure how much help she had been, but she hoped it was enough to deter anyone else from being interested in this case. At least long enough for Chris to get away from the area. Whatever happened, she had tried her best and that was all she could do. Alessandra couldn't help but shake her head…she imagined her night ending in a lot of ways, but this had definitely not been one of the scenarios she had thought of.
As she walked out of the bar, Alessandra was thinking of how good a beer and some food sounded when she ran into something solid. She dropped her purse and stumbled back a few steps, realizing she had run right into someone. Alessandra shook her head while bending down to pick up her purse, how oblivious and clumsy could she be?
I (Zach Morgan) have read the site rules and understand them. The code word for the rules is: (Batman)
[/div][/div]
Application Created By Hell Hound
[/div]