Post by Deleted on Sept 17, 2013 21:36:02 GMT -5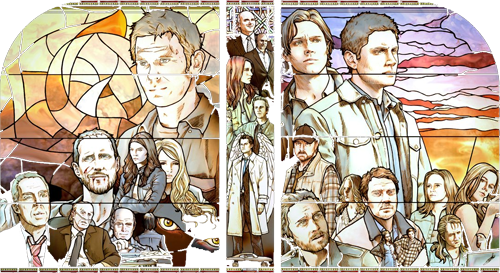 Full Name:
Joanna Beth Harvelle
Nickname/Alias:
Jo
Age/Date Of Birth:
29
Race:
Human
Occupation:
Hunter, Bartender
Species Group:
Hunter
Play-By:
Alona Tal
Special Inventory
Special items that are bought from the store will go here.
Likes (At Least 3):
❤ Beer
❤ Hunting
❤ REO Speedwagon
❤ Helping others
Dislikes (At Least 3):
✗ Being treated like a kid
✗ Hell hounds
✗ Demons
Fears (At Least 2):
☬ Finding out who brought her back from Heaven
☬ Never finding her mother
☬ Being alone
Goals (At Least 1):
★ Become a great hunter
★ Find her mother
Personality:
Jo has a very smart alec, princess with a shot gun attitude. She can be very funny and some times her sarcastic nature can be confusing to some and people might mistake her for being a bitch. During a fight with a demon or a hunter Jo can hold her own and kiss some ass. Talking about family can bring out a softer side in Jo, it's a very tender spot and she doesn't like to talk about it often.
Jo has the slight, well no very slight, issue of listening to what other people tell her to do. If she wants to do it she will, and if Jo doesn't want to do it then she wont. Jo wants to be a hunter so bad that the opinions of others will not change her mind, aka her mother. Jo wants to be treated like an adult and becoming a hunter is part of that. It will prove to others that she is strong and can handle herself.
People can some times not understand why Jo does what she does. When it comes down to it the result is either family or an innocent. That is what gets to her the most. Seeing someone being hurt who has no way of defending themselves will set her off. In her own life people think that she is defenseless; but they don't really know her do they?
Being brought back from Heaven has really made Jo not take things for granted. In her past she would leave her mother to go on a hunt and now that Ellen has not been brought back (doesn't know the truth), Jo really wishes that she had spent more time with her mother. Not having her mother or anyone else from her past around makes her in a defensive and silent person. Anyone who does meet her during this period will have a hard time getting to know her.
Traits
[/b][/font]
✧ Smart
✧ Quick to act
✧ Light on her feet
✧ Tends to be easy going
Negatives (At Least 3):
✦ Stubborn
✦ Reckless
✦ Doesn't listen
✦ Snippy
[/ul]

Parents:
William and Ellen Harvelle
Siblings:
None
Other Family:
Important Others:
Winchesters, Bobby Singer, Castiel
History:
Jo is a hunter, the only child of Ellen and William Anthony Harvelle. Her mother calls her "Joanna Beth" and is the only one allowed to call her that. Everyone else just calls her Jo. Jo's parents are both hunters who run Harvelle's Roadhouse in Nebraska, which acts as a base for hunters. Jo's father was killed when she is '"still in pigtails" while on a hunt with John Winchester. Which left Ellen alone to raise a daughter and take run the road house.
Jo went off to school, but left after feeling she didn't fit in with the other kids, and got into a few school fights. Ellen doesn't want Jo to go hunting, but that doesn't stop Jo. She first meets Sam and Dean when they come looking for Ellen after their father, John Winchester, dies. Jo and Ellen end up holding the brothers at gunpoint until they explain their relationship to John. Jo appears to have romantic feelings for Dean after a few encounters with the Winchesters. Dean states that he too has feelings for her, but because his father had just died, he felt it was the wrong time and place. As the show progresses, Dean and Jo seem interested in each other.
Still wanting to be a hunter she follows Dean and Sam on a case to Philadelphia. Feeling obligated Ellen tells Jo about the circumstances of her father's death. Even this doesn't stop Jo and she goes on her own solo hunting trips around the country. Jo runs into the Winchesters some time later, and is when she is attacked by Sam when he is possessed by the Meg.
Ellen and Jo join up with the Winchester, on a mission to kill Lucifer with the Colt. Hell hounds are sent after the groups and Jo stays behind when Dean is attacked. Jo shoots at them and another hellhound attacks Jo slicing her side. They taking shelter in a hardware store, Jo suggests they build a bomb to blow up the Hellhounds, using her as bait to lure the demonic dogs. None of them like the plan but with Jo unable to walk it seems like the best shot they have. Ellen won't let her baby go it alone and volunteers to stay behind, too, so she can let the Hellhounds in and set off the bomb while Dean and Sam escape. Sam sets up everything and says his goodbye knows that there is no way to change Jo's mind. After a tearful goodbye with Dean and a gentle kiss, Jo dies in Ellen's arms, who then blows up the building, killing herself and the Hellhounds and allows the boys to escape.
Jo is summoned by Osiris as a witness for Dean's trial. When Dean was found guilty she was compelled to kill Dean in the same manner as her own death. Jo visits Dean in a hotel room and turns on the gas stove, she broke the salt line by breaking the windows and was going to use his lighter to ignite the gas. Dean told her it was okay, but Jo still felt bad for her actions. Even if it was against her will. Jo confessed to Dean that it was not his fault that she died and that she had a great life. She also tells Dean that he does not disserve this. Sam incapacitates Osiris and frees Jo from his control and causes her to vanish.
After being brought back from Heaven Jo has awoken in Chicago. She doesn't have a clue where anyone is or why she was brought back.

Alias:
Amber
How did you find us?:
Old site
Experience:
2-3 years
Other Characters:
None yet.
RP Sample:
On another one of her famous "trips" to Las Vegas, Jo went to check out a case that had caught her eye. Like so many before this one would be a breeze. Right? Pulling off of the road and into the parking lot of a semi-ran down motel, Jo glanced into the rear view mirror. No one was following her and it was completely silent in the car. The silence in the car was eerie but listening to REO Speedwagon over and over got to be too much to her. How did Dean do it? Oh right, he had been doing this for years and his tastes never changed.
Jo turned off the truck and grabbed her bag from the backseat. The weather wasn't too bad, but it wasn't nice either. Clouds filled the sky casting a light grey shadow over everything that they covered. She paid for the room and walked over to the painfully red chipped painted door. Why couldn't places like this keep up on a few things? Opening the door Jo stepped in and threw her bag down on the ground by the bed. A bit of sleep would have been nice, but that wasn't on the agenda at the moment.
Walking back out of the room and shutting the door she went back into her truck. It was time to drive around and pick out a few key people that would be too stupid to wonder why she was asking questions but smart enough to know what was going on around the town. It didn't take long for Jo to soon get tired of talking to people and decided to go around for a drive and check things out for herself. She went down a few dirt roads and passed by a couple farms, nothing perked her interest.
Just when she was thinking about turning around a loud boom filled the air and shook the ground.
"What the hell?" The force of the shake was too powerful for anything of the ordinary to cause it.
Turning to look around for what might have caused it Jo saw a field with a huge cloud of dust rising into the sky. Instantly her instincts kicked in and she pulled over to the side of the road and grabbed her gun. Going in with out protection could get you killed. Quickly jogging across the field Jo could see a large clearing and something in the middle. Upon getting a closer look she could see that there was a body of a man lying still on the ground. Shit. Taking a look around to see if anything that might have done this was still around she moved in closer to the man. His chest wasn't moving and Jo quickly made the choice that he was dead. What would cause something like this?
I (Jo Harvelle) have read the site rules and understand them. The code word for the rules is: (batman)
[/div][/div]
Application Created By Hell Hound
[/div]
[/div][/div]