Post by Deleted on Sept 19, 2013 5:26:53 GMT -5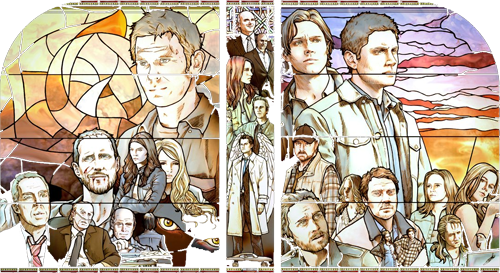 Full Name:
Darius
Nickname/Alias:
N/A
Age/Date Of Birth:
800+ years old
Race:
Demon
Occupation:
Purveyor of Souls
Species Group:
Red-Eyed Demon
Play-By:
Chace Crawford
Abilities
Typical demon abilities such as possession, super strength, super stamina, electromagnetic interference, immortality, invulnerability, supernatural perception and telekinesis.
Soul Reading - Can assess the condition of someone's soul just by looking at them.
Reality Warping - By making a deal with a human for their soul, Darius can manipulate reality to make their wish come true.
Teleportation - Can travel from one place to another instantly. He can also be summoned by burying a box containing the bone of a black cat, some graveyard dirt and a picture of the person doing the summoning at a Crossroads.
Pyrokinesis - The ability to generate and manipulate fire.
Spell Casting - Knows a little bit of witchcraft, and is adept in using Enochian sigils to ward against angels.
Demon weaknesses include salt, holy water, iron, devil's traps, exorcism, the Colt, Death's scythe, palo santo, flesh sigil, holy fire, smiting, Ruby's knife and the burning of his bones.
Special Inventory
Special items that are bought from the store will go here.
Likes (At Least 3):
❤ His job
❤ The finer things in life
❤ Causing havoc
❤ Injustice
❤ A good scotch
❤ Acting human (only to trick humans)
Dislikes (At Least 3):
✗ When a deal falls through
✗ Humans
✗ Angels
✗ God
✗ Cheap booze
✗ Selflessness
✗ Acting human for too long
Fears (At Least 2):
☬ Failing his goal
☬ Being killed
Goals (At Least 1):
★ To become a higher ranking Crossroads Demon
Personality:
Darius can be very cocky and smug when he is just being himself. He is also greedy, which was of course inherited from his human life, and constantly wants more power and wealth. He enjoys the finer things in life, always well groomed and dressed in expensive suits. He is a businessman after all, and he believes in a good first impression. He can't very well get a persons soul if he isn't at his best, right? Darius would never dream of trying to 'collect early' and is a man of his word when it comes to the deal.
He enjoys acting like he is human in order to trick and lull them into a false sense of security, but can't stand doing it for too long. He is also very good at using negative feelings (such as guilt, greed and fear) and manipulation in order to convince someone to make a deal. While Darius is considered 'young' compared to most demons, he's used his time to hone his craft and learn quite a few things about the world.
Darius can become really angry when a deal doesn't go his way, especially if he is summoned and the person decides to back out. If you don't want to talk business, don't waste his time...period. While he wont kill them, they may have an unfortunate accident sometime down the road...
Traits
[/b][/font]
✧ Smart
✧ Cunning
✧ Manipulative
Negatives (At Least 3):
✦ Arrogance
✦ Overconfidence
✦ Greed
[/ul]

Parents:
Doesn't remember, doesn't care.
Siblings:
N/A
Other Family:
None.
Important Others:
He has a few demons he works with, wouldn't say they are particularly 'important' to him though.
History:
In the early 13th century, Gregorius was a struggling merchant in England. He was able to provide the basics for his family, but he didn't want to just 'get by'….he wanted more. Sick of struggling through his life, Gregorius became a ruthless businessman, participating in numerous shady deals to try and get ahead. At first, he tried to convince himself that he was doing this for his family, but it became clear after a few years that that wasn't the case.
Almost ten years went by, and no matter what he did, he couldn't attain the wealth and status that he dreamed of. He wanted to be a lord, with a castle and his own plot of land. Due to his social status, his goals were almost impossible to attain and would take a great deal of wealth for him to do so. Gregorius had become so consumed by greed that his wife left him due to how much he had changed, claiming he was like a 'man possessed'. This irony would not be lost on him later in life.
He was working late one night in one of his shops when he was approached by a strikingly beautiful maiden who stated that she wanted to look at his wares…not knowing that he was in fact dealing with a Crossroad Demon. The demon had been summoned by someone else, but she decided to stay in the area to see if she could get any more deals made. He let her into his shop and they began talking…it turned out that she knew many things about him. The demon claimed to respect his desires for only wanting the very best for himself, and that she was willing to help him attain his goals. She would make Gregorius' dream come true, but it came at a price…his soul. He laughed her off and called her crazy, but she showed him her red eyes and was able to convince him it was the truth. The demon stated her terms for the deal: She would give Gregorius what he needed to become a lord, and for ten years he could live the life he always wanted. At the end of that time, his soul would be collected. It didn't take much convincing…he probably didn't have much more time than that left anyway, and he would finally get what he wanted. So he sealed the deal with a kiss…
His overnight success baffled the town, and for ten years Gregorius lived the good life. When his time was nearly up, he began hallucinating. He locked himself away in his study, seeing people's faces twist and contort horribly and hearing the most awful barking sounds. It was only then that he regretted the deal he had made all those years ago, and when his time was up, his soul was dragged to hell by hellhounds.
He was given the usual Hell treatment, and after years of torture and having his humanity burned away he became a demon. He took to it well enough…and his goals as a demon soon mirrored his goals as a human: he wanted more. Gregorius was now Darius, and he wanted to become the very thing that put him in Hell: a Crossroad Demon. His selling and trading skills he had when he was human came in handy, and he rose through the ranks at a good pace. After finding an attractive host, Darius began his climb up the demon ladder. While he makes a lot of deals on behalf of other powerful demons, he is able to make deals and keeps the contracts himself when he sees fit. He even has an attractive female crossroad demon that makes deals for him on his behalf, when the client calls for it.

Alias:
Lola
How did you find us?:
Old Site
Experience:
About 6 years
Other Characters:
Alessandra De Luca, Zach Morgan
RP Sample:
Darius believed that he possessed a great amount of patience…not infinitesimal by any means, but more than most. The blonde young woman he was standing across from was coming dangerously close to proving that belief to be false. He was standing at a crossroads somewhere in Missouri, because said young woman had summoned him there. According to her incessant babbling, she didn't think the summoning would work but she was desperate and needed help getting into the modeling business. Darius had looked at her as if appraising a piece of shiny jewelry…sure, she was dumber than a box of rocks, but she was very attractive to look at. The modeling business seemed like a perfect fit for her. He played his part well, smiling and being his charming best while using her own greed for fame and status against her. But for Lucifer's sake, she wouldn't stop with the questions! What's going to happen after the 10 years, how famous can you make me, blah blah blah. Now as he stood there, he was tempted to just snap her neck and be done with it. Darius casually put his hands into the pockets of his dark blue Armani slacks, as if to restrain himself from using his powers on her. For now.
"Look sweetheart, I've made this as clear as can be. I will make you a supermodel, right up there with the best of the best, and then in 10 years I will collect your soul. That's about how much time you're pretty little face has left before it becomes irrelevant in the modeling world, anyway. So, you want to keep trying on your own, or would you like my help?"
Darius couldn't help but smirk as the hot blonde looked pissed for a minute, then practically ran forward and met his lips with her own. He kissed her roughly, reveling in the acquisition of yet another hapless human soul. Damn, he loved his job. Even with all her questions and whatnot, it had been one of the easier deals he's closed lately. Of course he wasn't complaining, but he was hoping for more of a challenge next time. He let the blonde go and teleported out of the area before she could even catch her breath. He didn't go far; he mostly just wanted to get away from that annoying meat sack.
I (Darius) have read the site rules and understand them. The code word for the rules is: (Batman)
[/div][/div]
Application Created By Hell Hound
[/div]