Post by Deleted on Sept 19, 2013 15:42:20 GMT -5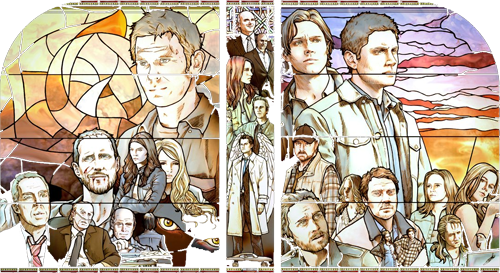 Full Name:
Charlie Bradbury (real name unknown for now)
Nickname/Alias:
Charlie Bradbury, Carrie Heinlein, Christine K. Le Guin, Susan Asimov, Annie Tolkien (among others)
Age/Date Of Birth:
28 (April 26, 1985)
Race:
Human
Occupation:
ComputerHacker/Gamer/LARPer/all-around genius/reigning Queen of Moons
Species Group:
Civilian
Play-By:
Felicia Day
Abilities
Computer coding and hacking (this includes but is not limited to corporate systems, security systems and encrypted hard drives)
Ranged weapon firing, specifically guns (thanks to those good ol' first person shooters)
Special Inventory
Special items that are bought from the store will go here.
Likes (At Least 3):
❤ All things geek: Gaming, LARPing, sci-fi, fantasy, etc.
❤ Ladies (sorry fellas)
❤ Upbeat pop music
Dislikes (At Least 3):
✗ Monsters. Well,
real
monsters. Video game monsters she can handle.
✗ Being put on the spot
✗ Guys hitting on her (it's just awkward)
Fears (At Least 2):
☬ Pretty much anything supernatural (but that doesn't stop her from facing it when the time comes)
☬ Losing her mom for good
Goals (At Least 1):
★ To defeat the shadow orcs in the upcoming Battle of Kingdoms in Moondoor.
Personality:
Charlie is bold and confident among her close circle of peers, but that's about as far as that goes. Among them, she's a legend, a queen (quite literally actually). She is well-liked and very much admired by both male and female geek alike. She is extremely interested in learning more about the supernatural world and it has even become an obsession for her, but when it comes down to facing a monster outright, Charlie tends to be timid and jittery. However, even though a situation may scare her, it doesn't keep her from stepping up and doing the right thing.
Although she wants to avoid actual interaction with the supernatural world altogether, particularly after that whole Dick Roman fiasco, Charlie is extremely loyal and protective of those she cares about. She holds a leadership position over her peers and takes that responsibility seriously, doing anything she must to protect her friends. Charlie often throws out awkward geek slang in her social conversations. She tends to babble when she's nervous and is a horrible liar.
Traits
[/b][/font]
✧ Imaginative
✧ Personable
✧ Intelligent
Negatives (At Least 3):
✦ Nervous
✦ Obsessive
✦ Idealist
[/ul]

Parents:
Frank and Gertrude Middleton
Siblings:
N/A
Other Family:
N/A
Important Others:
Sam and Dean Winchester, various friends online and through LARPing
History:
From the time she was a little girl, Charlie was always a little different. She spent her early childhood with two loving, attentive parents but socially she was always a bit of an outcast. This may have been largely due to the fact that her mother ignited a fire of interest in all things fantasy and sci-fi related by reading from The Hobbit to her every night and, well, being a Dungeons and Dragons sort of nerd wasn't exactly the way to win a lot of friends.
So when she was invited to her first sleepover at the age of twelve, it was kind of a big deal. However, this was really Charlie's first night away from her sheltered life with her parents, and as the night went on, she became more and more uncomfortable until she finally called them to come pick her up. Unfortunately Charlie's parents never made it, as they were hit by a drunk driver. The accident killed her father instantly and her mother ended up in the hospital, where she has been on life support for the last sixteen years.
The loss of her parents hit Charlie hard and she began to lash out, skipping school and rebeling in general. At one point she hacked into a game company's main server and stole an unreleased first person shooter called The Red Scare, reprogrammed it to reflect her own political views and released it to the public for free. Eventually she was tracked down and arrested for this and was forced to go on the run, changing her name for the first time of many. Charlie spent the next several years putting her hacking skills to use to obtain money and survive, using various aliases to wire transfer money to the hospital in order to pay for her mother's care. She also made occasional visits to Topeka to sneak into her mother's room so she could sit and read to her, but she never signed in as an official visitor and her true identity is unknown to the hospital staff.
Eventually Charlie managed to land a job in the IT department of Richard Roman Enterprises. She tried her best to just get by and stay under the radar, although she did tempt fate by using company computers to wire money to a charitable organization now and then. So when she was called into Dick Roman's office and asked to break the encryption on a hard drive once owned by the late Frank Devereaux, she was suspicious, but too intimidated by the boss to argue. However, when she finally managed to crack into the hard drive, she couldn't help taking a sneak peek, wondering what was just so important. Imagine her surprise at the flurry of information regarding a monster called a leviathan and their supposed head, her boss, Dick Roman. Of course, she was suspicious... I mean come on. Real life monsters? But the seemingly paranoid rantings of Frank were proven true when she witnessed a leviathan shapeshifting into and then eating her immediate supervisor, Pete.
Of course this was enough to cause a major freak out, and Charlie ran home with the intention of getting the hell out of there, only to find two men had broken into her apartment. Sam and Dean Winchester eventually managed to convince her that they were on her side and that they needed her help getting to Dick. With their assistance, she awkwardly managed to break into Dick Roman's office and hack his e-mail, finding out that the boss was expecting an important package delivery at the airport. Charlie sent a fake e-mail informing that the package delivery had been delayed by thirty minutes, giving the Winchesters enough time to swap out the package with one of their own, which happened to be a borax bomb.
Charlie tried to escape the office after that but was caught by Dick Roman, who had decided to make an appearance at the company that night as well. He questioned Charlie about the contents of the hard drive, particularly about any mention of Sam or Dean Winchester. She denied any word about Sam and Dean on the drive. Soon after, the package Dick had been waiting for arrived, but of course, it wasn't the package he was waiting for. When the borax bomb went off, the office was put on lockdown, preventing Charlie's escape. It was about this time that the ghost of Bobby Singer emerged, having hitched a ride with her by dropping his flask into her bag. Bobby froze and shattered the front windows of the office and a terrible fight ensued between he and Dick Roman. Sam and Dean eventually came to her rescue and got her out of there, but not before she got her arm broken.
After being checked over at the hospital, Charlie prepared to board a bus out of town and assume a new indentity. She bid the Winchesters farewell and asked them to never contact her again.

Alias:
Cherry Pie
How did you find us?:
Originally, Gabe
Experience:
A ton
Other Characters:
Bethany Clark, Sky Meadows
RP Sample:
It was lunch time at Deva... probably Micah's favorite time of the day. The food they served was standard cafeteria food just like they would serve in a public school. It was never the best... was never hot enough... but at least it was food. And Micah could usually manage to pester his buddy enough to get him to relinquish his hold on some of his lunch if he wanted to badly enough.
He and Luke were on their way to the cafeteria now when there was a commotion around the corner. Furrowing his brow, he lightly grabbed Luke's arm, ushering him against the wall to hide, then peered carefully around the corner to see what was going on. The girl coming in was clearly upset, and he frowned. Usually when people were brought in, they were sedated somehow.
Looking over his shoulder, he whispered to Luke, "New chick." He peered around the corner again to see the guards dragging her down the hallway to the patient rooms. Her shouts could still be heard echoing throughout the corridors, and when he saw the guards coming back their way he ducked back, pressing his back against the wall and waiting for them to pass before looking at Luke again. "Let's go see..."
I Charlie Bradbury have read the site rules and understand them. The code word for the rules is: (Batman)
[/div][/div]
Application Created By Hell Hound
[/div]