Post by Heaven Michaels on Oct 8, 2013 3:39:21 GMT -5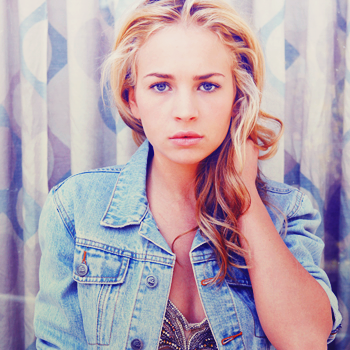 Full Name:
Heaven Glory Michaels
Nickname/Alias:
N/A
Age/Date Of Birth:
Sixteen Years Old | 09-20-1997
Race:
Human
Occupation:
Student | To Be Reporter
Species Group:
Psychic | 2nd Generation Deva
Play-By:
Britt Robertson
Abilities
Heaven posses the ability known as Electromagnetic Spectrum Manipulation. With this ability she is able to do a few things such as;
*
Light Manipulation
- Heaven is capable of bending the light around her in order to become invisible, create light in dark areas/make a light source brighter, or generate blasts of photon energy. She is also able to create illusions by altering light perception and vision including color differentiation and the perception of depth.
*
Electromagnetic Sight
- Heaven can perceive the world around herself based solely on the patterns of magnetic and electrical energy. This allows her to see radio waves (which includes AM, FM, and TV frequencies), radar, infrared, visible light, ultraviolet, power waves, x-rays, and even gamma rays. She also has limited night-vision and thermovision.
Note - Heaven does not know she has any of her abilities and technically none of them have developed. These will be explored in character through RP.
Special Inventory
Hallowed Event Perks
Equipped
| | | | |
| --- | --- | --- | --- |
| Perk Slot 1 | Perk Slot 2 | Perk Slot 3 | Perk Slot 4 |
Owned
Likes (At Least 3):
❤
Getting The Facts Straight
- Wanting to be a successful reporter in her future she always needs to have all the facts.
❤
The Truth
- She loves knowing the truth and it helps her trust in a person.
❤
Pizza
- It's amazingly so good. Any kind will do usually as this is her favorite food.
❤
Junk Food
- She loves to snack a lot and still tends to keep in shape.
❤
Cheese
- Melty, delicious, goodness. She loves most things that contain cheese.
❤
Mountain Dew
- It's her favorite soda. This and pizza is probably her favorite meal.
❤
God
- She believes in God with all her heart and has been told by her brother that he is MIA. However, Heaven believes that there is a reason behind it and still has faith in God.
❤
Angels
- God's warriors, she listens to them and is very respectful toward them. She has only met one through her brother; her name being Relle.
❤
Drawing
- She loves to draw, mostly scenic type things and real people, however she is talented in drawing many things.
❤
Animals
- She always wants to help animals in some kind of way, she's in love with them; especially dogs.
Dislikes (At Least 3):
✗
Dentists
- She hates people messing with her teeth.
✗
Drinking/Smoking
- Nope, no alcohol or cigarettes or drugs for her.
✗
Dark Chocolate
- It is just gross.
✗
Demons
- Nasty creatures, the worst in Heaven's mind. She has never came face to face with a demon but has heard plenty about them from her brother, Tristan.
✗
Monsters
- As far as she knows they are all evil. Her brother considers them abominations.
✗
Winter
- She hates the cold and the snow.
✗
Stuffy Rooms
- She can't sleep well in hot rooms and likes to be cool.
✗
Being Dirty
- It's nasty, she loves to take long showers.
✗
Lies
- She cannot stand lies. If you want to hurt her or get on her bad-side; lying is the easiest way to do that.
Fears (At Least 2):
☬ Acrophobia - She is terrified of really high heights. You won't see her hanging around any amusement parks.
☬ Losing Her Brother - Because her parents were killed by vampires she is afraid of losing her brother as well; as he is the only person she has left.
Goals (At Least 1):
★ To Become A Reporter.
★ To Out The Supernatural Community - Her ultimate goal is to become a big time reporter and her break out story will be exposing all things Supernatural. She plans to reveal to the world all the creeps that go bump in the night and the hunters who risk their lives to stop them. However she must gain all the facts first, everything she can, along with the evidence.
Personality:
Heaven has good communication skills as she is working on becoming a reporter. However she still needs to work on them to get them to be great. She is really into reading the newspaper or watching the news on TV. She closely studies reporters on the TV and how they write in the paper, learning as much as she can.
Heaven also carries a small note book with her at all times which she uses to take notes or just practice writing. She also carries a drawing pad as well so she can draw when she feels the need to.
She is all about the truth and hates lies. This also causes her to always want to get all the facts straight before reporting a story at all. Lying to people is something she tries to not to do but it doesn't mean she hasn't ever lied or won't lie. She believes everyone deserves the truth which is why when she is lied to it can hurt her incredibly.
Other than all of that Heaven is a normal teenage girl crushing on boys. She can be quiet and shy or loud and very opinionated. She loves artistic things like writing, drawing, or anything else. Her drawing skills and writing skills are pretty good. She can also sing well but gets really scared to do so in front of people so she keeps it to herself. Being judged is often on her mind, and she just wants to feel accepted.
Heaven is a christian girl with a lot of faith, who doesn't drink or smoke. Thanks to her brother Heaven has some unique hunter type equipment made by her brother. They include:
*
Special Ammunition
- Unique bullets, some having a thin layer of salt and iron, some being silver bullets, and even wooden bullets made out of Palo Santo.
*
On-The-Go Devil Traps
- Basically what these are, are many different types of demon traps on different mats. These are useful to just lay down and demon proof an area faster. The mats are thin and easy to move around but demons seem to not be able to move the mat when they are trapped in the trap.
*
Water Guns
- These are her own little weapon, she likes to keep them filled with holy water.
Traits


Positives (At Least 3):
✧ Organized
✧ Honest
✧ Respectful
✧ Neat

Negatives (At Least 3):
✦ Argumentative
✦ Impatient
✦ Nosy


Parents:
Michelle Michaels (Mother/Deceased), Jason Michaels (Father/Deceased)
Siblings:
Tristan Michaels (Brother)
Other Family:
James Klassen (Cousin/Deceased), Stephanie Klassen (Cousin/Deceased), Cole Klassen (Cousin), Rachel Klassen (Cousin), Hadley Klassen (Cousin), Clearance Klassen (Grandfather/Deceased)
Important Others:
Eli McKinley
History:
Heaven was born into a christian family, her father being a pastor and her mother being the head of praise and worship. She was named Heaven because of her family's religious beliefs. Which caused her father to call her "his little piece of heaven" growing up. Heaven wasn't an only child, she had a big brother named Tristan. He was only four years old when she was born and he protected her and loved her like any big brother should.
Growing up life was pretty normal for Heaven, she was just a kid. She went to sleep overs, played with her dolls, typical little girl things. She would attend her father's church with her family every Sunday, Wednesday, and any special events her church was holding. During the holidays they would travel to Lincoln Field, Maryland to be with their extended family. Even though they weren't immediate they were very close to them, Heaven taking a particularly liking to Hadley. She looked up to Hadley as a role model and wanted to be just like her.
Time went on and Heaven then very well in school and when her brother turned fifteen he left with his grandfather for a while. Being the only child in the house now Heaven was given a lot of attention from her parents. A couple years later (Heaven being thirteen), Hadley's parents were murdered and they went to attend the funeral. Saying things was different from then on was an understatement. Hadley had noticeably grown more... cold and her relationship with her wasn't like it was. Soon after Hadley told her family she was going to Maine for a job and that is the last time anyone heard from her again.
Going through high school was a bit tough, Heaven use to call Hadley when she was young for advice but now that she didn't have a way to contact her... Well she felt alone. At fifteen Heaven met a boy named Eli. He was the new kid, everyone wanted to meet him and talk to him because they lived in a small community. He was Heaven's first actual crush, every time she saw him she couldn't help but get lost in his eyes and blush every time he smiled. However, Heaven was nosy and she stuck her nose where she shouldn't of. Following him around she found out that Eli and his father were hunters... Of the supernatural. She confronted Eli about it and to her surprise Eli told her what he knew, at least a lot of it. The two grew close for a couple weeks until one night she heard something hitting her window. It sounded like small pebbles so she went over and looks out, seeing that it was in fact pebbles and Eli was the one throwing them. She smiled and sneaked down to meet him and that's when he gave her a kiss. It was her first kiss and she was blown away, she saw stars. He told her goodnight and left and she went on up to bed, feeling like she was floating. However when she went to school the next day Eli wasn't there... Or they day after, or the day after that. He had left and never really said goodbye, there was just that kiss.
Soon after Eli had left her parent's were killed by vampires. Heaven was horrified and in deep sorrow. She had to go live with Tristan who had now been a rock star that traveled around doing shows... But he was more than that. He explained to her that he was a hunter and he was ready to break the news about the supernatural to her but she already knew. Over a course of about a year she learned what she could and did home schooling. She had one thing on her mind, one thing she wanted to do. She was going to reveal the supernatural to the world so no one would die like her parents again...
Alias:
Hell Hound
How did you find us?:
Admin
Experience:
Enough
Other Characters:
Dean Winchester, Aspen Meadows, Lizzie Shields, and Ryker Nixon
RP Sample:

Dean hoped this restaurant would be good. He hadn't had a cheeseburger since escaping Purgatory so it would just be a major let down if the food wasn't good. Dean couldn't help but check Bethany out as she walked in front of him as he held the door. Shaking his head quickly he snapped himself out of it, damn hormones... Dean threw his attention to the specials board, it seemed that there was a few today. Bacon cheeseburgers, BLT pizzas, and Barney's Surprise. Dean knew for sure what he wanted, but the sound of Barney's Surprise sent shivers down his spine. Dean just didn't trust the creepy rip off dinosaur they had seen before they walked in. As Bethany looked back at Dean he could tell that she was asking if he cared where they sat. He just shook his head and looked around, waiting for her to pick a seat for the two to talk.

As she began to walk, Dean followed. Upon passing the small group of teenage girls Dean could hear them whispering "He is hot" and "Shhh, he is way too old for you". Dean couldn't help but smirk at the hot comment but the older one made him frown. Was he that old? Nah. He glanced over to see the old man look back and check out Bethany as they passed. Dean just looked at the man which made him hurry and turn around. Finally Bethany led them to a booth in the back of the restaurant. Dean gave her a quick smile before sitting down and immediately grabbing a menu from behind the napkin dispenser. Of course, he already knew what he wanted, but it wouldn't hurt to see what deserts they had.

"I'm just going to be blunt and come right out with it,"

Bethany's words snapped Dean's attention from the menu and he looked up at her. Usually when someone starts the conversation with that, it was going to be pretty crazy.

"About six months ago I started having this dream... about a man and a baby. It was the same dream... night after night, only each night the dream was a little bit longer... as if my mind were allowing me to see just a little bit more of the scene."

Dean just looked at her as she said this. A dream? Was she saying she was psychic? Or maybe it was just something else. Dean nodded as she looked up at him from her menu.

"After about a week of having this dream, the scene had unfolded enough that I finally saw a women enter the room, kiss the man, and take the baby from him. It was my mom... a much younger version of my mom, but it was her."

Maybe she was dreaming from remembering the moment even though she was a baby? She really could be saying that she is psychic. Maybe she is just crazy... But she didn't seem the type. Dean looked back down at her menu as she sighed and closed her eyes.

"I confronted her about it and that's when she told me about him... about how she had taken me away from him when I was a child."

Dean didn't know what to say so when the blonde waitress popped up it helped. Dean gave her a polite smile even though the smacking of her gum was definitely annoying.

"I'll take one of your bacon cheeseburgers and a coke."

Dean closed the menu and returned it from where he took it. He let Beth order what she wanted before looking up at the waitress who's eyelashes were way too long.

"Do you have any pie?"

Dean loved him some pie, and even though the young girl eating with him didn't know. He didn't plan on letting her pay for him. The blonde battered her lashes some more and smacked her gum as she spoke.

"We have a really good apple pie."

"I'll take a slice of that too."

The waitress nodded as she jotted down the request on her little note pad before turning a walking away. Dean looked over to Beth and smiled.

"Sorry, I'm a pie freak."

He knew he couldn't leave what she just told him in the air without looking like a prick.

"So, these dreams.... Do you get them often?"

Look Dean didn't know what to believe right now. He knew that this kind of stuff could happen because Sammy had visions, but that was because of a demon.

I (Heaven Michaels) have read the site rules and understand them. The code word for the rules is: (Batman)
Application Created By Hell Hound