Post by Deleted on Sept 25, 2013 9:18:21 GMT -5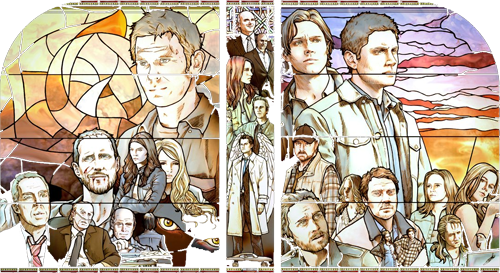 Full Name:
Isaac David Kelly
Nickname/Alias:
There are people who call him Ike sometimes. He doesn't really like it but he won't put up a big fight over it either. He also isn't fond of 'filthy mongrel' or 'stupid dog'.
Age/Date Of Birth:
29 (December 2, 1985)
Race:
Creature
Occupation:
Hunter/Musician
Species Group:
Skinwalker/Hunter
Play-By:
Kit Harington
Abilities
As a skinwalker, Isaac has the ability to shapeshift into a massive black Great Dane. His abilities include an infectious bite, enhanced strength, hearing, and smell, enhanced speed and agility when shifted, and accelerated healing from anything non-silver.
Special Inventory
Special items that are bought from the store will go here.
Likes (At Least 3):
❤ Food, especially easy snacks like chips and salsa, peanut butter from the jar and jerky
❤ Action films
❤ A successful hunt
Dislikes (At Least 3):
✗ Slow drivers and bad traffic in general
✗ Scream-O music
✗ Sexual vulgarity. It's just disrespectful and immature.
Fears (At Least 2):
☬ Losing control and killing, hurting or turning another human
☬ Zombies really give him the creeps
Goals (At Least 1):
★ To save lives and keep other innocent people from suffering the same fate he has
Personality:
Tragedy has caused quite a change in Isaac's personality. Where once he had been one of the most social guys around, friendly, outgoing, and flirtatious... these words no longer describe him. He is still trying to come to terms with the loss of his brother, not to mention the curse that has been put upon him. These things have lead to a sort of casual, defensive barrier that Isaac has put around himself, partially to keep from getting hurt and partially to keep himself from hurting someone else. He's not an altogether bad guy, though he easily comes across as one. He can come across as quite moody and stand-offish, and this is done on purpose because Isaac doesn't want to encourage anyone to grow attached to him.
Having said that, he isn't the type of guy to ignore someone in need. He is usually fairly quick to come to the defense of someone who may be viewed as the underdog or of a lady. He would never admit it outright, but he is actually glad that he was bitten by that skinwalker, because his enhanced canine senses have helped him to be more alert to his surroundings and have made him a better hunter because of it. Also, being able to shapeshift into a dog gives him the opportunity to be close to other people without feeling the pressure to form some deep-seeded bond.
Traits
[/b][/font]
✧ Determined
✧ Heroic
✧ Focused
Negatives (At Least 3):
✦ Stand-offish
✦ Overly Confident
✦ Defensive
[/ul]

Parents:
Tom and Evelyn Kelly
Siblings:
Chris (older brother, deceased), Grace (sister, 27)
Other Family:
N/A
Important Others:
Unnamed veteran hunter (I am leaving this open in case someone wants to fill this role down the line)
History:
Growing up in the Kelly family was pretty much picture-perfect. They were a close family without much drama... loving parents and nothing more than typical sibling squabbles.
When Isaac first turned 18, his older brother Chris took him on his first weekend trip to nearby Las Vegas. He lost every dollar he had earned from his weekend job delivering pizzas, but that didn't matter because the two of them had a hell of a time, and Isaac couldn't have been happier to be spending some one on one time with Chris.
They continued on these little trips, usually two, sometimes three times a year, just the two of them. While they never struck it rich, it didn't matter. They always paid for their hotel in advance and as long as they had gas and food money, they were good. Life was good.
It was during their fifth trip to the big city that it happened. Isaac was at the roulette table, and he was having a hell of a lucky night. He was raking in the chips and drawing a crowd, including a couple of rather... experienced looking women. He was on cloud nine, and his brother was by his side, and the two ladies who were pouring themselves over the brothers convinced the two of them to head upstairs to their suite for the evening. Isaac and Chris cashed in their chips and allowed themselves to be led away by the women.
It was a good twenty minutes later... the brothers were each entertaining a lady in their own bedroom within the suite. Things were starting to get particularly heated between Isaac and his 'date' when the door was suddenly kicked in by a man in flannel with a huge knife in his hand. "What the fuck, man?!" Isaac shouted as the man grabbed the woman by her long, red hair and jerked her toward him, using the massive knife to slice clean through her neck. Isaac will never forget the sight of that woman's bloody, headless body lying across his lap.
The stranger didn't yet bother to explain, instead bursting into Chris' room and disposing of his date in the same manner. Chris started to dial 911 but the hunter insisted he at least wait for the explanation. When the brothers were shown the shark-like vampire teeth in the womens' mouths, they were understandably shocked, but this wasn't something they could ignore. They squeezed every drop of information out of this stranger they could get (which wasn't much), and when they went back home, they agreed that if this sort of monster was out there, they shouldn't be wasting their time gambling their lives away in Vegas. So the research began and eventually, so did the hunting.
The two of them made a good team, but unfortunately about a year ago, a skinwalker got the best of them. It managed to catch Chris off-guard and made a meal out of his heart before Isaac could get his hand on the silver knife. He stabbed the creature right through its head, but not before it managed to tear a big chunk out of his left leg.

Alias:
Cherry Pie
How did you find us?:
Old Site
Experience:
Over 10 years
Other Characters:
Bethany Clark, Sky Meadows, Charlie Bradbury
RP Sample:
Isaac sighed as he pushed his last three quarters into the vending machine that had been set against the wall outside the hotel. Seventy-five cents for a can of Coke Classic was complete and utter bullshit, but he was thirsty and he had a thing against motel tap water. He just didn't trust the possibilities of what might be floating around in it. Of course, buying this drink now meant that he was out of laundry money, and that wasn't a good thing because he was running out of clean clothes. He'd have to hustle a game of pool or two tomorrow, or maybe even go the whole street musician route. He hated doing that, but it made the best money for him.
He pushed the button indicating his selection, listened to the hum of the machine, and watched as... nothing happened. His eyebrows drew together in annoyance as he slammed his palm against the button, again resulting in nothing. Isaac double-checked to be sure the empty indicator light wasn't on, confirmed that it wasn't, and began repeatedly pressing the Coke button with increasing frustration.
After a minute, he finally gave up, forcing himself to relax because letting his anger get the best of him wouldn't exactly be a wise idea. There were quite a few cars in the small parking lot, which meant other patrons at the place, and he couldn't take a chance on hurting someone by letting himself get out of control. "God damn it!" he swore loudly, turning around and leaning his back against the offending machine, his eyes closed as he mentally tried to talk himself down.
I, Isaac Kelly, have read the site rules and understand them. The code word for the rules is: (Batman)
[/div][/div]
Application Created By Hell Hound
[/div]