Post by Myra Norwood on Aug 30, 2015 0:59:20 GMT -5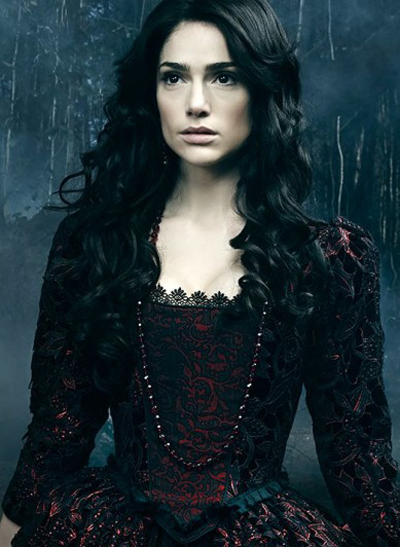 Full Name:
Myra Willow Norwood
Nickname/Alias:
Gormflaith ingen Murchada, Black Widow
Age/Date Of Birth:
One Thousand Fifty Four Years Old | 10 - 26 - 960
Race:
Human
Occupation:
Whatever She Feels Like
Species Group:
Witch
Play-By:
Janet Montgomery
Abilities
Myra is a very old and powerful witch, dating over a thousand years old. She uses magic for plenty of things but below are her usual spells that she has created.
Identification Thievery Spell - By using this spell she is able to steal the identity of someone. She needs a piece of their hair and to incite a spell over a bowling pot. She must throw the right ingredients in the pot along with the lock of hair and after the spell is completed, she will have stole the person's identity. When she steals someone's identity everyone will see her as the person but she'll look like her normal self. The person's who identity was stolen will be literally no one, with no sort of identification what so ever.
Immortality Spell - Myra uses a spell to steal youth from people. This spell works better when used on children, so she tends to target them. Using this spell on a human will cause them to grow old in a blink of an eye until they turn into dust, if it is completed that is.
Hypnotic Tune Spell - Myra is able to cast a spell with her voice. By singing she can cause someone to follow her, making her very alluring. She cannot make them do anything else other than call them to her, meaning she couldn't give orders for someone to do an action. The spell is not unbreakable, it's possible for someone who is not under her hypnotic tune to snap them out of it.
Nether World Spell - She is able to take people into the Nether. Using magic she has accessed a small outskirt of the Nether's power and it is like her own personal dimension. This is where she lures people in order to steal their life force or whatever else she wants. The world takes the appearance of a magical dreamy land. It's beautiful and things that are within it are abnormal and actually magical, floating islands, talking animals, etc. However she is able to snap and switch the world to a horrible nightmarish place just like that.
Special Inventory
Special items that are bought from the store will go here.
Likes (At Least 3):
❤ Youth - She is obsessed with beauty and staying young forever.
❤ Acting - Myra loves to act, put on different characters and make other's believe them.
❤ Singing - She loves to sing and hum a lot.
Dislikes (At Least 3):
✗ Children Crying - She cannot stand the sound of children crying.
✗ Being Denied - If she is denied something, she
will
take it by force. Being denied angers her deeply.
✗ Christians - She hates the idea of Christianity and if you believe in the Christian God, well, she's going to break you.
Fears (At Least 2):
☬ Growing Old - Oh God, no, no, no, no. That is not allowed.
☬ Anything Above Her In Power - If you're stronger than her, and a threat, she will tread lightly. She doesn't fuck with powerful bitches.
Goals (At Least 1):
★ To Be Young Forever
Personality:
Myra is the definition of a crazy bitch. She loves to have fun with people, and manipulate them in any way she sees fit. She is keen on acting and will do so when meeting someone. She'll seem like the nicest, most kind woman at times but that's definitely far from what she is. She loves to steal other women's lives who intrigue her in someway, and play as them. No one ever knows, thanks to her magical identity thief spell.
She loves kids, no really she does. They are little people. She loves them so much that she likes to take them away to a magical land... And then steal their life force. She's envious of children, wanting the youth they have and will acquire it no matter the means. Myra is a very selfish woman, and looks out for herself before anyone else. Well, she doesn't really look out for anyone else anyways, unless they are her ally.
She loves some good looking men, she likes to make love to them... Maybe marry them. Then kill them. She takes everything they have away from them, it's a game for her. She loves to crush men's pride, finding it interesting how some men break easier than others.
Traits
[/b][/font]
✧ Manipulative
✧ Cunning
✧ Seductive
Negatives (At Least 3):
✦ Narcissistic
✦ Impulsive
✦ Easily Afraid/Intimidated
[/ul]
Parents:
Some random bitches, she didn't like them so whatever.
Siblings:
Uh, maybe? Damn, she doesn't remember.
Other Family:
None that she cared about.
Important Others:
People in her history are important, she guesses.
History:
Myra was born as Gormflaith ingen Murchada in Naas, County Kildare, Ireland. She started to practice magic in her twenties thank to an old witch in a nearby village. Eventually she became the Queen by marrying the High Kind Brian Boru. After divorcing him due to him finding out she was a witch, she began engineering opposition to the High King. She tricked a Viking into killing her ex-husband, telling him she would marry him if he did but after he was dead she vanished.
Myra traveled the world, learning more and more magic. She became a feared witch among many, her powerful spells in a whole other league to other non-natural witches. Myra took many identities as she went through life, trying out different lives and once she was bored she would quit and return to her own identity.
She took identities from such as; Amelia Earhart. Amelia ended up dying homeless, due to not having an actual identity and Myra went on living as her and then... She got bored. She simply vanished as Amelia Earhart and became one of the most famous missing cases in the whole world. Not too long after that Myra took the identity as Marilyn Monroe and when Marilyn confronted her, she decided to give her the life she wanted back... But she killed her, making it seem it was a suicide and then left to go on with her life.
Most recently, she has took the identity of a nice witch named Myra Norwood and have joined the Black Rose Coven, an evil coven of powerful witches. She works at a local school and loves to teach children the craft... Who knew being a school teacher would help her get the children she wants for their life force?
Alias:
Hell Hound
How did you find us?:
I Created The Site
Experience:
Lotz
Other Characters:
Amitiel
,
Chris Anderson
,
Jeff Atherton
, @rayne , @malachi ,
Seth Baldwin
,
Nova Bennette
,
Lily Bishop
,
Joel Crawford
,
Emily Clark
,
Darren Covington
, @jaxon,
Eric Gilbertson
,
Sawyer Grant
,
Tyson Grant
,
Austin Jacobs
,
Matthew Jacobs
,
Scotty Jacobs
,
Stephanie Khang
,
Zane Lancaster
,
Isaiah MacIntyre
,
Mammon
,
Lorilee McKinley
,
Aspen Meadows
,
Heaven Michaels
,
Tristan Michaels
,
Ryker Nixon
, @hunter ,
Lizzie Shields
,
Ethan Sullivan
,
Jake Sullivan
,
Luke Sullivan
, @declan , @tommy ,
Dean Winchester
,
Dean Winchester Jr
,
Cody Wolfe
, @caspian .
Samson Zimmerman
,
Mason Parker
,
Izzy Anderson
,
Hope Anderson
, @dante ,
Axel Meadows
,
Beezlebub
,
Wyatt Clark
,
Hudson Cooper
, @evan , @zadkiel ,
Piper Wright
,
Shawn Miller
,
Aiden Watson
, @suriel ,
Drake Crawford
,
Eligos
, @lucien ,
Riley Thompson
,
Jacob Lawson
,
Spencer Black
, @dylan , @carson , @blair ,
Caleb Winchester
RP Sample:
Dean watched as the young blonde suddenly stood up and held out her hand. She was leaving? Dean couldn't help but feel a bit of disappointment. Little did he know the blonde thought Dean was trying to get rid of her even though that was not his intentions. He also stood and took her hand shaking it lightly but firmly, the electrical shock he felt earlier not as strong as the first time. When she leaned over and kissed his cheek it took him a little off guard. Her warm yet moist lips sent a feeling much stronger then the electrical shocks he felt earlier every time they made slight contact. What was it about this girl?.... It was something very different, he felt an almost... pull to her like she was a magnet and he was just a fine piece of metal. Again, his mind blamed it on the fact that he was in Purgatory for a year and this was really the first time he had been with a girl alone in quite sometime.


Dean took her phone and put the number in, all the while realizing that she would probably never call. He knew better then anyone that you don't give the person your number you get theirs. He handed her the phone and their fingers brushed against each other. She put the phone back in her bag.


"Thank you again,"


As she looked at him, their eyes met once again, gazing into one another's for a split moment before a small sigh escaped her lips. Before Dean could ask what was wrong a knock and a small voice came from outside the door.


"Housekeeping!"


Dean immediately furrowed his eyebrows. What the hell was housekeeping coming around at this time? It wasn't right, and Dean knew it. He had been living in motels forever, it wasn't time for this. Not only that, but Dean had specifically asked to keep housekeeping away until after he was done with the room, just something he started doing just in case he planned on staying a while. Dean went to grab Bethany's arm as she turned to open the door but wasn't quick enough.


"Wait, don't- - "


Beth opened the door and there stood a rather small middle aged woman with with black hair pulled into a pony-tail and a light blue cleaning uniform. Dean's eyebrows stayed furrowed as he looked at the woman but her words sent a shier down his spine and blood pumping his heart even faster.


"Hello, Bethany,"


The woman's eyes turned coal black and her cold, devilish half-smile sent another shiver down Dean's spine when suddenly Beth was sent flying into the wall. The demon sped in, the door slamming behind her. It was if she didn't notice Dean, that she didn't even care that he was standing there as her glare stayed hooked on Bethany who was now being pinned to the wall with telekinesis. As she was being held there a coat hook stabbed through the poor girl's left shoulder.


Dean's index finger on his right hand twitched as he stood there for a second. Before long the Winchester was moving and pulling out a canteen of holy water from under his pillow. Thankfully back when he got the credit cards Dean also got the basics, salt, holy water, borax, the works. He quickly spun around a toss a bit at the demon, making her grab at her face and scream as she steamed. Thanks to the sudden pain, the demon's hold on Bethany was gone and she fell to the floor. Dean quickly sprinkled more on the demon and moved in front of the door.


The woman stood there, her hands covering her face as she was bent over and looking down. She slowly lifted her head and pulled her hands away. Her eyes going wide and the pitch black being even more visible.


"Dean Winchester?!"


The demon shrieked and as she went to quickly leave the body Dean kicked with full force and she was pushed back, falling on a rug set up at the foot of the bed. She looked up quickly at the ceiling seeing nothing and frowned, trying to leave again but when she couldn't her eyes shot to Dean. Dean walked over slowly and smirked, lifting up the corner of the rug revealing a devils trap. He spoke in a low and cocky tone.


"Got you, bitch."


The demon squinted her eyes and tilted her head as Dean got up and rushed over to Beth.


"You..... I heard you were gone, everyone did. How are you here?"


Dean ignored the demon and squatted to Bethany's side, his eyes full of concern. He looked at her and upon seeing her injury he quickly wrapped his arm around her and helped her up.


"Don't worry... You'll be okay... I'll fix you up."


Dean walked her over to the bed and sat her down, ways away from the demon. After looking at her wound again, he looked into her eyes.


"Hang in there..."


Dean turned around and walked up to the demon, standing right outside of the devil's trap.


"What the hell are you doing here?" He nodded back at Beth. "What do you want from her?"


"Not going to make me talk, Winchester." The demon shook her head and smirked.


"Yeah?" Dean raised his eyebrows as he splashed more water in her face causing her to hiss. "Sure about that?"


The demon decided not to respond and Dean's anger and disgust took over.


"Fine. " Dean looked down at her, his glare latched onto her and not going anywhere. "Exorcizamus te, omnis immundus spiritus, omnis satanica potestas, omnis incursio infernalis adversarii, omnis legio, omnis congregatio et secta diabolica."


They'll love to know you are back!" The demon growled at Dean, causing him to pause a moment. "Yeah, well tell them I sent you." Dean paused again with a slight smirk and then he finished the exorcism. "Ergo, draco maledicte. Excclesiam tuam securi tibi facias libertate servire, te rogamus, audi nos."


A cloud of black smoke came spewing violently from the woman's mouth and when down through the floor. Dean took a breath and quickly turned around to see Beth. He swallowed and walked quickly back over to Beth, sitting on the bed next to her.


"I..... should patch you up now."


The body of the woman laid there, not moving as she was gone. Dean reached over to the nightstand, bending over Beth slightly and pulling open the drawer revealing some medical equipment.
I (Myra Norwood) have read the site rules and understand them. The code word for the rules is: (Batman)
[/div][/div]
Application Created By Hell Hound
[/div]