Post by Angel Johnson on Dec 8, 2015 7:39:50 GMT -5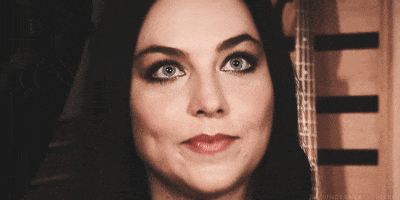 ANGEL "ANGIE" JOHNSON
HUNTER |
APPLICATION LINK
| AMY LEE
CELL PHONE
RANDOM FACTS
Zodiac Sign- Leo
Birth Date- August 2nd, 1987
Relationship Status- Dating
Kyle Welch
Sexuality- Pansexual
Height- 5'2"
Angie is a very warm, kind-hearted, stubborn woman. She dreams of a happily ever after. She's a hunter and was thrust into it when her mom was killed when she was sixteen by a witch. On the way to a job, she was knocked unconscious and woke up outside of
Chris Anderson
's house in January, where she met Chris. After that, she met a few others and that's where she met
Tyson Grant
. After a bit of flirting, they hooked up. Over time, she wound up falling in love with him, which lead to several bad choices. While captured by a demon named Abalam and forced to play a 'game', she met
Zee Walker
. After a while, she and Zee wound up getting together and dating. During this time, however, she couldn't shake her feelings for Tyson, which were getting her nowhere. After all, he hadn't wanted a relationship and made that clear. One night, after having a few drinks with
Morgan Vera
, she went to Tyson's apartment and confessed to how she felt, which resulted in her cheating on Zee.

Messiah

found out and told Zee before Angie had the chance, thus terminating the relationship and hurting Zee tremendously.
After that, Angie fell into a bad time. Out of the blue, she was captured by
Mammon
, the Prince. She was kept as prisoner, where she met
Eligos
. While imprisoned, Tyson was forced to kill Angie to save his brother. She welcomed it, assuring him she still loved him and knew he was still a good person. She was resurrected with the help of a witch named
Lily Bishop
and she was hidden by Eligos for a while. After dying, she had changed. She stopped caring about others, sassing demons repeatedly. Mammon finally tracked her down and killed her for the second time. Her brother, stricken by grief, sold his soul to a crossroads demon in exchange for her life.
I would like Angie to be involved in multiple plots, expanding her character and making her more well-rounded.
Back To Your RootsFamily Plot
Angie's mom was killed by a witch that was terribly in love with her father when Angie was 16. At that point, she was thrust into the world of the supernatural and became a hunter shortly after. Her father had no idea Angie became a hunter. She kept it from her family for as much as she could until Jack wound up in Zeppelin City with her. However, what Angie and Jack don't know is that their mom actually came from a family of hunters. I would like someone to adopt Angie's dad and create him, as he has their mother's journal of self-written notes over the years, leading up to her pregnancy with Angie. It's a secret that their father has been wanting to share with them as something from their past is going to rise up quicker than they can prepare for...
My Brother's KeeperCrossroads Demon Plot
When Angie died, Jack exchanged his soul and gave up all but ten years of life to get his sister back. Angie, distraught by his choice and angered by his desperation to keep her alive, flew into a silent, cold-shouldered rage towards her brother, not speaking to him for some time. After a while, however, she warmed up to it. Very few people knew she died a second time and, behind Jack's back, she began to try to find some way to get him out of his deal. Recruiting the help from her friend
Caleb Winchester
, she's trying very hard to find a way to save her brother and let him live a full, happy life and get his soul back. I'd like anyone to help either complete this or stretch it out, whether by throwing allies or enemies at them.
Lovers
-



Kyle Welch

- Kyle is an old friend from college that she had developed feelings for before it was discovered what he was. However since they both became stuck in Zeppelin, they were allowed to grow closer. Eventually, although tentatively, they agreed to enter a relationship together. And, in all sincerity, Angie could not be happier.


Tyson Grant

- Tyson was her first and her first love. She knows he's a nice guy and, despite everything, she does still love him tremendously


Maxwell Grant

- Ironically, the son of her first love. She slept with him once and their relationship is... complicated. She's pretty sure he can't stand her but she thinks very highly of him, including having the hint of feelings for him.
Zee Walker
- Ex girlfriend
Family
-
Jackson Johnson
- Her younger brother
Victoria Johnson
- Her daughter
Acquaintances
-
Friends
-
Morgan Vera
- Morgan is her drinking buddy and she absolutely loves her
@gabriella
- Even though she's her brother's ex, she still adores Gabriella
Hope Anderson
- Although she's closer to Hope's brother, she's still pretty fond of Hope
Holly McKinley
- One of the first people she met thanks to Chris. Although Holly is pretty quiet, she is very fond of her


Aiden Watson

- She's really fond of him and quite enjoys spending time with him
Caleb Winchester
- A good friend and someone she really, really loves spending time with
Besties
-
Chris Anderson
- She considers Chris to be one of her best friends, someone she trusts more than anything
Jodie Lotus
- Jodie is a very dear friend she worked with both as a teacher and as a hunter on several occasions and Jodie knows her tremendously well
Izzy Anderson
- Like Chris, she considers him one of her very best friends
Lyle York
- He kicks her ass when she needs it and she looks to him for guidance when she's thinking about being stupid
Frenemies
-
Enemies
-
Mammon
- She escaped death from him twice
Torcher
- Torcher caused a lot of issues in Angie's life
*If you wish to add a character to a section, please let me know*
MADE BY HELL HOUND