Post by Deleted on Oct 22, 2013 12:32:32 GMT -5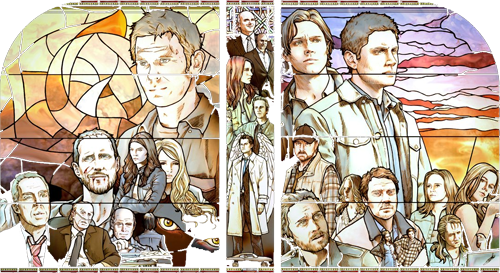 Full Name:
Cassidy Anne Berkeley
Nickname/Alias:
Cassie, Cas, Sweet Pea
Age/Date Of Birth:
32 / December 17, 1980
Race:
Human
Occupation:
Professional Dancer
Species Group:
Veteran Hunter
Play-By:
Jenna Dewan-Tatum
Special Inventory

Special items that are bought from the store will go here.
Likes (At Least 3):
❤ Anything Seafood and Pasta
❤ Traveling to New Beautiful Places
❤ Music With Good Rhythm and Bass
❤ Taboo Topics and Anything Mythical Relevant

Dislikes (At Least 3):
✗ Hypocrisy and Spiteful Arrogance
✗ Restrictions and Unnecessary
Obstacles
✗ Being Treated Differently or Without Respect
Fears (At Least 2):
☬ That Randall Doesn't Awaken From His Coma
☬ Has Acrophobia and Cleithrophobia
Goals (At Least 1):
★ Prove To The Other Hunters That Being Impaired Does Not Limit What She Can Do. Whilst Doing So She Plans On Taking Randall's Place in The Hunting Community and Making a Name For Herself
Personality:
Through Cassidy's deafness people have assumed her to be shy, withdrawn, and even sometimes a bit mentally slow. However, when you grasp her attention and take the time to communicate with her it will be immediately shown that she does not acquire any of those traits. She's incredibly friendly, sweet, and generous towards others while still embodying an almost feisty aura. She has no means to "beat around the bush" and will tell you exactly what she wants, when she wants it, and how. To others, Cassidy's bluntness might be considered overbearing but it takes extra time to communicate so she goes about it as directly as she can while still embodying feminine charm.
She exhibits clear traits of being adventurous, independent, artistic, and outgoing due to frequently traveling anywhere and everywhere alone. She honestly enjoys it and finds pleasure in exploring a new areas and taking pictures of the most unique or distinguishable parts of it. Of course, she still loves interaction and treasures the times when she gathers with her family or other hunters. If the hunting life hadn't come with "Caution" signs she'd be sociable more often. Another thing that should be known about Cassidy is that she's a equalist. She doesn't use hunting to "kill" off monsters but, more or less, regulate their outwardly destructive behavior. For example, she won't kill a vampire because it's a vampire. She would kill them because the vampire wrongfully killed others.
When dealing with negative emotions Cassidy doesn't make much of an effort to hide it. She has a habit of signing ASL when she's mad and will often largely exaggerate her signs to indicate yelling. If she is angered enough and wants to make a point to someone who cannot understand her she'll speak vocally for a brief moment. However, this is rare. When dealing with an intense amount of emotion she'll be hard to communicate with until she has simmered down. It is either because she cannot focus on the lips, doesn't want to focus on the lips, or because she is so lost in her own emotion that she is unaware of anyone around her.
Ways of Communication

Due to being deaf Cassidy has to find other means to communicate with others without her voice. Because of this she's developed to be rather assertive, creative, and straightforward. Her main uses of communication rely heavily on the facial expressions, mouth shapes, body movements, and hand gestures. Her secondary means of communication focuses on written form which includes paper & pen, texting, and emails. Talking is a last resort for her and she only speaks to those who she feels comfortable around or in life threatening situations. She's very self conscious about her voice because of her mild deaf accent. Cassidy is only able to hear loud noises ( such as explosions, gunshots, and banging ) from her left ear which, depending how far she is, is muffled. She's also had extensive amounts of Speech Therapy so her speech is incredibly understandable but the accent gives her an almost muffled and monotone sound.
Deaf Advantages & Disadvantages
Another aspect that people should consider about Cassidy's deafness is that there is advantages as well as disadvantages. They are not considered "supernatural abilities" because a loss of one or more of the 5 senses enhances whatever senses are left. Because of this Cassidy's sense of touch and sight are incredibly enhanced. She relies on vibrations to indicate what is going on around her--being advanced enough to know specifically who is walking to her room by vibration patterns and strength. This is also how she dances; reliance on vibration. Her sense of touch can also indicate changes in temperature, pressure, and airflow. Again, it's enhanced enough to figure out when someone opens the door to her room--'causing a new fluctuation of air to come in and out. As for sight, she is forced to gain information through sight so very little will get past her due to being incredibly attentive in means of gaining information. Unless a character literally makes an item vanish in thin air she'll be more than able to asses where something was hidden away if it was quickly stowed away in front of her.

Disadvantages are just as severe. A character who tries to talk to Cassidy from either side of her or with their backs turned will not get a response. The person's mouth must be visible so that Cassidy can see what they are saying. This makes her oblivious to a lot around her--especially if she is not paying much attention to her surroundings. This also goes into effect of "sneaking" their way to her. If she can not feel the vibrations they'll most likely scare the bejeesus out of her and you should be prepared for her to react negatively to the scare.
Traits
[/b][/font]
✧ Independent
✧ Optimistic
✧ Generous
Negatives (At Least 3):
✦ Rebellious
✦ Quick-Tempered
✦ Compulsive
[/ul]

Parents:
Miranda & Benson Berkeley
Siblings:
Robyn, Joseph & Troy Berkeley
Other Family:
Grandma & Grandpa Berkeley
Important Others:
Randall O'Connor and Various Other Hunters
History:
Cassidy Anne had been the third child born into the Berkeley family in Phoenix, Arizona. At the time, Miranda and Benson only had Joseph who was 3 years old and Robyn a year younger. They anxiously waited for Cassidy's birth and welcomed her with loving arms but it was not soon after that they received shocking news; Cassidy is deaf. At first the young couple were unsure of how to handle the news but they remained optimistic and seeked professional help to guide them in better guiding Cassidy. Two years later and the Berkeley family had welcomed another child, Troy, who also happens to be deaf. Miranda and Benson dug deeper into finding help in helping their children but the "help" and "advice" they received did not necessarily put Cassidy or Troy in an a comforting position. Both were placed in mainstream schools and expected to spend half their day in Speech Therapy while still having to successfully accomplish schoolwork and homework. Along with this Cassidy and Troy were made fun of for their strange voices and being "slower" at responses than the other kids. In fact, they were considered mentally handicapped and were avoided because of it. In a world filled with hearing people she felt like a freak and a monster.
Seeing their children come home distressed forced Miranda and Benson to transfer Cassidy (who was 11 at the time) and Troy (who was 9 ) to a school for the deaf and blind. In there they were considered equals and spent their days learning rather than speaking abnormally. Both children made friends, learned to sign, and joined clubs. To them it was a paradise but the only drawback had been that they were 3 hours from home. Considering they lived in the school, Cassidy and Troy made the most of it. Specifically, Cassidy had joined the cheerleading squad, Book Club, and volunteered at the local animal shelter. Though she enjoyed cheerleading and her frequent visits to the shelter, the Book Club always had her undivided attention. There she was able to freely talk about one of her passions; mythological beings, circumstances, and events. In the Book Club these topics weren't frowned upon and were heavily discussed so she found that she invested most of her extra time there.
Due to insufficient funds the school had been closed and quickly shut down 5 years after Cassidy and Troy's enrollment. It wasn't long until the siblings found themselves on a 3 hour drive home with red stained cheeks and knots in their stomachs.
Starting High School in a mainstream environment had been nerve-wracking for Cassidy but she swore up and down that she would not let the change of school effect her routine. She joined the cheerleading squad, the local Mythologist Club, and managed to still have time to work as a part-time sign language tutor at the community college. Again, Cassidy found intrest in the ever-so-small Mythologist Club held in one of the community libraries. Because she refused to have an interpreter attend any sort of activities she indulged in she only made a few stable friends. One friend who should be duly noted is a man by the name of Randall O'Connor who had been the first person to approach and persistently and continuously communicate with Cassidy. They had first met at the Mythologist Club only to later find out that they attend the same school. From there they were almost inseparable, well, until Randall's attendance started to get spotty towards their senior year. It was during this time that Cassidy felt that their friendship was wallowing away and that Randall was slowly erasing himself from her life. Not liking the thought of losing her first best friend she made an incredible effort to try and revive their friendship. Even though she managed to accomplish the task she was thrown into a whole new world during the process.
It had been late evening and Cassidy had decided to meet up with Randall at his apartment. She stood outside the apartment's door knocking loudly for a few minutes, determined to annoy him to the point of submission. It wasn't until she could feel heavy vibrations of footsteps and moderate vibrations of objects hitting the floor that Cassidy started to panic. She tried the conventional way of just opening the door but when she pushed the door open it had been blocked by something heavy. Without much thought she set her belongings aside, pulled out her pepper spray, and climbed off the balconies edge and onto the ledge of the two story apartment. She didn't dare look down as she scooted her way to the closest window, pulled her hand into her sleeve, and punch the window until the glass shatters. She made her way inside just in time to see Randall struggling with a large humanoid-wolf creature in the hallway. The feeling of being faint from the trip over to the window melted away when she sees Randall's life at stake. In attempts to help him Cassidy sprays the creature with the pepper spray which 'causes the creature to pull away from Randall. Her attack, however, didn't completely stop it and it lunges to kill her but Randall knifes the creature in the head just before it could.
This encounter had been Cassidy's first with the supernatural and so Randall had to explain that the Supernatural World is more real than most people think. He went on to say that he and his family are what the Supernatural World calls hunters and that what they fought was a werewolf who, in reality, was an old friend of Randall's seeking a cure for his condition. Though the night had been heavy with emotional distress it had been another turn in Cassidy's life. To make a long stories short Cassidy continued on to college while Randall continued his hunter duties. She spent 4 years at Gallaudent University in Washington studying music and dance along with Mythology to better help Randall in his hunts. They kept communication through texts, emails, and the occasional video-chat in which they would exchange information about what they've learned or done. It was also during that time that Cassidy had lived with her grandparents who knew little of her taboo interests.
When Cassidy turned 21 years old Randall made more of an effort to make a physical appearance. He had been "taking a break" from his rather hectic "hunting" life and spent a few weeks with her before heading to Arizona to meet with other friends. Yet again, Randall unknowingly influenced Cassidy with his tales of adventure and she found interest in learning weaponry and self defense--which helped her greatly when she turned 23 and had been asked to join Randall's hunting group. Of course, Cassidy couldn't refuse but she soon realized that her position in the group had been a dull one. After moving out from her grandparents house and telling them that she had been offered a tour gig she had made home at different bases were hunters go for protection. For two years her main role had been to be a personal scribe and informant to the hunters. She would create "cheat sheets" that would help hunters narrow down possible suspects for cases all while taking their personal notes and rewriting them into a more professional format.
In gist, Cassidy felt used and heavily underestimated. During those two years she was learning a lot more about the supernatural world and it made her itch for adventure. She tried to talk to Randall about joining his cases but he refused her help in worry that she might get hurt. Outraged, she called in a group meeting and vocalized her irritation with being cooped up in the safe houses. She told them that even though she is a girl, deaf, and barely experienced there would be no way to better scribe about the supernatural unless she partook in it. She carried on to explain that she is more than meets the eye and is would feel more appreciated if they did not limit her to paperwork. Though the other hunters were unsure of how to handle Cassidy they finally let her join. At first, Cassidy had been a terrible hunter and caused some problems for the group but at the same time Cassidys ability to feel vibration, her sense of surrounding, sense of pressure or air change, her knowledge of the supernatural and the crew had helped them more than they had expected. It wasn't long until Cassidy started to pick up on hunting habits and routine and soon was no longer a "problem" for the group--but a great addition.
However, tragedy struck 7 years after her recruitment. Randall and 3 other hunting members had decided to take a case that was said to involve Acheri while Cassidy and 2 other members investigated a possible poltergeist infestation not too far off. Though Cassidy and her group had handled the ghosts just fine it seemed that Randall's group had been mislead on the case. The Acheri had actually been a Rakshasa who had no problems killing almost everyone in the group--except for Randall who had been saving for last. Just as Cassidy and her group made their way into the scene they saw the Rakshasa give Randall a fatal looking blow to the head but had been immediately killed by one of the men in Cassidy's group. Randall had been taken to the hospital and soon been proclaimed in a coma. Having lost 3 members ( and the 4th one unable to work) the group had to devise a new system of who does what. Cassidy decided to take Randall's place as co-captain of the team which melds with her current position nicely. Anyone who has a problem is to report to co-captain who, if he has no idea what to make of the situation, goes to the scribe. No one had any objections to the situation and so Cassidy ranked herself to co-captain of the group.
Because there isn't enough people in the group the team soon split and Cassidy was left to hunt on her own. Still, because she took Randall's place, she still keeps track of all the hunters and civilians who had used Randall's help before but this time also adding her other clients which are a few monsters here and there as well. In gist, Cassidy is very much like a Bobby Singer or Garth Fitzgerald, being able to inform people or physically help others when she's needed--sometimes taking up her own cases and calling in people for help. Despite Randall's rather large collection of clientele her own is fairly small and she wishes to accumulate it in hopes to help others from the harms of the supernatural. In the meanwhile she works as a non-stripping go-go dancer to get gas in the car, food in her belly, and a bed underneath her body on long and rainy nights. Sometimes her money goes straight to Randall and his medical bills to keep him plugged to the machine.

Alias:
Ezra
How did you find us?:
Precious Forum
Experience:
Several Years
Other Characters:
Ezra Griffith, Lucas Rhodes, Lucy Grey, Hermes
RP Sample:
Every night had provided the same horrible reminder of something still forgotten. Like a discrete note highlighted in a neon yellow paper reading "Remember to do the thing," and no matter how much you comb your mind...you can't seem to remember what "the thing" is in the first place. Every night painted vivid pictures in reds and oranges with an echo of pain ringing through his ears. He could still see the woman become consumed by fire with the smell of burning flesh singeing against the flames.
No matter how many times Ezra had this dream he woke up, screaming and covered in a cold sweat. Emotions driven by an overwhelming sense of anger, and soon bridged to hate, lasted past his waking point and lingered until his heart rate slowed. Though his eyes remain open he could still see every fragment of this woman--as if she had escaped his dream and crossed into reality. Tears betray Ezra as fire starts to consume her. She turns to face him and reaches a hand out in his direction as she screams her pleas "EZRA NO!"
Softly, he sobs in his bed and lets the moisture cloud his vision from her. Every morning he questions why she haunts him and every morning he never gets a response. Ezra felt that he had done something wrong and hateful to this woman in a past long forgotten. "If only," he whispers to himself "-If only I knew what she wanted and what I did wrong."
I (Cassidy Berkeley) have read the site rules and understand them. The code word for the rules is: (Batman)
[/div][/div]
Application Created By Hell Hound
[/div]