Post by Deleted on Aug 6, 2016 23:34:20 GMT -5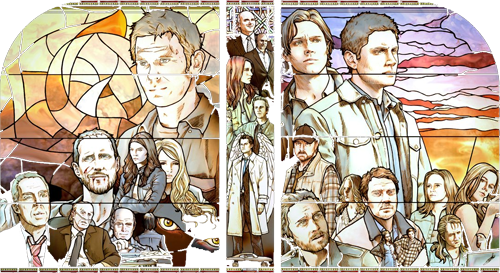 Full Name:
Ellen Harvelle
Nickname/Alias:

Age/Date Of Birth:
November 15 1963 (52)
Race:
Human
Occupation:
Hunter, Former owner of the Roadhouse, Former Bartender.
Species Group:
Hunter
Play-By:
Samantha Ferris
Abilities
Put all known abilities here. If your character does not have any abilities please remove this part from the application.
Special Inventory
Special items that are bought from the store will go here.
Likes (At Least 3):
❤ Her Guns
❤ Her daughter Jo
❤ Whiskey and Beer
❤ Sam and Dean She considers them family.
Dislikes (At Least 3):
✗ Demons Mostly
✗ The fact that her daughter wants to hunt but supports it.
✗ Disrespect of any Kind
Fears (At Least 2):

☬ That she may lose her daughter like she did her husband.
☬ The End Of The World
Goals (At Least 1):
★ To make sure her daughter and her friends stay alive and help prevent the end of the world.
Personality:
Ellen is a very strong, and driven woman. She also tends to be a quiet person, unless she has something to say. Ellen is also brutally blunt when she makes her point across. Ellen has a close relationship with her daughter Jo, but sometimes they don't get along. There fights are mostly about Jo's thirst for hunting. She knows how much Jo wants to hunt, But Ellen forbid it because she was worried that she'd lose her daughter way she lost her husband Bill.
Ellen believes in respect and loyalty, She shows the same to others when she is given that in return. If anyone disrespects her they would hear about it. Ellen does have a sweet and compassionate side about her but it's often hidden due to losing the love of her life. Losing Bill has caused her to close off her heart. Her heart remains open for her daughter, and the Winchester boys.
Ellen is also a very tough and strong driven woman, plus has a nurturing side of her when it comes to those she cares about like with her daughter, or the Winchesters. She also cares about Bobby Singer when she met him through Sam and Dean. She considers them to be part of the family.
Ellen is highly protective of them she would go out of her way to make sure no harm would come to her family and doesn't let anything get in her way.
Traits
[/font]
[/b][/font]✧ Quick Thinker
✧ She's protective of those she cares about
✧ Loyal and respectful
Negatives (At Least 3):


✦ Can be highly blunt if needed to be
✦ Possible she could have a short fuse.
✦ Sometimes she can bite first ask questions later.
[/ul]

Parents: None

Siblings: No

Other Family: Her daughter Jo, Her late husband, Bill, The Winchesters, And Bobby Singer. She considers Bobby and the Winchesters part of the family.
Important Others: The Winchesters, Mostly Sam and Dean. John Winchester was considered a close friend of the family many years before until her husband was killed by a demon.

History:
Ellen never dreamed that she would fall into the world of being a hunter, Fighting the Supernatural. She never thought about it. She did once, had a happy life. Ellen was married to a wonderful man named Bill and they both having a daughter named Joanna, She was called Jo for short. Ellen found out later on that Bill was a hunter and he went cases leaving Her and Jo at home. Every night, Ellen worries about her husband out there when he was dealing with those Supernatural beings.
She had always feared that he would never come back to her. Every night when he came home the light in Ellen's face brights and she felt happy. That happy story didn't last long when John Winchester asked to take Bill on a hunt with him. That was the last she ever saw of her husband.
When news got to Ellen that her husband was dead it broke her inside, she dreaded ever telling Jo that her dad would never come home again. Years later, Jo grew up wanting to follow in her husband's footsteps, And Ellen decided to run a Roadhouse for hunters out in middle of nowhere. It was a nice place where they come and chat, getting to know them a bit she made friends like Ash along the way. One thing that terrified her the most that Jo had been wanting to follow in her dad's footsteps, Ellen wouldn't allow that simply because she didn't want to lose her daughter the same way as she did with her husband.
In the year 2006, Two boys came into the Roadhouse, Ellen thought she was under attack until it was revealed that the boys were Sam and Dean Winchester. She was told that they came there after listening to John's call about Ellen wanting to help them. She then found out that John had been killed while on a case recently.
Ellen notice the change a bit in Jo on her eagerness to hunt even more and further added to her stress and worry. One time Jo and Ellen gotten into an argument on a case Jo had put together. Ellen wasn't gonna let her go with Sam and Dean simply stating that she won't lose her too.
Behind Ellen's back, Jo sneaks off to Philadelphia to be with Sam and Dean. She later worked it out in her head and calling Dean where he then confessed that Jo was kidnapped. Ellen quickly flies down there, Luckily Jo was saved. It was a long quiet drive back to the Roadhouse, The tension was thick enough because Ellen was beyond furious at Jo even angry at the boys for lying to her. When they got back the screaming started. Ellen was so upset she revealed what happened to her dad, telling her that Bill had taken the boys father, John to help him on a hunt and was killed that's why John never came back.
Ellen deep down knows it wasn't the boys' fault that Bill was killed, but this didn't stop her from worrying more on her daughter. She even told Jo that she won't be hunting under her roof which led her to leave. Near the Summer of 2007, The Roadhouse was attacked, The demons burned it to the ground killing whomever was inside, One of the people killed inside was Ash. Ellen and Jo were spared because She had been out to the store getting some food when the attack happened.
Couple years later, Ellen finally gave in and accepted that Jo wanted to be a hunter and with one condition, She was going with her daughter. During the Apocalypse, Ellen and her daughter needed the boys help few times. First time was to deal with a horseman and the second time when they found the colt.
The day they were gonna track down and kill Lucifer would be the last time they did anything. While on that mission, Meg unleashed the hellhounds making them go after the boys, Ellen and Jo. Jo kept shooting at it and ended up getting clawed in the process. Dean carried her into the small store where it was too late. Jo was bleeding out and fast.
Ellen fears were being confirmed she was about to lose her daughter and knew it deep down. Jo already knew she was gonna die so she formed a plan to make a bomb to take out the Hellhounds and her included. Ellen decided to stay, In an emotional last moment they said their good byes to Dean and Sam. When the boys left, Jo died in Ellen's arms. Suddenly the hellhound burst into the store and gotten close to Ellen enough where she pushed the trigger blowing the store with her and Jo in it and died instantly.
Several years later, Ellen wakes up, After her body was put back together dazed and confused, in a swamp covered in dirt mostly by something unknown. She didn't know how she gotten there or what happened. So many things went through her mind one of her first thought was her daughter Jo, Was she alive or dead. Ellen had to get some answers and quick.

Alias:
Alyssa
How did you find us?:
Here at EOTR
Experience:
Yes, I have a couple of characters already on the site.
Other Characters:
Alyssa Palmer and Jennifer Taylor
RP Sample:
Ellen was scared, okay let's say she was beyond terrified of the fact that her daughter wanted to hunt. She trusted Jo though with all her heart it wasn't about distrusting her or anything, It was mainly about loosing her like she did her husband. When Jo ran off, after Ellen forbid her to even hunt again this made her even more scared. She didn't know what to do. More she said no, more she was pushing her daughter away. She and Jo were very close, She never liked the fighting with her, but she can see how important hunting was to her daughter. After thinking it over and loosing her Roadhouse, She had to come to terms in accepting it. Ellen tracked Jo down and found her working at some bar. It was awkward, She and her hadn't spoken in awhile after that fight. Ellen wanted to make things right. She went inside the building and waited for her to come out, When she did, they both stared at each other for awhile then Ellen clears her throat "We need to talk." She simply stated.
Jo was okay with talking with her, They both sat down and discussed why she wanted to be a hunter, why was it so important to her. The answer was clear, It was to feel close to her dad and make him proud. Ellen couldn't argue that so with one condition, Ellen has to be with her and help while she was doing hunts.
I (Ellen Harvelle) have read the site rules and understand them. The code word for the rules is: (Batman)
[/div][/div]
Application Created By Hell Hound
[/div]