Post by Zera Winters on Nov 29, 2013 6:30:47 GMT -5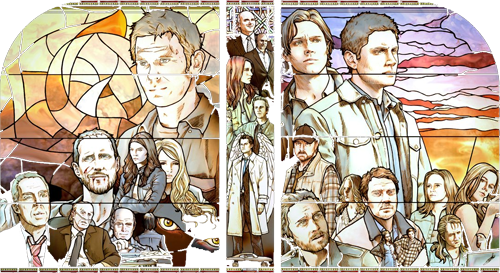 Full Name:
Zera Marreh Winters
Nickname/Alias:
Z, Zer, Mutt, Winters
Age/Date Of Birth:
23 - 1/6/1991
Race:
Skin Walker
Occupation:
Drifter
Species Group:
Creature / Skinwalker
Play-By:
Jena Malone
Abilities
Shapeshifting - Zera can, at will change in to a rather tall yet skinny German Shepard
Superhuman Senses - Skin Walkers can see 100 yards, have sharp senses of smell and hearing of a dog, can sense when people are near or when they are being followed
Infectious Bite - When bit by a Skin Walker, the person bit will become a Skin Walker
Invulnerability - Can only die by silver to the heart or head, can however be injured
Accelerated Healing
Superhuman Strength, while in Dog form
Superhuman Speed, while in Dog form
Note: Skinwalkers strength of their abilities is determined by their place in their "Pack", Zera, at the moment, technically has a pack. She often takes a leadership position but she does not want it nor accept it, and she doesn't believe herself to be the "Pack Leader". If she ever accepts this mantle, her full potential will be unlocked and her abilities will grown. But that's not for quite some time.
Special Inventory
Special items that are bought from the store will go here.
Likes (At Least 3):
❤ Meat, particularly likes the bones. She chews on bones much like a dog even in her human form
❤ Running
❤ Sleeping
Dislikes (At Least 3):
✗ Clothing, much to the disdain/pleasure of her "pack", Zera despises clothing and often walks around in the buff or as an animal unless forced in to clothing, its often an argument.
✗Bath Time, she absolutely hates cleaning herself, this is another subject of argument, sometimes people even have to bathe her.
✗ Dog Whistles
Fears (At Least 2):
☬ Loosing her "Pack"
☬ Loosing Sadie
Goals (At Least 1):
★ Survival would be nice
Personality:
Zera's known to be loud, outspoken and fiery. She's got a hell of a determination a temper to back it up. She's terribly protective, loyal as any friend can be, and a damn good leader even though she doesn't want to be. When it comes down to it, she absolutely hates having to take a position of authority, especially when it involves her pack, even when they do look to her for guidance she wishes they would look on others, but she forces herself in to a leadership role for their sake when needed.
Deep down Zera is actually very insecure, she is self conscious of what people think of her and hates it when she can't figure out what their opinions on her are, though, in all honesty, she often doesn't care if its negative unless its someone she respects. The Skinwalker has a creative spark, and when she's not enjoying the animal side of life she curls up somewhere and will begin to write. She will write stories that come to mind, spending hours on end dragging a pencil over paper to create words. She absolutely loves the silence, and quite honestly enjoys being alone a lot of the time.
Due to being a Skin Walker for quite some time, she has taken on a few rather humorous traits of an animal. To begin with, she hates clothing with a passion, she hates bathing mostly due to the fact tat the smell of the soaps irritate her nose and make her itch, and she hates cats. Cat's are the devil as far as she is concerned and she will chase one for hours on end until someone stops her.
Traits
[/b][/font]
✧ Even though she doesn't want to be, she is a good leader
✧ Loyal
✧ Protective
Negatives (At Least 3):
✦ Rude
✦ Has an Attitude
✦ Aggressive
[/ul]

Parents:
Marian Mills (Mother) Viktor Winters (Father)
Siblings:
Mara Winters (Younger Sister, 21), Catherine Winters (Youngest Sister, 16), Ryder Winters (Step-Brother, 9)
Other Family:
Sasha Winters (Step-Mother)
Important Others:
Sadie Watson (Werewolf)
History:
Born in Mid-West Russia, raised in the US. Zera was taken from her home country before she even knew it and raised an American life with a Russian father and a American mother. How they came together was always a mystery to Zera. Her father was so energetic and full of life, sometimes even a little mad. Her mother was uptight, angry, bitter and cold. What he saw in the woman still puzzles Zera to today. She was blessed with two younger sisters whom she loves dearly. Moving to the US however did not prove fruitful to everyone. One afternoon, while playing outside with her friends at a playground, her Mother supposed to have been observing her when she was in truth not, Zera saw a strange dog watching the kids at the playground. She approached it, her childhood innocence bringing her curiosity for the animal she thought was oh-so adorable.
It bit her.
She lost her humanity at such a young age and never even realized it fully at her age. She was rushed to the hospital and the animal bite, which was rather severe, was taken care of, the doctors noted it had clotted and was healing at an abnormally fast rate, which, they said, was actually a very good sign. Within two days the bite mark was fully gone. It had them baffled to the reasoning, but they could not place as to why it had done so. But, after some needles and whatnot, life went on. A few days after the final doctors treatment, Zera shifted for the first time. It was on the way to school, walking to the bus stop, and both frightening and unexpected. She shifted suddenly while she began to access her newly heightened senses. One moment there stood Zera, a young first grader, the next, a small German Shepard pup that could be no older than a year was crawling from her clothing, looking confused and frightened.
She was stuck as a dog for days, her parents reported her missing and had no idea where they had gone, but finding her clothing like that unsettled them. About a week of living off discarded food, she began to adapt to this new form a bit better and finally discovered how to change back and forth between human and animal at whim, and such, she turned up in her back yard, naked and dazed. Her parents called off the search upon finding her, trying to figure out what happened to her. Of course she explained, but what sensible parent would really listen to "I turn in to a dog, Mommy!". The police put out a search for a kidnapper, and Zera was put in to therapy while they struggled to dismiss her "delusion" and figure out what really happened to her. It bore no fruit, of course, and eventually things went back to normal. Zera began exploring her newfound abilities. At nightfall, she would sneak out as her animal form.
She would run with the wolves and howl to the moon, hunt for her food (son learning that the only thing she got sustenance off of was the heart of animals) and fight with other animals. It was a whole other world to her, and it was... amazing. She thought she was some kind of super hero, or monster. As she grew older she even began to wonder if she was an Alien. One night changed things though. She was around eleven and on her normal routine in the forest when she came across a odd scent, upon following it she found what looked like another girl, with sharp fangs and odd eyes. She attacked Zera, and Zera fought back the best she could, eventually hitting the Werewolf full force in the skull and knocking it unconscious. Trying to figure out what the girl was, she paced around her until she awoke at sunrise, afraid and wide eyed. Zera shifting in to a human did not help her reaction. It was an odd start to a friendship, but a start none the less. Zera learned of Sadie and her condition and they soon bonded over their similar situations, one that carried on for years to come.
The two were very close up in to current day. While in High School, Zera learned she was interested in both genders. It took a good year for her to act on it, and she ended up dating a girl... Her parents didn't take it well, or rather, her mother did not. Her Father fully supported it. It caused so much of an issue, her parents split up over it. Luckily for Zera, her father won custody of both her and her sisters. Life changed, but continued on once more. It became normal for them. They would spend night time out in the woods, Zera knew them like the back of her hand after years of exploration. Soon after graduation, Zera and Sadie began looking in to apartments. They figured they would need somewhere close to woodland so they would be able to feed their... needs. The following full moon, Sadie did the usual thing and locked herself away with a couple rabbit hearts and Zera went in to the wilderness. While moving along the side of the high way, she watched a crash. It was farther from the city, outside of cell service and the high way was utterly dead - so of course Zera helped. The man she saved witnessed her change and just happened to be, well, a minister.
The Minister spent the following year obsessed with Zera, everyone told him he must have been hallucinating when he had seen it, and Zera lied she had just been out for a late night walk and that that happened to be along her path. People bought it - but he did not. He believed her some kind of Demon, apparently. And it didn't take long for the man to snap under his obsession. It began with a simple invite to Zera and Sadie, a dinner at the church. Granted, they weren't very religious, and weren't quite accepted in the religious community due to their sexuality, but they went anyway, as a show of good faith to the man she saved. He exploited this however, in the middle of dinner he locked the doors and drew a silver knife on Sadie. He told if Zera did not change, Sadie would die. After uch arguing, and a bit of blood drawn, Zera gave in.
The church exploded with screams.
They believed her to be all kinds of things. A monster, a Demon, an omen of the end of days. They tried beating her, and she simply fought back. Her and Sadie soon escaped, being forced to leave town, lying to her family they were going on vacation. This started an urban myth around California about "The Hellhound Girl", and soon Hunters were investigating it, which just gave her another issue to avoid.
In the years shes been on the run, Zera's come across a couple colorful individuals while dodging hunters and the seemingly religious cult after her, a kind of "pack" if you will, and they struggle to keep one another alive.

Alias:
Revan
How did you find us?:
Old Site
Experience:
A few years
Other Characters:
Revan, Daphne, Cecil, Jane, Kenzie, Scott
RP Sample:
Revan let everything Lucy was saying hit her at once, and it felt like the feeling the Angel got when she was still powerful, when someone shot her with a shotgun. She felt terrible, like someone had punched her in the gut, or hit her with a baseball bat. She turned around and her hand went over her mouth, feeling like she was going to throw up. It was better that Lucy was dead than deserving this... No one deserved to be a ghost, the sad, sad existence.
Her throat tightened and tears began to well up, trying a hard as she could to keep from breaking down here on the floor.
She turned to Lucy, seemingly three shades paler, her hair not nearly as vibrant as it seemed to be three years ago, her grey eyes dulled to a shade of black. "Lucy... its 2013..." Revan hadn't been keeping track but she had counted three New Years celebrations since Lucy's death. Her hands went to her face and then back to her sides, her nails digging in to her palms until blood leaked down her fingers. "Three years.. I've counted. Three years I've slept alone in the bed. Three years I've drowned my sorrows I alcohol... Three years with my heart ripped from my chest without you here, Heaven and Earth becoming a living hell to me, leaving me with what options?" Revan wasn't going to lie, she had tried her hand at writing stories like Lucy, but that was the best poetry she could do, even if it was free verse.
Tears were dripping down her cheeks again now, and with the flick of her wrist the TV blinked to life and flicked to the news, where the date would be shown. "Everything I told you... Everything you thought I was crazy over, everything you would joke about... About me being an Angel was not a lie." Revan looked up at her again and then to the floor. "I m-missed you so... s-so much." Revan's legs stopped supporting her then and the pink haired woman fell on the floor, her head tilted down and her face in her hands, sobbing. She knew she shouldn't, but she felt as she did on the day of Lucy's death and funeral. Like all the life had been sucked out of her seeing the person she loved at this fate. But there was a part of Revan that was revived with this, the part of her that she had thought was buried with Lucy... Selfish as it may be to her, Revan was so, so happy Lucy was back
I (Zera Winters) have read the site rules and understand them. The code word for the rules is: (Batman)
[/div][/div]
Application Created By Hell Hound
[/div]