Post by Deleted on Dec 3, 2013 20:11:31 GMT -5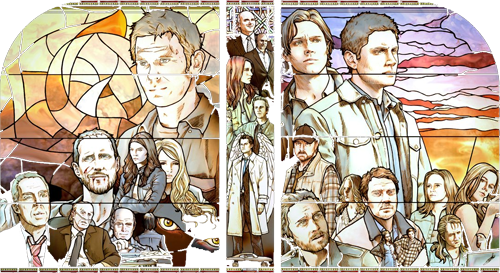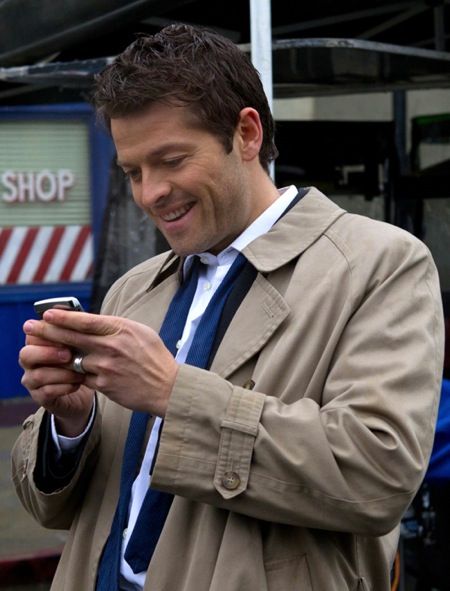 Full Name:
Castiel
Nickname/Alias:
Cas, Cassie (he prefers Cas)
Age/Date Of Birth:
Ancient/Immortal
Race:
Angel
Occupation:
Angel of the Thursday
Species Group:
Seraph
Play-By:
Misha Collins
Abilities
He needs to posses a human to stay on Earth.
He can time travel if needed, although it drains energy from him.
He s a healer, much like other angels. His healing powers are strong.
He can enter human's dreams to give messages at times.
He is immortal and can not die unless struck by an angel blade. He doesn't need
to eat, sleep or do a lot of the things humans do.
Cas can bring humans back from the dead if ordered to do so.
He can smite lower level demons, and monsters with the touch of his hand.
Cas can use his mind to make things teleport to him (Telekinesis).
He can transport anywhere he wants instantly.
He can read minds of the humans and lower level angels.
He can manipulate voices if he has to. 
Cas can cast spells, and he knows information about Enochian symbols.
He has super strength. If humans punch him, he will not feel it, and it will actually hurt the human who tried.
He can mimic voices if he has to although he doesn't do it much.
Special Inventory
Likes (At Least 3):
Dean and Sam Winchester
Cas likes the humans, as some angels do not.
Freedom-more then anything he wants freedom.
Pizza.
Meg-she is the only demon he will put up with.
Dislikes (At Least 3):
Crowley and his demons
Being manipulated.
Not being trusted.
He hates when the angels fight.
Fears (At Least 2):
He fears that someday Heaven will capture him and take revenge on him from what he has done to them.
He is fearful of being tortured by the angels as they have done that in Heaven before.
Goals (At Least 1):
To redeem himself in the eyes of Heaven.
Personality:
When Casitel first came to Earth, he used to show little to no emotion. Castiel started to show some emotions after meeting Dean Winchester. When he saved Dean from Hell, Castiel had a profound bond with Dean. That was when he first started feeling some human emotions from being within his vessel.
Now, Castiel has been on Earth for quite some time, and has also had many different experiences happen to him. Since attempting to be God, Castiel had shown mostly guilt. He feels guilty for lots of the things he has done in the past. Guilt is something he didn't feel before.
Castiel's heart is always in the right place, but things always turn out so wrong. He wants to help everyone that he can, the angels, Dean and Sam, but things always seem to go wrong for him. Sometimes people would say that Castiel cares too much. Castiel is also feeling out of place being back from Purgatory he has no recollection of what happened and how he got back. He feels lost and confused and wants some answers. He mostly wants to help as well. He feels that after all he's done he wants to do his best to help fix it. He is very determined and will never stop helping.
Traits
[/b][/font]
Curious
Caring
Heartfelt
Heroic
Charming
Negatives (At Least 3):
Gullible
Self Critical
Self Reliant
[/ul]

Parents:
God
Siblings:
Gabriel, Lucifer, the other angels in his Garrison.
Other Family:
Balthazar (deceased)
Important Others:
Dean and Sam Winchester, Bobby Singer
History:
Castiel is the angel that pulled Dean Winchester out of Hell. When he first met Dean, Dean was completely unbelieving in angles or God. Castiel convinced him that angels were real, by showing him his wings. While Dean was in Hell, Sam was using his 'powers' that was given to him by the Yellow Eyed Demon. Sam, Dean's brother, was able to pull Demons from the vessels using only his mind. Castiel knew that wasn't a good thing. Castiel had to show Dean what Sam was up to so he took Dean back in time to show him the reason why Sam was using these powers that clearly didn't come from God. When Castiel first met Sam and Dean, he was monotone, and hardly emotional at all and always obeying God's orders....all that was about to change.
Around Halloween people in a small town are being sacrificed to summon Samhain. Castiel and Uriel (Who is a specialist) come to destroy the town. Dean and Sam protest and decide to remain in the town. The angels reveal their true orders were to follow Dean's orders as a test. Sam destroyed Samhain and Castiel reveals to Dean that Hell would be fought on Earth should they fail. Castiel also explained to Dean that he had his doubts about what was right and wrong anymore, something an angel shouldn't feel.
Some time later, Castiel and Uriel returned to attempt to destroy Anna, a women who could hear angels talking. When Dean and Sam find out that Anna was a fallen angel, they help her hide from the angels who want to kill her, and the demons who want to question her. Uriel finally threatens Dean that he will either kill Sam, or kill Anna. Dean gave up Anna, but not without a plan. Alastair who held Ruby, threatened the angels not to kill Anna, and there was a battle. Anna realized that Ureil held her grace, and she ended up grabbing it from him and getting her grace back before it was too late. Castiel and Uriel left the scene after Alastair and the rest of his demons were temporary destroyed. Castiel currently was starting to have more doubts then usual and he is also experiencing emotions more then he should be as well. He had his doubts on what he is supposed to be experiencing, but he knows that being inside Jimmy is not helping him. He also knew that he was getting to close with Dean, but he has a desire to help him as much as he can. At one point, the angels brought him up to Heaven to remind Cas what he was supposed to do. When Cas came back, he was terrified of the angels so he did what he was told, at least until Dean convinced him otherwise, then he died trying to save them all. Unfortunately, even though Castiel helped Dean try to get to Sam, it was too late and Lucifer was freed because Sam broke the final seal.
After Lucifer was set free by Sam (After Cas warned Sam about the demon blood and everything else), Casitel was thought to be dead. He had tried to fight against his angels and was killed. However, he was brought back to life by God. Or so he thought. Truth was, he wasn't sure. They worked hard on ideas to try to get Lucifer back into Hell, and Sam finally came up with the idea that they would trap Lucifer in Hell by letting him take his 'vessel', who was Sam himself. Gabriel had told them the only way to defeat his brother was to trap him, so Cas knew he needed to help with this.
They all trusted Sam on this plan, including Dean who knew he would loose his brother. Sam trapped Lucifer in Hell, and was in fact, trapped himself. Lucifer had killed Cas once again and once again Casitel was brought back to fight.Now, Castiel is debating on what to do with Heaven or not. He also is saddened by the fact that... none of the angels will listen to him. There are a select few who saw that God pulled Cas back from the dead, but they didn't try to follow him. They only were in 'awe' that he was back. Castiel is now alone, trying to regain freedom in Heaven..... wondering where it will take him.
After Sam went to Hell, Castiel decided it was his duty to get him back. So, he thought of a plan, brought Sam back, only without a soul.... Castiel was unaware of this for quite some time. It wasn't until he was able to try and touch Sam's soul that he realized he didn't have one. He also lied to Dean and told him he wasn't aware that Sam was back, nor was he aware how he got back. Once he realized he brought him back without a soul, Cas felt guilty. At one point, Castiel wanted to go to Dean for help with Raphael, when he was threatened by him, but he knew he couldn't pull Dean out of his normal life. He just didn't want to do that to him. That was when Crowley offered him a deal.... Castiel knew better then to trust a demon, but he also knew that he had no other choice. HIs ultimate plan was to trick Crowley in the end, but of course, that he kept to himself. Crowley offered him a deal. 50/50 on the souls that it would take to open Purgatory and unleash a power onto them both. Castiel would become God, and Crowley would continue to be King of Hell. He knew it was the ultimate plan. In the end, the WInchesters found out Castiel had been lying to them, this whole time, and called him on it. They trapped him in a fire pit, and that when Cas let everything out. He told them of the deal, how it would help, and that he needed them to back off. They didn't listen, so Cas ended up making Sam remember Hell, and he knew when he did that, he lost Dean's trust forever.

In the end, Castiel ended up tricking Crowley and Raphael who eventually joined Crowley in a attempt to stand against Cas. Castiel eventually got all the souls to himself and became the new 'God". After he did, he destroyed Raphael and then threatened Dean and Sam. Dean begged and pleaded with Cas to stop this, now that he got Heaven back, but Castiel told Dean and Sam and Bobby that he hoped they wouldn't see him again.

Now Castiel struggles with his emotions more then ever. He wants to win Dean's trust back, but he knows as 'God' he can't do it. He also knows that the souls are eating him up on the inside. He knows he needs help, but he also knows he can't really get it from Dean and Sam, not anymore, and he knows they would tell him that he did this to himself. Still..... he knows that he is dying. He wants to try to be the best he can be while in power, but he's scared. He does not want Sam, Dean or Crowley to see it.
After being in power, Castiel found that the Levithian who took over his body, were starting to take over his mind too. He eventually went back to Sam and Dean for help. They tried to get the souls out of Castiel, but when they did, it failed....the souls took over and Castiel was Leviathian. He then walked into a river with the souls and died as they left his vessel. Castiel was then found later on floating in the river and a demon took him on as her husband. When she did...Castiel accepted her, but at first he did not remember. Dean eventually found Castiel and helped him remember who he really was, and thats when they realized who he was really married too. He became an angel again. Later on... Castiel became crazy when he helped Sam. Lucifer was plaguing Sam's mind, so Cas took it on himself because he felt guilty over what he had done to break Sam's wall. He ended up in a mental institute for a while and didn't come out until he was needed again by Sam and Dean. When trying to stop the Leviathan from taking over Castiel and Dean ended up in Purgatory. They were trapped there for a year. While there, Castiel learned about himself and he also decided that was where he needed to stay. Castiel decided to stay in Purgatory, however, after that was decided, he found himself lying in the grass confused. He didn't know who, or how he got out but he realized he was back on Earth now. He wants to find out why he was brought back, but most importantly he wants to find Dean and Sam again.
Alias:
Jenn
How did you find us?:
Proboards
Experience:
5-7 years
Other Characters:
Crowley (maybe)
RP Sample:
The last thing Castiel remembered was fighting. He was constantly fighting, and running.... in Purgatory. Purgatory was the kind of place where he felt he belonged. After everything Castiel had done, he felt like he deserved to be there. It almost felt like it was his new home. Castiel accepted that and he hoped eventually Dean would too. More then anything he wanted Dean to accept it. Still though, Castel had a lot of things to work through and he was almost afraid of ever seeing his brothers again, the angels.
Castiel went back to the lake he was at when he ran into Dean the first time. The lake became somewhat of a home to him. He was able to drink water, and even eat some fish. Yes, he actually ate some food there in Purgatory, something he never really needed to do on Earth. He figured it was more of a distraction then him actually having too. Every now and then a monster would attempt to find out who he was, and why he was there. When they realized he was an Angel, then they would attempt to kill him.
Castiel wandered a bit around the lake one day, just trying to make ends meet. Trying to earn his keep by staying where he should be. He was looking around him to make sure no monsters were going to attack. The next thing he knew, he saw a bright light suddenly. He couldn't quite tell what it was, but he thought maybe it was more angels. He looked up to the sky and realized he was being lifted up. He didn't quite understand what was happening. Then it dawned on him. Someone was saving him.
"No, no please don't!" Castiel said. "This is where I belong!" he argued.
The creature didn't listen to him. He barely had another second to speak when he blacked out. The next thing he knew he awoke on the grass, wearing his trench coat and suit and tie. He was pretty muddy and unshaven. He knew he didn't look like himself. He also knew that someone had saved him, although he couldn't remember.
He was confused and disorientated as his memories of coming back to Earth were gone. He sighed and stood up finally. He looked around for someplace to go to. A gas station, anywhere really where he could get help. Mostly, he started to walk. Although he could fly he was a bit weak from being rescued. He wanted to save his energy so he continued to walk and thankfully he wouldn't be hungry or thirsty because he was still an angel. He realized that thankfully whoever brought him back still gave him his powers.
So he started to walk..... "Why....why me? Why now?" he looked up at the sky "Why now of all times am I rescued? I deserved to be down there.... that was my home.... he frowned. "I must find Sam and Dean...perhaps they can help..." he said to himself softly.

So Castiel continued to walk until he felt he was strong enough to fly. He felt around in his pocket and realized his cell phone was in there. He stared at it and attempted to dial Dean's phone number hoping Dean would pick up.
I (Castiel) have read the site rules and understand them. The code word for the rules is: (Batman)
[/div][/div]
Application Created By Hell Hound
[/div]