Post by Deleted on Feb 17, 2018 23:53:09 GMT -5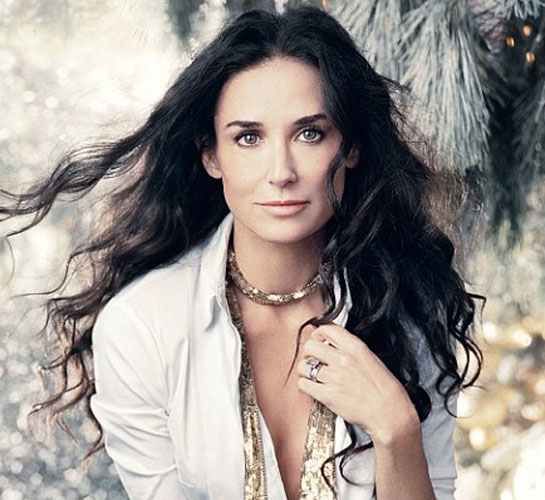 Full Name:
Juliet Ramona Vera
Nickname/Alias:
N/A
Age/Date Of Birth:
July 10th, 1968
Race:
Human
Occupation:
Pediatrician
Species Group:
Witch
Play-By:
Demi Moore
Abilities
Longevity
-Some witches have been shown to live much longer than typical humans. Some are even potentially immortal, but they can still die as easily as normal humans.
Teleportation
-The ability to teleport over short distances.
Telekinesis
-The act of controlling and manipulating the movements of objects and people by mere mental influence.
Potion Brewing
-The act of brewing and concocting paranormal elixirs that contain supernatural properties.
Cursing
-A common use of magic; this causes the person at whom the spell is aimed to die by manipulating the environment around them.
Spell Casting
-The act of changing and/or controlling events through the use of charms, hexes, rituals, etc.
Pyrokinesis
-The ability to conjure fire.
Summoning
-Some witches have used spells to summon demons.
Biokinesis
-Some witches can use magic to manipulate the human body.
Tracking
-Some witches can use magic to track down others.
Astral Projection
-The ability to project both their own awareness as well as others out of their bodies.
Special Inventory
Special items that are bought from the store will go here.
Likes:
❤
Baking and Cooking
❤
Hiking, swimming, etc. (Outdoor rec)
❤
Feeling needed, especially by her family
❤
Crafting
❤
The beach
Dislikes:
✗
Feeling ignored or disrespected
✗
Making mistakes
✗
Fire
Fears:
☬
Something bad happening to her kids
☬
Getting burned alive
Goals
★
Be the best doctor she can be
Personality:
Juliet is extremely loyal to those who love, appreciate, and support her. She is nurturing and will protect and cherish the ones she loves for a long time, if not forever.
She is dependable and trustworthy, making her easy to talk to whether it's asking for advice or simply venting. She tends to be quite emotional, which makes her easily offended. She has an uneasy, delicate temperament causing wild mood swings.
Juliet is also quite observant, and enjoys learning new things about the people around her.
She has incredible perseverance and will stand up for what she believes in without a second thought.Juliet is very in-tune with a persons motivations and she will see right through you. Trust is the single most important thing to her.
Traits
[/b][/font]
✧
Intuitive
✧
Trustworthy
✧
Nurturing
✧
Protective
Negatives:
✦
Possessive
✦
Controlling
✦
Overly Sensitive
[/ul]
Parents:
Angelo and Nora Borelli
Siblings:
None
Other Family:
N/A
Important Others:
Her daughter's friends (Who she basically claims as her own) Lacey Frost and Samantha Daley
History:
Juliet Borelli was born in Arizona to Angelo and Nora Borelli on July 10th, 1968. Growing up an only child, she usually played by herself. While she didn't have many friends, her mother taught her alot of things about their bloodline, and how about how she comes from a long line of witched. Juliet practiced everything her mother taught her, from the history to the potions. By the time she was around the age of 16 she found out she had special abilities and practiced those aswell.
School was a breeze, and she always had a desire to learn. She made good grades, and when she made it to high school, she became involved in a health club called HOSA. When she graduated, she got a scholarship to Arizona State University because of her academic excellence. She always had a nurturing side to her, so to her it was natural to want to go into health care. She decided she was going to go to school to be a pediatrician. While most people in college was partying it up and wasting their time, she was spending her hours studying both her school work and witchcraft, eventually finding and joining the White Rose Coven.
She ended up graduating after years of hard work, and met who she believed was the love of her life. His name was Antonio Vera. She was head over heels in love with this man, and they dated for 2 years before he popped the question. Without hesitation, she said yes, and a few months later, they got married. They were happily married for about 4 years, and they both decided that it was time to add on to the family. Then on October 30, 1990, their first child was born, and she named her brand new baby girl Morgan Abriana Vera. She loved her daughter more than anything in the world, and she loved seeing her grow and learn. About 3 years later, she had her second daughter, Gabriella Elise Vera on September 12, 1993. Her heart was so full of love for both of these children, she knew she had to teach them what her own mother had taught her. Her first daughter, Morgan, was a natural and learned everything so easily. Gabriella on the otherhand, just never seemed to understand any of it. As hard as she tried to teach her, she just wasn't interested. So, she spent most of her time trying to help Morgan grow as a witch, showing her the pros and cons of being a witch.
After her children were grown, graduated, and out of the house, her once loving husband began verbally abusing her..putting her down for every single thing he could think of. She stuck by him, believing he was just having a hard time adjusting to their daughters being gone. Juliet soon found out that she couldn't live with this man any longer. As much as it was against Catholic tradition, she filed for a divorce. They both signed the papers and were officially divorced after what seemed to be years.
Alias:
Hannah
How did you find us?:
I rp here
Experience:
A lot
Other Characters:
@gabriella, @mira
RP Sample:
Ben walks in to the wood shop beside his house and begins to sand down his newly built table and then his phone rings. he answers his phone when he sees it's his uncle Grant* Hey, what's up? *he asks holding the phone up against his ear with his shoulder, continuing to sand the table*
Uncle Grant- Drop what you're doing and get over here right now. *his voice sounds sounds stern and slightly frantic*
*he puts down the sandpaper and grabs the keys to his truck* What's going on? *he asks as he turns the lights off in his shop and shuts the door, walking to his truck*
Uncle Grant- Freddie ran off. We were hunting a demon and he ran after him, and now I can't find him. *he has an annoyed tone to his voice, and is slightly out of breath*
*Ben groans annoyed* He knows better than to go after a demon by himself! *he climbs in his pickup truck and slams the door shut and starts it up* I'm on my way, where are you?
Uncle Grant- I'm in the woods near the Watson's old farm. Near that one giant tree with nothing around it.
*Ben nods to himself* Ok, yeah, I remember. I'm on my way, stay there and call me if anything else happens. *he pulls out of the driveway, flinging gravel as he flies onto the road* Damn it, Freddie. *he says to himself, while he speeds all the way to the woods where his uncle told him he was* *he pulls off on the side of the road and turns off his truck,grabs his gun and starts running through the woods and to the giant tree where he sees his Uncle Grant standing there, gun in hand*
Uncle Grant- It's about time you got here, I was about to just keep on looking for him myself. *he starts trotting off in, motioning for Ben to follow*
*He follows Grant and they go through the woods, as they have done several times before* Where do you think he could've went?
Uncle Grant- Well, boy, if I would've known, I wouldn't have called you, now would I?
*Ben stays quiet and keeps looking, whenever he sees a shadow, he stops and grabs his gun*
Uncle Grant- *he stops whenever Ben stops, looking over at him and then to where the shadow is* There's that stupid bastard. *he says annoyed then walks towards him* What the hell were you thinking? *he yells at Freddie*
*Ben stays quiet, but follows Grant over to where Freddie is*
Uncle Freddie- *he looks over to see Ben and Grant walking towards him* I almost had him. *he wipes the sweat off of his face and sighs, the look of disappointment on his face*
I Juliet have read the site rules and understand them. The code word for the rules is: (Batman)
[/div][/div]
Application Created By Hell Hound
[/div]