Post by Deleted on Dec 8, 2013 1:02:38 GMT -5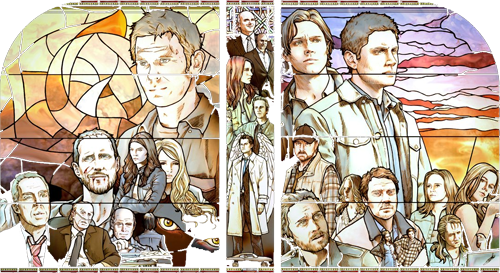 Full Name:
Angelia Marten
Nickname/Alias:
Angelia is her human name, Angel (but pretty much only Jesse calls her this when she is in human form)
Age/Date Of Birth:
21/November 14, 1992
Race:
Familiar
Occupation:
Mainly, keeping Jesse's ass out of trouble
Species Group:
Creature
Play-By:
Katie McGrath
Abilities
Shapeshifting - Can take on the appearance of a husky.
Telepathy - Can communicate with her master. But can be blocked if the master chooses to.
Knowledge of Supernatural – Having grown up as a familiar, Angel does not remember a time when she was not aware of the supernatural.
Guns - She's a decent shot with a gun, thanks to training with Jesse's father, but she'd rather leave the fighting with weapons to others.
Likes (At Least 3):
❤ Chocolate (but can only eat small amounts as it will make her sick)
❤ The outdoors
❤ Long car rides (in either form, though in dog form you can bet she'll have her head out the window)
Dislikes (At Least 3):
✗ Females who act ditzy to attract a guy
✗ Dog food (that crap is disgusting)
✗ Cats
Fears (At Least 2):
☬ Something happening to Jesse
☬ Somehow becoming stuck in either of her forms
Goals (At Least 1):
★ To keep Jesse safe
Personality:
Angelia is quite a complicated young woman. She's confident in who she is, independent, and persistent. Angelia takes her role as familiar very seriously. In many ways, Angel is Jesse's Jiminy Cricket and tries to advise him when he gets off track, though she has found that he usually doesn't listen to her, but she can't quit trying. She knows him better than most people and knows that he is capable of far more than he thinks. While she might not always approve of his actions, she does not judge Jesse for his choices.
Sometimes it feels as if she has no personal life. She has a good head on her shoulders, and a good sense of humor. Angelia has a witty mind, she is a bit sarcastic at times though. She's very caring about and protective of those she cares about, particularly Jesse. Angel is very devoted to Jesse and his family and will put herself in harms way to keep them safe. For her, it's more than just the witch and familiar bond. These people have been her family since she was a tiny girl. In many ways, she treats Jesse as if she were his sibling, though she does not see herself as such, it certainly would make things easier if she did.
Angelia has always been one to mask her emotions and insecurities. Her upbringing was much different than most girls, and it definitely had an effect on her. She grew up spending much of her time as a pup, and while she had a home with Jesse, it wasn't like a normal home. Perhaps due to her only experience with men being watching Jesse interact with females, Angelia is a bit jaded about romance in general.
Traits
[/b][/font]
✧ Loyal
✧ Protective
✧ Patient
Negatives (At Least 3):
✦ Stubborn
✦ Judgmental
✦ Sarcastic
[/ul]

Parents:
Rocky and Buffy Marten (both familiars)
Siblings:
Litters of them, too many to list
Other Family:
Too many to list here
Important Others:
Jesse Devereaux
History:
Angelia was born into a long line of familiars, the knowledge and instincts of familiars bred into her. Like her brothers and sisters, Angelia spent her early years searching out her future master, hunting for the one who she felt drawn to. While many have to search for years before finding their witch, Angelia found hers fairly early. So early, in fact, that he had not even come into his powers yet.
On the day that Angelia found herself chasing a school bus several blocks, she wondered what was going on. Yes, she was a dog in her familiar form, but this was a bit too cliched for her. Though she knew that it was ridiculous, it seemed that she could not bring herself to stop running, for some unknown reason. It wasn't until she saw the small boy getting off of the bus that she understood this impulse. He was hers...or rather she was his.
It was her master, and for weeks she followed him to and from the bus stop, sleeping on the porch of his house. She spent many of those days wishing that she could explain things to him. When she was brought into the house, she found, to her relief, that he had his mother to help teach him as well.
Angelia found herself developing a fierce and unrelenting protectiveness of Jesse and his family. Outside of the house, she would follow the boy everywhere in her canine form, intent on keeping him from harm. As the pair grew, they became closer, their bond solidifying as she knew him deeper than anyone else.
Much to her dismay, one of the major times when she was unable to help him was when his father took him to Vegas. She could tell when he got back that something was different, it wasn't until his next trip that she realized just how wrong things had gone. So now, she has made it her mission to be his balance and help keep him from getting too far out of hand in his addiction.

Alias:
Krysla/Krys
How did you find us?:
Played on old board
Experience:
Lots of experience
Other Characters:
Not yet
RP Sample:
It had been a long night, every time Jesse left her alone it felt like the night went on forever while she waited for him to come back. Angelia was sitting on the couch, watching some tv when she heard the car pull and looked out the window in time to see a slim, petite blonde step out of Jesse's car.
"Fabulous", she said to herself as she turned off the tv and morphed into her canine form as they walked up the steps. As the door opened, Angel jumped and barked like she knew was normal of a dog greeting it's master. This was mainly a show for the girl, but she really was glad to see him home, even if he had brought a tag along.
"WHOOZA GOOD PUPPY?? YESSHOO ARRE OH YESSHOO ARRRE" the blonde said loudly as she bent down in Angel's face. If a dog could roll their eyes, Angel's would be rolling right now as she sent a message to Jesse. "One of these again?" She hated the baby talkers, they were the worst.
She backed away from the blonde, fighting the urge to nip and growl at her, but knew that that would not go over well at all. As the pair sat on the couch, Angel found a spot on the floor next to Jesse's feet to sit, the blonde snapping at her, "Come here puppy, come here."
Angel tilted her head towards Jesse, "I'm not sitting in her lap."
I (Angelia Marten) have read the site rules and understand them. The code word for the rules is: (batman)
[/div][/div]
Application Created By Hell Hound
[/div]