Post by Deleted on Apr 14, 2018 0:28:46 GMT -5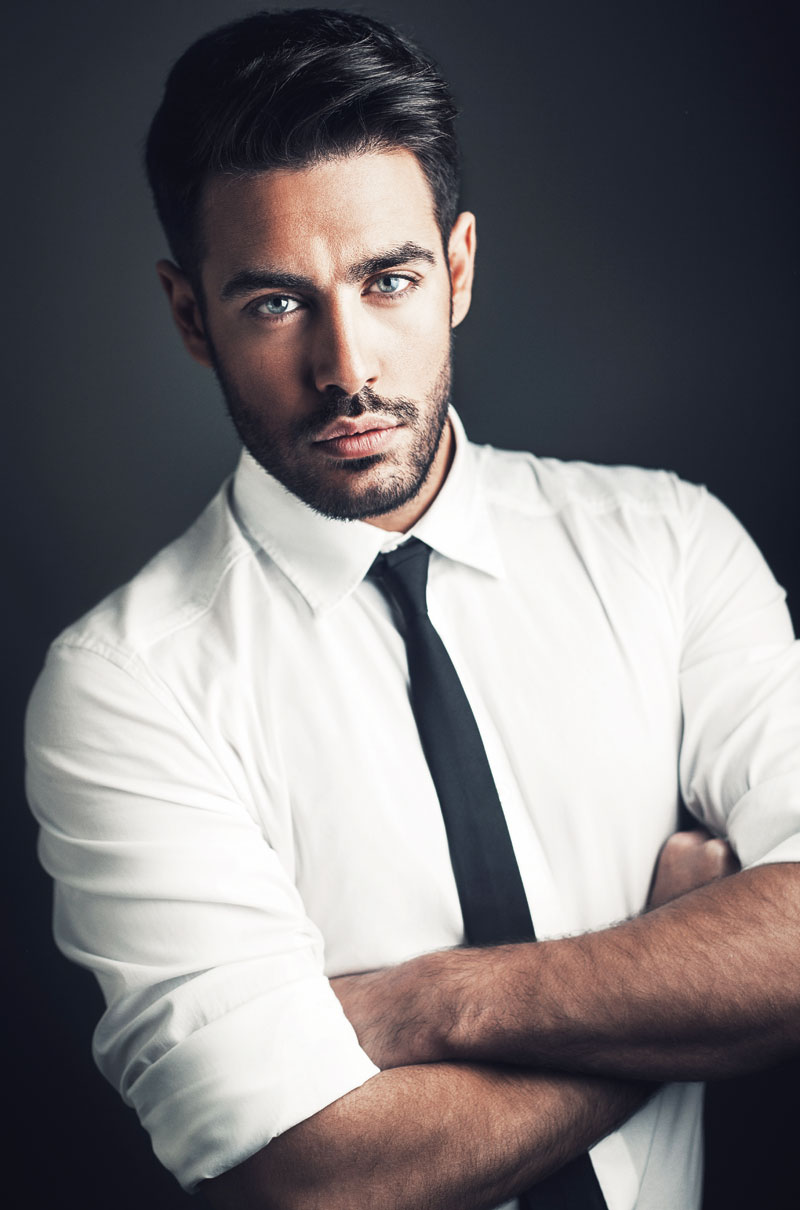 Full Name:
Andreas Maximus Ambrose
Nickname/Alias:
The Elder, Archivist, Andre, Max, Jonathan Harwick, Maximilian Tellios
Age/Date Of Birth:
Andreas is nearly two thousand years old, aging at roughly 1779 years. He was born in the year 239 AD, and turned in 257 AD.
Race:
European Vampire
Occupation:.
Fashion company CEO (Faith and Vanity)
Species Group:
Creatures - Vampires
Play-By:
Kostas Martakis
Abilities
Supernatural Strength: European Vampires are stronger than most species of vampires but it also depends on their age, as they get stronger as they grow older.
Supernatural Agility: European Vampires possess super-human agility. They have shown that they can move quickly, jump very high, climb, and run incredibly fast without difficulty or exhaustion. Vampires can jump with their super speed too.
Supernatural Senses: European Vampires have extremely keen senses of hearing, sight, smell, and taste that far exceed those of humans. They can hear whispered conversations, even ones in far of buildings and on phones, though most vampires typically learn how to tune out most ambient noises when it's not necessary to hear them. European Vampires can also smell blood from several meters away, and see in total darkness. These senses improve and grow stronger with age and experience as well. Their senses of taste are also enhanced, allowing them to detect the presence of drugs, alcohol, or even what the person ate in someone's blood.
Regeneration: European Vampires recover tissue from any form of physical damage to their bodies within seconds, though they still feel the pain of a wound before it heals. They can snap their bones back into place after they have been broken and have been seen to fully recover from gunshots, stab wounds, and torso impalement very quickly, so long as they had consumed a regular diet of human blood prior to the injury.
Healing Blood: European Vampires are able to heal humans by feeding them their blood, it will not turn them. The only way for them to turn is if they die while having the vampire blood in their system. If a drinks fresh blood from a vampire, a psychic and emotional bond is created. The vampire will be able to sense the location and emotions of the human.
Progeny Link: The one who made a vampire has a special link to those they create and can sense any pain or duress the progeny undergoes, and know when a progeny has died. The maker can "call" their progeny by saying their name out loud, causing the progeny to become aware their maker is calling out for them. The progeny experiences a shiver, and may be able to tell where their maker is. Lastly a maker can force their progeny to do anything they want, as long as they make what they say a direct order.
Immortality: They have the potential to live forever without aging.
Enhanced Emotions: European Vampires experience emotions more powerfully than humans. Emotions like love, joy, and happiness are magnified for vampires, allowing them to live life more intensely. This ability allows vampires to feel emotions at their peak regardless of their age.
Emotional Control: European Vampires have the supernatural ability to remove or dull their emotions by "turning off" or "switching off" their humanity, which is directly connected to their emotions. Doing so allows them to block out their more negative emotions, such as fear and guilt, allowing them to feed and kill without remorse, go against any opponent without fear, and relieve themselves of painful feelings such as grief, loss, depression, and shame. A vampire without their emotions is far more calculating and direct than one who keeps them on. However, the vampire can become a remorseless killer, and are almost unrecognizable from the person they truly are, as blocking out negative emotions also causes their positive emotions to become dulled or nonexistent as well. Vampires are capable of turning their humanity back on and bringing back their emotions, but it is difficult as a result of the fact that they will be bombarded with all of their repressed emotions in addition to the guilt of anything they did without their humanity (such as killing or torturing innocent people or loved ones) with enhanced intensity.
Mind Compulsion: European Vampires have the ability to influence and control thoughts, emotions, and behavior and can alter or erase memories by eye contact. They are not able to compel other vampires or any other kind of creature.
Weaknesses
Animal Blood: Animal blood, while somewhat satisfying a European Vampire's hunger and sustaining their undead life, will make the vampire considerably weaker than they would be if they had drank human blood, causing their physical abilities to be inferior to a human-blood-consuming vampire, making them heal much more slowly, and making their compulsion less effective.
Excess Blood: If a European Vampire drinks too much blood, they will display alcohol intoxication-like qualities (such as euphoria, confusion, stupor, etc). However the amount of blood needed for this to happen becomes larger the older the vampire is.
Hunger: A European Vampire has a strong blood lust that they have to fight to control; most cannot.
Broken Neck: Breaking a vampire's neck will not kill them, but it will render them in a death like state for varying amounts of time, depending on the diet and age of the person in question.
Decapitation: Dismembering or manually removing the head of a European Vampire will result in instant and permanent death.
Desiccation: European Vampires who abstain from blood for extended amounts of time will eventually desiccate and mummify.
Heart Extraction: Removing the heart of a vampire will result in permanent death. Vampires have the strength to plunge their hands right through the flesh of humans, allowing them to punch their hand through the thorax of a person and pull out their heart. If it is a vampire who has been subjected to this, then they will desiccate upon their death, causing their bodies to become a grey, dry husk with their vampiric veins exposed all over their body.
Sunlight: Sunlight and UV rays burn vampires on contact, and prolonged exposure will cause them to burst into flames and die. However, this weakness can be mitigated by the use of a piece of jewelry enchanted with a specific protection spell by a witch for a particular vampire, though it requires the vampire to wear the jewelry at all times.
Vampire Bloodline: If the alpha or one of the vampires the alpha himself turned dies, then any vampire they turned and the generations after will die as well.
Wood: Wounding a European Vampire with a wooden weapon such as wooden bullets will incapacitate them, and it will take longer for them to heal their injuries than if the wounds were caused by any other substance. Stabbing a vampire through the heart with a wooden stake will result in instantaneous and permanent death. It's possible for a vampire to build up a resistance to the effects of wood, but it's not possible for them to be fully immune.
Silver: Any contact with silver will burn the skin of the European Vampire it touches.
Special Inventory
N/A
Likes (At Least 3):
❤Fashion - According to Andreas, he was always had a flare for fashion and apparel, and retains this sense in modern times.
❤Art - One could say that Andreas is an artist of sorts, though he would consider himself more of a connoisseur. He enjoys analysing modern art, the various emotions and complex thoughts that go into making it.
❤Vampirism - Unlike most other vampires, Andreas enjoys his immortality and strength, which allows him to live a life that most humans can be barely dream of. Over the course of millennia, he has done next to everything he has wanted, but continues to try new things still.
Dislikes (At Least 3):
✗Newbie Vampires - As ancient as he is, Andreas has found that he despises the youths of today. Vampires of less than a century of age annoy him, though he can never truly understand why.
✗Politics - Humanity's constant bickering and warfare aggravates this ancient, and often influences him to perform drastic actions that in turn affect these events.
✗Demons - Since the moment he was turned, Andreas has hated demons, especially those of the Knights and the Princes, both of which often get in the way of his plans and those of his allies. Given his sentimentality and temper, he is known for attempting revenge on them.
Fears (At Least 2):
☬ Despite his age and experience, Andreas still fears the unknown, especially in terms of death. He knows that it/him/she/they will come for him one day to collect his soul and put it in Purgatory, where the rest of his kind and their mother, Eve, await.
☬ He also fears the loss of those he loves, of which he has lost many. Being immortal, he often outlives his mortal companions and friends, save for those who agree to the turning. This leaves him alone for centuries at a time, and often at a loss of emotional capacity.
Goals (At Least 1):
★ Over the years, Andreas has always had difficulty deciding on his goals. One year he wants to overtake the major vampire covens, the next he wants to build a fashion empire. Now, he wants to simply live his life free, and is willing to fight, kill, or negotiate with anyone to get that life.
Personality:
People often have trouble describing Andreas, given his tentative personality. Some say that he is a callous, cold immortal, who cares for nothing and no one. Others depict him as a loving, considerate youth who goes out of his way to save lives, even if it costs their humanity. The truth is somewhere between. Andreas is old, and has outlived countless loved ones and family members across the centuries, whether because of age, or because of unnatural causes such as murder or sabotage. Due to this, he has become rather cold, rarely trusting others unless he has cared for them before. Those that he does care for however, he treats with the utmost respect and love, often performing favors that he never expects to have repaid. He is generally distrusting of humans, and especially hunters, though he has little reason to fear them because he refutes the idea of feeding on innocents. Enemies should watch out though, as when angered or hurt, he will stop at next-to-nothing to put them in an early grave, no matter how difficult the task of it may be.
Traits
[/b][/font]
✧ Andreas is a kind and considerate soul, one who values life and mortality, no matter how much he may whine and whimper about its unfair qualities.
✧ He is also wise, and often considered to be contemplative, constantly having some strange but necessary question on his mind. His own library is piled high with journals and novels written simply to answer a single question.
✧ The danger he poses to most living beings is next to none, unless intentionally provoked by mortals. Hunters can even be considered allies under the right circumstances, as he prefers to aid in the destruction of those who give the supernatural world a poor reputation.
Negatives (At Least 3):
✦ In spite of his kindness, he is somewhat melancholic, often entering periods of deep depression or sadness, mixed with anger and resentment. This state involves him avoiding society as a whole, and pushing those who can help him, away.
✦ His wisdom comes at a price, as he gets sidetracked quickly, and can often mislead the direction of a conversation. Should one rely on him, they should always force him to focus.
✦ Andreas is rather cynical, seeing most, if not all, immortals and mortals alike as beings motivated by self-interest and ego. Those who do not, he sees as rare, and dismisses them from a whole. (Like a scientist or scholar!)
[/ul]
Parents:
Bassil Ambrose (Father) - Schara Ambrose (Mother)
Siblings:
N/A
Other Family:
N/A
Important Others:
Spartacus (Sire) - Silar and Devlin Mackleon (Sired Sons) - Brennan Bea (Sired Daughter) - Dozens of unknown vampires (Sirelings)
History:
Andreas Maximus Ambrose, vampire and fashionista supreme, was once a noble born in ancient Rome. According to this ancient, he was born in the capital of the empire, and was turned in that city at the age of eighteen. His maker was a vampire directly turned by a 1st Generation vampire, and a Roman soldier known as Caius. The two were staunch lovers, Andreas serving as his consort and romantic partner, despite the criticism of their peers. Several weeks after being sent off to another part of Rome's territory, Caius returned just in time to see for Andreas' eighteenth birthday. Naturally, Andreas spent as much time with him as possible from that point on, seeing him every night after patrol. For weeks after, they loved and lived, eventually even discussing Andreas joining the army to be with Caius. Unfortunately, the younger man's parents discovered this plan and reclaimed him, beating him within an inch of his life. Soon after, Caius discovered him, Andreas having already passed on. Thankfully, he had fed the boy his blood a day or two prior, and thus knew that Andreas would revive. When the young noble awoke, he had a vicious hunger- which he sated by killing his parents, and several others in the city. By the time he was done, Caius was both horrified and amazed, and quickly dragged the lad away.
For nearly four hundred years Caius and him traveled together, occasionally switching careers and opportunities. One century they'd be noblemen, the next nomads, and the next after that architects. However, this did not last forever. A group of old hunters, men under the service of a new faith, discovered Caius after a day of him not feeding, and beheaded him before burning his body. Andreas was horrified, and fled from the place before anyone else could discover him. He then remained on the run for a century, before stopping in Russia, hiding among the kings and queens there for a time as their advisor. When his time there ended, he once more turned to the road, and hid within the woods of the land. Many times he came across hunters and witches, and was forced to flee deeper into hiding, retreating in full from the world for centuries.
In the year 988 A.D, a group of explorers came across the vampire in his cave- a place he had hollowed out, and made into a rather hospitable place. Unfortunately for them, he ended up tearing them apart, and reading the journals and missives they had on their bodies. Realizing that the world had changed in his absence, Andreas returned to the world of civilized men. He quickly took in the new world before him, and joined as a traveler who peddled old artifacts, and wrote down the histories he had missed. For another decade or so, this is all he did. Then when 998 crept around, he turned to academics, leading the front in Latin teachings and occultism, which often gained him criticism by the Church. Despite this, he continued his work, right up until his secret was again uncovered in 1024 A.D by a nosy student. Once more fleeing the city of Edinburgh, he hid in the enchanting hills of Tuscany for a few decades as a wine steward. This kept him safe and satiated for years, before he left and traveled the world again, occasionally staying in Greece to visit the remnants of his family's distant descendants. By 1102 A.D., he was once once more on the run...
Andreas remained on the run until 1342 A.D., when he came back to the world and participated in a few wars, right till the spread of the Black Plague in 1347 A.D. He acted as a plague doctor, roaming the streets of French cities and turning certain important victims into vampire, namely his first two sired sons- Silar and Devlin Mackleon. These two were young apprentices to scholars, boys who he respected highly. Thus, he fed them his blood and lifted them from illness, teaching them how to live as a vampire. He then proceeded to travel with them until 1360 A.D., when he met his second lover- Francoise Dubanoise, a a sailor. The two met at sea through interactions with Silar, and fell in love after many months of courtship. Sadly, Francoise was called to war, and died in the fighting two years after they had become "engaged". This brought Andreas into his second dark period, where he hid on his ship for the better part of a decade, using Silar and Devlin to hunt.
When he eventually got over this, he set sail again and roamed the seas, leading his sons to Rome, where they stayed and ran a small coven of vampiric priests and soldiers for the better part of two centuries. In 1580 A.D., Andreas fell for a young officer named Caleb, who then served as his paramour. They remained together, until Caleb died of old age, leaving Andreas alone again. This time though, he pressed on, living his life until 1790, when he abandoned his coven and took to the New World. Here, he built a home the land that is now Virginia, and became a rather wealthy businessman and artist, who also side-lined in rescuing slaves and turning them in order to aid in their escape. This stayed on until he was called to serve in the Civil War, in which Abraham Lincoln recognized his supernatural nature, and used him as a sort of advisor on paranormal workings in the war. By the time the war was over, they had compiled a rather hefty knowledge of the affairs, and Andreas was left as the sole member of Abraham's advisors who knew them.
After that, Andreas took up residence in his Virginia house, until World War I. He fought for all four years on the front lines. When he returned, he stayed in his home, until it burned down in 1940, thanks to a group of hunters who had pursued him back from war. After that, he made an agreement with a powerful witch coven in New York, who offered him a home and power, in exchange for his wealth and support. He gladly gave this, and played off on odds with the mafia. It was through them that he met his last lover, Tony Beau, a low ranking mafia member who shot him in the middle of a crossfire match. The two fell for each other after Tony took care of him, revealing that he was in fact a hunter's son, trained in the art of killing shortly after. When this news got out, the witches had him killed using hex bags, and used his life to cast a spell that rid them of their mortal shells. Before Tony died though, he made Andreas promise to take care of his sister, Brennan.
Andreas kept this promise, even turning her when she requested it in 1956. After that, she took over his business for him, and let him retire for a few decades. However, in 1999, he took back the company and hired her as his assistant.
Alias:
Andreas
How did you find us?:
Google Search Engine, attempting to find a Supernatural roleplay site.
Experience:
I have over 4 years of roleplay experience, from Facebook, to Google+, to sites like Mythic Reign, but not a lot of Proboard experience, if any.
Other Characters:
N/A
RP Sample:
A gasp- so loud and so simple that even the most base of creatures could hear and understand its meaning. A gasp that spoke volumes, as its producer rose from the oaken slabs of his elaborate coffin, and glanced around at his environment. "Where am I?" Was only the first question to come from the ancient's mind as he arose- the first of many. He glanced around the room, awe in his eyes. The room within which he stood, was one marble and wood, polished and shined from end to end, corner to corner, and head to head. Whoever cared for this place, had known well enough how he liked it.
Another gasp was elicited from his lips as he realized something else- his throat was as dry as dust on a chandelier. He hadn't fed in...however long it had been, and right now, he could use a drink. So he stepped from his ancient, polished coffin, and wandered towards the large ivory doors before him. Without daring to hesitate, or even caution himself against such a decision, he flung them open...and flooded the room with sunlight so bright that it would blind any man...
I Andreas Maximus Ambrose have read the site rules and understand them. The code word for the rules is: (Batman)
[/div][/div]
Application Created By Hell Hound
[/div]