Post by Deleted on May 9, 2018 6:29:52 GMT -5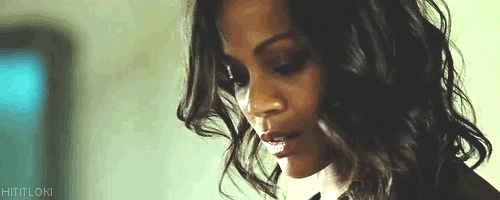 Full Name:
Irene Adler
Nickname/Alias:
Entangler, The Woman
Age/Date Of Birth:
Ancient (appears to be in her late 30s)
Race:
Creature
Occupation:
Opera singer, ballet dancer
Species Group:
Mermaid (Alpha)
Play-By:
Zoe Saldana
Abilities
Aquatic Adaptation: Merfolk are able to breathe underwater, endure strong water pressure, and adapt to different water temperatures.
Fangs: Merfolk grow two fangs in the place of their canine teeth, and use these to feed on victims.
Super Speed: While in the water merfolk are able to swim incredibly fast.
Super Stamina: Merfolk do not tire easily and can swim for days.
Zoolingualism: Merfolk are able to speak to all the creatures of the sea.
Weather Manipulation: Merpeople are able to make it storm whenever they want. The older and more powerful they are, the more severe a storm can be.
Immortality: Merfolk can potentially live forever.
Regeneration: If they have enough human blood, they are able to regenerate any wound. This excludes amputation.
Shapeshifting: Merfolk can take the form of a human to hide their true form.
Vulnerabilities -

Bronze: A merfolk can be killed by a bronze weapon to the heart or head.
Decapitation: Another way to kill a merperson is by separating their head from their body.
Getting Wet: When human form, if they come into contact with water they will be forced back into their mermaid form until they are dry again. Drinking liquids and such does not affect them.
Special Inventory
Special items that are bought from the store will go here.
Likes:
❤ opera. Though she retired from the stage long ago, Irene frequently attends the theatre.
❤ ballet. She adores the intricacy and the discipline. Irene was close friends with Marie Sallé, the French dancer, choreographer, and fellow supernatural creature (Marie was a vampire, hence her contemporarily unprecedented command over her male peers), and together they revolutionised the world of classical ballet. They rebelled against the traditional feminine costume and transformed their dance into something much more dramatic, demanding, and impactful. So, too, was Irene present for the introduction of ballet to Russia in the 1700s, though she did not partake in the practise until it became something more of an art form, intended to entertain rather than reform the Russian people as it was originally used for.
❤ naturally, Irene loves the ocean. Whether she's on board an ocean liner, cruising the Bahamas, or indeed taking to the water in her natural mermaid form, the freedom she feels is incomparable. She picked up surfing when she lived in Polynesia for a time, too.
❤ learning new skills. Since antiquity, Irene has tried to fill her endless time on this planet by learning new trades and picking up new hobbies. She leans more towards the creative side of things, however, but she isn't opposed to sport either. In her old age, she is able to spent her time doing absolutely nothing at all, too.
Dislikes:
✗ modern technology. She's disappointed that people have come to be so reliant on little rectangular screens. She has a phone herself, of course, but considers it a necessary evil. Keeping up with the times is important to her.
✗ being lied to, even though her own social life (or lives) depend on lying herself.
✗ drugs. She sees no need to use them, nor for anyone else to either.
Fears:
☬ death. Despite her unimaginably long life, Irene isn't ready to relinquish her iron grip on immortality any time soon. She has much to do.
☬ losing her beauty. Irene is an incredibly vain woman. Despite her immortality and youthful appearance, she fears old age
Goals:
★ continue to occupy her time on this planet by keeping her mind busy
Personality:
Irene is inscrutable. How she chose to act, what she chooses to do, who she chooses to love... All unfathomable to the outside mind. She seemingly takes sides for trivial reasons, and flits from one place to another on a whim without much regard to why. To herself, however, her actions are methodical- though based on instinct. Everything she does is purposeful, though it is an inexplicable force or desire which drives her; a singular feeling that whatever she is doing is what the universe intended. When she decides to take action, or to love someone, she sees it through to the end. Whatever that end may be. She's loyal and protective, yet also able to hold a grudge until the end of time. And with her immortality- it will be.
Having experienced thousands of years on earth, and travelled to many places in her time, Irene is a proud and worldly woman with a sharp with and an astute mind. She's calculating, manipulative, and selfish. Everything she does is for herself. After living among humans for so long, she can read them like a book. She knows people, and she knows what they like. Her rage is something to avoid, though is only endured by those who betray her on a personal level. One thing Irene cannot stand is being lied to, despite this being hypocritical. Lying is her livelihood. She has reinvented herself countless times; created so many identities for herself to stay hidden, so many personalities for different people and different purposes, that it's hard to tell where the lie ends and Irene begins. Despite this, Irene never loses faith in her true self. She knows exactly who she is, no matter how many times she reinvents her life.
Vanity also plays a part in Irene's personality. Her beauty is undeniable- she knows this and uses it as a weapon- but fears losing it to either age or disfiguration. Thus, despite her rather youthful appearance, Irene spends a great deal of money on all the top branded anti-ageing serums and much of her time before a mirror, stretching her face this way and that to check for any ghastly wrinkles. She's not opposed to going under the knife should the need arise, but she's content for now. However, she needs attention to survive. Years of being worshipped as a goddess, despite losing that status long ago, have altered her psyche and forged a deep-seated necessity to be validated. The validation of the everyday mortal rarely fills that hole, as they no longer view her with quite the same abundant reverence as they did in ancient Assryia. As such, Irene works to impress those in power, or those who she herself admires.
Traits
[/b][/font]
✧ adaptable
✧ intelligent
✧ creative
Negatives (At Least 3):
✦ manipulative
✦ selfish
✦
narcissistic
[/ul]
Parents:
Unknown
Siblings:
Unknown
Other Family:
Asherah, her first daughter and the second mermaid
Important Others:
Teshub, Sherlock Holmes
History:
Goddess of the sea, nereid, oceanid, selkie, siren, mermaid... over the millennia, Irene has been granted many identities within myth and legend. She is the original mermaid, born from the water, at home in both tsunamis of devastating power or in waves that crash benignly on the shore.
Irene began in ancient Assyria. Her first identity was that of the anthropomorphic goddess Atargatis.
Atargatis was the original ancestor of the Assyrian royal house: the founder of social and religious life and the goddess of generation and fertility. Fish were considered sacred to her, and as such the eating of them were forbidden. Shrines, temples, and statues in her likeness survive from ancient times, all dedicated to her for eternity. Her beauty and power was both worshipped and feared in equal measure. The egotism she acquired from her times a goddess remains.
From her beginning, Irene has always been an insatiable woman. Restless, and never satisfied. As Atargatis, she was consort to Hadad, The Thunderer, god of weather. But marriage and eternal monogamy never suited her. Hadad could never fulfil her unappeasable desire for attention. Instead, Atargatis turned to mortal lovers to placate her yearning for affection and validation. She did, how ever, vow never to procreate with her human partners. It was the agreement she made with Hadad, who also took other lovers aside from his wife.
Many of Atargatis' lovers were simply that: mortal playmates, used to fill her endless time. Men, women- it didn't matter to her. She saw and was attracted to the soul within, the body merely its vessel. She herself assumed a human form whenever she was among her subjects. But one of her lovers was... different. He cared for Atargatis in a way that not even her omnipotent husband did. He loved every cell of her body, every facet of her heart, every inch of her immortal soul. And Atargatis loved him back. More than her husband, more than any lover before, and more than any lover since.
He was a simple man, a shepherd by the name of Teshub. Status did not matter to Atargatis, as she saw his soul and felt his unconditional love. Teshub was her paramour, though he did not know her true identity. While they were together, Atargatis lived in her human form, took the name Kubaba, and never left his side.
This was to her detriment. Atargatis, as Kubaba, fell pregnant with Teshub's child. In open defiance of her vow. Atargatis kept the child and intended to raise it with her human lover. Their demigod daughter Asherah was born, and Atargatis remained on earth with her new family.
Atargatis kept Asherah secret for ten years. In that time, she and Teshub created a life together, and cherished their daughter. But it was inevitable that Hadad would uncover the truth. Time means nothing to an immortal god, but after a decade, Hadad realised that his wife had not returned to their heavenly home for quite some time. He discovered that she had been raising a child with a mortal and flew into a jealous rage. The great god killed Teshub in a terrifying display of his unlimited power. Both Atargatis and Asherah were witness, and were inconsolable.
No longer did she wish to be the great goddess Atargatis. Heartbroken, she flung herself into a lake and took the form of a fish to conceal her identity. But the waters could not conceal her divine beauty entirely, and thus the first mermaid was born. As punishment, Hadad condemned her daughter Asherah to join Atargatis upin her 16th birthday. Asherah lived by the lake in which her mother dwelled until the curse was fulfilled. She transformed into the same creature as the sun rose on her sixteenth year, and lived alongside her mother in the lake.
Many of Irene's powers are due to her divine origins. Despite his anger, however, Hadad took pity on his mermaid wife and granted her a fraction of his power: the power to create storms. Irene is capable of phenomenal weather: great and terrible hurricanes, electrifying lightning storms, and even the gentlest of downpours. Every mermaid shares these powers, though none are as powerful than Irene.
In the millennia that have followed since Irene became a mermaid, she has assumed many different identities. Her legend has been told across the globe, in every culture. She is the siren of Ancient Greece who lured sailors to their deaths with a perishing song She is the selkie of Scottish folktale, torn from her ocean home by an infatuated villager. She is Melusine, the water sprite who acquired an immortal soul through marriage with a human. She is many more. For now, she is Irene Adler. The Woman. The Entangler.
Irene has no fixed dwelling, nor a country to which she feels most loyal. Irene simply goes wherever instinct takes her, for however long it wishes her to stay. They say you never step in the same water twice. Irene is as constant and as ever-changing as the tides.
Since antiquity, Irene has seen much of the world. She has lived among the islands of Polynesia; frozen in Moscow, the coldest heart of Imperial Russia; explored the luscious rainforests of the Congo; even navigated the concrete jungle of New York. Though there is more to be seen than can ever be seen and more to do than can ever be done, Irene has certainly given it her best effort. In more recent centuries, she has woven in and out of a career a as a contralto, partaking in such performances as La Scala in Milan, Italy, and as prima donna in the Imperial Opera of Warsaw, Poland. She has also participated in many ballet performances throughout history. She has taken intermediate trips to the water to remove herself from the chaos of human development, and to reconnect with her true self.
Irene settled in London during the mid 1800s. It was the beating heart of the modern world; Victorian England, in all its industrial greatness, was the drastic change she needed after a hundred years of living the peaceful island life in Polynesia. A century of peace had made Irene restless. In regards to her ego, she had taken that there was to take from the islands and the people who lived there. Naturally, she was drawn to the action- something she could gain recognition from, and this is where she met Sherlock Holmes.
London was a phenomenal city. There was so much to sink her teeth into, so to speak. Irene became aware of a crossroads demon named Jack holding much of London's political elite at ransom, and took it upon herself to bring him down.
So, too, had a certain Sherlock Holmes. Irene learned about him and his loyal aides- faithful John, his witch wife Mary, the doting Moriarty- and was impressed by the detective's massive intellect. She sought the detective out, sharing with him the knowledge of a spell that his witch companion Mary could learn and use to subdue the demon. In the time that she was working with him, she began to develop feelings beyond their professional relationship. She saw his soul, and she enjoyed his wit. With the case coming to a close, Irene made her move- and was rewarded with the shocking truth. Sherlock Holmes was not a man, but a woman. Enraged and feeling like their relationship was built upon a lie, Irene severed ties with the detective and returned to working the case alone.
Once again, Sherlock had done the same. Only, tragically, Jack had killed her before the spell was complete. Irene, learning of this, moved quickly to ensure the detective's resurrection. She thought Moriarty to be the most disposable member of the group, and seduced him with lies of love. She convinced him that they needed Sherlock, and coerced him into making a deal with the very demon they were trying to defeat. Jack gave Moriarty one year. Irene dropped her infatuated act the moment they had unearthed Sherlock from the grave, then she disappeared once again.
Irene can only be found when she wishes to. She reminded Sherlock of her existence sometimes, when it suited her. The group got on with their lives. Irene returned to the opera, performing at La Scala in Milan, Italy, and a term as prima donna in the Imperial Opera of Warsaw, Poland.
True to the deal he had made, Moriarty was dragged to hell by the hounds a year after Sherlock's revival. Ten years later, however, he returned as a demon. Unrecognisable both mentally and physically, and intent on destroying the detective he blamed for his decade with the devil. Irene was terrified of his return, naturally. She had manipulated him into making the deal, and she feared his revenge. Moriarty was proving impossible to destroy using regular methods, so Irene began researching the fabled 'Colt' gun, the weapon of American legend capable of killing any creature.
She didn't find it in time. Mary had attempted a spell, Sherlock had allowed Moriarty to possess her, John had failed to pull her out... Irene is unsure of the details. She left London when everything fell apart. All she knew is that Sherlock is stuck in a book, and Moriarty too.
In the years that passed since leaving London, Irene assumed her mermaid form. She figured that Moriarty, should he escape, would never find her in the depths of the Pacific.
A century later and Irene felt it safe to return to land. Taking a new physical form but keeping her 'Irene Adler' identity, she began to make a life for herself in Brazil. No sooner had she rented an apartment in Salvador, she was thrown into Zeppelin City.
Alias:
Blaire
How did you find us?:
Google
Experience:
a fair bit
Other Characters:
Blaire, Bridgette, Carmen, Fletcher, Josie, Luciana, Nico, Scout, Elle.
RP Sample:
Bloodied and exhausted, Blaire pushed open the bar door and traipsed inside. Her vision was a little obscured thanks to the fresh black eye she was sporting, but she acknowledged her fellow regulars with a nod and a grunt as she passed, and settled on an isolated seat at the bar.
"Tough day?" asked the barman with a smile, drying a tumbler with a fresh rag. Blaire snorted and massaged her forehead with the hand that wasn't sporting grazed knuckles. "Tough? Nah, just another day in the life, mate. 'Nother day in the life. Hit me up, will you? Make it a double, I'm still seeing stars." With a laugh, the barman set the clean glass on the bar and filled it with amber whiskey before sliding it across the shiny mahogany surface of the bar to Blaire.
"You're a good man, Joseph. A fuckin' star," Blaire grinned blearily and raised the brimming glass to her swollen lips. She carefully tipped a little liquid into her mouth and swallowed, then released a cough as the whiskey hit the back of her throat,, "Jesus, the good stuff. You really pity me tonight, don't you? Maybe I should get beaten up more often," she snickered and took another sip, taking the time to cast her gaze over the room. The bar was quiet tonight, but Blaire didn't much feel like hitting on anyone in her current state. That wasn't to say that the fresh-from-a-fight look had no success, as Blaire remembered with a wry smile that it had certainly won over a couple hearts in the past.
I Irene Adler have read the site rules and understand them. The code word for the rules is: Batman
[/div][/div]
Application Created By Hell Hound
[/div]