Post by Hell Hound on May 2, 2019 5:15:55 GMT -5
EotR's Ultimate RPer
Is it you?
• • • First Time
Contestants were challenged with writing stories of a character's first run in with the supernatural. You can check out the entries below. They were posted in the order received.
THE COLT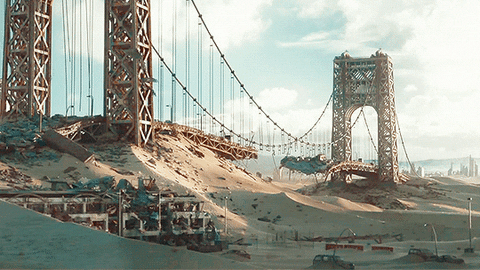 It was a particularly hot day on the dunes, and everything seemed to catch the heat. Everyone was feeling it, and Robin could tell as they all uncomfortably shifted in the back of the Impala's flat back seats and trunk, sweat on their brows. It was even obvious that Uncle Dean and Dad weren't comfortable in the front seat as they spoke quietly back and forth, Dad glancing around occasionally with an old looking glass.
Tyler curled up in his corner, reading a tattered old book which smelled funny, and Emma sat cross legged next to him, occasionally glancing over to read what he was looking at, but largely invested in repairing a raggedy old trench coat that she'd grabbed from a ruin a few days ago.
Robin wasn't too bothered by it as she rocked back and forth with the rusty and sand-stripped frame of the Impala as it bounced along through the dunes, already comfortably curled up in her corner of the cars frame, Walkman headset on as she hummed quietly to herself. A stack of cassette tapes sat next to her as she quietly began to sort them in small stacks inside a faded purple shipping crate. No one was talking, everyone was involved in their little tasks… until the cat stopped. They all knew what that meant.
Once it slowed, Robin looked up and removed her headphones and let them dangle around her neck as Dean turned to face everyone in the back of the car. Sam looked back and offered a smile before he climbed out of the car with a rifle. "We're here, kiddos. Let's go."
The trio in the back of the car crawled out of the flat back and out into the sand, and Robin continued to fidget with her Walkman as she stepped into the sand, watching as Sam began to check the surroundings and Dean made his way around to the back of the car and popped the trunk. The young girl couldn't help but feel nervous and, out of instinct, reached out and took her mother's hand in the one of hers that didn't hold the ancient music player in her other hand.
Emma glanced over and down at Robin, smiled and gave her hand a squeeze while the young girl watched everyone scurry about in silence. Dean came back around from the back of the car with a rifle and a number of handguns and knives under his arm. One got passed over to Emma, while another was handed off to Tyler. And then, finally, he stopped in front of Robin and knelt down to eye level of the young girl.
"You ready, Rob?"
Robin nodded. Dean smiled and held up one of the knives. She hesitated a moment before she reached up and took it from it, testing how heavy it felt in her hands. She knew how to handle a knife - she'd been trained in safety and handling them before. It still felt too big in her hands. "Are you sure about this, Dean?" Emma asked, queuing Robin to look up through messy brown hair.
"Maybe when she's a bit older would be better? She's still so young." Robin looked to Emma when she said that and gave a small shake of her head, then looked to dean.
"... I'm ready." She muttered. "I wanna see."
Dean smiled and nodded, then looked to Emma. "She won't be part of the hunt. We're just going to let her see them, we won't have her come near - promise, Emma." Her mother sighed a little and gave a small nod. She didn't like it, but she was going to allow it. Barely.
"Dean, I see one of the buildings. Looks fortified, all the windows are blocked." Dean glanced over and headed in the direction of his brother to examine it, and Robin stood there, eying the knife. Emma broke off, leaving her standing there for a moment until her and Tyler made their way over to stand next to the older hunters. Cresting the top of the dune, there, sticking out of it in crooked, jagged angles were the rusted outlines of old buildings and piles of stones, but between the rippling of the heat coming off the reflecting sands - Robin wasn't sure what her father was pointing out.
Tyler nudged her, and Robin looked over at her older brother with narrowed eyes. "You ready, assface?" Robin didn't reply, scrunching up her face at him. "Bet you'll run when you see them like a big whussy."
Robin huffed and looked down at the sheathed knife in her hands, her scowl giving away into a frown. That prompted Dean to look over and shake his head. "We gonna talk about how you pissed yourself on your first hunt, Tyler?"
Sam gave the faintest of laughs - and even through the mist of heat and sweat, Robin could see her older brothers face turn red. Robin, meanwhile, giggled.
"Alright kiddos. Get ready for this, alright?" Sam spoke, lowering the rifle. "We're dealing with vampires here - so what does that mean?"
"Easier to fight in the day." Robin muttered, Dean nodded. "That's the trick."
"We don't have Dead Man's Blood here. So how do we fight vampires?" Sam asked, this prompting Tyler to answer. "They have really good senses and they are stronger than us - but we have to cut off their heads."
"Nests." Robin muttered.
Sam looked over, raising his eyebrows. "Say again?"
"Nests." she repeated. "Vampires live in nests. Always more than one."
The brothers nodded and pointed out the building in question before Sam bent down to Robin's height and handed over his rifle to Robin, which felt even stranger in her smaller hands. He adjusted it up to peer through the scope for her and pointed it to the building in question. "Tell us what you think, Rob."
Once the scope focused and she centered in on the building, she noticed what they had been talking about. Deeper within the ruins there was a store, the faintest light leaking through from the dark interior through holes in the window fortifications. Slabs of sheet metal and wood were placed over the windows, a few cars were flipped and put on their sides to serve as walls. Defenses. There was blood splattered around the door, which was a shattered glass one.
Robin stared for a moment, then passed the rifle over to Tyler, who took it to take a look. "Might be ready…" Robin muttered, crossing her arms and turning the knife over in her hands. "Might know we're here."
Dean looked to the ruins, and then nodded before he looked to Sam. "Just stick behind me and your dad, Robin. Tyler - you keep an eye on Robin."
Her older brother sighed and nodded, and then the four humans moved forward, Sam and Dean sliding down the side of the dune towards the ruin. Tyler followed, leading the young Robin to look back at their mother, who waved from the inside of the car. Robin waved, and she waved back, before the young girl sat down and scooted herself over the edge of the Dune and slid down.
The walk took about fifteen minutes total, of them quickly falling into silence as Robin followed in the back of the group. They fell into a silence as the three more seasoned members of the group moved into a sort of hyper-awareness that only hunters who had done what they were doing a few dozen times and come out on top could manage. Robin could tell that Tyler was nervous even though he didn't want to admit it. About halfway, Dean had a hatchet in hand, while Sam and Tyler had makeshift machetes drawn. The guns were still in hand as well, but it was clear that they weren't the main event in this case.
Looking at the larger weapons, Robin couldn't help but look down at the knife. It felt small compared to what they were using. She wasn't sure if she would be able to kill a vampire with this, but the point of this wasn't to kill a vampire. She was just supposed to
see
one. See what a monster looks like.
And what Robin realized quickly as they stepped up to the fortified shop in question… was that they looked like people.
The youngest Winchester stalled outside, unsheathing her knife and holding it in both hands while the brothers moved forwards, weapons at the ready. Tyler hung back with her, slowly scooting her in the direction of the door. The inside of the building was lit up with a single lantern, and she didn't see anyone as Sam and Dean fanned out between two ancient store aisles.
At least, not until she saw a shadow pass.
"Dad?" Tyler shushed her. He hadn't seen it. Sam paused and looked over his shoulder to Robin, who pointed out where she'd seen the shadow.
Sam turned and moved to check. Nothing.
But as soon as Sam was gone, she saw them.
A emaciated man with long, frazzled hair peeking around the corner. His nails were long and curled, eyes like a predator as he peeked around at the young girl in the door. Robin turned and made eye contact with him and went wide eyed, but didn't speak. They stared at each other for all of five seconds before the mans mouth almost seemed to get larger. Fangs appeared, and the predatory gleam in his eyes caught her attention.
He looked horrifying.
Her hand came up and grabbed Tyler's sleeve, tugging it. He looked down at her, but before he could see where she was looking, all hell broke loose.
A pale woman dropped from a broken ceiling panel onto Dean, and Sam was suddenly charged from behind a shelf and thrown through a crumbling wall. Tyler shouted and pushed Robin down to the side on dirty, dusty tiles as he ran forward, lining up a shot with his handgun on the vampire in question.
The fight raged, and Robin sat on the floor looking at this strange man as he began crawling across the floor towards her. The vampire that attacked Dean was slammed into a shelf, displacing the whole thing and actively blocking the view of what was happening with the youngest Winchester. Nails clicked against the tile as the man crawled forward. The way his body moved, his long, curled nails tapping against the tile as he made his way in the direction of his helpless prey…
Robin couldn't help but notice that, other than the fangs she could see behind his sneering lips, that he just looked like some of the people they had met in the past, and that made her swallow thickly as the creature came within three feet of her, and then he was right in front of her.
She could smell the iron scent on his breath, yellow and blackened fangs being eye level with her as the creature seemed to begin to… check her. Smell her. Robin dared not move as he plucked a strand of hair up between two long and disgusting fingernails, moving it aside to get a look directly into her sweaty, dust-smeared face.
The nails touched her cheek, and Robin felt sick, but didn't flinch. She doubted she could move if she wanted to - as frozen as she was in the face of this creature here, right in front of her. Despite looking like a human in so many ways - it's presence, the way it moved, the way it was looking at her. It was all so…
wrong
. The fight still raged in the background. She could hear things breaking, gunshots, the swinging of weapons… But even then she was transfixed on this
thing
in front of her, frozen in the welling up of fear.
Tears started to escape her… And then the sound it made. A low hiss as it opened up its mouth, and then lunged.
All before Robin closed her eyes at something flying at her face, soon followed by a splatter of hot, sticky blood across her face.
When she opened them again, the man was on the ground. His head was rolling to the side, and she felt herself shaking, letting out a scared squeak as her uncle came into view. "Hey, hey. You're alright." He cooed, holding up his hands to Robin as the fear and panic began to set in properly in what she'd just seen. "You're alright, Rob. We're all good. It's okay."
Without the slightest moment of hesitation, the young girl threw herself forward into her uncles arms and latched onto her, bloodied face as she began to sob. He began to berate Tyler for not keeping an eye on her like he was told to, but Robin wasn't even able to focus on this right now. She was too locked in on what she had just experienced. Something that looked like a man… but wasn't a man. Something that was stronger, faster, and more deadly than she was - but somehow, she was supposed to kill it. She'd seen Sam and Dean fight people - but people were just that, they were human. They were on equal footing with the brothers. She understood that sometimes people would have to die - and they were just like you - but this… this was different. This felt wrong, and she couldn't even imagine how she was expected to deal with this.
Immediately, Robin Winchester felt very, very small as her uncle wiped her face with his sleeve, and then picked her up and carried her outside. Sam pausing only to grab the vampires head as proof of a job well done for the nearby settlement.
And as the sobs began to subside, and her vision cleared, she was staring up at her with rolled back eyes, hanging from her father's hand, through long strands of disgusting black hair, the eyes of the vampire she'd just watched die.
SINGINGDOUGHNUT
Desmond decided to go out to a tacky gift store today that tourists liked to visit for souvenirs as they came to the coastal town. He and his wife, Gina, had always joked each year how maybe they should visit it every anniversary but they never did. This time being the exception for something "special". It was usually a dinner at the local restaurant or sail to one of the islands and star gaze on their boat. This year for their fifth anniversary, it was going to be different, something unexpected. Something to remember. He chose a shell necklace that came on some wire, loose enough to hang like a necklace, but strong enough so not to break if caught on something.



Gina had spend the day in bed since it was the quiet season of the year. No tourists except for the occasional rookie fisherman or woman who had no idea it was outside fishing times for certain breed of fish. Instead they took the customers elsewhere where it was safe to fish, keeping to limits. She stretched her arms over her head, trying not to tighten the muscle too much as she had just recently gotten tattoos on her biceps and it still stung. It felt like it was going to be a lazy day today. She looked over at the empty spot on the bed and climbed out sadly. She and her husband had a fight the previous night. She had hoped he would have joined her in the middle of the night.



Two nights before they had gone to the local bar to blow off some steam from working hard on their boat like checking everything was working, and scraping the barnacles off the bottom. A strange woman, new to town, had been hitting on him. At first he had resisted and said he was happily married but it wasn't until the female touched his arm that he fell victim to her charm. Gina had grabbed him by the other arm and dragged him back. They both headed back home, normally the curly haired one was never jealous cut that whore just put her on the defense.



Of course he had denied it and that it meant nothing, that the woman was coming onto him, of course he was falling in love with her. Mentally he has thinking she was just what she needed, luring him in like a siren's song to doomed sailors of the past. He had gone back to the bar that arvo to see her again, Jasmine. The tempest had told him to continue on his day like nothing had happened. They could be together again soon. That night he had still slept on the couch unable to bring himself to be with his partner. All he could think of was the "rare dolphin". Finally the third day, she had promised to be with him, all he had to do was kill his wife. That morning he decided to to his "special" thing.



That night, Gina stood at the stern of their boat as Desmond steered it out to the ocean. They had originally booked a hotel room but Des had cancelled it and decided for the more traditional star gazing. Gina had noticed that the big goof ball was acting different, he didn't feel the same. He was not cracking small jokes or teasing her about needing a hair cut.



She loved being with her husband but she stood tense when he came close to her, especially now that they were alone at sea, no one to hear screaming. The surfer hoped after this they could go back to the way they used to be. It was hard to keep him at arm's length but her pride prevented her from extending the olive branch first. While she leaned on the railings, she had a flashback to when they first met. Days of him begging for lessons, she relented and taught him. That was five years ago.


Hearing footsteps broke her out of her memory as the giant bear made his way over and stood behind her. He held the shell necklace before her. Smiling she gathered her hair in one hand so he could slip it over her head without it getting caught. She reached up and played with the shells. His hands slid down her shoulders and arms. He muttered something in her ear, as he bent down, about he can't see Jasmine until she was gone. With that, he wrapped one arm around her waist and used the other to yank on the wire, cutting into her neck. It was only her fingers caught between her wind pipe and the wire that lessened the effect of it.



With his height he lifted her off her feet. Gina struggled violently. She kicked her heels of her bare feet into him until one got lucky and connected with his groin. He was forced to let go as great pain brought him down. With Des on his knees, she quickly moved out of his reach gasping and choking for precious air. He had soon overcame the pain of his balls and lunged for her with his arms outstretched instead of finding a weapon to smack her brains out. She ducked under his arms and ran, going for the spear gun they kept for emergencies. You never know. She pleaded with him to stop this but of course under the influence he didn't listen. He just kept going on about Jasmine. She shot him in the leg hoping to stop him. He had dropped down to a knee but soon he was up and just kept coming, limping now. He ripped the spear out, causing more damage. Faster than him she ran and tried to go for the life raft, only to see it was already far into the distance.



Turn between diving overboard to swim away or radio, she went to the control room and went to the radio, only the wires had been cut. It was then Desmond was at the door, the lock had been broken previously and they never thought to get it fixed right away. He charged at her, spear raised to bring down on her. Falling back on her own feet had saved her. The weapon got stuck in the broken radio and he tried pulling it out. Panicking she fled the control room and headed below deck and went to the tackle box they kept in the room and pulled out the knife used to cut and descale fish. He wouldn't quit though. Gina still kept begging for him to stop as she was backed into a corner. Finally, in desperation she blocked his next attack and plunged the knife into his chest.



Unknown to them a hunter had been tracking this thing from town to town and thought he had finally caught up to it. He had put the pieces together and had "borrowed" a motor boat to get to their bigger boat in time but only too late. When he boarded he found blood and followed the trail. He saw Gina below dock cradling her dead husband in her arms crying and saying how she was sorry. The siren escaped again.
HOLY WATER
Scene setting music
It all started out as a regular, hot day in July. A group of friends and I were volunteering at an Indian reservation camp in Florida- some of us were fixing roofs and insulation for the run down houses.. some of us were just doing odd-end jobs for the elderly such as helping tend to their gardens. Me? I was one of the ones who enjoyed working with their hands, so I volunteered to build a fence for this middle aged couple and their children.
Before I started building, they told me a story about some things that had been happening and why they so greatly needed the fence. They explained to me that their chickens kept getting killed by something.. but they wouldn't say what. They expressed some concerns about their family's safety without a well enforced fence, and practically begged me to make sure it was strong. I nicely reminded them that I'm not a professional and I also have to use the supplies that were donated for us to use, but I assured them that I would do my best. They thanked me, and off to work I went.
I had spent the majority of my day working on that fence, but this was going to be at least a two day job. I had gotten the fence posts all driven into the ground and about half of the boards nailed up. I was really proud of myself, because this is the first fence I had ever begun to build, and although it wasn't finished yet, I could tell it was going to be really nice. After I had finished admiring my work so far, I looked around at the surrounding land and forests as the sun began to set. It was beautiful. I was enjoying the view of the purplish pink sky whenever something snapped me out of my contentment. I turned whenever I heard my friend Mike yell my name, "Andrew! Come on. It's important, man. I need your help.. now." I looked at my friend he was motioning for me, and was really confused and alarmed at the urgency of his voice. I jogged over to him and asked, "What's going on?". As soon as I reached him, he motioned for me to come along with him and he broke out in a jog towards a house that he and his girlfriend had been working on without answering my question. Of course, I followed along with him anyway, trying to keep up with his quick pace which was hard at the moment because I felt exhausted from working in the heat all day.
We eventually reached the house and he stopped and looked over at me with a concerned look on his face. "I think Kelly got too hot or something. She's acting really strange. Come with me.", Mike said. He then began to walk into the overgrown backyard of the rundown house they were fixing. "Where is she?", I asked as I looked around to try and spot my sick friend. I never got an answer, so I decided to ask again, assuming Mike didn't hear me, "Mike, where is Kelly?" I looked back at him after I had asked, waiting for a response. Except when I turned around to face my friend, I couldn't find him anywhere. Assuming he had just went to try to find Kelly, I called out for him. "Mike?", I called while walking around in the twilight. "Where'd you go?" My eyes scanned across the yard, trying to spot any sort of movement. I let out a sigh after becoming suspicious, and then couldn't help but chuckle, "Are you trying to prank me? It's not going to work, dude." I walked into the house, which was empty besides the supplies that were being stored since it was being redone. I checked in the first room I walked in, which happened to be the kitchen area, and didn't see any signs of them at all. I kept walking on the old wooden floors, hearing them creak with each step I take. I wasn't going to waste my breath anymore, so I stopped calling out for them and just prepared for either one of them, if not both, to jump out and try to scare me.
I walked down a small hallway, peeking into each dimly lit room. Looking out the windows, I could see now that the sun was almost completely down which was really affecting my ability to see in the dusty house. (Thinking back.. I wish it would have been completely dark, because I wish I had never seen what I did.) At the end of the hallway, the last door to the right.. I walked in only to be met face to face with Kelly who had a smirk on her face. "Kelly!", I said relieved. "Are you okay? Mike said you were sick." She let out a laugh and shook her head, "Oh, no, I'm fine! You shouldn't worry about me." My relief soon turned to shock whenever Mike showed up behind me. "It's you that you should be worried about." I turned quickly to face him, and as soon as I did, he sliced me with a box cutter knife. I screamed and fell to the ground. My eyes were wide with fear whenever my fight or flight instinct kicked in. I scrambled backwards so I could get back up onto my feet. I looked over to my left and let out yet another scream, but for some reason.. It didn't even feel like it was me screaming. My whole body went numb with fear and shock as I saw none other than Mike and Kelly laying dead on the floor in a pool of their own blood. It looked like chunks had been cut out of their bodies. I looked back up at the fake "Mike and Kelly" and let out another scream of horror as they both came towards me. I knew it was about to be lights out for me. I couldn't stand up, I was paralyzed with fear. All I could do was scream. Next thing I know, "Mike's" head gets blown off right before he gets to me.
I watched as "Kelly" turned to face the doorway, and watched her head get blown off as well. I couldn't tell any difference between the shotgun shots and my heart thumping in my ears. I just sat there as I watched this man come up to me. "Get up, son.", he demanded. I complied and rushed over to my dead friends' sides and begged for answers from the man. "What is going on?!" I asked through my sobs. I watched as he looked at the two he shot, and Mike and Kelly. He just sort of nodded solemnly. "Ghouls.", He simply said. "Has to be ghouls. I walked in after hearing you scream, first thing I saw was those two coming after you, next thing I saw were the same two laying dead right where you are.", he motioned over to where I was mourning my friends. He continued talking to me, although at the moment, I couldn't care less what he was saying. He explained to me what ghouls were, what they had done to my friends, and what they were about to do to me. Needless to say, I left the very next morning (After them insisting I stay for police reports and medical attention), and I have never volunteered at another reservation camp again.
It was horrific. I still to this day cannot make sense of what I saw.
CROATOAN VIRUS
"Sweetie, please sit down." Slender hands slipped around Hal's waist and pulled him back down to the seat. "If the bus driver has to stop suddenly, you could go flying."

"But mommy! There was a- There-! Ah!" The small boy floundered on his words, waving his hands about as he tried to get his words out. He struggled with speaking, having difficulty articulating his words. Far too often his mouth couldn't keep up with his mind, and his words came out in a confused jumble that made him feel like he was choking on his word vomit. "Black flappy flap!" Halcyon beamed, a little breathless as he looked up at his mom. He was pleased with himself, and his bright smile made Deanna return it with one of her own.

"That's called a crow." She pulled the small boy onto her lap and hugged him. "Can you say crow?"

"Crow." Hal repeated, as he played with the silver charm bracelet Deanna wore around one of her wrists. He liked the sound of all the little charms clinking together, but the one shaped like a little house was his favorite. He rubbed it between his fingers as he looked up at his mom. She had the same sharp and angular square jaw that he would have in his adulthood, but her lips were full and her amber eyes soft and doe-like with a tumbling mass of dark brown hair that framed her face and curled around her shoulders. Today she sported the deep red lipstick that she wore only when visiting the Angry Man. Halcyon didn't like him; he had a loud voice that hurt Hal's ears, and he was mean.

"Very good, Hal." Deanna kissed the top of his head, pressing her nose to his hair and sighing softly. She hated bringing him along, but she couldn't afford a babysitter, and didn't dare leave him by himself. The bus ride was long, but it was good day with Hal. He had a hard time sitting still for long periods, so she always worried about the bus ride anywhere. But here he had been well-behaved; not running up and down the aisle, or asking people incessant strings of stuttered questions. Instead the most she had had to deal with was his constant standing up on the seat to look outside and his desire to push the button for their stop far too early. She followed close behind as he hopped off the bus, snatching hold of a small hand before he could dart away like a lunatic. "Now remember Hal, don't let go of mommy's hand. Got it?"

"Got it!" He confirmed with a sharp nod. Her heart melted at his adorable smile, and she gripped his hand with gentle firmness before leading him along. They walked down cracked and decrepit sidewalks, where weeds pushed through in their search for light. Hal found a stick and dragged it along the chainlink fence that lined one side of the sidewalk, humming loudly as he skipped along. Deanna laughed softly and began to skip along with him, to the boy's immense delight. They continued this way until a decrepit brick factory loomed into view. The windows forming a greenhouse-like roof were cracked in some places and entirely gone in others, leaving black gaping holes in the structure. Grafitti plastered the walls, and a couple cars were parked out front. Hal looked up as he felt his mom's hand tighten over his while she slowed to a walk.

"Are we going to-. To the-. The-. Big place?" Hal asked as he looked up at Deanna.

"Yes we are, sweetie." She gave him a smile, but it was strained. He tilted his head, confused.

"Is the Angry Man there?"

"Ang-? Y-yes, he's there."

"I don't like him." Hal frowned, pressing closer to Deanna's legs.

"I know you don't." She sighed softly as he pulled his hand from hers and instead latched onto her leg. She ran her hand over the top of his head in a soothing motion. "I've brought some of your things, so I'll find a nice quiet place for you to sit and play while I talk to the Angry Man. And if you're really good, we'll go get you one of those sweet drinks you like from the Asian market. Sounds like a plan?"

Halcyon gain a huge smile, and he nodded hard.

"Yes! Yes please! I can do that!" He giggled happily as he bounced in excitement, instantly forgetting his fear of the foreboding warehouse they approached in light of the promise of his favorite lychee juice drink. Deanna slipped her hand around his shoulders as they made the final approach to the front door. A very large and imposing man stood there, and he gave them a long hard look. Hal stared up at his reflection in the man's sunglasses, mouth open in awe at the size of the scowling giant.

"Hello Nico." Deanna said, a soft tremor in her voice. Nico gave her another long look, then jerked his chin. "Thank you." She ushered Hal past him quickly and into the factory. Hal blinked rapidly to adjust his eyes to the gloom within. The place was falling apart, with weeds growing through the walls nearest windows, shards of broken glass from the skylights scattered across the floor, and more graffiti lined the inside walls. Rows of old brick furnaces that were crumbling and falling apart filled the main belly of the factory, with catwalks above. At the far end, rusting stairs led up to an office that overlooked the factory floor. A thick layer of dust covered every surface, with floating motes visible in the weak shafts of sunlight that filtered down through the gloom.

Deanna chewed the inside of her cheek as she looked around for a good spot to tuck Halcyon away in during the meeting. Finally, she spotted a small corner that was free of broken glass and fairly well lit. Guiding Hal over, Deanna gently sat him down.

"Now, you stay in this square of light, okay Hal?" She whispered, as she began to pull several toys and a couple books out from her purse, setting them around the small child. Hal gave her a serious nod as he sat in the dirt, hugging a well-worn rabbit stuffie to his chest as he looked around. "I promise I'll be done quickly, so please be good and don't wander off." Deanna gently cupped his chin, one hand stroking his hair as she smiled at him.

"I'll stay here, mommy!" He promised.

"Good." Deanna stood and began to walk off. Hal watched her from his illuminated square, squeezing his rabbit tighter as he watched a tall man covered in tattoos approach his mother. They were almost out of his earshot, but Hal could hear the man snarl something about "the stupid little shit", followed by Deanna apologizing as the Angry Man gripped her jaw tightly and pulled her close as he snarled in low tones. He let go of her jaw, then grabbed Deanna roughly by her elbow and dragged her towards the office. Hal gave her a cheerful smile when she cast him one last glance, before disappearing behind the furnaces. The slam of the office door in the distance echoed through the abandoned factory, then silence fell.

Left to his own devices now, Hal began to construct a story about Sir Carrotine, a noble rabbit knight who was on a quest to save his lady squirrel love, Angelique. As Sir Carrotine fought the mighty villainous mech Dr. Blade, Hal threw himself on his back as he waved the rabbit stuffie and transformer toy in the air above him in an epic aerial battle. It was only then that he noticed someone else was nearby. The toddler put his toys down before rolling to his feet.

Backing up so he could see better, he gazed at the woman standing on the catwalk that ran above him. She had auburn hair that had been pulled into a bun, but it was coming undone now with strands that curled around her ears and cheeks. Her skin was ashen, and her torn clothes appeared to have at one time been a decent business suit. She was beaten and bloody, pressed up against the railing in a way that made it look like someone was pinning her there. Which confused young Hal immensely, as she was alone.

"P-please! Don't do this! I'm sorry I upset you!" She whimpered, hands clutching the invisible wrists that held her firmly against the railing and began to push her over them. "Please! I'll make it up to you!" As Hal watched, the lady flinched like someone was talking to her, before suddenly she was lifted up and thrown off the catwalk. She landed in heap at Hal's feet, causing him to jump back in alarm. The woman tried to move, but was clearly too injured from the way she had landed from the fall to do so. Hal could see one of her arms was clearly broken, and her uninjured arm lifted weakly upwards in a motion to try and fend someone off. Bloody foam bubbled from her lips as she tried to speak, and suddenly her head snapped to the side, staring directly at Hal. He slid to the ground in shock and huddled against the furnace his back was against as her head caved in from several violent invisible kicks. Hal could see an eye pop out and her brain become exposed as her skull was shattered from the force of the blows. He could hear the sickening crunches, and smell the copper tones of blood as the woman died in front of him.

And as abruptly as it began, the woman vanished without a trace. Hal shrieked in absolute terror at what he had been witness to. He scrambled to his feet as Nico came barreling into the factory floor, alarmed by the shriek. Hal forgot about his fear of the giant in light of the greater fear of the vanishing woman, and he ran straight to him to hide behind his legs. This confused Nico greatly, and he briefly put a hand on Hal's shoulders. But as Hal continued to wail he moved to check the area. It was hardly out of concern for the annoying kid; he just had to make sure there were no threats against his boss. Deanna came running down the floor to scoop Hal up in her arms, trying to soothe his tears as he practically climbed up and clung to her tightly.

"Hal, sweetie! Are you okay? What happened?" She asked, looking around fearfully. She'd never heard Hal scream like that before.

"I told you not to bring the fucking brat!" Snarled the Angry Man as he and a few of his subordinates stalked over after Deanna. "Shut him up or I'll do it for you."

Stiffening at the threat to her child, Deanna stroked Hal's hair and murmured softly, rubbing his back to try and calm him down. He quieted down to sniffing and soft gasps, one hand tightly gripping a handful of her hair.

"Hal, what happened? Can you please tell me?"

"A l-l-lady, fell." He pointed to the catwalks. "She got hurt, r-r-r-real hurt."

The Angry Man had his yellowed teeth bared in revulsion at the kid, but he looked over to Nico.

"Anything?"

"No sir. Kid must have been seeing things." Nico reported.

"See, Deedee? Your kid is just a fucking coward, pissing himself at shadows."

"He's only 4! Of course he'd be scared of things!" Deanna defended Hal, but she couldn't meet the Angry Man's eyes. Hal kept his face pressed against her body, not wanting to look up and see the Angry Man. A part of him knew he had just made things very difficult for his mother, and he kept quiet.

"He's a man, and men don't scream like fucking girl." Angry Man sneered. He jerked his head at Nico, and he hastily returned to guarding the door. "If I hear another peep out of that little shit, he won't have a throat to cry with. Am I understood?"

Deanna nodded with eyes wide in despair at the menace in his voice.

"Good. Now tell him to shut up, put him back in the corner, and return to the office. We have some terms of your contract to renegotiate because of him." He turned and stalked off, leaving Deanna and Halcyon where they were. Swallowing thickly, Deanna carried Hal back to the corner. It was a struggle to get him to let go of her, and his panic pained her greatly.

"Hal, listen to me. You need to stay very quiet. Quiet as a mouse." She whispered as she cupped his small face.

"B-but mommy-! There was a-. A! There-"

"Shh, none of that now. Please, you need to be quiet. No matter what happens. If you don't, the Angry Man will hurt mommy. I need you to be strong for me."

Hal opened his mouth to protest more, but he didn't want his mom to be hurt so instead he swallowed and nodded.

"Good. I won't be much longer, and then we'll go get a treat." She placed a soft kiss on his forehead before standing and moving away with a sad smile.

Halcyon huddled in fearful silence for the better part of a couple hours, Sir Carrotine clutched to his chest as tightly as his little arms could hold it. He had to witness the death echo of the unknown woman once more in that time, and while he had a shriek build up in his throat, little Hal kept his promise to his mother. He clamped his teeth together tightly, and pressed a hand over his lips, in order to keep quiet while he watched the woman die again. By the end of it he had tears streaming down his pale face as his body shook with the stifled sobs. But he was quiet.



Deanna quickly strode down the factory floor, stomach twisting in pain from where she had been hit. She had her own tears to hold back as she hurried to collect her son and leave. Rounding the corner that she had tucked Hal behind, Deanna felt her heart wring in worry and sorrow. Hal was tightly hugging his knees, head down and trembling. She had thought he had only been briefly scared, but now she felt that it was more than a shadow. Well, she'd have to get the story out of Hal, but she'd only be able to do so after he had calmed down enough. Deanna quickly gathered up his toys and tucked them back in her bag, before she rubbed his shoulders. As he opened up from his held position, Deanna scooped him up and carried him out. He quietly cried, face pressed to her neck and hands gripping her hair again.

"Its okay sweetie. Mommy's got you. You're safe now." She rubbed his back as she walked. "Do you still want your sweet drink?"

Hal gave a small nod, hiccuping softly.

"Alright, we'll go get it now."

Stepping outside, Deanna swallowed as she saw Nico. She straightened her back, ignoring her body's pain, and strode past the guard. She had almost made it, when one of his large hands firmly gripped her shoulder to stop her. The slender woman stiffened and turned to look at him. What did he want? Was she being called back in? Heart hammering in her chest, Deanna's arms tightened protectively around Hal as her voice stammered out.

"Y-yes?"

"Your kid." He growled out, voice low. Nico jerked his jaw to the factory. "Place is old. Seen a lot of shit in its time."

Deanna gave a small nod, confused by what Nico was getting at. He scowled, as though annoyed by her.

"Place probably has ghosts. Maybe he saw one."

Ghosts? Deanna frowned, not sure she believed Nico.

"M-maybe." She quietly agreed.

Nico looked like he was thinking of saying more, then thought better of it and jerked his chin again.

"Get out of here." He snapped.

Deanna skittered away, Hal secure in her arms. She just wanted to put the sounds of his terrified wail out of her mind, and the brick factory couldn't be out of sight fast enough. For his part, Hal never forgot that death echo, though the memory has faded some since. He still thinks of it on occasion, wondering just who's murder he had seen.
LYNDSEY
Speakeasies were all the rage in 1921. Everyone who wanted to dance or have drinks found their way to a speakeasy. Including myself and my best friend, Mary. My parents never would have approved going dancing or being in the presence of young men while unaccompanied. So, Mary and I had my older brother Victor accompany us as we went to the "library" to do our studies. Victor was a fan of the speakeasy as well considering he was fancied by many goers at The Blind Tiger. June 21st, 1921 would be the last time I ever set eyes on the underground club. As usual, Victor, Mary, and I went to The Blind Tiger as usual to have a few laughs with friends and dance to the most magnificent singers in Seattle. On this night in particular, everyone who was anyone must've been in the club because it was so full you almost couldn't move. Which is saying a lot because the club was far from small.
While sitting at our table, Victor approached Mary and myself with a young woman and handsome young man who introduced themselves as Rose and Andrew Harrison. Andrew had such a handsome smile, though I hate to admit it. But, Victor said he was going to dance with Rose and thought that Andrew would be a suitable dancing partner for me. I was hesitant, as I always had been to dance with men other than my brother. Before I had to hear Mary say, "Betty, you need to try to be a sociable young lady at least once in your life," I got up and took Andrew's arm and took him down to the dance floor. We must have danced for hours or at least it felt like it. And I say it with such confidence that I was a very talented dancer in this time so dancing for so long was no trouble to me. I danced that night until I could barely feel my feet and I was absolutely exhausted. As I was ready to go, I proceeded to search for my brother to let him know I was ready to head home. Much against the protest of Andrew. I searched for at least an hour without a single sighting of him. To the point to where Mary was helping me look for him as well. No one had seen hide nor hair of Victor. It was shocking to think so, but we assumed he had left with Rose. We had to get home before it brought up suspicions in our parents which was much more fearful than walking home on our own. Mary and I headed out of the club alone in the dark. We started walking down the ally way when we heard a loud growling around the corner. I had no desire to find out what the sound was but Mary was an investigative soul. She grabbed my hand and walked me around the corner with her.
I will never be able to forget what I saw. My brother was lying on the ground with a large dog over top of him.. Gnawing and glowing at his chest. Another dog came out of the darkness and clamped it's jaws on my screaming and kicking the dog in every attempt to free my leg. She kicked it in the face multiple times and pulled me to my feet once I was free. We both took off into the dark, finding our ways home after running for miles. I was a certain mess after seeing my brother's open chest. I began changing that night and it is safe to say that I was never the same.Hearing the sound of a human beating heart was appetizing to me. I began killing people. My family, friends. People I had never met in my entire life. I had took on another appearance while eating hearts from chests. A dog. Thinking back on it, I know Rose and Andrew must have been behind it due to how strange they had acted. I have tried working on a different diet, being on my own since.
CHERRY PIE
I was fourteen when it happened. Old enough to get in trouble but not old enough to be wise enough not to. We were always talking about that old house. Every neighborhood has that one old house that's just tired and creepy and run-down. The house that always looks dark on the inside, no matter the time of day, but people will still swear that they see movement in a window as they pass or a flicker of a strange light. The house that's been untouched for years, maybe even decades… that's been overrun with weeds and void of any sort of care. You know the one.

We pretty much spent half of our summers talking about that old house… telling creepy stories and spreading rumors… daring each other to run up and knock on the door, that sort of thing. Hey, we lived in a small town and there wasn't much around for entertainment, and we were just stupid kids. We would make up whatever bullshit theories to explain the shadows we may or may not have seen and the strange noises we may or may not have heard. The most common was that the house was haunted, of course, although we also entertained the idea that it was inhabited by some creepy old centuries-old witch. Ha. As if such a thing existed, right?

There were five of us there that night: me, my brother Flynn, and our friends Sara, Elliott and Lena. Sara had a fire pit in her back yard and we were sitting around it, roasting marshmallows for s'mores and trading ghost stories, like we often did, when I guess Flynn got a bug up his ass urging him to be overly curious about that house (or overly stupid, in hindsight). He was tired of wondering what the truth was about the place and decided that it was time that we figure out the truth. We tried talking him down but let me tell you… my big brother is stubborn as hell and when he puts his mind to something, there's no talking him out of it. The only thing any of us could do was to go along to make sure he was safe… you know, on the off-chance that there was an evil hag living there. Couldn't exactly have a toad for a brother, could I? I mean… an actual toad.

It was after dark, which made it even creepier. Elliott was trying to convince Flynn to wait until the following day, when it wasn't quite so scary. He was the youngest of the group… just about a month younger than me, and definitely the smallest, but also, believe it or not, probably the smartest. Lena was also hesitant, mostly because she, the oldest in our group at nineteen, was kind of overprotective of us as a whole. We always kind of looked at her like a big sister, I guess. She was protesting right alongside Elliott. I wish we had listened to them. Maybe if we had, Flynn wouldn't be in the mess he's in today.

You see, it had taken us some time to find a way into the house that night, but I finally managed to get the lock on the back door open using Lena's debit card. The house was just as much of a chaotic mess on the inside as it was on the outside… maybe even moreso, but it was quiet, for the most part. Using the flashlights on our phones, we searched the main floor and even looked around upstairs, and found nothing really of value. There was a lot of old crap… antique furniture and art and knick-knacks, some of which might have been worth something if it hadn't looked like something had come through there and slashed through any bit of fabric with some sort of blade or something and if most anything glass or porcelain wasn't lying in pieces on the floor or at least chipped or scratched. At the time, we had no idea what could have possibly done all of this damage… Maybe whoever used to live there had an unruly dog or… pet mountain lion or some shit. Who the hell knew?

Either way, we had ruled out that it was haunted… ruled out that anyone lived there at all. The place seemed to be empty, and although finding it to be so was a relief, it was also kind of a disappointment. But at least we knew the truth.

We were on our way out the door when Flynn heard a noise from inside. The other three were already outside and my brother was right behind me. I was ready to go, but he wanted to check it out. He insisted on checking it out. With an annoyed sigh, I told our friends to just wait for us outside… that we'd only be a few minutes… and I followed him. I doubted it was much of anything… probably a raccoon or something had gotten into the house through the crawl space or the attic or something. I didn't imagine it would take us long to figure it out.

What we did find, however, after doing some investigating on my brother's insistence, was a trap door underneath a tattered old rug in the living room, and a set of creaky, very treacherous looking stairs leading down into some sort of dark cellar. I tried to advise Flynn that if he insisted on going down there, we should try to be quiet about it, just in case. But Flynn's a bull-in-a-china-shop sort of guy and he took those warped, wooden stairs two at a time down into that pitch-black basement. I followed, quick and light-footed and at a much quieter pace, not at all expecting to run right into him at the bottom of the steps, causing me to lose my grip on my phone so that it clattered to the cold concrete floor, the flashlight going out.

"Damn it," I swore in a loud whisper, bending down to feel around for it. "Flynn help me find my phone."

But he didn't move. Not a bit. "Kim…" I realize now that his voice was shaky, but at the time, I was too preoccupied with my search to notice.

"What?" I was annoyed, my hands clambering around on the cold floor, loudly patting the concrete. How the far hell could it have gone? "Come on, you ass, help me."

"KIM," he said again, more urgently, and it was enough to get my attention this time.

"What??" I snapped, right as my hands closed around my phone, and I looked up at Flynn. With the ambient light from my phone's home screen I could see that he was looking straight ahead at something with a terrified expression on his face… something I wasn't used to seeing from him. Confused, I followed his gaze slowly, my vision landing upon a pair of large, glowing golden eyes in the corner of the room, maybe a hundred feet or so away, if I had to guess. "What the hell…?"

I quickly swiped my phone's flashlight on and shone it in that direction, and what I saw is something I will never forget. At first, it looked like some sort of dog… like… a really… really big dog. Maybe even a wolf. And maybe we could have gotten out of there believing that's all it was, except that its eyes literally glowed like firelight and the thing actually reared up on its hind legs and charged us, baring its enormous canine-like teeth, drool flying out of the corners of its mouth disgustingly as it ran.

"RUN!!" Flynn screamed, and before I could even protest he literally lifted me up around the waist and set me on the stairs and gave me a shove. I almost lost my balance when he did, but I managed to keep my footing as I scrambled up the stairs in a desperate attempt to escape. When I reached the top of the steps, I turned to make sure my brother was right behind me, and he was, though as he was about to emerge into the living room I watched in horror as the creature tackled him to the floor and pinned him. Flynn screamed in pain as it bit viciously into his shoulder, latching onto him and tearing away a huge chunk of flesh and muscle, and it didn't look as though it planned to let him go.

Desperate to save him, I grabbed the closest thing I could find… a tall, silver candlestick that I swung at the wolf-like creature's head as hard as I could. I wasn't very strong but I sure as hell was fast, and that first whack caused it to react in a way that I did not expect. The silver seemed to actually burn it… its flesh actually sizzled with the impact and the smell of burnt fur permeated the air. The creature let go of Flynn and backed off a bit, so I kept swinging at the damn thing, fueled with purpose. I had to protect my family.

By this time, our friends had heard the commotion and had made their way back inside, witnessing the horrific monster and the awful condition my brother was in as he laid there on the ground, unmoving and bleeding profusely. I had managed to beat the creature back until it retreated down into the basement, and with the help of my friends, we managed to drag Flynn out of there and back to Sera's house, which was the closest. Lena managed to stop his bleeding as we waited for the ambulance to arrive.

We never told anyone what we saw that night, instead telling the EMTs that he had been attacked by a stray. That old house was still private property and we weren't exactly allowed to trespass. Not to mention, when Flynn started showing signs of strange, aggressive behavior just a few weeks later and other symptoms… symptoms that, as you probably have guessed… led to the revelation that he had been turned into a fenrir as well… Well, we couldn't take a chance on him being discovered. Because if they found out about that creature in the basement of that house, someone might eventually be able to piece together the truth about my brother.

And I'll be damned if I'm going to let anybody touch him.
RIVERLILY

Alyria watched through the window as her mothers left the house to their SUV. They had a job somewhere else that they had to get to and they couldn't take a six year old out and about since it was a grown up job to do. She had no idea that her parents and grandparents were creature hunters. It was just too much for her parents to tell her at this age. Her grandparents were there to watch her for the time being which was good since they made the best food in the family. She drew back from the window and scurried over to the kitchen where her grandmother was making some sugar cookies. The young girl was curious to see if she was just making round ones or ones with cookie cutters. She pulled a stool over and stepped onto it so that she could see what was going on. "Grammy, we do unicorn?"
Her grandmother shook her head as she placed some round pieces of dough onto the sheet. "We're not doing shapes today, maybe when we make them next time we can do it. These ones are for our new neighbor next door. He's an elderly gentleman who just lost his wife. He's sad so I thought we could cheer him up. Does that sound like a good idea?" Alyria thought about it then nodded. "I help too?" She grabbed a piece of cookie dough and put it on the cookie sheet as well. She hadn't thought of washing her hands because she was only 6. Her grandmother watched little Alyria finish up putting the cookies on the tray, only a couple went missing into the young girl's mouth. Once it was finished the grandmother put the cookies into the oven and had Alyria wash up her hands and her mouth. She read stories to Alyria until the cookies finished in the oven and cooled down on the rack.
Alyria helped out with putting the cookies into a container and closing the lid. "We go now?" The young girl asked as she tried to use her strength to seal up the container. Grammy nodded and the two headed out of the door to the small cape cod style house next to theirs. Alyria pushed the door bell several times, it took a couple before her grandmother noticed no one there. The car was in the front but no one was coming to the door. Suddenly she noticed Alyria on the other side of the door. The door got unlocked as the girl looked really panicky, "Grammy! Man sleep on floor… goo next to him and skin.." Suddenly a hand reached out and pulled her in and closed the door shut before her grandmother could get in. The man was there but the dead man on the floor looked just like him.. Confusion filled the young girl but it was changed to terror.
"Wrong place, wrong time kid… now it's over for you. Too bad… such a young child.." Apparently the skinchanger figured that it wasn't a good idea to do that because a moment later the grandmother burst through the front door with a kick and shot him in the heart with a silver bullet. "No one touches my grandchild…" Alyria jumped back and screamed when her grandmother did that. She didn't know what a skinchanger was but this was the first time she had ever seen something this strange before. She ran over to her grandmother. "What was that?" Tears ran down her cheek. Her grandmother knelt down and hugged the girl, "A shifter, deary.. When you mentioned skin on the floor I guessed." Alyria was still confused but her grandmother just kept her held in her arms and wasn't going to explain much now.
JENNZ
It seems so long ago and far away now. So much has happened since then, so many things that once upon a time I would have laughed about. Told you were crazy if you said something like that was real. But now I know that it is real and I'm the one that would get laughed at when trying to explain it to a non-believer. Now I would just smile to myself and think, "you'll see," then go on my way.

What I'm talking about is my first experience with the supernatural. I was just a teenager then, far from being all sheltered and innocent though. I grew up mostly in the foster care system but none of my experience prepared me for what would happen that one night in New York City.

Life had been pretty good for Jade MacAuliffe the last couple of years. Probably the best and most stable of her young life at seventeen years old. She had a best friend, Kennedy Stark. In fact, she had a group of good friends that she lived with. The five of them were always hanging out together. Doing typical things that teenagers do. For the first time in her life, Jade was actually truly happy. Of course, that was when something crazy was bound to happen, right?

One night, Jade, Kennedy, Dillon, Megan, and Troy, who were known as The Guild, were out and about. They had gone to their favorite Karaoke place and made utter fools out of themselves, singing awesome versions of their favorite 90s songs. Bitch by Meredith Brooks was Jade's signature song. One Week by Barenaked Ladies was another favorite. Then there was, of course, All Star by Smash Mouth, Genie in a Bottle by the blonde Goddess Xtina. Almost anything by The Spice Girls or Britney Spears and the night would not be complete without a little TLC and No Scrubs. That was a given.

After having their fun, they stopped off at the local coffee shop and then hyped up on caffeine, late at night they started the walk home. Typical teens, they were laughing and teasing each other as they walked. Not really a care in the world at the moment, there were five of them after all. Traveling in a group, they generally felt pretty safe with each other.

This night would be different.

Suddenly, a strange dog-like creature came out of nowhere. Before they knew what had happened, Dillon had been attacked and bitten. Everyone was freaking out a bit, everyone that is except for Kennedy. While the other's gathered around Dillon and tried to help him and tend to his wound, Jade noticed Kennedy doing something completely different and springing into action.

Jade watched as her best friend seemed to know exactly what she was doing. From some kind of hidden sheath strapped to her boot, the dark-haired teen pulled out a shiny blade. In what was obviously, well trained and practiced moves, Kennedy was fearless as she stabbed the 'dog' precisely in the heart, killing it dead.

With the exception of Jade, the other friends gasped in a mix of horror and surprise as Kennedy's actions. All of them thinking it was a bit of overreaction to do something like that because of a dog bite. Jade, however, knew there was something more going on and kept her eyes on Kennedy. Wondering what the explanation was going to be.

Before Kennedy could even say anything, something very strange happened. Right in front of their eyes, the 'dog' turned into a person who was lying dead on the ground. There were more gasps of shock and disbelief from the other three. Jade was just as surprised as the others but she remained stoic and serious. It was Jade, even before Kennedy who spoke up. "We have to move this body into the alley before anyone sees it. Help me." She said as she bent down, grabbing the arms and starting to drag the man away with Kennedy's help.

Quickly and with a sense of urgency, once the body was stashed out of the way, Jade urged the others to hurry up. "Come on you guys, we have to go. Explanations can wait until we are safe at home." Ever the protector of the group, Jade made sure everyone was moving and they made their way home.

Quietly making their way inside, Jade then ushered everyone into her and Kennedy's bedroom, closing the door behind them. Turning and leaning back against the door, Jade folded her arms across her chest, eyeing Kennedy suspiciously. "Ok, girl. Spill it. That was super weird and you didn't bat an eye going for the kill. What the hell was that?"

It was then Kennedy finally launched into the truth about the Stark family. The truth about the things that go bump in the night. All the ghost stories, everything from vampires to werewolves, angels and demons, and more. It was all real. That 'dog' was really a skinwalker and that's why it turned back into a man when it died. Dillon was bitten and he was going to be one now too. And maybe the biggest surprise of all, the Stark's were a family of 'hunters' whose job it was to protect people from these things they didn't even know existed.

Once again, everyone seemed a bit dumbfounded by this revelation. All but Jade of course. Why she wasn't quite as surprised as the others, she wasn't sure. Maybe it had just been a feeling that things weren't quite what they seemed. Whatever it was, Jade took it all in stride. Her gaze going immediately to Dillon, then back to Kennedy. "We're NOT going to kill him. He's our friend. We'll figure something out. We'll take care of him. That's what we do. We're all in this together now."

Jade looked at everyone in the group, all of them slowly nodding their heads in agreement. Even if their faces were still pale with shock. When Jade was satisfied no one was going to have a problem with this, she turned back to Kennedy. "Ok, so. What happens now? I think you're going to have to teach us all how to be hunters. It's the only way."

It wasn't long after that we set out on our own. We got ourselves an RV and hit the road. We learned about different monsters and creatures, we learned about what was going to happen to Dillon. Those first few weeks were hard, but we made it through. Now it's years later and we've all been through a lot. Dillon has adjusted to being a skinwalker, he even has learned how to use it to his advantage sometimes.

The rest of us in The Guild, we learned to do what it takes. We hunted down things that did harm to the world. Leaving those creatures that just want to live quietly among us alone, as long as they don't hurt people. It wasn't always easy but we all found that we had our own special skills and worked well as a team.

And then... Zepplin City. Well, that's another story for another time.
ANGEL WINGS
It had been a few months since Kaeda had lost her family and clan, only to be reborn by the sea with her 'gifts'. It still confused her as to why her life was spared when others were not. Her siblings, her parents, friends she had known since birth... All gone. Slaughtered ruthlessly for the sake of rivalry. Yet she survived. Where once were wounds littering her chest and her furs soaked with blood, now it was as if new. Her time was made anew with her gifts, birthed by the waters she loved so much and gifted to her by a strange woman.

As her feet moved across the forests, a howl broke out in the night. Her muscles froze, tensing at the sound. Immediately, as though by instinct, she withdrew her blade, the silver metal flashing under the light of the moon. The young viking crouched as she moved along, eyes scanning all around her as she moved.

Silence met her again but she didn't stop. Instead, she moved faster. Whatever it was, instinct told her that laying low wouldn't help her.

Then, as quickly as it vanished, another howl ripped through the woods. This time, it was much closer.

Kaeda's breath began to increase as the faint tendrils of fear began to reach out and grip her heart. She had hunted alone a few times but never against wolves. It was always a pack vs. pack hunt and only when absolutely needed. She couldn't hope to take on a pack of wolves alone.

As she ran through the woods, trying to be as quiet as possible, a large figure darted out and tackled her to the ground. In the glint of the moon, yellow eyes and large canines flashed at her as the furry creature and her rolled in the dirt. Quickly, she kicked the beast off her, only to be met with surprise as it yelped and backtracked.

It was a wolf. But with the shape of a man. How could this be? She had heard tales of these creatures from her grandfather. Varulv he had called them. Werewolf.

Before she could dwell on how her childhood fairy tales could be true, the creature lunged at her again. Her sword raised up, slicing instinctively at the creature's arm, severing it's left hand.

A howl of pain erupted and it recoiled. The clawed hand fell to the ground and it gave Kaeda courage. Whatever this creature was, Varulv or not, it could be hurt. Which meant it could be killed. The young viking tensed her stance and grabbed her shield from her back.

The creature roared, angered by the pain and lunged at her again. Kaeda lifted her sword and lunged in kind.

The shield collided with the creature's claws, a screeching sound filling the air as they raked down the metal and clawed into the wood. Kaeda lifted her sword high, swinging with all her might but she missed, barely grazing the shoulder of the creature.

Pushing past the shield, the creature attacked, slicing at her shoulder with it's razor sharp claws. She cried out in pain, the warmth of blood rolling down her back.

She gritted her teeth and lunged again. The battle waged on, for what seemed like hours. Both warriors took injury after injury. But Kaeda didn't feel as weary as she used to. Emboldened and enraged at the loss of her family still, she continued to fight and swing her sword.

At long last, she sliced through the air as hard as she could. The sword collided with the creature and ripped through the flesh. She closed her eyes as blood flew but she didn't hear the howl of pain. She heard a wet sound, akin to drowning, as warm blood splashed onto the ground. She opened her eyes and they widened in shock.

The creature now stood headless, blood gushing from where its head once was. The body collapsed to the ground and silence met the young warrior.

She took a breath. Her muscles were sore. Her wounds still bled. But she had won against this creature. She paused, kneeling beside it. If she was to live in this world and find her purpose, perhaps investigating this creature and others like it would be a start?

Looking around to ensure it was the only one, she turned to the creature and began to examine it, committing details of it and the fight to memory.

As she studied the corpse, her blood-stained sword stayed in hand, the silver metal gleaming in the light. A constant reminder of her family, where she came from... And what she was capable of doing.
DEVIL'S TRAP
Round 1 | Fresh Blood
It was a hot night, Mary thought this was pretty mild for a sorority dare. All she had to do was to stay a whole night on her own at the cemetery. Pretty easy, huh? She wasn't the squeezy type, it was just annoying at best. No phone, no distractions. All she was allowed to carry was a flashlight. She kind of wished they had allowed her to bring a sleeping bag, but she was supposed to stay awake. Dusk had settled in a couple of hours ago and she was dying of boredom. If she had been a bit more superstitious the moon raised up in the sky looking red between the clouds would have been seen as a bad omen, right now it just made her think that probably there was too much smog on the air.

She was sitting cross legged on patch of grass, no one's grave she made sure, she didn't believe in ghosts, but still had respect for the dead. A very cold breeze hit her body and that surprised her, but it was a welcome surprise. Good she thought. Coldness being preferable to her than heat. It didn't take too long for the temperature to drop after that, and that sudden change made the girl knit her brows together. The hell? She had heard about crazy weather, but in a span of a few minutes was just nuts. She had become able to see her own breath. That, in particular, didn't bode well, she brought no sweater so now she was screwed. She hugged herself and got up, shining the light around as she walked to see if movement improved her current dilemma.

She found a crypt with an opened door. Without thinking it twice she got herself inside. What happened next would be hard for her to explain, but just as she had gotten in. The. Door. Closed. By. Itself. Or maybe it was the wind, right? Maybe it was the lack of sleep she didn't believe in any of that nonsense. Yeah, it was her mind playing tricks. It had to be. She felt a shiver running through her spine and then the very distinct sensation of a cold hand grabbing her shoulder. As a reflex she turned around and tried to shove the intruding hand with a swift wave of her hand. There was nothing there, her hand met with no resistance.

HAHA! VERY FUNNY GUYS! YOU CAN COME OUT NOW! I'M NOT SCARED! - as she said that she may have sound a slight bit scared actually, that is if another sister had been there to hear her. Which wasn't the case.

Silence followed. There was a brief pause of 5 minutes before she started to hear rattling on the walls. She kept yelling come out, I'm not scared and many variants, but the sounds would continue. Having enough, she decided to leave, those seniors were downright wicked. AS she tried to push the door, it wouldn't give in and the sounds around her turned into heavy hits on the walls. She kept trying and her eyes started to tear a little, finally suddenly she was shoved away from the door and fell. She tried to get up, but she felt a hit to her stomach. Every time she tried to get up or escape she was hit in some fashion by something she wasn't able to see.

The coldness grew and she finally rolled on the floor in fetal position crying, the sounds around her were a mix of scratching sounds, hits and sometimes she thought she heard pained screams. It lasted for hours. She had her eyes shut and had covered her ears until she felt one hand grabbing her shoulder and that was the last drop she opened her eyes and punched the poor caretaker. She looked around confused as the man uttered a few curse words directed at her. It was over, she could see daylight was starting to break.

The nightmare had ended.

• • • Results
Wow, I've got to say I knew it was going to be hard judging everyone's writing, and I've got to say that you all definitely didn't make my job easy on me. I went through and read every story in the order they were received. I loved reading stories tied to characters made on EotR, but I also was very interested in those who weren't. Each round I will choose a top three, and a bottom three. Keep in mind that even if you aren't in the top or land in the bottom, it doesn't mean you were bad or that I didn't enjoy your story. I had to judge these on a lot of things. Were the stories something I've seen before? How captivating was the storyline? Did they have me wanting more? Leave me guessing? How well detailed was it all? There's so many questions I had to ask myself with this.
The following people;
The Colt, Lyndsey, Jade, and Angel Wings.
You are all
safe
That means Singingdoughtnut, Holy Water, Croatoan Virus, Cherry Pie, Riverlily, and Devil's Trap you all represent the tops and the bottoms of this week.
SINGINGDOUGHNUT
Your story concept was interesting, and I liked the fact that you chose a siren as the focus point. However, I was lost a bit with the wording. Some things confused me, and a few times I was left wishing you would've been just a bit more descriptive. There wasn't much of a reveal to what the creature was, it was just right there spelled out for me. A bit more of mystery would've went a long way.
HOLY WATER
Right away the setting for the story had me pulled in. The music you added into your entry was a nice touch, it helped give your story a bit of a feel as I read it. You left me wondering, what could actually be happening. I wanted to know more. I would've liked to know a bit more about the fence, why they wanted it built. What happened with these ghouls and the people residing there? Telling it in first person was a good idea on your part. It helped me connect to the storytelling. Overall it was a joy to read.
CROATOAN VIRUS
The insight to what I assume is part of Hal's past was very interesting. Whether or not that is canon with your character, I enjoyed the story. The detail was on point, and I had no trouble imagining Hal's mother or the death echo that occurred. That was definitely a different kind of supernatural occurrence to pick. I applaud that. Sir Carrotine was adorable. I do wish that a bit more was revealed with the death echo. After the initial appearance of it, not much else was revealed. The guard mentioned ghosts, but it really left me wishing he would've revealed just a tad bit more of why he thought that. Overall it was a very good and detailed read.
CHERRY PIE
I really liked that I didn't know what the hell was coming next in your story. Was it going to be a ghost story? A wicked witch? Nope! A fenrir! That was an interesting surprise. You captured the mystery and fear in your story incredibly well. Kept me guessing as to what it was. I would've loved a bit more of a backstory as to what that fenrir was doing in the house. Was it just staying there temporarily as a lair? Was it some neighbor who had been using it to keep themselves locked up? A lot of stories this week revolved around skinwalkers/werewolves/fenrir but yours seemed to really draw me in. It was great story telling.
RIVERLILY
It was a cute image to think of Alyria as a kid with her grandmother making cookies, however she seemed a bit younger than six. The way she talked threw me off, for some reason. The shapeshifter came out of no where. First the door was locked and then suddenly it wasn't? And then poor Alyria is inside with the thing before her grandma bursts in and saves the day. How did she have time to prepare for a shapeshifter with a silver bullet? They were making cookies. The story as good, concept was there... But pacing needed work.
DEVIL'S TRAP
I put aside the writing a bit, because I know you had rushed it and english isn't your primary language. I liked the story, but it seemed a bit cliche. I was waiting for more story elements to come into play... She was haunted but we never really got to know anything besides the fact that it was a ghost(s). I was hoping the spirit would appear, or a bit of backstory of the crypt she went into. Names on the tombstones, maybe the grave keeper could've revealed something. It was a bit too "safe".
Cherry Pie, you are safe.
Croatoan Virus, you're this challenges winner. You've won 50 SP and an advantage in the next challenge.
Holy Water, you are safe.
Riverlily, your fast pacing was just a bit too quick. You are in the bottom two this week.
Singingdoughnut, your story telling was a little confusing and had me lost at sea. But you're safe this week.
Which means, Devil's Trap you are also up for elimination.
The bottom two will duke it out in a 1v1 battle in c-box in a challenge known as
Survival of the Fittest
. Both players will be given random characters to use in the battle. These characters will have anything from random personality traits, facts, abilities, items, etc. You do not need to win the battle in character in order to win the challenge. Write the character the best you can, representing their quirks and using what is given to you! Good luck and may the strongest survive.