Post by Agron on Dec 8, 2019 22:59:10 GMT -5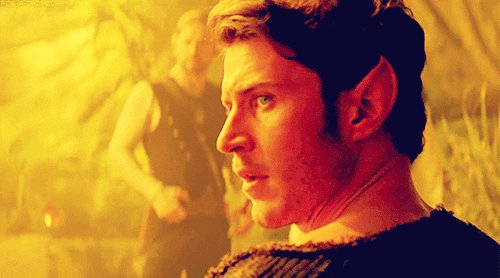 Full Name:
Agron
Nickname/Alias:
Argon, Agorn
Age/Date Of Birth:
Ageless
Race:
Creature
Occupation:
Do-gooder, Former Guardian of Purgatory
Species Group:
Elves
Play-By:
Aaron Jakubenko
Abilities
Characteristics - Elves are creature/angel hybrids created by God in order to watch over Purgatory and the creatures within it. They are tasked with protecting the realm and keeping the monsters within.

Appearance - Elves are beautiful creatures with pointy ears, being the only thing that truly gives away their species. They usually have a more pale hue to their skintone.

Powers/abilities -


[/u][/i]: Elves are able to possess a creature through contact, causing the creatures eyes and mouths to light up. Unlike normal possession, they are not only inside the creature but also remain within their own bodies - being split into two beings at once. Just like angels, Elves must have permission to possess another creature; and the stronger the creature is the stronger the Elf must be to possess them.
Holy Touch
: Elves can smite lesser demons and creatures. Their holy touch is much more effective against creatures.
Supernatural Strength
: Elves can overpower humans and some creatures.
Supernatural Agility
: Elves move, leap and climb with ease and grace that no human could quite mimic.
Heightened Senses
: Elves have extremely sharp senses, especially so with sight and hearing.
Invulnerability
: Elves are rather hard to kill. To do so they must be killed with an Elvish Blade, Elvish Arrow, Elvish Magic, Holy Fire, Leviathans and obvious things such as Death and God.
Elven Magic
: Elves have powerful, ancient magic at their disposal that can be used to bend reality, heal, and fight Leviathans among other creatures.
Calming Voice
: Elves are one with nature and do to this, they are able to speak to not only animals but the supernatural creatures who are inhuman such as Wendigo, Chupacabra, etc.
Supernatural Perception
: Elves are able to see things on the astral plane.
Telepathy
: Elves can communicate with each other through telepathy.
[/ul]
Vulnerabilities
-
[/u][/i]: Elves can be killed with an Elvish Blade or Arrow.
Elvish Magic
: They can be killed using Elven magic and can also be warded against using Elvish sigils.
Holy Fire
: They can be killed with Holy Fire.
Eve
: She was able to kill Elves.
Perytons
: Elves will sneeze when a peryton is near, as if they are allergic to them. A bite from a Peryton will weaken them greatly but will not kill them; just making it easier to kill them.[/ul]
The Oath:
Aradae and Agron are connected by old elven magics due to the Oath they both swore. The two of them are linked in a way that makes them perfectly in sync with one another when they are together in combat, be it with or against one another, and linked on a deeper emotional level - often willing to go to extreme lengths to assure the others safety.[/blockquote]
Special Inventory
Special items that are bought from the store will go here.
Likes:
❤ Meditation
❤ Observing Nature
❤ Fighting (But in a similar way to doing exercise he doesn't like to hurt others.)
Dislikes:
✗ Cruelty
✗ Feeling incapable of helping
✗ Twisted Souls (Demons or Fallen elves)
Fears:
☬ Falling as his brother did.
☬ Losing his brother
Goals:
★ To Protect everyone and, if possible, to redeem his brother.
Personality:
He has a calm and collected personality, although he often worries about his brother. He tries to keep a very serious persona, though in some occasions he slips out and relaxes himself a little. He doesn't like to let down or annoy others so he often takes things more seriously than he has to. He is definitely an over thinker and sometimes he gets caught just assuming things wrong. But taking his time to see all angles is not always a bad thing and there has been many times when his caution and thinking have turned the tides in his favor. Is both a flaw and a gift.
Agron will never understand what took for his brother to fall and has always thought it was something he could have prevented if he had been there to help him. Somehow, despite everything, he still holds on to the hope there's enough good on Aradae to return to the right path. He is very much afraid of suffering the same fate, and the thought of him turning and being as vicious as him, with a desire to kill other Elves, keeps him awake some nights. He has forgiven his brother for all the times he tried to kill him, but he will never approve of how he has hurt others.
He doesn't like the idea of having to harm his brother to stop him. But he had been willing to so in the past, just so he could save others from his wrath. However, he was never really able to finish him, as the thought of him having to kill him was too much. Sometimes, he wonders if all the destruction his brother left is also partially his fault, he feels guilt over his inability to kill him. He fears someday will be the day that he will have to do it, and feels a profound dread of ever seeing him die, more so if it's by his hand.
He is kind, compassionate, and patient. He tries hard to understand other people's feelings and motivations, although he doesn't always manages to understand dark feelings. He truly believes in forgiveness and he will always be willing to give others a second chance. He doesn't bear an ill will to those who have imprisoned or badmouthed him.
He is one to wear his heart on his sleeve and when he wants to make his feelings known, he expresses them directly. He is somewhat naive, but not entirely unaware of his surroundings and how others will interpret his actions. He was always a stickler for the rules, and ever since his fall from grace, he has felt a bit lost.
Traits
[/b][/font]
✧ Relentless
✧ Steadfast
✧ Levelheaded
Negatives:
✦ Indulgent
✦ Strait-laced
✦ Insecure
[/ul]
Parents:
N/A
Siblings:
Aradae
Other Family:
N/A
Important Others:
Kai
History:
Like many elves he was trained to fight, learned magic and was taught to always use his gifts to the service of a higher cause which was to protect the balance of purgatory keeping the evil creatures inside and maintain order. He grew to be a proud dedicated warrior, always fighting next to his brother, Aradae. When the time came, he gladly took the oath with his brother. Through their many feats during their time as an unit, they earned a promotion and the privilege to enter in The Oath.
Their new duties separated them, as Agron worked as Emissary to Heaven, while his brother, Aradae, was selected to act as Emissary to Hell. But they would spend time together sparring and whatnot when their duties allowed them to do so. Over time, Agron started to see some distress reflected in his brother eyes everytime he returned from hell. He could never put a finger on exactly what was about it, but it he felt a strong urge to protect him from it. All he could do, was plead to his superiors that his brother wasn't made to travel there as constantly as he was going to heaven, or even change places. His pleas fell on deaf ears.
One day his brother failed to return from Hell. At first Agron tried to inquiry with his superiors why he was not returning, but he was dismissed and told not to ask anymore. As time passed, he grew more and more desperate, he even tried to get angels to help him. But that wasn't his duty nor he had the authority to demand their help. Agron even went as far as to try and find a way to open a portal to hell, but when he learned of the evil things he would have to do to accomplish such a goal, he gave up, he could never use a life in this foul way.
He fell into despair and depression, nevertheless, he could still sense his brother was still alive and he held to a slim hope of seeing him again some day. Even with his brother gone he managed to carry on with his regular duties. He never faltered, he never fell out of line, he had trust they were the good guys. When his brother returned from Hell, he didn't have much of a chance to a happy reunion, all he could sense was there was a Darkness in him, he could sense through their bond. He had never felt his emotions in this much disarray, it scared him.
Before the dust had settled his brother had ripped his grace and fled from the Elves, becoming a Fallen one. Agron realized his brother was not coming back to his side and, with a heavy heart accepted he would not be seeing him anymore. But he was wrong, as he did see him once more, only this time he wasn't fighting on his same side, he was the enemy he had to defeat. He fought his brother many times, sometimes Aradae came close to killing him, other times he was the one who won. Something would always kept the both of them from dealing the killing blow, Agron believed the reason was that they still loved each other.
While his brother fell, Agron's reputation among the elves was raised. For he maintained his loyalty and would be even able to fight his own kin. Although there may had been those among the upper echelons who doubted him, even back then. With his brother gone and turned his enemy, his job was all he had and he poured his entire heart into it, caring for nothing more. It was at this time, he was given the job of teaching a human elven magic. Agron loved Kai's fascination with their magic and the very diverse creatures, he taught him everything he knew. He held back nothing.
The more time he spent with him, the more warmth and happiness he felt, then they kissed. They began to meet less openly just to be together with each other. Kai told him everything about his hardships. Agron told him about his brother and how he had fallen. He wanted to free Kai of this demon's clutches. He began working a spell to send Kai out of Purgatory, hopefully, where he would be able to find a way to hide from Rumpelstiltskin and any other demon or witch he would send after him.
One night, the Elven City was attacked, Fallen Elves raided the city wreaking havoc and destruction wherever they went. Agron was forced to fight his brother once more, he was almost killed, but Kai swept at last minute saving his life. He was heavily injured and everything was a mess. The night wasn't even over when word got to him that Agnes and Rumpelstiltskin were involved, he knew he had to save Kai or he would be killed. For once in his life, he did not do what a Loyal Elf would have done, which would have been to apprehend Kai for his masters.
Instead of that, in the middle of the fray, hurt and weak he ran with Kai out of the city. Kai never knew of his intention, but his spell that would teleport Kai out was ready. When they were at a safe distance, Agron made his intentions known to Kai, he had to escape and he had to do it then. He wouldn't be coming along. Kai did not accept this, but the elf had already made his mind. Using whatever magic power he still had left in him, he opened a portal and pushed Kai into it. His eyes welled with tears as he watched his lover disappear, but he felt relieved. He would be safe, then he passed out.
When he opened his eyes again, he was chained and on a cell. They would poke his wounds, beat him up, call him names, spit on him, water board him, and more. He received a vast and painful number of punishments reserved only for those deemed as scum. He was a traitor. He was hated and vilified, branded as co-conspirator, a spy, working for the demons and the fallen elves, he had sold the city's defenses to them, he had consorted with the enemy, he had aided the attack, he was a villain.
His good name was dragged through the mud, any and every title or recognition he had ever achieved was stricken back from the records. All of his former comrades, looked down on him, no one spoke on his behalf, not many came to see him. Those who did, only had harsh words, disappointment on their faces or worse, abuse they needed to lay on him. The trial wasn't long, not that he expect it to be. The sentence was guilty, he was to die. Agron took all of it with a calm disposition, he would have been spared all of it if he had given up Kai.
But he could never watch Kai being treated like this. He would rather it was him to take it. It seemed as the only fair price to pay for his beloved's life. He spend the time on his cell thinking of Kai, worrying about his fate, wishing the demon would never find him. He wouldn't be able to help him or protect him. He felt no hate towards his brother and sisters, he made his peace. He forgave everyone, even Aradae. It took him by surprise when his brother broke him out. He was dragged out of that terrible place.
What will happen now? only time will be able to tell. However, at least, the brothers have been reunited.
Alias:
Lyle / Devil's Trap
How did you find us?:
With much effort
Experience:
Tons
Other Characters:
Lyle York, Ithuriel, Apollo, Marshall Barret, Torcher, Marcus Blackwood, Gabby York, Anastasia Martan, Jackson Grant, Finn Williams, Nathaniel McKinley, Revlon Grey, Connor Parker, Rebecca Winchester, Zachary Freeman, Edward Price, Courtney Smith, Madison Stark, Sam Winchester, Lindsey Watson, Eliza Prescott, Fionn Campbell, Luka Reynolds, Danny Blackwell & Kevin Woodsman.
RP Sample:
He sat looking at the window, it was a foggy morning and the image of the street below was blurry because a thin veil of moisture had clouded the glass. A soft sigh escaped his lips. What a tragedy. He had this year the seat right next to the window and the day had to be a shit day with terrible weather. A student sitting by the window should have been lucky enough to have something to gaze and daydream about while the rest of the class was doomed to struggle to remain awake while the monotonous voice of the teacher went on the background.

He looked at the blackboard and blinked a bit when he saw it was a simple problem to which he knew the answer for. He raised his hand in the air, without a second though. Teacher's pet they would call him later, he knew, but he didn't care. They were all idiots doomed to fail somehow in life or that's what he told himself constantly. God knows people like that are a waste of oxygen. His face lighted up when the teacher noticed his hand and pointed at him. He straightened his position and puffed his chest, an expression of pride and superiority fell on his face.

He got up from his seat to write the answer, but suddenly he fell flat on his face. Of course, this was always done, how could he forget? Someone had put their foot on his way and he had tripped like a fool. For a moment, he had let himself forgot where he was and that he needed to watch out for his every move. Fuck. His face was red from anger and embarrassment, he wouldn't cry, he would not let them see him cry. If only that street outside wasn't blurry, then he at least would have had that today.
I Agron have read the site rules and understand them. The code word for the rules is: (Batman)
[/div][/div]
Application Created By Hell Hound
[/div]