Post by Darren Covington on Jan 12, 2014 2:50:11 GMT -5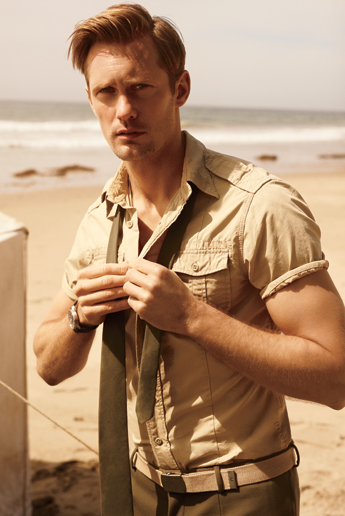 Full Name:
Darren James Covington
Nickname/Alias:
Darry, Dare
Age/Date Of Birth:
Thirty Five | December 4th 1978
Race:
Human
Occupation:
Hunter/Carpenter
Species Group:
Hunter
Play-By:
Alexander Skarsgard
Special Inventory
Special items that are bought from the store will go here.
Likes (At Least 3):
❤ Women With Long Wavy Locks Of Hair - Women with long, usually blonde, hair is what Darren likes the most. However his standards really lie within the personality of a girl.
❤ Dogs - Darren has had a few dogs in his life and he's loved every one of them, they were truly his best friends.
❤ Homemade Cookin' - He loves food but homemade is what is best, he especially loved his mother's cooking.
❤ Trucks - It's the only thing he drives and refuses to drive anything else.
❤ Baseball - He and his brother's were brought up playing the game and he still has a love for it to this day.
❤ Cornbread - The sweet goodness is one of his favorite things to eat.
❤ Chicken - Chicken is by far his favorite meat, if there's chicken in it he's in.
❤ Shotguns - His favorite type of gun to use is in fact a shotgun. This doesn't mean he only uses them but it is what he prefers.
❤ Family - Darry is a very family oriented man, even though now he has no one left. Darren will protect, defend, and honor his families name no matter what, especially his mother's.
❤ Nascar - The men in Darry's family use to gather around and watch Nascar together. This was a tradition set by his father.
❤ Country Music - If not the only kind of music he will even listen to... However there are those rare moments where he will.
Dislikes (At Least 3):
✗ Fake Girls - Don't be what you're not. He may not be the brightest person academically but he isn't stupid and he doesn't like his heart being toyed with.
✗ TV Dramas - He isn't much for them at all... And every show is almost a soap operas and not his cup of tea.
✗ His Problems Taken Over Others - He puts people first and does not like his problems being turned into something big and honestly he usually tries to keep them to himself.
✗ Chick Stuff - This refers to movies, the colors he considers girly; pink, yellow, and purple, and stuff like yoga or whatever he seen before.
Fears (At Least 2):
☬ Never seeing his family again in the after life.
☬ Never being freed from the demon who has possessed him.
Goals (At Least 1):
★ To get free of Mammon and send him straight back to hell, and if he can send him there forever.
Personality:
Darren is a very hard working man who can fix anything he puts his hands to. Darren was taught from an early age to be very handy from his father, starting with dealing with the animals on the farm and eventually the tractor and it just went from there. Working all day in the hot sun, fishing, hunting, then coming home for dinner before going to bed early to do it all over the next day. That is how his life use to be before he was possessed by the demon; Mammon.
He is a bit of a brawler, meaning he can easily beat someone to death with his fists. He is the type to fight you straight up, man to man if you make him, or insult his mama, or anyone else in his family; he'd stop when it's over or the other guy says uncle; he'd also probably shake your hand afterward and share a beer... At least if the comment wasn't too severe.
He treats women with mad respect and is a gentleman when with them, just like his father was to his mother. Next to his love for women his love for dogs takes the cake. He's had a total of 3 dogs through his life and has bonded with all of them. On his free time Darren likes to work on his truck or go out driving it around in the mud. He also likes to maybe go do some hunting... Normal hunting. As in deer, bears, etc.
Traits
[/b][/font]
✧ Modest
✧ Hard Worker
✧ Polite
Negatives (At Least 3):
✦ Slave To Tradition
✦ Illiterate
✦ Bottles Up Emotions
[/ul]
Parents:
Mary Covington (Mother/Deceased), John Covington (Father/Deceased)
Siblings:
Elizabeth Williams (Sister/Deceased), John Williams (Brother In Law/Deceased), Peter Covington (Brother/Deceased), Wayne Covington (Brother/Deceased), Kimberly Covington (Sister In Law/Deceased), Trisha Covington (Sister/Deceased)
Other Family:
David Covington (Uncle/Deceased), Michelle Covington (Aunt/Deceased), Sarah Covington (Grandmother/Deceased), Pete Covington (Nephew/Deceased), Jackson Covington (Nephew/Deceased), Crystal Covington (Niece/Deceased), Arthur Covington (Nephew/Deceased), Mark Williams (Nephew/Deceased), Cody Williams (Nephew/Deceased), Cindy Williams (Niece/Deceased)
Important Others:
N/A
History:
Darren was born on a farm in the middle of somewhere in Tennessee. His aunt Michelle Covington and grandmother Sarah Covington helped deliver him in the bath tub where the mother was in labor. Little Darry was born to a decent sized family with two older siblings; Elizabeth and Wayne. Soon after his birth he was followed by two more siblings; Peter and Trisha, making Darren the middle child.
Darren was home schooled which meant he didn't get the education America consider legit. He learned to farm, fish, hunt, fixing thing around the land, and anything deemed worthy to learn living the farm life. It was at the age of ten that he was taught about the hunting life, he learned everything about the supernatural from his uncle and father and by the age of twelve he was accompanying them on hunts with his older siblings. Their family was well known come to find out. They were a well respected hunter family who was known as allies by hunters and enemies of the supernatural. This soon would be the death of them.
Darren didn't mind hunting things and saving people, however he hated the chance of his family getting hurt so many times he would try to take loads on himself in order to keep the other's safe. It was a hunting trip to Kentucky that changed a lot in their house hold. Darren was twenty six, Elizabeth was thirty one, Peter was twenty nine, Wayne was twenty two, and Trisha was twenty one. It wasn't normal to go on big hunting trips and Elizabeth decided to quit the hunting life not too much prior to the trip, focusing on her husband and children.
They ended up in Louisville Kentucky where a nest of vampires had been causing a huge ruckus and killed many civilians and even hunters. The Covington's decided that they were the one's who had to take care of the vamps and headed up north. They underestimated the vampires however and it ended in the death of Darren's brother; Wayne.
The death of Wayne impacted the family severely and they all quit hunting for five years. When the time came to start hunting again, it was only Darren, his father, and Peter who went on hunts. The three did very well and sometimes other family members would help in hunts but it wasn't a consistent thing.
It was December 4th and the Covington's were having a huge bonfire and cook out to celebrate Darren's thirty five birthday. They were all drinking and laughing, giving gifts and telling stories. There was a woman there by the name of Lana who Darren had taken interest in. His mother had invited the girl over for the party and as everyone was wrapped into talking Lana took Darren's hand and sneaked him away.
The two sat in the moonlight behind the barn, talking and talking when a sudden scream sent him running back to the house. Once he got around the barn he saw his family all in chairs, tied and gagged around the fire. His eyes shot wide and he wasted no time running to where his mother was tied before he was stopped by telekinesis and tied to a chair himself. A demon by the name of Mammon showed himself and explained how much hell hated their family and he just happened to be in town.
After having his way with Lana in front of everyone Mammon killed her by slitting her throat. He circled the family, tapping their heads with his hand as if he was playing duck duck goose. He finally stopped on Darren's and leaned down, whispering in his ear.
"I want you."
After deciding he was going to take Darren as a vessel Mammon took gasoline and poured it on each one of Darren's family members... Children and elderly included. He then lit them one by one. Forcing everyone to watch but mostly Darren. Once one's screams would die he would start another, then another, until no one was left and Darren was left bathing in tears and shaking. Now with his opening Mammon left the host he was in and went inside Darren, his plan to take over his body succeeding.
Alias:
Hell Hound
How did you find us?:
Created the site.
Experience:
Enough.
Other Characters:
Dean Winchester, Chris Anderson, Lizzie Shields, Aspen Meadows, Luke Sullivan, Ryker Nixon, Heaven Micahels, Sawyer Grant, Tyson Grant, Austin Jacobs, and Zane Lancaster
RP Sample:


He was out.... He couldn't believe it. The battle to not be ripped to shreds was an ongoing one for a very, very long time. Once he got out of Purgatory there was one thing, and one thing only he wanted to do. Find Sammy. He split from the vampire who got him out and went on his own. He ended up in Flint Michigan of all places. Didn't take Dean long to get a hold of some fake credit cards, and next he would look for Sam.

Once he got out so many things sounded good, a shower for one, but his love for pie and a good cold beer sounded like Heaven. Dean got himself a motel room outside of Flint, Burton he believed they called it. Either way it was time to go out for a bit, get some drinks in him, maybe find a nice girl and... He let his mind go wildly after being in Purgatory for too long. The thirty three year old smirked to himself, it was truly good to be back.

He grabbed some clothes and personal products from a local store and went back to his motel room. The place really didn't have much things of his taste, but it would have to do. Dean sat at a small table that was positioned in front of the room's window. He took some rags soaking them in water and soap. Watching out the window, he scrubbed his jacket. It took about an hour before it was finally clean and he hung it up to let the water dry. Glancing over to the bed his eye twinkled. Oh god, how he forgot what it was like to sleep in a bed. He threw himself into the bed and let out a relaxing groan before glancing over and... there was a small box which asked for a quarter. Dean's face filled with a huge smirk. He was defiantly glad to be back. Putting his hand down his pocket he remembered some change he had found in the room when he got there. Luckily enough there was a quarter. The man rushed to put the coin down the machine and as he did the bed began to vibrate.

"Ooooh, yes!" Dean said as he laid on his back and closed his eyes.

Dean fell asleep for a few hours and when he awoke he saw it was already night time. "Damn" he thought, he must of fallen asleep during the massage the bed gave him. Jumping up, Dean went to the small bathroom. Fixing his hair a bit and putting on some deodorant, he stopped and stared at himself in the mirror. He had made it out of Purgatory, he should be happy, but there was something still bugging him. Castiel. He left the angel there, he knew he and Gabriel were still in Purgatory with Gabriel trying to talk Cas into going back to earth with him. Wait, what was he worrying for? Castiel left Dean in Purgatory, there was no reason to feel bad for escaping himself.

After getting all freshened up Dean grabbed his now dry jacket and rushed out the door. He stopped once he left the room. Oh yeah, he didn't have a ride. Sighing, Dean walked to a small bar down the street. He wasn't going to get his pie right now, but he damn sure was going to get his beer. He walked up to the place seeing the flashy sign with what looked like some legs tripping over each other. "Stumblin' Inn".... Really? What a weird name for a bar. Den chuckled as he looked up at the sign and walked in. The place wasn't packed, that was for sure. He walked over to the bar and ordered himself a beer, turning to some older man who was sitting there also. The two talked a bit and then went their separate ways, Dean back to the motel, and the man to... well wherever he was going.

The next day Dean went out and got himself a pie, eating the whole thing quickly he decided he was bored. Before ditching town Dean thought he should pay the bar another visit before leaving. It was only the afternoon, sure, but Dean felt like he needed another drink.


He walked to the bar and sat exactly where he was the night before. Glancing around Dean noticed there were only three people in there besides himself. He smiled as the cute little red headed bartender walked over to him.


"Hey sugar, can I get you something." Her voice sounded very erotic. She wasn't the same bartender from the night before.

"Uh, just a beer, thanks." Dean shot her a quick wink as she smiled and grabbed him a beer, popping the cap for him.

Ah, it was nice. Just sitting here, having a beer... But Dean felt lonely, he hadn't seen a familiar face yet, and the only one he could think of was Sammy, his baby brother. In all reality Dean knew Sam had probably moved on, just like he did when Sammy was in Lucifer's cage. He was the one to always want to get away from the job anyways. Maybe he shouldn't look for him, but Dean knew he would. He had to see his brother again.


I (Darren Covington) have read the site rules and understand them. The code word for the rules is: (Batman)
[/div][/div]
Application Created By Hell Hound
[/div]