Post by Hell Hound on Jul 5, 2020 2:56:24 GMT -5
CUSTOM MISSION
Mission Name:
Light As A Feather
Mission Type:
Case (Witches Only)
Muse Music
THIS IS ONLY OPEN TO FOUR DIFFERENT PLAYERS OTHER THAN THE STORYTELLER. FIRST COME FIRST SERVED.
Story:
Light as a feather, stiff as a board. I'm sure you've heard of it. The game where one person lies flat on the floor, and then the others space themselves around them, each placing one or two fingertips underneath the participant's limbs. The person closest to the head commonly begins by saying, "They're looking ill," which is repeated several times, and followed by, "they're looking worse," which is also repeated several times. The general direction of the call-and-repeat describes how the prone person is looking worse and worse, followed by saying "they are dying," and, finally, "they are dead".
Well, that game is where our story begins. A simple slumber party game and a group of girls. They are all freshman in Zeppelin City High, and a small group. Most of them are newer to Zeppelin City. Natasha's parents were out at the bar, leaving the girls in the apartment alone. They watched videos, listened to music, and gossiped about who they thought was hot. That's when Sophia brought up light as a feather, stiff as a board to the group. It had be circulating that something about the game wasn't just a normal game in Zeppelin... It was magic. See, another thing about this group of girls were they were all witches. It's not uncommon for witches to flock to one another, it's how covens are born after all.
Some of the girls were more hesitant to play, because they heard about some bad experiences other kids had. But no one was hurt or worse, right? It should be fine. Well... That's what they thought. Little did the girls know, none of the kids they heard talk about it actually finished the game. They all gathered around, lit candles surrounding them, and Natasha decided she'd try it first so she laid down. Sophia led the group and chanted the parts "She's looking ill," and then "she's looking worse," and then "She is dying," finally being followed by "she is dead." The rest of the girls then began chanting light as a feather, stiff as a board. The wind blew in the room, the flames of the candles rising and then Natasha screamed. The rest of the girls all screamed and jumped back, causing Natasha to fall to the ground and when they tried to wake her up... They couldn't.
Natasha was rushed to the hospital and has been in a coma ever since. We have contacted witches to handle this and figure out what is happening, how to save the young girl, and find a way to stop this from happening ever again. Even if it means playing the game yourselves.
NPCs:
Brianna
Face-Claim: Lizzy Greene
She's the more popular, sassy girl type of the group. She has no time for all this drama and thinks Natasha is just faking it.
Anna
Face-Claim: Annalise Basso
She's a quiet girl, shy, and reserved. She's terrified of magic now after what happened.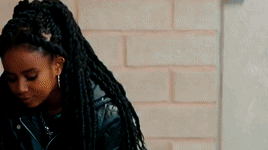 Rochelle
Face-Claim: Yandeh Sallah
She knew playing that dumb ass game was a bad idea, but they all wanted to do it. She's sassy, bold, and isn't afraid to say what she thinks.
Sophia
Face-Claim: Chelsea Clark
She's a sweet girl, and very bright. She is one of the top students in not only her class, but the entire school.
Natasha
Face-Claim: Sara Waisglass
Natasha is the new girl in Zeppelin. After her parents arrived here, her dad took a job as a police officer while her mother became a nurse. They are extremely devastated that their little girl is in a coma and want answers, and even want those other girls to pay for what they did to their daughter.
Storyteller:
Hell Hound
Mission Creator:
Hell Hound
SP Reward"
25 SP for participating - possibly more is to be earned within the roleplay.