Post by Mammon on Jan 13, 2014 22:09:34 GMT -5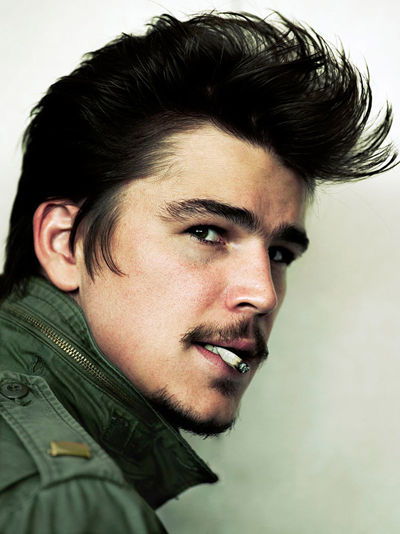 Full Name:
Daniel Malachi Pierce
Nickname/Alias:
Danny
Age/Date Of Birth:
Thirty One | April 13th 1982
Race:
Human
Occupation:
Unemployed
Species Group:
Witch
Play-By:
Josh Hartnett
Abilities
Danny is a witch and a very good one at that. He can do all the basic witchcraft stuff but can perform high leveled spells as well. An example being when he decayed Mammon's host in a matter of seconds.
Special Inventory
Special items that are bought from the store will go here.
Likes (At Least 3):
❤ Cigarettes
❤ Witchcraft
❤ Cats
Dislikes (At Least 3):
✗ Dogs
✗ Instrumentals
✗ People Who Talk Too Much
Fears (At Least 2):
☬ Whatever Mammon will have him do while inside his body.
☬ Being burned alive.
Goals (At Least 1):
★ To stop Mammon.
Personality:
Danny is a very quiet man and observant. He doesn't speak much or tell his past, not wanting to give the time to get to know someone. He can get a bit cocky at times but over all he is a very courageous witch who doesn't like to hurt people. Danny is not easily fooled or manipulated which is one reason Mammon had hard times with him.
He listens to a lot of rock and roll and even screamo at times. Unlike other vessels for Mammon, Danny does not panic about being possessed or getting away, keeping calm and trying to figure out a plan to escape the demon. Though he is not evil he is not particularly good either, he takes care of himself either way.
Traits
[/b][/font]
✧ Courageous
✧ Observant
✧ Incorruptible
Negatives (At Least 3):
✦ Antisocial
✦ Arrogant
✦ Faithless
[/ul]
Parents:
Michael Pierce (Father), Katharine Pierce (Mother)
Siblings:
Jason Pierce (Brother)
Other Family:
N/A
Important Others:
Mammon, Candice (Girlfriend/Deceased)
History:
Danny was born into a middle class family in Boston Massachusetts. His father worked as a truck driver and his Mother baby sat as a part time job. His older brother Jason grew up to be the big star, being a quarterback. Often times Jason out shined his brother and caused Daniel to live in his shadow. This caused the young boy to grow cold and distant and once he turned sixteen he ran away from home, never looking back.
Daniel met a girl by the name of Candice who eventually showed him the way of the craft. He learned all sorts of things from her and the two practiced and learned magic together. The bond they had grew stronger and eventually they ended up as a couple. Daniel mostly worked odd jobs but he did a lot of hustling and drug selling to get by.
They were about to lose their apartment when they were visited by a man. He called himself Richard and he told them that if they did what he wanted he'd pay them thousands upon thousands. To say they were hesitant would be a lie. The man showed them what he could do and told him he was a demon and that he needed some witches to do some spells for him here and there and the couple took the deal.
They worked for the demon for a couple years before he asked them to do something for him... A spell to kill a sunday school teacher. Daniel wasn't going to have it so he decided to plot with Candice and use a spell to send the demon back to hell. When the day came for the spell the demon stood next to them, watching the sunday school teacher from a building across the street.
As Danny started reciting the chant the demon's body began to decay within seconds, Candice came up from behind him and stabbed him with a stake of palo sato. However the demon was unffected and rage shot through it. He quickly turned and snapped the girl's neck, causing Danny to yell out in anger and continue to recite the spell, the demon's temporary body falling apart. As an arm fell to the ground it growled out.
"I guess I need a new host."
Almost immediately the demon left the body it was in and went into Daniel. It cracked it's neck and he smirked.
"By the way you can call me Mammon now that we know each other on a more... Personal level."
Alias:
Hell Hound
How did you find us?:
Created the site.
Experience:
Enough
Other Characters:
Dean Winchester, Chris Anderson, Lizzie Shields, Aspen Meadows, Luke Sullivan, Ryker Nixon, Heaven Micahels, Sawyer Grant, Tyson Grant, Austin Jacobs, Darren Covington, and Zane Lancaster
RP Sample:

Damn werewolves. Chris had just finished a hunt that invovled what he thought was two werewolves, but turned out to be three. Slight miscalculation that almost ended bad for the family nearby. Luckily Chris managed to shoot the thing as it tried to attack the little girl... He wouldn't be able to live with himself if it did. The small group was attacking houses on the same block, and it didn't take long to notice the pattern. Each attack was around one house. That house? Yeah, it was the home of some wolves, go figure. They lived in a very fancy rich place, kind of reminded Chris of Marilyn Monroe's home from back in the days he hung with the famous people.

This was why Chris needed a break, he needed...... One night out. He found himself in Portland, Oregon. The place wasn't that bad, he already had met some kind people who pointed him to a bar downtown which was having a karaoke night. Okay, Chris couldn't sing, sure but he did love to go and watch people make a fool of themselves.... Not in a mean kind of way but it would lighten Chris up a bit and he could sit back and have fun.

He walked through the crowd downtown, after parking his red corvette in a parking lot that wasn't too shady. The moon was bright tonight, bright enough that the town probably didn't even need the lights on to see. Chris smiled and took in the cool night air. What a wonderful night. Finally he stumbled across a bar with a huge sign saying "KARAOKE NIGHT". Chris let out a sigh of relief that he found the place easily and walked in.

The place was rather nice. Everything was in deep blue and silver which Chris didn't mind but he would of preferred red. A small group of people were huddled over at one of the pool tables, a couple middle aged couples sat by the stage which was being occupied by a couple dueting a Sunny and Cher song. Chris chuckled as he hadn't heard that song in quite some time. "I got you babe" was now stuck in Chris's mind as he found his way over to the bar. He glanced over to see a bunch of people hanging around the bathroom doors. They were laughing and giggling and as a couple came out of the male restroom they all bursted out in even more uncontrollable laughter. Chris shook his head slightly and sat next to a nice looking, young red-headed woman. As he sat down the bartender brought the young woman a coke and some rum, then turned to Chris with a polite smile.

"What can I get ya?"

The man was rather heavy set and had a long dark beard. His jeans lost almost all color and had rips in them here and there. Chris wasn't sure if that was the style or if the man just needed new clothes. The man's voice was deep and rough but he had a nice welcoming tone which was plesent to Chris' ears.

"A whiskey."

Chris told the bartender what he wanted and glanced over to the stage which was now changing from the couple to a young blonde who was singing "Tik Tok" by Kesha. As she began to sing Chris couldn't help but chuckle at how horrible she was, but she was having such a great time and Chris admired that. The bartender came back and looked at Chris raising an eyebrow.

"Can I get some ID?"

Chris sighed at the man's request seeing how it happened a lot. He pulled into his pocket, grabbed his wallet and handed over his ID.

"No problem."

Chris gave the man a smile. Sure he said it wasn't a problem but he was tired of dealing with this for so many years. The ID read 25 which the man didn't buy for a second but gave the ID back to Chris and slid his shot of whiskey to him. Chris gave the man a nod as he caught the glass then put his ID back in his wallet, glancing at the stack of money he had poking out a bit. It was good that Chris had a lot of money, it would mean he could pay for as many drinks as he wanted. He slid the wallet back into his pocket and took a sip of the alcohol as he turned to watch the girl some more.

After the blonde finished, Chris turned around and gave the red-head a smile. She was quite beatiful, and surprisingly enough she seemed to be alone.

"Hi, I'm Chris."

He slid his right hand under his left arm, that was holding his drink to shake her hand. It was already turning out to be a great night. Either way there was no werewolves, so Chris wasn't complaining.

I (Daniel Pierce) have read the site rules and understand them. The code word for the rules is: (Batman)
[/div][/div]
Application Created By Hell Hound
[/div]