Post by Jo Harvelle on Sept 24, 2021 23:43:19 GMT -5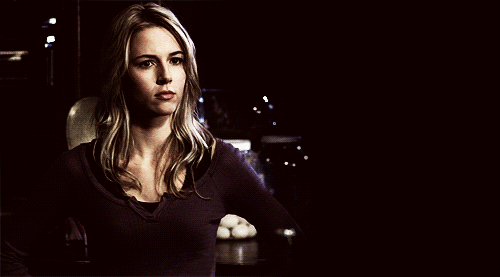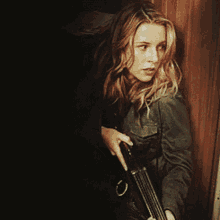 Full Name:
Joanna Beth Harvelle
Nickname/Alias:
Jo, Bill's Little Girl, Ellen's Girl
Age/Date Of Birth:
April 7, 1985
Race:
Human
Occupation:
Hunter, bartender
Species Group:
Hunter
Play-By:
Alona Tal
Abilities
Put all known abilities here. If your character does not have any abilities please remove this part from the application.
Special Inventory
Special items that are bought from the store will go here.
Likes (At Least 3):
❤ Adventures
❤ Guns
❤ Knives
Dislikes (At Least 3):
✗ Hellhounds
✗ Being treated like a kid
✗ Being told what to do
Fears (At Least 2):
☬ Hellhounds
☬ Being trapped in small places
Goals (At Least 1):
★ Become the best hunter she can be
★ Make her parents proud
Personality:
When you first meet her, Jo can be a very reserved person even if she is outwardly very confident. She's also a very enthusiastic woman, with a witty, sarcastic sense of humor who's never afraid to go after what she wants. She's very intelligent, usually coming up with out-of-the-box thinking to solve cases and situations that might otherwise seem impossible to solve. She sometimes has a tendency to idealize things and people, but it's something that has gradually stopped happening the more she learns about the world and the life she chose to live as a hunter; she still believes that there's good in almost everyone, but is now warier about people and things due to her experiences.
She's always been independent, stubborn, and strong-willed, sometimes even impulsive, and with a bit of a hero-complex. She would definitely give up her own life for the greater good (she actually did it once, when she died), and once she sets her mind to something it's very hard to change her opinion. She's quick to call people out on their behavior; she's a very brave woman, and loyal to a fault.
One of her biggest flaws is that her emotions can get the best of her, sometimes making her act foolishly and irrationally.
Traits


Positives (At Least 3):
✧ Brave
✧ Loyal
✧ Confident
✧ Strong-willed

Negatives (At Least 3):
✦ Sarcastic
✦ Emotionally driven
✦ Stubborn
✦ Impulsive


Parents:
Bill and Ellen Harvelle
Siblings:
None
Other Family:
None
Important Others:
Sam and Dean Winchester, Bobby Singer, Castiel, Ash
History:
Jo is Bill and Ellen Harvelle's only daughter. She was born April 7, 1985, and ever since she was a little girl she embraced the world of the supernatural and hunting as her 'normal'. She grew up at the Roadhouse, a bar owned by her parents, named after Bill Harvelle after he died. She grew up around hunters and lost her own father to a case when she was 10 years old, but even by then she already knew the basics about the life: for her eighth birthday, her dad gave her a bow-and-arrow set and taught her how to use it, and her mother gave her a diary that she turned into a hunter's journal.
But even if she grew up around hunters, it wasn't until Bill died that she decided she would become a hunter. It was her way to stay close to her father's presence, and it became her goal as she got older, wanting to be a "hero" like he was to her. She got taught hand-to-hand combat from a young age after she got into a fight with a bully, and she recalls her school years as her being the "freak with the knife collection".
After high school, Jo tried to attend college as per her mother's wishes, but she felt she never fit in and dropped out, returning to the Roadhouse to pursue her goal of becoming the best hunter she could be.
When she first met Sam and Dean, she held Dean at gunpoint while her mother apprehended Sam, which resulted in Dean disarming her and her punching him in the face to take her gun back; her relationship with the brothers was rocky at first because she found out that their father was involved with the death of Bill, and it took her a while to open up and let them in. But in time, she got very close to both Sam and Dean, almost considering them a part of her family.
She started hunting regularly against her mother's wishes, accompanying Sam, Dean, Bobby, or Rufus and working cases with them and also on her own. To prepare for her hunts, Jo earned and saved money from bets, always finding ways to get her way even if her mother tried to stop her.
It seemed as if she was on her way to becoming what she'd always wanted to be, perfecting herself while working with great hunters. That was until she died. In the midst of the chaos that took place when Sam and Dean were fighting the demon Meg, they ended up in a fight where Meg arrived to capture the Winchesters flanked by a pack of hellhounds. Dean shot at one, causing the pack to attack them. Jo then ended up saving Dean's life from one of the hellhounds when she saw him knocked to the ground, but it costed her hers; she was injured to the point that she could not walk and was bleeding heavily.
Dean carried Jo into a nearby convenience store while Sam and Ellen fended off the hellhounds. They salted the entrances to the store and bandaged Jo's wounds as best they could, but the reality of the situation was clear, and Jo was the one who announced it to them: there was no saving her. She suggested that they construct bombs out of iron and salt and escape, leaving her alone to detonate the bombs and kill the hellhounds. The team reluctantly accepted, but Ellen refused to leave her daughter and they both died while saving the rest from the hellhounds.
For a while, Jo was in peace. She was finally resting and not having to worry about all the pain that she'd gone through while being alive. She was happy; that was until she suddenly woke up in a house she didn't recognize. Jo, being the curious and stubborn woman she is, immediately started trying to find answers as to what this place was: Zeppelin City. She had no idea of how she'd gotten there, or why she was alive once more, but it's a second chance she's not going to waste.
Alias:
Thea / Dean's Amulet
How did you find us?:
Disboard
Experience:
10+ years
Other Characters:
Becca, Odette, Janet, Castiel, JT, Amber, Heather, Bridget, Jason, Reagan, Astrid, Brody, Isabel, Madelyn, Brooke
RP Sample:
The night was cold, colder than it should have been in the middle of summer even for New Orleans and its dense fog. It was a thing, the weather acting weird whenever the witches were at it and Thea knew that all too well, remembering how things were back when she was a kid. Back then she didn't understand it, though, and the fact that her mother had decided not to take part of the coven made her even more of a stranger to the magic within her blood. But now? Now that her childhood was part of her past and after her parents got killed by the witches because of the very same reason that had made her a normal human being, unbeknown of her family's roots… now she was back to get rid of them all. And it was cold, so cold that the air chilled her bones and made her shake; or maybe the shaking was due to the anticipation and the fear of what the blonde was about to face. She wasn't an expert after all: only a twenty years old girl with a mission and the will to go through with it: kill the witches, kill them all.
So she walked down the street towards the Saint Louis Cemetery No. 1 where she knew the coven would be, the fog keeping her eyes from what was more than a couple steps ahead and the click-clacking of her boots the only sound as they hit the concrete of the road. No cars, no people, no animals. Black magic has that effect, you know? Keeping everything away when it's acting and killing anything that tries to stand on its way. But the huntress was prepared. She'd gotten a very old gun, said to be forged in Hell itself and supposedly, it would kill any witch or monster or demon without a chance of them ever coming back. The Godkiller. So while walking, the young woman thought about how she'd gotten where she was: the way her aunt Patrice had tried to convince Allison —Thea's little sister— to become a dark witch, a part of the New Orleans coven, how it had resulted in both sisters not talking to each other for over a year despite the elder Rogers' attempts to fix things, to keep her baby sister from turning into such a pitiful, disgusting thing until there was no choice left but to kill every single witch in the coven. Her own family, her blood. But she was a hunter of the supernatural and killing things like the ones she was about to face? It was her duty. If only she'd been doing it for more than a couple months now.
But now she walked, her attempts to keep her mind from veering into memory lane and anxiety from spiking into higher and higher levels failing miserably… it had been too long since the last time she'd been in the city and the huntress never thought she'd come back, even less to kill the witches that she so desperately wanted to ignore and forget. And as her brain wandered and her thoughts became more and more erratic, the white, thick walls of Saint Louis No. 1 became visible little by little, the black gates opened as if inviting her in and the fog coming out of them almost as if it was coming from inside of it. Maybe it was, she was about to find out. Stopping to check the M1911 that was tucked at the small of her back with the bullets created especially to kill witches and then wrapping her hand around the belt that carried the holster that kept the Godkiller safe, Thea's blue-green eyes finally glanced up to read the plaque with the cemetery's name on it. Just a moment, one moment to decide whether she could do this or not, whether she could take on a dozen unnaturally powerful witches all by herself only driven by the anger and resentment, the pain they'd caused. Questioning herself, she breathed in deeply, frowned and cleared her throat as if trying to get rid of the feeling of a lump in there and finally, she took a step forward
I (Jo Harvelle) have read the site rules and understand them. The code word for the rules is: Batman
Application Created By Hell Hound