Post by Caterina Howard on Oct 28, 2021 21:08:28 GMT -5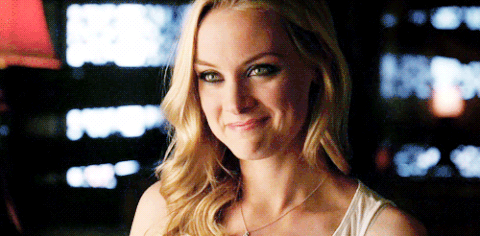 Full Name: Caterina Isabel Howard
Nickname/Alias: Cat, Katie
Age/Date Of Birth: 460 years old (born in October 19th, 1560)
Race: European vampire
Occupation: Business woman
Species Group: European vampire
Play-By: Rachel Skarsten






Abilities



Supernatural Speed: European vampires are incredibly fast and move in a blur.

Supernatural Strength: European Vampires are stronger than most species of vampires but it also depends on their age, as they get stronger as they grow older.

Supernatural Agility: European Vampires possess super-human agility. They have shown that they can move quickly, jump very high, climb, and run incredibly fast without difficulty or exhaustion. Vampires can jump with their super speed too.

Supernatural Senses: European Vampires have extremely keen senses of hearing, sight, smell, and taste that far exceed those of humans. They can hear whispered conversations, even ones in far of buildings and on phones, though most vampires typically learn how to tune out most ambient noises when it's not necessary to hear them. European Vampires can also smell blood from several meters away, and see in total darkness. These senses improve and grow stronger with age and experience as well. Their senses of taste are also enhanced, allowing them to detect the presence of drugs, alcohol, or even what the person ate in someone's blood.

Regeneration: European Vampires recover tissue from any form of physical damage to their bodies within seconds, though they still feel the pain of a wound before it heals. They can snap their bones back into place after they have been broken and have been seen to fully recover from gunshots, stab wounds, and torso impalement very quickly, so long as they had consumed a regular diet of human blood prior to the injury.

Healing Blood: European Vampires are able to heal humans by feeding them their blood, it will not turn them. The only way for them to turn is if they die while having the vampire blood in their system. If a drinks fresh blood from a vampire, a psychic and emotional bond is created. The vampire will be able to sense the location and emotions of the human.

Progeny Link: The one who made a vampire has a special link to those they create and can sense any pain or duress the progeny undergoes, and know when a progeny has died. The maker can "call" their progeny by saying their name out loud, causing the progeny to become aware their maker is calling out for them. The progeny experiences a shiver, and may be able to tell where their maker is. Lastly a maker can force their progeny to do anything they want, as long as they make what they say a direct order.

Immortality: They have the potential to live forever without aging.

Enhanced Emotions: European Vampires experience emotions more powerfully than humans. Emotions like love, joy, and happiness are magnified for vampires, allowing them to live life more intensely. This ability allows vampires to feel emotions at their peak regardless of their age.

Emotional Control: European Vampires have the supernatural ability to remove or dull their emotions by "turning off" or "switching off" their humanity, which is directly connected to their emotions. Doing so allows them to block out their more negative emotions, such as fear and guilt, allowing them to feed and kill without remorse, go against any opponent without fear, and relieve themselves of painful feelings such as grief, loss, depression, and shame. A vampire without their emotions is far more calculating and direct than one who keeps them on. However, the vampire can become a remorseless killer, and are almost unrecognizable from the person they truly are, as blocking out negative emotions also causes their positive emotions to become dulled or nonexistent as well. Vampires are capable of turning their humanity back on and bringing back their emotions, but it is difficult as a result of the fact that they will be bombarded with all of their repressed emotions in addition to the guilt of anything they did without their humanity (such as killing or torturing innocent people or loved ones) with enhanced intensity.

Mind Compulsion: European Vampires have the ability to influence and control thoughts, emotions, and behavior and can alter or erase memories by eye contact. They are not able to compel other vampires or any other kind of creature.




Special Inventory



Special items that are bought from the store will go here.









Likes (At Least 3):
❤ Luxury
❤ Independence
❤ Power
❤ Movies
❤ Literature

Dislikes (At Least 3):
✗ Gender inequality
✗ Showing weakness
✗ Following orders
✗ Modern "untalented" writers/poets

Fears (At Least 2):
☬ Death
☬ Being powerless

Goals (At Least 1):
★ Be a very powerful business woman
★ Be a able to witness human history as a whole

Personality: In theory, Caterina is peace-loving. In practice, she can quietly stir up all sorts of trouble with her ways. Because Cat enjoys balance in her life—and to get her way a little too much, she seek the middle grown while getting things done. In the process, she may end up trying to be everything to everyone, and more so herself. This is where her reputation for untruthfulness comes from. Generally, her untruths spring from a true desire to simply stay true to herself and manage to get everything she wants and everything she deems right. She will fight for a cause, and will do everything within her power to get it done, even if it means twisting a couple arms, telling a couple lies—Caterina believes that most of the times, the end justifies the means.

Like a true chameleon, Caterina can be both very approachable and friendly or ice-cold. Both sides are true to who she is, but after living so many lives and doing so many things, her personality is complex to a point where it can change depending on what is happening around her, the world and the contextual circumstances. Caterina is known for comparing and thinking in relative terms, instead of in absolutes; since she's been alive for such a long time, she's dedicated a big part of her life to witnessing human histories, and she is often able to see both sides of a situation very easily. In addition to this, she's extremely observant, having such a long life taught her how to read human beings, thinking they're simple creatures but also extremely interesting too.

She is a social person, likes to mix with people, learn from them, seek partnerships be it personal or business. Caterina likes and respects authority and approves of society's values, being level-headed and assimilating her surroundings very quickly. Cat considers herself a very intellectual person, very rational one, able to think very fast and understand things—this is something she values greatly, the rational side of the human mind, and she tries to rationalize everything, using this even for business: she plays the man, not the game. But deep down, she is still a very passionate, very impulsive and intense woman, the other side of the coin that is just as big as the one she lets the world see, but she keeps that one hidden, the superego and the id, in Freudian terms.






Traits


Positives (At Least 3):
✧ Extremely intelligent
✧ Fierce
✧ Brave
✧ Unapologetic

Negatives (At Least 3):
✦ Selfish
✦ Manipulative
✦ Moody
✦ Snobbish




Parents: Thomas Howard (deceased) and Margaret Audley (deceased)
Siblings: None
Other Family: None of importance
Important Others: Lucius
History: The year 1560 was important for the British people in a lot of senses: it was that year that the French officially surrendered at Leith in February, after ending the war that had started in 1557. They were the times of the Stuarts with Queen Elizabeth I sitting on the throne and changing things left and right. They were different times, times where women were bound to obey their fathers and brothers, then their husbands, and then their sons. Times where marriage was a very important social institution which is precisely why Thomas Howard, Duke of Norfolk, married Margaret Audley—daughter of Thomas Audley, 1st Baron Audley of Walden

And 1560 was also the year when Margaret gave birth to Caterina Howard.

In the midst of a world where the aristocracy was enjoying the luxuries and pleasures of a life much more privileged in comparison to the poor than even today, and when the British crown was enjoying the wealth that came with conquering the Americas, the elite that formed the aristocracy didn't have worries out of the politics and intricate social system they were a part of, especially the women who sauntered into ballrooms and gossiped in the hallways of romance and whatever fashion was in trend. Caterina wasn't the exception: she grew up without much knowledge of politics or history other than what she could hear from the men, and even that was more than most girls due to her avid hunger for knowledge. She was a beautiful girl with red hair and piercing blue eyes that was taught to sing, play the piano, read novels, and dream of romance; a romance she would never really experience because as important as marriage was, it was also arranged, in order to keep the wealth within the few families that were already in positions of power.

And so her life went: Caterina married a man who was at least half as intelligent and caring as her father and quite good-looking too, which was more than most women could say back then. She lived in Arundel Castle, which has been the Duke of Norfolk's home since 1390 and still to this day, even after getting married. And it was the imposing walls of the castle, the cage they represented that drove her to make what some would call the biggest mistake of her life, although to her? It was what liberated her.




The date was October 16th, 1581. It had been a specially cold night in West Sussex; Caterina had been dealing with preparations for her 21st birthday which was only three days away. It had been hard for her to keep up, the stressful endeavors of having to act as a soon-to-be Duchess making her want to explore the world, to learn more about life and what was out there, way past the walls of the castle and the society she was so used to. It wasn't just a recent desire, to escape her life that made her feel like a caged bird out on display for people to enjoy; the young woman didn't want to submit herself to the life of a submissive wife, bringing child after child into this world just to ensure a long line of Dukes and Duchesses that she could not care less about. The redhead was hungry for knowledge, she had always wanted to be able to explore, study, and live a life that she wasn't allowed to have. And so day after day, she'd started riding her horse further and further away from Arundel, testing the limits of what her husband would allow and trying hard to learn new things and meet new people. But she never expected what was to come that night.

She had been riding for a while, ending up in Chichester: a town that was about 10 miles away from her home. Cat had been dressed as a peasant, attempting to avoid any unwanted attention, and so she was able to get into a tavern when she realized that it was getting a little too late for her to be out there alone. But inside that tavern, she was approached by a very mysterious man, one that looked like he didn't belong in that simple town. His name was Lucius, and there was something about him that seemed timeless, which was what caught Caterina's eye; the young woman let herself fall for his spell, the seduction of a man who talked about history and politics as if he had eons of knowledge and experiences—which, she would find out later on, he did.

She spent hours letting herself learn from what he had to say while she told him all about her own desires, about the things she wanted to do, to learn, and that she wasn't allowed to have due to her titles. Caterina wasn't ungrateful for what she had, and she was aware that most people suffered a lot more than her, but she would've given it all up for a chance to be who she really wanted to be, and she told Lucius that, and more. It all seemed innocent and friendly, up until when the mysterious man asked her to join him upstairs in his room, to which she complied; it was very uncharacteristic of her, and she didn't understand back then that she'd been compelled to do so because of his powers. Caterina had never cheated, never even thought about it, but it was as if she'd been bewitched by this interesting man, and a part of her knew, deep down, that this request had little to do with carnal desires. And even then, what she expected after accepting that invitation was nowhere near what actually happened. Lucius took her to his room, but once there? He didn't attempt to seduce her the way most people would expect; his appeal ended up being a totally different thing; he spoke of the past, of the future, of immortality. The man offered her eternal life because he claimed to have seen in her a very particular, timeless soul. But he warned her of the costs: the bloodlust, the curse this new life would bring upon her. All these things, Caterina would only come to realize would be the curse of her existence after she became what she is now.

That night, October 16th of 1581, Caterina Howard was turned into a vampire by this man who was as timeless as he claimed she would become. And to her own surprise, she embraced it. She left town with her sire, forgetting everything about her previous life as if she'd been reborn like a phoenix. Her eyes opened to a whole new universe of possibilities because now? Now she could do anything she wanted; she was faster and stronger, and the world was entirely different with her extremely heightened senses. And even if she'd technically died? Caterina had never felt more alive.

To her mortal family, she was dead. The redhead disappeared never to be found and her name was erased from history because the husband assumed she had willingly escaped their marriage which made her unworthy of being remembered. Society acted as if she'd never existed and to her? That made things so much easier, so much better. But her face was easily recognizable, those big blue eyes and the bright red hair were characteristic of her just as much as her beauty, and so she decided to leave England and embark on a new adventure: The Americas, where no one would know of her, or her family.

Back then, traveling across the seas wasn't as easy as it is now, and it took Caterina at least six weeks to get to the new lands of America. At least, here she wouldn't have to worry about anyone recognizing her. And so she started a new life; the first of many, many lives she would live.

Throughout the years, she made sure to secure her future: she saved money, invested, bought lands, and made sure to prepare for the future to ensure she would be able to live with as much sophistication as she wished, which varied depending on the decade. She even contacted a witch, managing to get her hands on a ring that would allow her to walk under the sunlight again, making this new life even more enjoyable. Life went on, sometimes she would choose a more relaxed lifestyle as she did in the 60s and 70s, where the appeal of the Hippie culture dragged her into a bohemian life of pleasures that had little to do with money and more to do with lust. She navigated from one life to another quite easily, the Jazz Age of indulgence that was the 1920s, the 1930s Golden Age of Glamour that suited her so well given the way she'd been raised. And the way times changed? It gave her a pleasure that she couldn't describe: from submissive women, the transition she saw after 1941 when the U.S. officially entered WWII. Thousands of men were drafted into the war, thus leaving a huge need for more women to enter the workforce, something she could've never imagined, and that ultimately gave her a whole new perception of what women could, and should do. As a way to mark this milestone in her existence, Caterina dyed her hair blonde and has been doing so ever since, a symbol of this new person she'd become.

Being a witness of history made her curse, her bloodthirst, almost non-important in comparison. Caterina was a living history book that never ended: she was a part of it all: the Miss America protest in 1969?? There she was, throwing her bra into the freedom trash can and burning it along with the other 200 women to gain rights that up until then seemed unthinkable. There hasn't been a day since that cold night in 1581 when she regretted what she'd become, and with time she also changed into a smarter, more knowledgeable, cunning woman. She left behind the innocence of who she once was, learning from history itself that if she wanted to be respected, she also needed to be empowered. Caterina was always ahead of her time, and somehow she felt like she'd been born for the times we live now. Able to take care of herself, and enjoy herself, however, whenever and wherever she wants.


Alias:
Thea / Dean's Amulet
How did you find us?:
Disboard
Experience:
10+ years
Other Characters:
Becca, Odette, Janet, Castiel, JT, Amber, Heather, Bridget, Jason, Reagan, Astrid, Brody, Isabel, Madelyn, Brooke, Jo Harvelle
RP Sample:
The night was cold, colder than it should have been in the middle of summer even for New Orleans and its dense fog. It was a thing, the weather acting weird whenever the witches were at it and Thea knew that all too well, remembering how things were back when she was a kid. Back then she didn't understand it, though, and the fact that her mother had decided not to take part of the coven made her even more of a stranger to the magic within her blood. But now? Now that her childhood was part of her past and after her parents got killed by the witches because of the very same reason that had made her a normal human being, unbeknown of her family's roots… now she was back to get rid of them all. And it was cold, so cold that the air chilled her bones and made her shake; or maybe the shaking was due to the anticipation and the fear of what the blonde was about to face. She wasn't an expert after all: only a twenty years old girl with a mission and the will to go through with it: kill the witches, kill them all.
So she walked down the street towards the Saint Louis Cemetery No. 1 where she knew the coven would be, the fog keeping her eyes from what was more than a couple steps ahead and the click-clacking of her boots the only sound as they hit the concrete of the road. No cars, no people, no animals. Black magic has that effect, you know? Keeping everything away when it's acting and killing anything that tries to stand on its way. But the huntress was prepared. She'd gotten a very old gun, said to be forged in Hell itself and supposedly, it would kill any witch or monster or demon without a chance of them ever coming back. The Godkiller. So while walking, the young woman thought about how she'd gotten where she was: the way her aunt Patrice had tried to convince Allison —Thea's little sister— to become a dark witch, a part of the New Orleans coven, how it had resulted in both sisters not talking to each other for over a year despite the elder Rogers' attempts to fix things, to keep her baby sister from turning into such a pitiful, disgusting thing until there was no choice left but to kill every single witch in the coven. Her own family, her blood. But she was a hunter of the supernatural and killing things like the ones she was about to face? It was her duty. If only she'd been doing it for more than a couple months now.
But now she walked, her attempts to keep her mind from veering into memory lane and anxiety from spiking into higher and higher levels failing miserably… it had been too long since the last time she'd been in the city and the huntress never thought she'd come back, even less to kill the witches that she so desperately wanted to ignore and forget. And as her brain wandered and her thoughts became more and more erratic, the white, thick walls of Saint Louis No. 1 became visible little by little, the black gates opened as if inviting her in and the fog coming out of them almost as if it was coming from inside of it. Maybe it was, she was about to find out. Stopping to check the M1911 that was tucked at the small of her back with the bullets created especially to kill witches and then wrapping her hand around the belt that carried the holster that kept the Godkiller safe, Thea's blue-green eyes finally glanced up to read the plaque with the cemetery's name on it. Just a moment, one moment to decide whether she could do this or not, whether she could take on a dozen unnaturally powerful witches all by herself only driven by the anger and resentment, the pain they'd caused. Questioning herself, she breathed in deeply, frowned, and cleared her throat as if trying to get rid of the feeling of a lump in there and finally, she took a step forward
I Caterina Howard have read the site rules and understand them. The code word for the rules is: Batman
Application Created By Hell Hound