Post by Christina Grant on Apr 14, 2022 11:45:52 GMT -5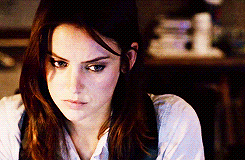 Full Name:
Christina Grant
Nickname/Alias:
Chris, Christy, Chrissy
Age/Date Of Birth:
26 (08/20/2038)
Race:
Human
Occupation:
Firefighter
Species Group:
Psychic
Play-By:
Jessica Stroup
Abilities
Telekinesis:
Christina has the power to move, manipulate or otherwise interact with objects/matter without physical means. She can move matter with the power of her mind; mainly, move and control objects as well as applying physical force on a target, or potentially, an area from a distance without physical contact. Her telekinetic powers can keep objects/beings from moving, bring an object towards her, make an object/being levitate several inches or even feet into the air. Additionally, Christina can send objects/beings flying away from her with a repulsion field and manipulate objects from a distance.
Known powers:
So far, Christina knows how to move objects that are not too big. She can move chairs with her mind, for example, but not a car. She can also use the repulsion field of sorts, but that's only activated when she feels threatened or needs to protect someone else, doesn't know how to properly control it.
Pyrokinesis:
Christina has the power to manipulate fire. She can create flames out of nothing and weaponize them however she wishes. Her pyrokinesis allows her to create, shape, control, generate and manipulate every form of fire. However, this power has not been developed and she does not control it due to how scared she is of it. It takes over when she's too emotionally overwhelmed, especially regarding fear or/and anger.
Special Inventory
Special items that are bought from the store will go here.
Likes (At Least 3):
❤ Her family
❤ Rain
❤ Hot dogs
❤ Kids
❤ The beach
❤ Animals, especially big dogs
❤ Meeting new people
❤ Tequila
Dislikes (At Least 3):
✗ Intense emotions
✗ Arguments
✗ Assumptions
✗ Coffee, unless it has vanilla, chocolate or caramel in it
✗ Moths, they're disgusting!
Fears (At Least 2):
☬ Losing her family
☬ Reality collapsing again
☬ Fire, bus she's been working to control it for years.
☬ Hunters
Goals (At Least 1):
★ To keep reality from collapsing
★ To learn to control her powers
★ To help as many people as she can
Personality:
Christina is a woman full of vitality, a sense of individuality, and outward-shining creative energy. She cam come off as a little conceited, but more than feeling important, Chris has the firm belief that she can change the world in some way--that she can make it a better place. She's motivated by affection for people and guilt because of what she's done in the past.
She is very hard-working, always wanting to do her best because Christina believes that's the only way she can redeem herself. There's a very deep darkness inside of her, one she tries to escape by being attracted to the good things in life, knowing she has to work extra hard to get them but is willing to do anything it takes. She treats her job as a therapeutic attempt to fill the void inside of her chest that she pretends is not there: the more people she saves, the more she'll be able to make up for her mistakes... theoretically, because the guilt never subsides. Because of this, there's an intensity and determination to her character that only people who get to know her would understand; even developing a bit of a hero complex due to it.
Chrissy is a very loyal woman, dedicated to the ones she loves and even strangers if they're in need; she will hold on to situations and people for a very long time before she gives up, but once she does, there's no going back. Even if she shows herself as confident and outgoing, Christina is rather humble and insecure, always feeling the weight of guilt on her shoulders but keeping a big smile on her face to hide it from the world. She is masterful, likes authority and likes to help other people. She's honest, frank, loyal and sincere. But at the same time, Chris deals with pride, presumption and disdain for those who judge others without knowing who they are first.
Traits
[/span][/div]
Positives (At Least 3):
✧ Spontaneous
✧ Perseverant
✧ Loyal
Negatives (At Least 3):
[/font][/ul]
Parents:
Jackson Grant and Tiffany Grant
Siblings:
Chris Grant (twin)
Other Family:
Tyson Grant (uncle), Sawyer Grant (uncle), Dalton Grant (uncle), Simon Jacobs (cousin), and many others.
Important Others:
N/A
History:
Christina and his twin brother were born on a rainy day, August 20 of 2038. Their parents were both very happy with their arrival, especially Jackson, who was eager to raise these tiny babies and dedicate himself to be a good father, to teach them how to be good people. She spent her first years around family that loved her, people that always made her feel special and cherished. Even when, at the age of 5, she started displaying powers that were not normal or expected of a human being; while playing with her dolls, she started moving them around. It was conscious, she didn't realize what she'd been doing, but when Jackson ended up seeing it happen, he decided to very lovingly teach her not to do it, to keep those powers hidden because other people might not accept her because of them. It was her uncle Tyson who actually showed her that it wasn't a bad thing, it was their little secret. He would let her play with her dolls, move them around with her mind when her parents weren't around, and Christina always loved him and was very grateful because he accepted her not
despite
of her abilities but
because
of them, because it made her special.
She was always a happy kid, had many friends in school and did well with her grades. Her life was good, up until one day--when she was only 6 years old, everything changed. One event that would change her life forever. Her aunt Rose had died to cancer, and it hit everyone in the family very hard. Her dear uncle Tyson started acting different, and as much as her father tried to hide it, she saw how he seemed to be hurting as well as her mom. And when they finally decided it was time to let her go back to school, Christina found herself overwhelmed by the emotions of her aunt being gone, throwing a tantrum when her teacher told her to behave instead of arguing with them and having an attitude. Something like this would be expected of a kid who's grieving, but in this case, things escalated very quickly when, without realizing, Chrissy started a fire in the classroom.
She wasn't aware of her powers, not until that happened, and it got so out of control with her emotions being so heightened that the fire consumed the classroom very fast. Most of the kids and herself managed to get out, but the teacher and two of her friends died in the accident. The Grants and the rest of the family tried to cover it up, to convince everyone that it had been some weird accident, but there was one teacher that had witnessed the events from outside of the classroom and kept blaming the little girl, so Jackson and Tiffany decided to keep Christina from school ever since that happened, which ended up with her being homeschooled for years. And despite of how they made huge efforts to keep anything from tying her to the terrible accident, a hunter got word of what happened and immediately realized that it wasn't some normal accident, what took place that day, and that something supernatural was most probably behind it. This man, his name was Joseph, he went after Christina, thinking that she was some kind of monster; he kidnapped her and was fully intending to kill her. And he would've succeeded if not for the fact that her uncle Tyson intervened. He'd found her, and what he did with the hunter? She never knew, but the man disappeared and they never heard of him again. Once again, her uncle had saved her, and that brought her even closer to him. But he wasn't acting like himself anymore, he wouldn't play with her as he used to and that worried her, and everyone else in the family. To make things even worse, her uncle Tyson went missing not too long after what happened, and Chrissy started also blaming herself for it. What if someone had come for him because he'd saved her?
But even with everything that happened, Christina never stopped acting like a happy kid, always wanting to be around people; but the truth was that she was scared of being left alone and didn't want her family to worry about her, so she hid the fear, the guilt and the sadness and covered it with that smile and cheerful attitude all the time. She was terrified of fire, of her own powers, and was slowly starting to develop a darker side to herself, the guilt silently consuming her, little by little, even if the little girl tried to hide it as much as she could. Jackson saw it happening, but he didn't know what to do about it, so all he did was stay with her, try to make her happy as much as he could.
And so years went by, and she was 12 by the time rumors started about this demon called Mammon. She was too young to be included in family reunions, so the only thing she could do was try to eavesdrop with her cousins from time to time, which is how she figured out that it was a demon, that there were more like him and that they were trouble. There was chaos, people died, people that her parents really cared about, including her cousin Simon's dad, Austin. After that, she didn't see her cousin for years, because he went away to live with family.
For a while, it seemed as if things would slowly go back to normal, even if she was still suffering because for some reason, her uncle Tyson hadn't come back after what had happened with Mammon; and she was still dealing with the fact that she'd gotten her teacher and friends killed all those years ago. Every time she would get too sad, or too angry, she'd cause small fires, or would end up lighting candles or other things without meaning to, and that terrified her, reminded her of how evil she must've been because of the powers she had, it made her wonder, maybe she was a demon too? And since her parents wouldn't talk about it, Christina didn't learn how to control it nor would she understand what it really meant.
What she did know, though, was that it had been a hunter who came after her, and that Tyson had killed the man to protect her, so when she turned 14 and her parents finally let her go back to school, Christina was terrified of it happening again. In her efforts of keeping her powers from showing, her own body developed a defense mechanism: every time it would happen, even the smallest fire, she would get a terrible headache, which is something that still happens to her to this day, an unconscious attempt to block her powers. She still kept developing her telekinesis, because it reminded her of the old times when she'd play with her uncle.
And slowly, she started getting used to this 'new normal'. She had plenty of friends, and was always willing to help everyone who needed it because helping people was the only thing that helped her fill that void that the guilt brought to her chest. And so she graduated from high school and became a firefighter. Maybe if she managed to save enough people from the fire, she would be able to redeem herself, but no matter how many people she rescued, it never faded away.
Then it happened. The demons finally came back, they wanted to release Lucifer and cause the Apocalypse, and while trying to keep it from happening, something went wrong. The dimensional collapse happened, and with it Christina lost her twin and her parents. She was never able to find them after that, and so that darkness inside of her, it kept growing; but she kept fighting it, dedicating herself to her job because after the tremendous events took place, too many people needed the help. She knew of hunters who were helping, but was too scared to approach them. That changed though, when she found her cousin Simon. It had been years since she'd last seen him, and he was very different from the boy she remembered, but Chrissy was fully willing to get past those walls he'd built around him, to get to know him again. So she decided to join the mission to go back in time and try to stop the dimensional collapse from happening. In 2066, that mission finally became a reality, and they were sent back, hoping that this time, things would be different.
Alias:
Thea / Dean's Amulet
How did you find us?:
Disboard
Experience:
Plenty
Other Characters:
Ambes Maes, Astrid Bingley, Bridget Bishop, Brooke Rosenberg, Castiel, Heather Davies, Janet Grant, Jason Riggs, Jo Harvelle, JT Marx, Madelyn Bartlett, Odette Stewart, Reagan Stark, Rebecca Owens
RP Sample:
The night was cold, colder than it should have been in the middle of summer even for New Orleans and its dense fog. It was a thing, the weather acting weird whenever the witches were at it and Thea knew that all too well, remembering how things were back when she was a kid. Back then she didn't understand it, though, and the fact that her mother had decided not to take part of the coven made her even more of a stranger to the magic within her blood. But now? Now that her childhood was part of her past and after her parents got killed by the witches because of the very same reason that had made her a normal human being, unbeknown of her family's roots… now she was back to get rid of them all. And it was cold, so cold that the air chilled her bones and made her shake; or maybe the shaking was due to the anticipation and the fear of what the blonde was about to face. She wasn't an expert after all: only a twenty years old girl with a mission and the will to go through with it: kill the witches, kill them all.
So she walked down the street towards the Saint Louis Cemetery No. 1 where she knew the coven would be, the fog keeping her eyes from what was more than a couple steps ahead and the click-clacking of her boots the only sound as they hit the concrete of the road. No cars, no people, no animals. Black magic has that effect, you know? Keeping everything away when it's acting and killing anything that tries to stand on its way. But the huntress was prepared. She'd gotten a very old gun, said to be forged in Hell itself and supposedly, it would kill any witch or monster or demon without a chance of them ever coming back. The Godkiller. So while walking, the young woman thought about how she'd gotten where she was: the way her aunt Patrice had tried to convince Allison —Thea's little sister— to become a dark witch, a part of the New Orleans coven, how it had resulted in both sisters not talking to each other for over a year despite the elder Rogers' attempts to fix things, to keep her baby sister from turning into such a pitiful, disgusting thing until there was no choice left but to kill every single witch in the coven. Her own family, her blood. But she was a hunter of the supernatural and killing things like the ones she was about to face? It was her duty. If only she'd been doing it for more than a couple months now.
But now she walked, her attempts to keep her mind from veering into memory lane and anxiety from spiking into higher and higher levels failing miserably… it had been too long since the last time she'd been in the city and the huntress never thought she'd come back, even less to kill the witches that she so desperately wanted to ignore and forget. And as her brain wandered and her thoughts became more and more erratic, the white, thick walls of Saint Louis No. 1 became visible little by little, the black gates opened as if inviting her in and the fog coming out of them almost as if it was coming from inside of it. Maybe it was, she was about to find out. Stopping to check the M1911 that was tucked at the small of her back with the bullets created especially to kill witches and then wrapping her hand around the belt that carried the holster that kept the Godkiller safe, Thea's blue-green eyes finally glanced up to read the plaque with the cemetery's name on it. Just a moment, one moment to decide whether she could do this or not, whether she could take on a dozen unnaturally powerful witches all by herself only driven by the anger and resentment, the pain they'd caused. Questioning herself, she breathed in deeply, frowned and cleared her throat as if trying to get rid of the feeling of a lump in there and finally, she took a step forward.
I (Christina Grant) have read the site rules and understand them. The code word for the rules is: (Batman)
[/div][/div]
Application Created By Hell Hound
[/div]