Post by Thea on May 11, 2022 0:25:46 GMT -5
Full Name:
Thea Isabelle Rogers
Nickname/Alias:
Thea, T, Belle, Blondie, Barbie, Bitch
Age/Date Of Birth:
27 (March 2nd, 1995)
Race:
Human
Occupation:
Hunter / former Detective
Species Group:
Hunter
Play-By:
Teresa Palmer
Abilities
Put all known abilities here. If your character does not have any abilities please remove this part from the application.
Special Inventory
The Godkiller
: It's a gun supposedly forged in Hell. It is capable of killing any creature that is in any way demonic—adding to anything that can die by getting shot, of course, including black-eyed demons (but not high-tier ones).
To be able to work with its supernatural properties, the bullets need to be forged with ingredients that came inside of the suitcase where Thea found it: different flasks and ingredients to make the bullets. Otherwise, it only works as a regular gun. Thea currently has 7 bullets left, and doesn't know how to make more even though she has the ingredients.
Thea acquired this gun back when she was fighting the coven of witches in New Orleans. She took it from them and used it to kill the entire coven while casting a linking spell on them.
The gun itself is bigger than a regular revolver, and has symbols carved that Thea does not entirely understand.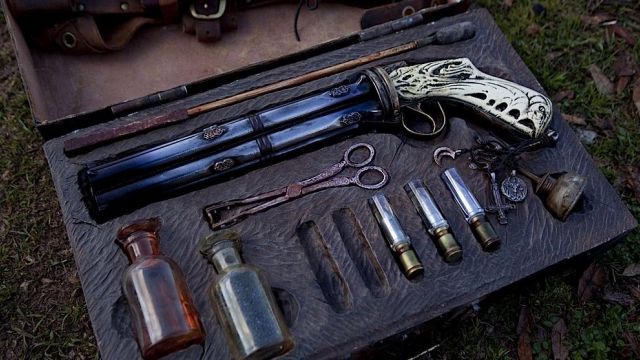 Likes (At Least 3):
❤ Coffee
❤ Music
❤ Guns
❤ Researching
❤ Working out
❤ Whiskey and beer
❤ Partying
❤ Reading, she's a fan of the classics
❤ Singing (she's not the best singer, but pretty decent for a karaoke bar)
❤ Playing the guitar (also not the best at it)
❤ Good conversations
❤ Sex
❤ The color mint
❤ Accessories
❤ Dogs
Dislikes (At Least 3):
✗ Witches
✗ Lies
✗ Arrogance
✗ Manipulation
✗ Passive-aggressiveness
✗ Cunning people
✗ Mosquitoes, fuck those bitches
✗ Reggaeton, that thing ain't music
✗ Bullies
✗ Prejudice
✗ Vegan meat
✗ Sweetened tea
✗ Fake people
Fears (At Least 2):
☬ Going to Hell for what she's done
☬ Ending up alone
☬ Losing her sister / being unable to save her
Goals (At Least 1):
★ To have a normal life (even if she doesn't think she deserves it)
★ To save as many people as she can
★ To be able to face her fears and leave the insecurities behind
Personality:
Thea Rogers is what you would call a tough girl. She has embodied a badass, tough personality since she was young and had to take on the role of taking care of her younger sister Allie. Rather than talk about her feelings Thea will give a sarcastic comment or blow it off as nothing she couldn't handle, not to worry. As a tough girl, she pretends she can take it all while suffering on the inside. Family comes first for Thea and Allie's first in that line, she goes above and beyond the title of big sister, and usually ends up taking the role when it comes to younger hunters that need help and guidance despite her tough exterior.
She does not come off as caring, but she is a woman who feels deeply, maybe even too deeply. She just hides those feelings with a mask of sassy, witty, and sarcastic retorts. She is a playful person and usually takes everything as if it was a game: a smirk on her face and a quirked eyebrow are her to-go expressions whenever meeting someone.
Confident in herself outwardly almost at all times. Inwardly, while she may doubt (and she does a lot, insecurity being one of her main weaknesses), Thea does not give up. She believes people deserve to be saved and will fight to help the ones in need, even if obtaining that costs her what she cares most for in the world, she does what needs to be done. She will plan out her attack if she has the time. But if someone she cares for is in danger and time isn't an option Thea has no issue with rushing in guns blazing and winging it. She treats most men as a good time; she doesn't really let herself get too close, because her life as a hunter doesn't allow her to have a 'normal' life and she believes anyone who gets involved with her for more than a brief time ends up being put in danger. That doesn't mean she doesn't enjoy a partner here and there, Thea is a very flirty woman, and a very physical person, too: comfortable in her skin, she enjoys one night stands because it's the closest thing she'll ever get to an actual connection--romantically speaking.
Her life as a hunter has left Thea a little more dangerous than your average woman, she will kill if she has to, but this 'barbie' will not kill a human, although she has killed those who were possessed by demons, and to save someone she loves she is willing to go to most extremes, though harming children and innocent humans remains outside of Thea's realm of what's acceptable, even more because of her past mistakes.
She can be a good person to talk to and knows a lot about life but you have to get past that brash outer layer and maybe get lucky to find out that there is something a lot deeper to her. Thea is not a woman who trusts easily and can be considered quite impulsive, this usually makes her prone to be a 'shoot first, maybe ask questions later' kind of person. Her job is to be a 'savior', even if she doesn't feel like one. She likes her music loud, and her taste in music varies from extreme to extreme depending on her mood.
Because of her family's history, Thea feels like there is a darkness to her, that her soul is tainted and therefore she deserves nothing but the life she has: always on the road, always fighting, and never letting herself be truly happy. Even though she enjoys her lifestyle, deep down she sometimes finds herself wishing it could be different, but her insecurities and sense of duty won't ever let her change how things are.
Traits


Positives (At Least 3):
✧ Charismatic
✧ Smart
✧ Quick on her feet
✧ Trustworthy
✧ Honest
✧ Loyal
✧ Tenacious
✧ Welcomes a challenge
✧ Passionate
✧ Empathetic
✧ Observant

Negatives (At Least 3):
✦ Stubborn
✦ Reckless
✦ Sometimes too sassy
✦ Temperamental
✦ Intense
✦ Paranoid
✦ Insecure
✦ Prone to explosive reactions
✦ Can be overly blunt


Parents:
Mathew Rogers (deceased) and Rhea Rogers née Monvoisin (deceased)
Siblings:
Allison Rogers (24 y/o)
Other Family:
No
Important Others:
An ex she doesn't talk about.
History:
Thea Belle Rogers was born on March 2nd, 1995 in the city of New Orleans, Louisiana. She's the firstborn daughter of Mathew and Rhea Rogers.
Her childhood and most of her teenage years were spent in the 'Big Easy' of Louisiana, having a normal upbringing without much presence of any family other than her parents and her little sister, Allison, who is three years younger than her. Things were easy for her while growing up: a somewhat wealthy family, an outgoing personality, and friends that cared about her. That was until 2012 when both Mathew and Rhea died in an inexplicable car accident while coming back home from a mysterious meeting they had with family members Thea had never met or heard about before. The death of her parents and the lack of answers became too much to bear for the then 17 years old Thea who was in her senior year of high school, barely managing to graduate while taking care of Allie, and having to work part-time to earn money.
She became very protective of her little sister, isolating herself from her old friends and dedicating all of her energy and time to making sure Allison was safe; this attitude became even more intense when she started receiving anonymous messages telling her that her parents had been killed and that she'd have to 'take care of the family business' they'd refused to be a part of. She got desperate, not able to find any answers to either their deaths or this supposed family that she had yet to get in contact with, that was until her mother's older sister knocked at her door. Aunt Patrice waltzed into her life, telling her about their origins: both she and Allie were the descendants of an old and very powerful bloodline of witches that went back to Catherine Monovosin in France (who apparently was way more than what is historically known about her existence). This coven supposed to be in charge of protecting New Orleans and the ley lines from all supernatural forces, maintaining the Natural Balance of things. The story even went as far as her family arriving in New Orleans due to Marie Laveau, the Voodoo Queen herself, who'd called for their help back in 1850. Only that wasn't really the truth. The New Orleans Coven was actually one of the Black Rose Coven's houses, the one in charge of Louisiana; and if Thea would've known this back then (or more like if she'd believed it), then she would've understood what happened to her parents and, most importantly, why.
It was so hard to process for a girl that had grown up believing that magic was nothing but practical tricks. She decided to pretend it was nothing but a legend, becoming a little wary of Aunt Patrice and her crazy stories but letting her live with her and her sister. Thea tried her best to move on with her life, taking care of Allie and working— even deciding to move to Los Angeles to try and move on, signing up for the Police Academy there, wanting to be able to help people, to become someone, now that Allison had Patrice to take care of her back at home. But soon after she left New Orleans things started to get messy; different signs started appearing all at once: all the time and everywhere she went, it was as if something was off, like the world was trying to tell her that leaving Allie behind with aunt Patrice hadn't been a good idea. It got so bad that she decided to go back to New Orleans to check on her sister only to find out firsthand that magic was a very real, very dangerous thing: Patrice had been channeling a demon's power and wanted to pass over her supposed knowledge to Allison, keep the power within the family.
Things got dangerous, her aunt trying to convince Thea to take over the coven of New Orleans as it had been her birthright that Rhea had refused to take. That was the big family secret, the very dark magic that ran with the family's bloodline and Thea wasn't about to become a part of it; so the witches gave her two options: she either took her place as their leader, or they would kill both her and Allison, since leaving the coven was not an option, and the punishment for doing so was death. it got messy, Patrice had managed to convince Allison to join them and as things started to become way too overwhelming, Thea acted on impulse. She pretended to agree, infiltrated the coven and let them explain what being a natural witch from a powerful bloodline meant: she sneaked into their libraries, private and hidden havens to look at their grimoire and find something to get rid of them. And within some weeks the blonde came up with a plan: she'd found a gun, one that according to the records had been forged in hell: the Godkiller was its name. She realized that it would certainly be able to kill a witch, and after deciding that she needed to end this dangerous coven, Thea managed to master a linking spell. It would be risky but simple: use the spell to link them all, then shoot one of them with the Godkiller. Easy peasy.
The next step would be doing so before they managed to initiate her, and most importantly Allison, into the coven, to the spell from affecting them. So the day the coven prepared and scheduled the ceremony, Thea decided it was time. They gathered in the middle of the night at the St. Louis Cemetery No. 1. Thea had everything ready and asked to be initiated before Allison so that she could be a part of her sister's ritual, like the rest of the witches. Everything went according to plan, but what Thea didn't realize would happen, was that with her spell she'd link all the kids, young witches, to the rest of the coven too. She killed the entire coven, everyone but Allison and herself, since they hadn't been initiated yet. And the pain, the guilt that came with what she'd done, the realization that it had been a genocide, a cold-blooded plan that didn't take into consideration all of the consequences? It overwhelmed her, made her feel that her soul was now tainted; adding to that, the knowledge of how it had been the witches who'd killed both her parents because they refused to take part on their magic and kept both Thea and Allison away from it too. It became too much, she had to leave New Orleans for good. The Thea she'd been before was no longer alive, and the one that came out of this situation couldn't look back now.
After everything was said and done, she took Allie —who now wanted to become a witch, a white one but still— with her back to California, using most of their parents' money to buy her a house in South Pasadena while she moved back to Los Angeles to pursue a career as a detective. She still didn't want to become part of the supernatural world, even less after finally finding out what had happened to her parents; but despite that, she decided that no one's little sister, aunt, or parent would ever die because of those monsters lurking in the dark… or at least something like that: she would stop those who tried to harm innocent people, even if they were not proper demons or monsters. That's why she ended up working for the LAPD, and later on their Detective Bureau, the Detective Support and Vice Division (DSVD).
Thea put her researching skills to good use when she was promoted to detective. Still not sure about whether all this supernatural world was something she could force herself to be a part of, she decided to once again try to find information about her family's coven, mainly because ever since she'd killed Patrice she couldn't stop thinking about it, about what they'd done. Maybe she was trying to justify the fact that she had killed them all. It got to a point where she couldn't take it anymore: she had to get rid of that evil that witches and monsters were. Thea quit her job and decided she'd use her knowledge as a detective to be able to track and hunt the supernatural.
The decision changed her life, often getting herself in life-threatening situations; but she survived and came out a completely different person. She realized it would be impossible for her to go back to a normal life, that the person she used to be was now lost forever and that the psychological scars she got would probably never heal. Kissing that person and life goodbye, Thea decided to embrace who she now was and became a full-time hunter of all those supernatural creatures. She promised herself she'd save as many people as she was able to so that nobody would have to go through what she and her sister went through when her parents were killed if she could help it.
Alias:
Thea / Dean's Amulet
How did you find us?:
Disboard
Experience:
Years and years and years
Other Characters:
Ambes Maes, Astrid Bingley, Bridget Bishop, Brooke Rosenberg, Castiel, Christina Grant, Heather Davies, Janet Grant, Jason Riggs, Jo Harvelle, JT Marx, Madelyn Bartlett, Odette Stewart, Reagan Stark, Rebecca Owens
RP Sample:
The night was cold, colder than it should have been in the middle of summer even for New Orleans and its dense fog. It was a thing, the weather acting weird whenever the witches were at it and Thea knew that all too well, remembering how things were back when she was a kid. Back then she didn't understand it, though, and the fact that her mother had decided not to take part of the coven made her even more of a stranger to the magic within her blood. But now? Now that her childhood was part of her past and after her parents got killed by the witches because of the very same reason that had made her a normal human being, unbeknown of her family's roots… now she was back to get rid of them all. And it was cold, so cold that the air chilled her bones and made her shake; or maybe the shaking was due to the anticipation and the fear of what the blonde was about to face. She wasn't an expert after all: only a twenty years old girl with a mission and the will to go through with it: kill the witches, kill them all.
So she walked down the street towards the Saint Louis Cemetery No. 1 where she knew the coven would be, the fog keeping her eyes from what was more than a couple steps ahead and the click-clacking of her boots the only sound as they hit the concrete of the road. No cars, no people, no animals. Black magic has that effect, you know? Keeping everything away when it's acting and killing anything that tries to stand on its way. But the huntress was prepared. She'd gotten a very old gun, said to be forged in Hell itself and supposedly, it would kill any witch or monster or demon without a chance of them ever coming back. The Godkiller. So while walking, the young woman thought about how she'd gotten where she was: the way her aunt Patrice had tried to convince Allison —Thea's little sister— to become a dark witch, a part of the New Orleans coven, how it had resulted in both sisters not talking to each other for over a year despite the elder Rogers' attempts to fix things, to keep her baby sister from turning into such a pitiful, disgusting thing until there was no choice left but to kill every single witch in the coven. Her own family, her blood. But she was a hunter of the supernatural and killing things like the ones she was about to face? It was her duty. If only she'd been doing it for more than a couple months now.
But now she walked, her attempts to keep her mind from veering into memory lane and anxiety from spiking into higher and higher levels failing miserably… it had been too long since the last time she'd been in the city and the huntress never thought she'd come back, even less to kill the witches that she so desperately wanted to ignore and forget. And as her brain wandered and her thoughts became more and more erratic, the white, thick walls of Saint Louis No. 1 became visible little by little, the black gates opened as if inviting her in and the fog coming out of them almost as if it was coming from inside of it. Maybe it was, she was about to find out. Stopping to check the M1911 that was tucked at the small of her back with the bullets created especially to kill witches and then wrapping her hand around the belt that carried the holster that kept the Godkiller safe, Thea's blue-green eyes finally glanced up to read the plaque with the cemetery's name on it. Just a moment, one moment to decide whether she could do this or not, whether she could take on a dozen unnaturally powerful witches all by herself only driven by the anger and resentment, the pain they'd caused. Questioning herself, she breathed in deeply, frowned and cleared her throat as if trying to get rid of the feeling of a lump in there and finally, she took a step forward.
I (Thea Rogers) have read the site rules and understand them. The code word for the rules is: (Batman)
Application Created By Hell Hound