Post by Hunter Roselli on Apr 6, 2014 23:34:25 GMT -5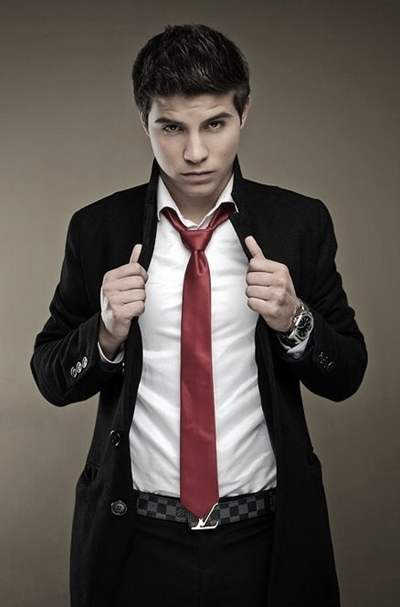 Full Name:
Hunter Klaus Roselli
Nickname/Alias:
Champ (Is used by his father more than his actual name)
Age/Date Of Birth:
Seventeen | 12 - 13 - 1996
Race:
Creature
Occupation:
Quarterback | Student | Underground Fighter
Species Group:
Werewolf
Play-By:
Luke Bilyk
Abilities
Shapeshifting
- Hunter transform into a wolf-like creature at will and can transform anytime he wants, however, he somewhat lose control whenever he feeds on human hearts.
Infectious Bite
- Through a bite, Hunter can turn another person into a werewolf while in beast form.
Claws and Fangs
- Hunter has powerful claws and is able to cut solid walls. His fangs can tear off and eat human flesh and can rip out a human heart right out of their chest cavity.
Supernatural Strength
- Hunter's strength is much greater than a human's. He can easily overpower humans and can rip flesh and bones with amazing force, his strength is notable even for monsters, as he is able to even smash stone with his bare hands. Even while in human form, Hunter has incredible strength.
Enhanced Agility
- His agility is greater than humans, often allowing him to perform incredible jumps and sprints easily.
Super Speed
- Hunter can move very fast; he is able to move from place to place in seconds.
Super Stamina
- Hunter doesn't tire easily.
Super Senses
- Hunter is able to see better than humans in darkness, similar to actual wolves, his sense of smell and hearing is equally enhanced.
Invulnerability
- Hunter cannot be killed by conventional means and weapons. Silver however, can kill him.
Regeneration
- Hunter can regenerate all non-lethal damage.
Special Inventory
Special items that are bought from the store will go here.
Likes (At Least 3):
❤ Cheerleaders - He's dated almost all of the cheerleaders in his school.
❤ Hot Older Women - He just loves em.
❤ Tootsie Rolls - He likes both the original and flavored ones.
❤ Hanging With People His Age - He doesn't like to spend much time with much older adults, he likes to go have fun and be a kid and older people just aren't fun.
Dislikes (At Least 3):
✗ School Work - It can be done at school or it can be homework, he just hates it. Something he hates even more is tests.
✗ Staying Home On The Weekends - He likes to go out to parties or just hang with friends or girlfriend.
✗ Hunters - He has heard stories about them going after his father and mother even when they hadn't hurt anyone.
Fears (At Least 2):
☬ Dying
☬ Losing Control and Killing Someone
Goals (At Least 1):
★ To get a football scholarship
Personality:
Hunter can be rude and have an arrogant lack of respect. He can be found mocking people in an indirect way with smart remarks or jokes. In short; he is a smart ass. He is also conceited and arrogant, usually in a bold and impudent way. However Hunter is also very caring, and tries to help people where he can. He tends to play the hero a lot, especially to impress a girl.
Speaking of girls, Hunter loves them. He is easily influenced by them and often tries to impress them. He is big on protecting them, rather it be from something serious or just a firm arm around them during a horror movie. In some ways Hunter is a bit of a sexist. He doesn't like tough women and thinks that all women should be able to cook at least something and that the man is the one who is suppose to provide.
Traits


Positives (At Least 3):
✧ Caring
✧ Helpful
✧ Protective

Negatives (At Least 3):
✦ Sexist
✦ Smart Ass
✦ Cocky


Parents:
Dante Roselli and Llisa Roselli
Siblings:
N/A
Other Family:
N/A
Important Others:
@kara
History:
Hunter was born to a werewolf and a skinwalker so when he was born they didn't know what he would be. It turned out that Hunter took after his mother and was a werewolf, and was a pure blood like her. Eventually his mother left after getting mixed up into hardcore drugs and Hunter was left to his father. His father go him involved in the pack he was ahead of and honestly Hunter never felt like he fit in. Well, he didn't. He was a werewolf in a pack full of skinwalkers. He was treated differently by them, looked down upon and all it did was push Hunter away.
Hunter spent most of his time away from home, partying and going on dates. He focused on becoming a great football player and used his abilities to help him in games. He made quarterback easily. One day when he was around sixteen years old he saved a middle aged man from being beaten by a group of thugs. He fought all of them and easily took them out. After it was all said and done the man told the kid about underground fighting and told him he could make some extra cash. Apparently the man ran part of the system, so Hunter decided to check it out. He was thrown into a match the first night and won, then won another, and another, and he was getting cash for it. However people were also betting on him and if he lost they threatened to come after him... But the people who bet against him told him he better lose or they would go after him... It was a lose lose situation, which Hunter didn't take seriously.
However the people who attacked him were surprised when Hunter could take them all on. Eventually some resorted too guns which Hunter also handled and in turn threatened all of them, if they ever tried to hurt him or anyone he loved he would track each one of them down and kill them. The young teenager successfully scared off older, more experienced men and he continued to fight in the underground matches.
Alias:
Hell Hound
How did you find us?:
Site Admin
Experience:
Lotz
Other Characters:
Dean Winchester
,
Sawyer Grant
,
Tyson Grant
,
Lizzie Shields
,
Aspen Meadows
,
Mammon
,
Darren Covington
,
Ryker Nixon
,
Heaven Michaels
,
Dean Winchester Jr
,
Jake Sullivan
,
Ethan Sullivan
,
Lily Bishop
,
Luke Sullivan
,
Scotty Jacobs
,
Matthew Jacobs
,
Austin Jacobs
,
Chris Anderson
,
Stephanie Khang
Seth Baldwin
RP Sample:

Dean watched as the young blonde suddenly stood up and held out her hand. She was leaving? Dean couldn't help but feel a bit of disappointment. Little did he know the blonde thought Dean was trying to get rid of her even though that was not his intentions. He also stood and took her hand shaking it lightly but firmly, the electrical shock he felt earlier not as strong as the first time. When she leaned over and kissed his cheek it took him a little off guard. Her warm yet moist lips sent a feeling much stronger then the electrical shocks he felt earlier every time they made slight contact. What was it about this girl?.... It was something very different, he felt an almost... pull to her like she was a magnet and he was just a fine piece of metal. Again, his mind blamed it on the fact that he was in Purgatory for a year and this was really the first time he had been with a girl alone in quite sometime.

Dean took her phone and put the number in, all the while realizing that she would probably never call. He knew better then anyone that you don't give the person your number you get theirs. He handed her the phone and their fingers brushed against each other. She put the phone back in her bag.

"Thank you again,"

As she looked at him, their eyes met once again, gazing into one another's for a split moment before a small sigh escaped her lips. Before Dean could ask what was wrong a knock and a small voice came from outside the door.

"Housekeeping!"

Dean immediately furrowed his eyebrows. What the hell was housekeeping coming around at this time? It wasn't right, and Dean knew it. He had been living in motels forever, it wasn't time for this. Not only that, but Dean had specifically asked to keep housekeeping away until after he was done with the room, just something he started doing just in case he planned on staying a while. Dean went to grab Bethany's arm as she turned to open the door but wasn't quick enough.

"Wait, don't- - "

Beth opened the door and there stood a rather small middle aged woman with with black hair pulled into a pony-tail and a light blue cleaning uniform. Dean's eyebrows stayed furrowed as he looked at the woman but her words sent a shier down his spine and blood pumping his heart even faster.

"Hello, Bethany,"

The woman's eyes turned coal black and her cold, devilish half-smile sent another shiver down Dean's spine when suddenly Beth was sent flying into the wall. The demon sped in, the door slamming behind her. It was if she didn't notice Dean, that she didn't even care that he was standing there as her glare stayed hooked on Bethany who was now being pinned to the wall with telekinesis. As she was being held there a coat hook stabbed through the poor girl's left shoulder.

Dean's index finger on his right hand twitched as he stood there for a second. Before long the Winchester was moving and pulling out a canteen of holy water from under his pillow. Thankfully back when he got the credit cards Dean also got the basics, salt, holy water, borax, the works. He quickly spun around a toss a bit at the demon, making her grab at her face and scream as she steamed. Thanks to the sudden pain, the demon's hold on Bethany was gone and she fell to the floor. Dean quickly sprinkled more on the demon and moved in front of the door.

The woman stood there, her hands covering her face as she was bent over and looking down. She slowly lifted her head and pulled her hands away. Her eyes going wide and the pitch black being even more visible.

"Dean Winchester?!"

The demon shrieked and as she went to quickly leave the body Dean kicked with full force and she was pushed back, falling on a rug set up at the foot of the bed. She looked up quickly at the ceiling seeing nothing and frowned, trying to leave again but when she couldn't her eyes shot to Dean. Dean walked over slowly and smirked, lifting up the corner of the rug revealing a devils trap. He spoke in a low and cocky tone.

"Got you, bitch."

The demon squinted her eyes and tilted her head as Dean got up and rushed over to Beth.

"You..... I heard you were gone, everyone did. How are you here?"

Dean ignored the demon and squatted to Bethany's side, his eyes full of concern. He looked at her and upon seeing her injury he quickly wrapped his arm around her and helped her up.

"Don't worry... You'll be okay... I'll fix you up."

Dean walked her over to the bed and sat her down, ways away from the demon. After looking at her wound again, he looked into her eyes.

"Hang in there..."

Dean turned around and walked up to the demon, standing right outside of the devil's trap.

"What the hell are you doing here?" He nodded back at Beth. "What do you want from her?"

"Not going to make me talk, Winchester." The demon shook her head and smirked.

"Yeah?" Dean raised his eyebrows as
he splashed more water in her face causing her to hiss. "Sure about that?"

The demon decided not to respond and Dean's anger and disgust took over.

"Fine. " Dean looked down at her, his glare latched onto her and not going anywhere. "Exorcizamus te, omnis immundus spiritus,
omnis satanica potestas, omnis incursio infernalis adversarii,
omnis legio, omnis congregatio et secta diabolica."

They'll love to know you are back!" The demon growled at Dean, causing him to pause a moment. "Yeah, well tell them I sent you." Dean paused again with a slight smirk and then he finished the exorcism. "Ergo, draco maledicte.
Ecclesiam tuam securi tibi facias libertate servire,
te rogamus, audi nos."

A cloud of black smoke came spewing violently from the woman's mouth and when down through the floor. Dean took a breath and quickly turned around to see Beth. He swallowed and walked quickly back over to Beth, sitting on the bed next to her.

"I..... should patch you up now."

The body of the woman laid there, not moving as she was gone. Dean reached over to the nightstand, bending over Beth slightly and pulling open the drawer revealing some medical equipment.

I (Hunter Roselli) have read the site rules and understand them. The code word for the rules is: (Batman)
Application Created By Hell Hound