Post by Jeff Atherton on Sept 14, 2014 2:23:49 GMT -5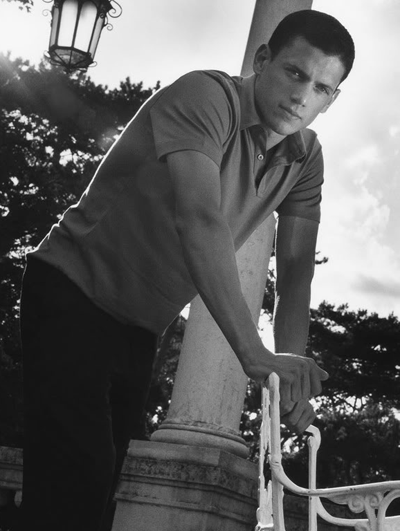 Full Name:
Jeffrey Dash Atherton
Nickname/Alias:
Jeff (Goes by this rather than 'Jeffrey')
Age/Date Of Birth:
11 - 08 - 1988 | Twenty Five Years Old
Race:
Human
Occupation:
Hunter
Species Group:
Psychic
Play-By:
Wentworth Miller
Abilities
Palm Reading
- Jeff is able to read palms and see people's past. As he reads a palm he actually gets flashes of things that has happened to them. More intense things pop out first, depending on if he is looking for something particular or not.
Empath
- He can feel the emotions of other's. It's something he doesn't like to use all the time honestly and now that he can control it he usually doesn't use this ability unless he needs to.
Psychic Shadow
- Jeff is able to block the vision of other psychic trackers, making any subject within their target radius appear "dark". Experience will enhance the size of the area they can shadow and the intensity of their shielding effect. A strong enough psychic could get past the shadow.
Special Inventory
Special items that are bought from the store will go here.
Likes (At Least 3):
❤ Tattoos - He gets a new tattoo every year on his birthday.
❤ Technology - He is actually very good with technology and can figure out how to work something fast.
❤ People - He's a people person.
❤ Working Out - He loves to just feel the burn in his body and keep his body looking good.
Dislikes (At Least 3):
✗ Being Alone - He doesn't like to be alone and it causes him to be very friendly to others.
✗ Getting Caught Out In The Rain - He doesn't like to get all soaked and have his clothes stick to him.
✗ Cases He Can't Solve - When he get's stuck on a case it's about the most annoying thing ever.
Fears (At Least 2):
☬ Becoming A Monster
☬ Vetala
☬ Dying Alone
Goals (At Least 1):
★ To Kill As Many Evil Bastards As He Can
Personality:
To put shortly Jeff is a good man. Jeff is hard working, loyal, and accepting to a fault. He's be on his own for a while now, making friends wherever he can. One thing Jeff really treasures is friendship. Jeff never had a father so there is a part of him that is empty. That piece of him where his father should of been, teaching him things, showing him the ropes. It's because his father abandoned his mother and him when he was little, so he's lived with resentment towards the man. He doesn't have many memories of his father but the ones he does have aren't good, he remembers his father to be abusive.
He swore to himself that he would never be like that. He would never physically hurt another whether it be a kid or an adult. The young man makes likes to get to know someone, their hobbies, their jobs, and who they care about most are common things Jeff asks people. Maybe it's because he is so lonely, or that he thinks he is boring so he get's to know other's to spice things up a bit, who knows. Jeff is a pansexual which means he loves who he loves. He identifies himself as gender blind.
He has learned to appreciate things, everything. A warm bed, a glass of milk, a vehicle. He didn't have an easy life growing up in Detroit City so he knows how bad he could have it. He is a survivor, taking on many hardships throughout his life. He doesn't give up and will continue on being a fighter for the rest of his life. Jeffery is also very active and fit, keeping his body in incredible shape. He loves to go to local gyms and work out along with going on jogs a lot when he has nothing to do. He tries to work out in some way at least once a day.
Traits
[/b][/font]
✧ Loyal
✧ Understanding
✧ Accepting
✧ Hard Working
✧ Athletic
Negatives (At Least 3):
✦ Lonely
✦ Dependent
✦ Insomniac
[/ul]
Parents:
Jason Atherton (Father|Unknown), Denise Richards (Mother|Deceased)
Siblings:
Brandon Atherton (Brother|Deceased)
Other Family:
Mary Richards (Grandmother|Deceased)
Important Others:
N/A
History:
Jeffrey was born in Detroit, Michigan on a very cold November day. Snow had already fallen for the year and the roads were slick with ice. He was the first born to Denise Richards and Jason Atherton. He didn't have a good life growing up to say the least. When Jeff was four years old his father left, right after Jeff's little brother Brandon was born. Jason was an abusive father, well, an abusive man altogether. He had hit Denise many times, even hitting her stomach as hard as he could when she was pregnant for their first born child. Jeff had memories of his father twisting his arm as well, so he grew up resenting his biological father.
Denise worked hard to keep food on the table for her children. She had a part time job at a diner and was a resident psychic which meant strange people would come to their small one bedroom apartment to get their future's read. However, unlike most, Denise was an actual psychic and because of this she past down her abilities to her children. She taught Jeff what she could early on. Jeff had a hard time in school, keeping up, not being the smartest kid but also not the dumbest. He put his mind to it and worked hard on his school work and got better, it was something he was known for doing. Working hard.
When Jeff was twelve and Brandon was nine their mother was killed. They were at school one day when a man came into their house, shot their mother and stole the money she was making from her psychic readings. The only person the boys had left was their grandmother who took them in. Honestly, the boy's lives actually became better. Their grandmother had a bit more money than their mother did so she could provide for them better, get them new clothes that weren't worn, feed them good home cooked meals, and some shoes that didn't have holes in them.
Everything seemed to be going okay until Jeff was fifteen and his grandmother had a heart attack. Actually the doctor's said it was multiple heart attacks. It was a surprise that she made it. When she finally was able to come home she was never the same, she had to have a nurse come out for a while until she started to do better. Her medicine and doctor bills were so much money, the family went back into harsh times. Jeff got two side jobs and kept up with school, only getting a few hours of sleep where he could. His little brother even tried to help, going out and trying to earn money. Which resulted in Brandon getting into drug dealing at the age of only thirteen.
By the time Jeff was eighteen their block was mostly empty, many homes abandoned/foreclosed. It was because of this that a couple creatures called vetala were able to hide out easily. They moved to the abandoned house next door to the family and when it was late they attacked... The vetala killed both Brandon and their grandmother. They had paralyzed poor Jeff by biting him with their venom but right before passing out he saw a man come out of no where and attack the creatures. He never saw this man again.
When he came to he was in the hospital. They were labeling it a wild dog attack. The story was so stupid, he couldn't believe people actually thought that was true. When he got out of hospital he went home and packed his bags. He had his grandmother and brother cremated then left. He didn't know where he was going but he couldn't stay there. He got himself a small job as a bus boy on another side of town. However he started to read and look into things that were Supernatural. He was fascinated by it honestly. He couldn't believe these things could actually exist and over time he started to hunt. He didn't want more families to have to go through what he did. If he knew something about this and could stop bad stuff from happening, why wouldn't he?
By the age of nineteen he became a hunter and left Detroit. Traveling around the US hunting and killing things deemed supernatural.
Alias:
Hell Hound
How did you find us?:
I think I made this site... Didn't I?... Right?... Wait, who am I?....
Experience:
I feel like it's quite a bit.
Other Characters:
Dean Winchester
,
Sawyer Grant
,
Tyson Grant
,
Lizzie Shields
,
Aspen Meadows
,
Mammon
,
Darren Covington
,
Ryker Nixon
,
Heaven Michaels
,
Dean Winchester Jr
Jake Sullivan
,
Ethan Sullivan
,
Lily Bishop
,
Luke Sullivan
,
Scotty Jacobs
,
Matthew Jacobs
,
Austin Jacobs
,
Chris Anderson
,
Stephanie Khang
,
Seth Baldwin
, @hunter,
Logan Winchester
, @rayne,
Tristan Michaels
, @declan, @tommy
RP Sample:
Dean watched as the young blonde suddenly stood up and held out her hand. She was leaving? Dean couldn't help but feel a bit of disappointment. Little did he know the blonde thought Dean was trying to get rid of her even though that was not his intentions. He also stood and took her hand shaking it lightly but firmly, the electrical shock he felt earlier not as strong as the first time. When she leaned over and kissed his cheek it took him a little off guard. Her warm yet moist lips sent a feeling much stronger then the electrical shocks he felt earlier every time they made slight contact. What was it about this girl?.... It was something very different, he felt an almost... pull to her like she was a magnet and he was just a fine piece of metal. Again, his mind blamed it on the fact that he was in Purgatory for a year and this was really the first time he had been with a girl alone in quite sometime.

Dean took her phone and put the number in, all the while realizing that she would probably never call. He knew better then anyone that you don't give the person your number you get theirs. He handed her the phone and their fingers brushed against each other. She put the phone back in her bag.

"Thank you again,"

As she looked at him, their eyes met once again, gazing into one another's for a split moment before a small sigh escaped her lips. Before Dean could ask what was wrong a knock and a small voice came from outside the door.

"Housekeeping!"

Dean immediately furrowed his eyebrows. What the hell was housekeeping coming around at this time? It wasn't right, and Dean knew it. He had been living in motels forever, it wasn't time for this. Not only that, but Dean had specifically asked to keep housekeeping away until after he was done with the room, just something he started doing just in case he planned on staying a while. Dean went to grab Bethany's arm as she turned to open the door but wasn't quick enough.

"Wait, don't- - "

Beth opened the door and there stood a rather small middle aged woman with with black hair pulled into a pony-tail and a light blue cleaning uniform. Dean's eyebrows stayed furrowed as he looked at the woman but her words sent a shier down his spine and blood pumping his heart even faster.

"Hello, Bethany,"

The woman's eyes turned coal black and her cold, devilish half-smile sent another shiver down Dean's spine when suddenly Beth was sent flying into the wall. The demon sped in, the door slamming behind her. It was if she didn't notice Dean, that she didn't even care that he was standing there as her glare stayed hooked on Bethany who was now being pinned to the wall with telekinesis. As she was being held there a coat hook stabbed through the poor girl's left shoulder.

Dean's index finger on his right hand twitched as he stood there for a second. Before long the Winchester was moving and pulling out a canteen of holy water from under his pillow. Thankfully back when he got the credit cards Dean also got the basics, salt, holy water, borax, the works. He quickly spun around a toss a bit at the demon, making her grab at her face and scream as she steamed. Thanks to the sudden pain, the demon's hold on Bethany was gone and she fell to the floor. Dean quickly sprinkled more on the demon and moved in front of the door.

The woman stood there, her hands covering her face as she was bent over and looking down. She slowly lifted her head and pulled her hands away. Her eyes going wide and the pitch black being even more visible.

"Dean Winchester?!"

The demon shrieked and as she went to quickly leave the body Dean kicked with full force and she was pushed back, falling on a rug set up at the foot of the bed. She looked up quickly at the ceiling seeing nothing and frowned, trying to leave again but when she couldn't her eyes shot to Dean. Dean walked over slowly and smirked, lifting up the corner of the rug revealing a devils trap. He spoke in a low and cocky tone.

"Got you, bitch."

The demon squinted her eyes and tilted her head as Dean got up and rushed over to Beth.

"You..... I heard you were gone, everyone did. How are you here?"

Dean ignored the demon and squatted to Bethany's side, his eyes full of concern. He looked at her and upon seeing her injury he quickly wrapped his arm around her and helped her up.

"Don't worry... You'll be okay... I'll fix you up."

Dean walked her over to the bed and sat her down, ways away from the demon. After looking at her wound again, he looked into her eyes.

"Hang in there..."

Dean turned around and walked up to the demon, standing right outside of the devil's trap.

"What the hell are you doing here?" He nodded back at Beth. "What do you want from her?"

"Not going to make me talk, Winchester." The demon shook her head and smirked.

"Yeah?" Dean raised his eyebrows as
he splashed more water in her face causing her to hiss. "Sure about that?"

The demon decided not to respond and Dean's anger and disgust took over.

"Fine. " Dean looked down at her, his glare latched onto her and not going anywhere. "Exorcizamus te, omnis immundus spiritus,
omnis satanica potestas, omnis incursio infernalis adversarii,
omnis legio, omnis congregatio et secta diabolica."

They'll love to know you are back!" The demon growled at Dean, causing him to pause a moment. "Yeah, well tell them I sent you." Dean paused again with a slight smirk and then he finished the exorcism. "Ergo, draco maledicte.
Ecclesiam tuam securi tibi facias libertate servire,
te rogamus, audi nos."

A cloud of black smoke came spewing violently from the woman's mouth and when down through the floor. Dean took a breath and quickly turned around to see Beth. He swallowed and walked quickly back over to Beth, sitting on the bed next to her.

"I..... should patch you up now."

The body of the woman laid there, not moving as she was gone. Dean reached over to the nightstand, bending over Beth slightly and pulling open the drawer revealing some medical equipment.
I (Jeff Atherton) have read the site rules and understand them. The code word for the rules is: (Batman)
[/div][/div]
Application Created By Hell Hound
[/div]