Post by Deleted on Sept 18, 2014 4:30:08 GMT -5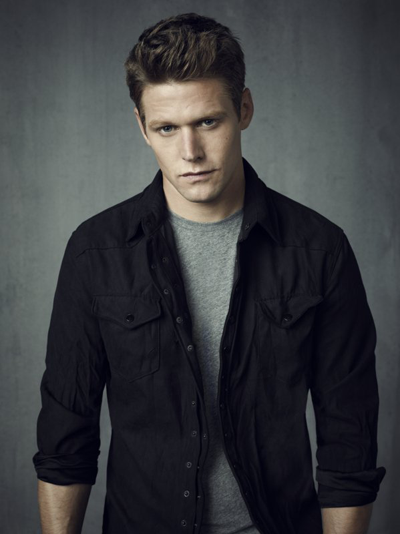 Full Name:
Malachi Clayden Baker
Nickname/Alias:
Mal
Age/Date Of Birth:
Twenty Three Years Old | 08 - 04 - 1991
Race:
God
Occupation:
Hunter
Species Group:
Hunter/Shapeshifter/Vampire/Werewolf/Djinn/1st Generation Deva
Play-By:
Zach Roerig
Abilities
Creature Abilities
Superhuman Strength - Malachi has incredible strength thanks to boosts from his shifter/vampire/werewolf/djinn sides.
Superhuman Speed - He is very fast due to a boost from his shifter/vampire/werewolf/djinn sides.
Superhuman Agility - Malachi's reflexes are on a whole other level thanks to his shifter/vampire/werewolf/djinn sides.
Super Stamina - Despite his hunger, Malachi don't tire easily.
Super Senses - Malachi has extremely keen senses that are superior to those of humans. He can see in the dark, hear a human's heart beat, and possess enhanced sense of smell thanks to being a vampire and werewolf. Malachi can track a human's blood over long distances.
Invulnerability - Malachi can not be killed by conventional methods, such as stab wounds or gunshots. Malachi has an extreme durability to pain. The only way to kill him is by decapitating him with a silver blade dipped in lambs blood.
Immortality - Malachi can potentially live forever. He can't grow old and doesn't acquire conventional diseases that affect humans.
Regeneration - He can heal quickly, replace body parts, and heal his original werewolf bite, as long as he feeds.
Shapeshifting - Malachi can take on a living or dead person's physical appearance without shedding his skin. When he changes, he literally becomes the person he's mimicking, gaining everything, including fingerprints and DNA; he can also mimic wounds, even very serious ones. Once Malachi transforms into that person, he can access the thoughts and memories of the person he is mimicking provided that the person is still alive.
Shapeshifting - Malachi has a specific form that he turns into that would be considered his true form, much like when a vampire draws their fangs, a werewolf transforms, etc. Malachi's werewolf fangs are sharp and are formed from his regular teeth as his vampire fangs are retracted from his gums. His skin will be covered with blue tattoos and has claws strong enough to break through walls.
Telepathy - He is able to read minds thanks to being part djinn.
Hallucinogenic Touch - By touching someone, he can induce a series of delusions on the mind of his target, typically causing them to enter in a unconscious, dream-like state. Inside it, a person can re-live their deepest dreams and desires, over and over again, akin to a endless loop. These delusions can also be induced in a more mild fashion, leaving the person awake, but at the risk of having them break on a mental level due to the mix of reality and illusion. When touching his targets, he usually leaves a blue mark in the shape of a handprint on the victim.
Angelic Blood Abilities
Thanks to Amitiel mastering the deva blood she has figured out a way to select certain abilities and give them to people when injected. She also has learned that three abilities is all a person can handle.
Smiting - On angel blood he will be able to smite demons.
Anit-Possession - Being a deva he cannot be possessed by a demon.
Living Devil's Trap - Basically he is able to create devil trap's with his mind without actually making a literal devil's trap. This means he does not draw the symbols or anything, he just has to focus on an area and make it act as a devil's trap. It acts just like any other devil trap does. If using enough power and focusing hard enough he will be able to trap even high ranking demons; however it will be very straining.
Iron Manipulation - He is able to manipulate iron. He can move it with his mind and what not, just basic iron manipulation.
Soul Reading - Malachi is able to read people's souls. He can see what they've been through, how they will die, if they are good or evil, and anything else there is to know about a soul. He can see where they go when they die. He is also able to heal souls temporarily. What this is, is basically a temporary fix. He can cause someone to feel better, it just doesn't last forever.
Weaknesses
Hunger - He needs to feed way more than a typical creature. He really craves hearts but he can drink blood to get by.
Silver - Using a silver blade dipped in lambs blood to chop off his head will kill him. Silver-caused cuts react like demons do with iron.
Retinal flare - When filmed his retinal flare is bright blue.
Dead Man's Blood - The use of blood from the recently deceased can also be used as a method to incapacitate him briefly.
Special Inventory
Special items that are bought from the store will go here.
Likes (At Least 3):
❤ Football - He loves to play football, he played in high school. He also loves to just toss the ball with someone.
❤ Sunsets - When he can catch a sunset he will. He loves the peacefulness of it. The colors of the sky and clouds.
❤ Helping People - He's made it pretty much his life goal.
Dislikes (At Least 3):
✗ Pills - He has the hardest time taking pills, it's not an easy task for him at all because he gags.
✗ Demons - He hates them the most out of everything.
✗ Cranberry Juice - Just nasty.
Fears (At Least 2):
☬ Losing Anyone He Is Trying To Save
☬ Hurting Someone Now That He Isn't Human
Goals (At Least 1):
★ Help People
★ Fulfill Amitiel's Purpose For HIm
Personality:
To put in simple words Malachi is a very kind and caring guy who tries to help whoever he can, whenever he can. He's a lot like his mother most would say; who was a very gentle and sweet soul. Malachi's father however was the more attitude and the strong silent type. Malachi grew up as in a christian home, being taught from an early age that God was the one and true way. Ever since then he has had a good relationship with God, not being a goodietooshoes however.
Malachi just like any other young adult likes to have fun. He drinks but that's about it, rarely getting himself drunk but it does happen from time to time. He's a great friend; many who are his friend will say that. He's compassionate and he always hands out a helping hand, staying right by someone's side when they need someone.
The young adult tends to burden himself with a lot of things, it just comes naturally to him. When he burdens himself it seems to always be on his shoulders alone, not sharing the burden because he doesn't want someone else to have to deal with it. He's also self sacrificing... If he could save someone by hurting himself he would do it in a heart beat, because to him, they are more important.
Malachi has never been in love... Or rather he's never been with someone who cares about him like that. He's learned not to let himself fall for a girl because as they always say he's just a "great friend". He's had the problem ever since high school. He'd be on the football team but usually the girl's were hanging all over the all star quarter back who was basically the most popular kid in school for how amazing he was playing the game.
Now that Malachi isn't human he honestly is scared that he might hurt someone... he has a great hunger that he is determined to keep under control but it doesn't matter because he knows it's possible he could slip. He won't let himself though. He wants to be used for the purpose Amitiel created. To be the perfect warrior.
Traits
[/b][/font]
✧ Courageous
✧ Kind
✧ Caring
✧ Faithful
✧ Loyal
✧ Committed
Negatives (At Least 3):
✦ Bold
✦ Naive
✦ Self Sacrificing
✦ Tends To Put Huge Burdens On Himself
[/ul]
Parents:
David Baker (Father/Deceased), Jasmine baker (Mother/Deceased)
Siblings:
Sarah Baker (Sister/Possessed By Angel), @andrea (Sister)
Other Family:
N/A
Important Others:
@hadleyklassen
History:
Malachi Baker was born to a married hunter couple by the names of David and Jasmine. It was a shocker for the baby to come in all honesty. The couple was in their thirties and they already had a daughter who was at the age of nine. It wasn't like they weren't doing anything but it was still a huge shock for jasmine to become pregnant after nine years. When Malachi was born things changed, Andrea wasn't the only child anymore. When Malachi was five the couple got a second surprise... Jasmine gave birth to a little baby girl who they named Sarah.
The family attended church often in the town of Lincoln Field, Maryland. It was a rather small town but the couple knew a family who lived there. A married couple who they hunted with when they were all younger. That couple also had children and as Malachi grew up he came to become close friends with Hadley Klassen, who was close to his age. He grew up knowing about the supernatural, or well he was told about it when he was thirteen. Apparently that was how their parents did it because Andrea was also told when she was thirteen years old.
Being thirteen, his sister was twenty two and he learned a few hunting things from her. His parents really didn't like teaching him how to deal with the supernatural... The most he was ever taught was how to make salt lines and what not, but Andrea taught him more. How to defend himself, and even how to shoot a gun. To Malachi, Andrea was almost more like a big brother to him... Though he would never tell her that.
When he was fourteen things got... Bad. Okay, more than bad. His parents were possessed by two demons. They possessed David and Jasmine and attacked their children at home... Malachi was there alone with his little sister when they came. He and his sister ran to hide in their attic but it was no good as the two demons found them easily. Being the bigger brother he hid his sister and came out to face the demons alone. When they attacked however Malachi shot... He was just so scared and he didn't want them to hurt him or his sister. He shot his father right in the heart. They moved to attack the young boy again, his mother picking him up by his throat. Malachi choked and gasped for air, feeling his life being squeezed out of him when he heard a shot and he opened his eyes to see a hole in his mother's head as blood trickled down. It dropped him and then both of their parents mouths opened, black clouds coming from them and escaping through the cracks of the floor in the attic. Andrea didn't know they were demons as she never faced one and now with this realization of that being what was inside her parents... She scrambled to their dead bodies, tears falling from her eyes as Malachi got to his feet, staring in shock and Sarah coming out from behind a pile of boxes, screaming.
It took a while for things to get better but they kind of did. Andrea took over as like the mother role, taking the two on the road with her. She would try to stay in one town for as long as she could and let the kids go to school. She would travel to go do hunts nearby or would just focus on taking care of her little siblings, keeping up with their cheap apartment.
Malachi was eighteen when they came across the two demons who killed his parents again... It wasn't on purpose it was on a hunt with his sister in New Orleans. They were following a series of murders that seemed to be supernatural due to the talk of witnesses saying that the people would have black eyes... What really caught the sibling's eyes was reading that the people would kill themselves after. When they found the demons they revealed who they were, not giving their names but repeating what they did to their family that night five years ago. They revealed why they did it, because the couple had trapped them in a devil's trap for seven days before exorcising them... They were furious. They just left out one tiny detail, there was another couple... The Klassens. They exorcised the demons and went on with their life... Knowing that the demons would be back since that couldn't keep them gone forever. The fact that they could never get revenge ate at the sibling's hearts.
It was only a year ago that Malachi's baby sister got cancer. She was in the hospital all the time, weak and sick. The doctor's told them it was too late and that she only had a matter of time before she passed. It was a very emotional time for the trio, tears were shed. It was one night when Malachi was praying with Sarah that Sarah heard Amitiel's voice. She was scared at first but then she spoke to the angel right in front of Malachi who sat there with wide eyes, filled with tears. He believed that this was it, she was about to die. His sister said yes and before he knew it he wasn't talking to Sarah anymore but to an angel by the name of Amitiel... He rushed out to grab his sister Andrea who was out in the hall and brought her into the room where Amitiel explained she needed their sister's body. Unlike Andrea, Malachi was okay with this. He figured this way his sister wouldn't die... Granted she would be possessed by an angel but it was better than never seeing her again.
As time went on Amitiel would allow Sarah to talk to her siblings at times, even though it wasn't for long periods of time. Sarah would be tired, and weak when she was released as well due to how powerful the commanding angel was. Malachi grew close to Amitiel though and when she asked him for his help he said yes. He disappeared with Amitiel, leaving Andrea to wonder and look for her little brother.
Malachi became a new being... Something that wasn't human but it wasn't really a creature either. He was a hybrid of four creatures and even angel blood running through his veins. He was gone with Amitiel for two months and to be say it wasn't painful to be turned into what he was, wasn't exactly true. The process was very painful but he made it through it and now Amitiel is ready to put him back into the world as a whole new race in his own right.
Alias:
Hell Hound
How did you find us?:
I think I made this site... Didn't I?... Right?... Wait, who am I?....
Experience:
I feel like it's quite a bit.
Other Characters:
Dean Winchester
,
Sawyer Grant
,
Tyson Grant
,
Lizzie Shields
,
Aspen Meadows
,
Mammon
,
Darren Covington
,
Ryker Nixon
,
Heaven Michaels
,
Dean Winchester Jr
Jake Sullivan
,
Ethan Sullivan
,
Lily Bishop
,
Luke Sullivan
,
Scotty Jacobs
,
Matthew Jacobs
,
Austin Jacobs
,
Chris Anderson
,
Stephanie Khang
,
Seth Baldwin
, @hunter,
Logan Winchester
, @rayne,
Tristan Michaels
, @declan, @tommy,
Jeff Atherton
,
Zane Lancaster
RP Sample:
Dean watched as the young blonde suddenly stood up and held out her hand. She was leaving? Dean couldn't help but feel a bit of disappointment. Little did he know the blonde thought Dean was trying to get rid of her even though that was not his intentions. He also stood and took her hand shaking it lightly but firmly, the electrical shock he felt earlier not as strong as the first time. When she leaned over and kissed his cheek it took him a little off guard. Her warm yet moist lips sent a feeling much stronger then the electrical shocks he felt earlier every time they made slight contact. What was it about this girl?.... It was something very different, he felt an almost... pull to her like she was a magnet and he was just a fine piece of metal. Again, his mind blamed it on the fact that he was in Purgatory for a year and this was really the first time he had been with a girl alone in quite sometime.

Dean took her phone and put the number in, all the while realizing that she would probably never call. He knew better then anyone that you don't give the person your number you get theirs. He handed her the phone and their fingers brushed against each other. She put the phone back in her bag.

"Thank you again,"

As she looked at him, their eyes met once again, gazing into one another's for a split moment before a small sigh escaped her lips. Before Dean could ask what was wrong a knock and a small voice came from outside the door.

"Housekeeping!"

Dean immediately furrowed his eyebrows. What the hell was housekeeping coming around at this time? It wasn't right, and Dean knew it. He had been living in motels forever, it wasn't time for this. Not only that, but Dean had specifically asked to keep housekeeping away until after he was done with the room, just something he started doing just in case he planned on staying a while. Dean went to grab Bethany's arm as she turned to open the door but wasn't quick enough.

"Wait, don't- - "

Beth opened the door and there stood a rather small middle aged woman with with black hair pulled into a pony-tail and a light blue cleaning uniform. Dean's eyebrows stayed furrowed as he looked at the woman but her words sent a shier down his spine and blood pumping his heart even faster.

"Hello, Bethany,"

The woman's eyes turned coal black and her cold, devilish half-smile sent another shiver down Dean's spine when suddenly Beth was sent flying into the wall. The demon sped in, the door slamming behind her. It was if she didn't notice Dean, that she didn't even care that he was standing there as her glare stayed hooked on Bethany who was now being pinned to the wall with telekinesis. As she was being held there a coat hook stabbed through the poor girl's left shoulder.

Dean's index finger on his right hand twitched as he stood there for a second. Before long the Winchester was moving and pulling out a canteen of holy water from under his pillow. Thankfully back when he got the credit cards Dean also got the basics, salt, holy water, borax, the works. He quickly spun around a toss a bit at the demon, making her grab at her face and scream as she steamed. Thanks to the sudden pain, the demon's hold on Bethany was gone and she fell to the floor. Dean quickly sprinkled more on the demon and moved in front of the door.

The woman stood there, her hands covering her face as she was bent over and looking down. She slowly lifted her head and pulled her hands away. Her eyes going wide and the pitch black being even more visible.

"Dean Winchester?!"

The demon shrieked and as she went to quickly leave the body Dean kicked with full force and she was pushed back, falling on a rug set up at the foot of the bed. She looked up quickly at the ceiling seeing nothing and frowned, trying to leave again but when she couldn't her eyes shot to Dean. Dean walked over slowly and smirked, lifting up the corner of the rug revealing a devils trap. He spoke in a low and cocky tone.

"Got you, bitch."

The demon squinted her eyes and tilted her head as Dean got up and rushed over to Beth.

"You..... I heard you were gone, everyone did. How are you here?"

Dean ignored the demon and squatted to Bethany's side, his eyes full of concern. He looked at her and upon seeing her injury he quickly wrapped his arm around her and helped her up.

"Don't worry... You'll be okay... I'll fix you up."

Dean walked her over to the bed and sat her down, ways away from the demon. After looking at her wound again, he looked into her eyes.

"Hang in there..."

Dean turned around and walked up to the demon, standing right outside of the devil's trap.

"What the hell are you doing here?" He nodded back at Beth. "What do you want from her?"

"Not going to make me talk, Winchester." The demon shook her head and smirked.

"Yeah?" Dean raised his eyebrows as
he splashed more water in her face causing her to hiss. "Sure about that?"

The demon decided not to respond and Dean's anger and disgust took over.

"Fine. " Dean looked down at her, his glare latched onto her and not going anywhere. "Exorcizamus te, omnis immundus spiritus,
omnis satanica potestas, omnis incursio infernalis adversarii,
omnis legio, omnis congregatio et secta diabolica."

They'll love to know you are back!" The demon growled at Dean, causing him to pause a moment. "Yeah, well tell them I sent you." Dean paused again with a slight smirk and then he finished the exorcism. "Ergo, draco maledicte.
Ecclesiam tuam securi tibi facias libertate servire,
te rogamus, audi nos."

A cloud of black smoke came spewing violently from the woman's mouth and when down through the floor. Dean took a breath and quickly turned around to see Beth. He swallowed and walked quickly back over to Beth, sitting on the bed next to her.

"I..... should patch you up now."

The body of the woman laid there, not moving as she was gone. Dean reached over to the nightstand, bending over Beth slightly and pulling open the drawer revealing some medical equipment.
I (Malachi Baker) have read the site rules and understand them. The code word for the rules is: (Batman)
[/div][/div]
Application Created By Hell Hound
[/div]