Post by Cody Wolfe on Dec 28, 2014 23:37:12 GMT -5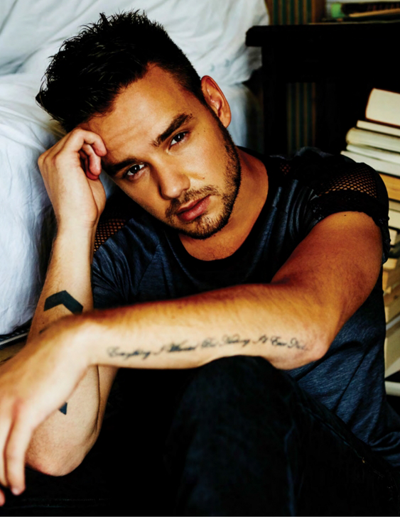 Full Name:
Cody Michael Wolfe
Nickname/Alias:
---
Age/Date Of Birth:
Sixteen Years Old | July 3rd 1998
Race:
Human
Occupation:
Hunter
Species Group:
Hunter
Play-By:
Liam Payne
Special Inventory
Special items that are bought from the store will go here.
Likes (At Least 3):
❤
Junk Food
- Chips, candy, soda, pizza, he really can't be caught dead with eating something actually healthy or something that isn't fast food or pizza related.
❤
Skate Boarding
- He's always had a passion for skateboarding, at one time he use to have dreams of doing it professionally but those dreams have died.
❤
Scary/Dark Things
- Cody has a sort of fascination with things deemed dark, horror movies demonology, and he even has interests in witchcraft.
❤
Anime
- Sort of a guilty pleasure, Cody keeps this to himself.
Dislikes (At Least 3):
✗
Doing Chores
- Cleaning, doing laundry, or anything else deemed chore worthy he hates.
✗
Doing Nothing
- Sitting around being bored is not in the cards for Cody. He likes to go out and hunt, sneak into bars, hit up bowling alleys/skating rinks/movie theaters, or even just go around causing a bit of mischief
✗
Being Treated Like He's Stupid
- Sine he dropped out of school at a young age and didn't get the best grades while attending school, 'smarts' is a sensitive subject for Cody.
Fears (At Least 2):
☬ Going Back In Foster Homes
☬ Burning Alive
Goals (At Least 1):
★ His goal really at the moment is to find out more about making deals with demons since he wants to do so to bring his parents back to life.
Personality:
To put simply Cody is a rebellious, lost, lonely, yet heroic teenager. Cody's hero is and will always be his late father who passed away due to supernatural hunting circumstances. Hunting comes naturally to the young man, being well versed with handling a gun, fighting, and investigating unusual cases. Being a Wolfe Cody has a reputation to withhold, yet he has no idea. He can be reckless and is in many aspects of the word a dare devil. He's been known to do extremes when dared, or honestly just to do something stupid without any really purpose whatsoever. It's because of his recklessness that he is easily prone to getting hurt on hunts among other things.
Now Cody likes to go out and have a good time. Sneaking into bars, going to bowling alleys, movie theaters, and skating rinks are normal places to spot the kid. He's usually around flirting with some pretty girls or ladies. Yeah, he doesn't really care about age as he flirts with older women and since he normally lies about his age, he actually hits it off with some of them.
Even though he can seem worry free, egotistic, and just a normal teenage boy there are things he keeps from people. Cody is very lonely. He masks his sadness by doing ridiculous stunts and trying to get people laughing. He occupies his time with activities like hunting or going out, and of course girls. When he's alone that's all he can think about, being alone. Not having parents or family is really wroth on the sixteen year old and he's come to the conclusion that everyone ends up alone and that everything is made to be broken.
Without parents Cody is obviously lost, misguided. Not only does he have no one there to keep him eating normal and healthy foods as well but he's never punished. He can do whatever he wants and get away with it because he has no mother or father to scowl and ground him. He's so lost that he's began to get into demonology a lot, not because he wants to use it to exorcise or kill demons, no. He wants to make a deal to bring his parents back after learning they could do that. Due to the fact that he has never went up against a demon and only heard they existed by the mouth of other hunter's, he has no idea how evil and cruel they really are. He wants to summon a demon, befriend one, hell he doesn't care. For some reason dark things have started to interest the kid and he would be stupid enough to summon some high ranking demon and just be like 'Sup? Wanna make a deal?'.
Last but not least, Cody isn't really the sharpest tool in the shed. He's not really stupid but he's not any grad student. He dropped out of school at a very young age and while he was in school he didn't get the best of grades. Where he lacks in academic smarts however he makes up with street and supernatural smarts.
Traits
[/b][/font]
✧ Friendly
✧ Tries To Get People To Laugh
✧ Heroic
Negatives (At Least 3):
✦ Reckless
✦ Daredevil
✦ Lonely
[/ul]
Parents:
Manon Wolfe (Mother/Deceased) Christian Wolfe (Father/Deceased)
Siblings:
N/A
Other Family:
N/A
Important Others:
Micah Brennan
History:
Cody was born into the Wolfe legacy. As the stories go, their family had been hunting for many, many generations. The hunting line goes so far back that there's no way to find out when it actually started. To put lightly anyone born into the Wolfe line was met with an untimely death and usually the women and men married into the family would suffer the same fate. It was the world of the supernatural, it was what being a hunter was. They would protect the innocent, hunt the evil that was out there but lose their own life early on in a usually, horrific way. Cody didn't know this growing up, hell Manon didn't even know her husband was a hunter. He was a business man, or at least that was the front.
Growing up was pretty normal for Cody, he had a lot of toys and his mother worked as an RN so sometimes he was left with a baby sitter. His baby sitter was honestly amazing, her name was Nancy and she would let him stay up late, eat junk food, watch scary movies, whatever he wanted. Well, she was amazing until Manon had to fire her for having guys over the house while watching little Cody. He wasn't exactly the brightest kid but he wasn't stupid either, passing school barely.
It was when he was nine years old that Cody lost his mother in a horrible accident. It was a house a fire. Apparently the wiring in the house was bad and ignited, sending the home up in flames and only Cody was able to get out safely, his mother not able to be rescued. After his mother's passing Cody and his dad left and began to travel the country and that's when his father began to teach him all about the supernatural. He learned how to hunt and about the different type of monsters their were. His father didn't tell him about demons, deciding that he would approach that topic when he got older.
However he was taken from his father at the age of eleven because he wasn't being taken care of in a standard living condition. He was put into the system and would live in a few foster homes for the next couple years. He was horrible, acting up and giving the foster care people a hard time which caused him to get passed between homes. It was in the last one that he met a boy named Micah Brennan and the two became friends. It wasn't a great best friend relationship but the two got along and hanged out a bit before Cody bailed and ran away from the home at the age of thirteen.
It wasn't easy at first, living on the streets but Cody never went back. He dodged the authorities and got food where he could. He got his hands on a laptop and some other things and he managed to make some fake credit cards and IDs thanks to watching over his father's shoulder a lot. He used what he had to, getting motel rooms and what not. When he finally tracked down his dad after a handful of months he was pushing fourteen years old. His dad was shocked and honestly told Cody he was better back at the home, that he had to go back. Cody refused and fought with his father until he gave in.
It was when Cody was a year later, when Cody was about to turn fifteen that his father died. It was something called an amazon which apparently has intercourse with a man, is impregnated, and the child is born unnaturally fast. After the child grows into a teen quickly it is sent to the father and kills them, and this is the fate Christian faced. Now being alone Cody has been living in motel rooms, sneaking into bars, and just doing whatever he wants. He still hunts and wonders about his sister that's out there somewhere... He wonders if he'll ever come face to face with her again and be able to make her pay for killing his father.
Alias:
Hell Hound
How did you find us?:
I think I made this site... Didn't I?... Right?... Wait, who am I?....
Experience:
I feel like it's quite a bit.
Other Characters:
Dean Winchester
,
Sawyer Grant
,
Tyson Grant
,
Lizzie Shields
,
Aspen Meadows
,
Mammon
,
Darren Covington
,
Ryker Nixon
,
Heaven Michaels
,
Dean Winchester Jr
Jake Sullivan
,
Ethan Sullivan
,
Lily Bishop
,
Luke Sullivan
,
Scotty Jacobs
,
Matthew Jacobs
,
Austin Jacobs
,
Chris Anderson
,
Stephanie Khang
,
Seth Baldwin
, @hunter,
Logan Winchester
, @rayne,
Tristan Michaels
, @declan, @tommy,
Jeff Atherton
,
Zane Lancaster
, @malachi,
Eric Gilbertson
, @caspian,
Emily Clark
, @jaxon,
Joel Crawford
RP Sample:
Dean watched as the young blonde suddenly stood up and held out her hand. She was leaving? Dean couldn't help but feel a bit of disappointment. Little did he know the blonde thought Dean was trying to get rid of her even though that was not his intentions. He also stood and took her hand shaking it lightly but firmly, the electrical shock he felt earlier not as strong as the first time. When she leaned over and kissed his cheek it took him a little off guard. Her warm yet moist lips sent a feeling much stronger then the electrical shocks he felt earlier every time they made slight contact. What was it about this girl?.... It was something very different, he felt an almost... pull to her like she was a magnet and he was just a fine piece of metal. Again, his mind blamed it on the fact that he was in Purgatory for a year and this was really the first time he had been with a girl alone in quite sometime.



Dean took her phone and put the number in, all the while realizing that she would probably never call. He knew better then anyone that you don't give the person your number you get theirs. He handed her the phone and their fingers brushed against each other. She put the phone back in her bag.



"Thank you again,"



As she looked at him, their eyes met once again, gazing into one another's for a split moment before a small sigh escaped her lips. Before Dean could ask what was wrong a knock and a small voice came from outside the door.



"Housekeeping!"



Dean immediately furrowed his eyebrows. What the hell was housekeeping coming around at this time? It wasn't right, and Dean knew it. He had been living in motels forever, it wasn't time for this. Not only that, but Dean had specifically asked to keep housekeeping away until after he was done with the room, just something he started doing just in case he planned on staying a while. Dean went to grab Bethany's arm as she turned to open the door but wasn't quick enough.



"Wait, don't- - "



Beth opened the door and there stood a rather small middle aged woman with with black hair pulled into a pony-tail and a light blue cleaning uniform. Dean's eyebrows stayed furrowed as he looked at the woman but her words sent a shier down his spine and blood pumping his heart even faster.



"Hello, Bethany,"



The woman's eyes turned coal black and her cold, devilish half-smile sent another shiver down Dean's spine when suddenly Beth was sent flying into the wall. The demon sped in, the door slamming behind her. It was if she didn't notice Dean, that she didn't even care that he was standing there as her glare stayed hooked on Bethany who was now being pinned to the wall with telekinesis. As she was being held there a coat hook stabbed through the poor girl's left shoulder.



Dean's index finger on his right hand twitched as he stood there for a second. Before long the Winchester was moving and pulling out a canteen of holy water from under his pillow. Thankfully back when he got the credit cards Dean also got the basics, salt, holy water, borax, the works. He quickly spun around a toss a bit at the demon, making her grab at her face and scream as she steamed. Thanks to the sudden pain, the demon's hold on Bethany was gone and she fell to the floor. Dean quickly sprinkled more on the demon and moved in front of the door.



The woman stood there, her hands covering her face as she was bent over and looking down. She slowly lifted her head and pulled her hands away. Her eyes going wide and the pitch black being even more visible.



"Dean Winchester?!"



The demon shrieked and as she went to quickly leave the body Dean kicked with full force and she was pushed back, falling on a rug set up at the foot of the bed. She looked up quickly at the ceiling seeing nothing and frowned, trying to leave again but when she couldn't her eyes shot to Dean. Dean walked over slowly and smirked, lifting up the corner of the rug revealing a devils trap. He spoke in a low and cocky tone.



"Got you, bitch."



The demon squinted her eyes and tilted her head as Dean got up and rushed over to Beth.



"You..... I heard you were gone, everyone did. How are you here?"



Dean ignored the demon and squatted to Bethany's side, his eyes full of concern. He looked at her and upon seeing her injury he quickly wrapped his arm around her and helped her up.



"Don't worry... You'll be okay... I'll fix you up."



Dean walked her over to the bed and sat her down, ways away from the demon. After looking at her wound again, he looked into her eyes.



"Hang in there..."



Dean turned around and walked up to the demon, standing right outside of the devil's trap.



"What the hell are you doing here?" He nodded back at Beth. "What do you want from her?"



"Not going to make me talk, Winchester." The demon shook her head and smirked.



"Yeah?" Dean raised his eyebrows as

he splashed more water in her face causing her to hiss. "Sure about that?"



The demon decided not to respond and Dean's anger and disgust took over.



"Fine. " Dean looked down at her, his glare latched onto her and not going anywhere. "Exorcizamus te, omnis immundus spiritus,

omnis satanica potestas, omnis incursio infernalis adversarii,

omnis legio, omnis congregatio et secta diabolica."



They'll love to know you are back!" The demon growled at Dean, causing him to pause a moment. "Yeah, well tell them I sent you." Dean paused again with a slight smirk and then he finished the exorcism. "Ergo, draco maledicte.

Ecclesiam tuam securi tibi facias libertate servire,

te rogamus, audi nos."



A cloud of black smoke came spewing violently from the woman's mouth and when down through the floor. Dean took a breath and quickly turned around to see Beth. He swallowed and walked quickly back over to Beth, sitting on the bed next to her.



"I..... should patch you up now."



The body of the woman laid there, not moving as she was gone. Dean reached over to the nightstand, bending over Beth slightly and pulling open the drawer revealing some medical equipment.
I (Cody Wolfe) have read the site rules and understand them. The code word for the rules is: (Batman)
[/div][/div]
Application Created By Hell Hound
[/div]